13 Reasons to Watch TV This Fall
A recipe for a good show usually includes a hot girl, or two, or three. Well it is the time of the year when networks roll out their new fall shows, which can only mean one thing, new good looking talent (or in some of these shows, old still good looking talent). We have looked at every single new show debuting this fall from ABC to Sci-Fi network, and found the reasons to turn on the tube this fall.
13
Flash Forward: ABC, Thursday 9/8c
Reason to watch: Peyton List
"Flash Forward" has the difficult task of replacing ABC's "Lost" in 2010. One thing that is not difficult is to watch Peyton List. During the first episode, the only thing that kept me interested, besides the possibility of John Cho from American Pie chanting MILF, MILF, MILF, was Peyton List. Keep your eye on this hottie. she is rumored to portray Lara Croft in the next Tomb Raider movie.
12
Stargate Universe: SyFy, Friday 9/8c
Reason to watch: Elyse Levesque
The newest chapter in the "Stargate" saga is sure to have nerds all over the world drooling over this new Sci-Fi hottie. Men, introduce your pocket protectors to Elyse Levesque. This new Stargate girl is sure to be the hottest girl on the Sci-Fi network, making Dungeons and Dragons and World of Warcraft a thing of the past.
11
The Forgotton: ABC, Tuesday 10/9c
Reason to watch: Michele Borth
The new ABC series from Jerry Bruckheimer is just what we need, another crime drama to go a long with the 30 other forensic science dramas that are already in prime-time. However, this one might be different, and it might be because of Candace played by Michele Borth. I have not seen this show yet but in all of her pictures she looks amazing. I'll give this show one shot but if she's not analyzing DNA or fingerprints in her lingerie, I'm out!
10
Mercy: NBC, Wednesday 8/7c
Reason to watch: Michelle Trachtenberg
Trachtenberg plays Chloe Payne, a nurse on the new show "Mercy". Trachtenberg has come a long way from her "The Adventures of Pete and Pete" days and still looks very good . This show is looking to be a hit like ER so you will probably be seeing a lot of Trachtenberg, which I am not complaining about.
9
Modern Family: ABC, Thursday 9/8c
Reason to watch: Sofia Vergara
I am ashamed to admit I had never heard of Sofia Vergara before seeing the previews for the new show, "Modern Family." Turns out, after a healthy amount of research (I provided pictures to back up my claim) Vergara is not random at all, with roles in movies like Soul Plane and Madea goes to Jail. She has also been in TV shows like My Wife and Kids and Entourage. She now has the pleasure of being Ed O'Neil's wife in the new ABC sitcom, "Modern Family." If Peg Bundy would've looked this good, "Married With Children" would still be on the air.
8
NCIS:LA: CBS, Tuesday 9/8c
Reason to watch: Daniela Ruah
Daniela Ruah will be teaming up with Chris O'Donnel and LL Cool J for the latest installment of "NCIS". I don't know what makes this NCIS different from the original, but one thing I do know is be very careful if you want to see more reel on Daniela Ruah. It just so happens there is a Czech porn star with a very close name to Ruah. It took me a few minutes to realize that Danielle Rush who was nominated for the 2003 AVN award for group sex, is NOT the same girl as the NCIS star. (if I had a nickel for every time I made this mistake)
7
Vampire Diaries: CW, Thursday 8/7c
Reason to watch: Katerina Graham
I was about to say that I have had it with all of these vampire shows until I saw Katerina Graham. I have seen everything from Trueblood to Twilight, and although Sookie Stackhouse is a looker, she can't stack up to Graham. I might have to give this vampire hype one last look.
6
V- Series Premiere November 3rd 8/7c
Reason to watch:Laura Vandervoort
"V" is based on the 80's miniseries with the same title. For those of us that were not around to see the original, "V" is about the "visitors" that come to Earth to learn and spread hope to the culture. Based on the 3 minute trailer on ABC.com this show looks pretty good with all of the special effects and story-lines. One thing that makes it easy on the eyes is Laura Vandervoort who plays Lisa, a recruiter for the visitors. Vandervoort is making a run at Elyse Levesque for hottest sci-fi chick this fall. What I would give for one night on the mother ship with Vandervoort.
5
Melrose Place: CW, Tuesday 9/8c
Reason to watch: Katie Cassidy
Last month there would have been no way that I watched an episode of Melrose Place and now I am about 50/50 split and the only reason is Katie Cassidy. Her spread in Maxim is unreal and if "Melrose Place" promises to be a 60 minute re-run of the photo shoot then I am setting my Tivo as we speak.
4
Cougar Town: ABC, Wednesday 9:30/8:30c
Reason to watch: Courteney Cox
Courteney Cox has still got it. When I first heard about "Cougar Town" being green-lit I was hoping it was not going to be a sitcom version of the Real Housewives of Orange County. I believe Cox looks better now on "Cougar Town" then she did during Friends. Check out her photos in the gallery below, Meow!
3
Community: NBC, Thursday 9:30/8:30c
Reason to watch: Alison Brie
She is on probably the only new show that I was looking forward to watching this season, the highly anticipated comedy, "Community" on NBC. She also stars on Madmen which is the farthest thing from a comedy. Brie looks good on the show and her tight body certainly followed her to NBC. Then again, anything next to Chevy Chase looks like a 10.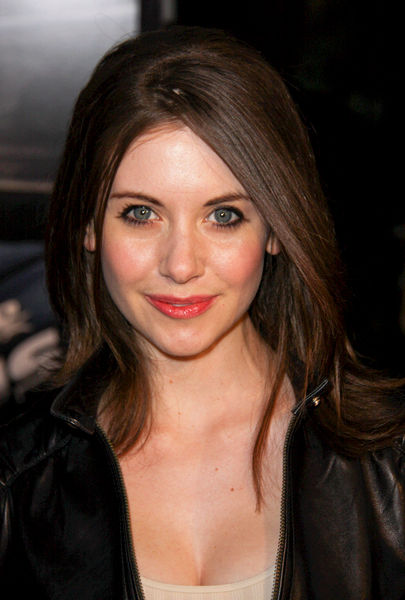 2
Eastwick: ABC, Wednesday 10/9c
Reason to watch: Rebecca Romijn
What could anyone possibly say negatively about the hottest Mom on this website? Rebecca Romijn ditched Jesse and The Rippers but she looks better than ever and we couldn't care less what her new show is about. Something tells me it is either about witches or a bowling alley, either way I'll see her on ABC starting September 23rd.
1
Glee: Fox, Wednesday 9/8c
Reason to watch: Dianna Agron
It seems like Fox has been promoting its new comedy "Glee" since "Parker Lewis Can't Lose" left the air. Either way Glee is featuring a cheerleader that is going to have all of America cheering. However, Quinn Fabray (Agron) will not be getting R-O-W-D-Y as she doubles as the Christ Crusaders (the celibacy club) President. Maybe she'll be the reason I start going back to Church.
no images were found