Fifteen of the NHL's Worst Trades of All-Time
In the post-lockout, salary cap era of the NHL the art of the trade has been slightly diminished by the pressures of economics. You still see some big names move once in a while, but it most cases it comes with a hefty cost for all teams involved. It's enough to make cranky NHL fans longing for big blockbusters reminisce about the days when their team pulled off a heist for the ages. So with another NHL Trade Deadline upon us, we decided to revisit 15 of the most lopsided trades of all-time.
15) J.S. Giguere Trade – June 9, 2000

Calgary Ships Giguere To Anaheim For a 2nd Round Pick
The late 90s and early part of this past decade were not kind to the Calgary Flames, and neither was the team's management for that matter. After appearing in 22 games in parts of two seasons with Calgary, future Conn Smythe winner and Stanley Cup champion Jean Sebastian Giguere was sent packing for California for a second-round draft pick (Matt Pettinger). The Flames felt more comfortable with Fred Brathwaite and an aging Mike Vernon in goal. The move was one of then general manager Craig Button's first, and possibly his worst. Giguere's resume from Anaheim speaks for itself.
14) Jaromir Jagr Trade – July 11, 2001

Pens Trade Jagr to Caps For a Few Bodies
Despite the return of Mario Lemieux to the Penguins, the mercurial Jagr felt his best interests were elsewhere. Coming off of a 121-point season, Jagr and Frantisek Kucera were sent packing to Washington for Kris Beech, Ross Lupaschuk, and Michal Sivek. The trio that the Penguins netted in return managed a combined total of 13 NHL goals, 10 of which belonged to Beech in 2001-2002. Jagr put up another 520 points between Washington and the New York Rangers. It was a small consolation to Pittsburgh that the Capitals eventually traded Jagr to New York for Anson Carter, although that fire sale helped Washington nab Alex Ovechkin in the draft.
13) Roberto Luongo Trade – June 23, 2006
Canucks Acquire Luongo For Big Bert
When Dave Nonis inherited the Vancouver Canucks from Brian Burke the team had a gaping hole in net. Nonis would turn the franchise's fate around after sending a washed-up and struggling Todd Bertuzzi to Florida along with Alex Auld and defenseman Bryan Allen in exchange for Roberto Luongo, Lukas Krajicek, and a sixth-round pick (Sergei Shirokov). Luongo became the face of the franchise and an Olympic gold medalist, while Bertuzzi has traded jerseys five times since the trade. Luongo carried the Canucks' hopes for much of the past decade and the jury is still out on the skilled Shirokov.
12) Adam Oates Trade – June 15, 1989
Wings Move Budding Superstar Oates to St. Louis
Although he would only spend two and a half season in St. Louis, Adam Oates left his mark by helping propel Brett Hull to NHL elite status. Hull eclipsed the 70-goal mark three times while skating with Oates, a milestone he'd never reach again after Oates moved to Boston. What stung the Red Wings most particularly with this transaction was that the return for Oates was an aging Bernie Federko and Tony McKegney. Federko played one season in Detroit before retiring and McKegney saw just over a dozen games before departing Motor City. Veteran winger Paul MacLean was also shipped along with Oates, and I netted a better return than the Wings when I sold my Oates rookie card.
11) Alexei Yashin Trade – June 23, 2001
Milbury Covets Yashin, is an Idiot
Honestly, you could take your pick from a dozen or so awful moves on the part of 'Mad' Mike Milbury. This one is probably his most baffling. What Milbury saw in the enigmatic former 2nd overall pick Alexei Yashin is beyond logic. Yashin was coming off of an 88-point season with the Ottawa Senators, so Milbury jumped at the chance to sell the Islanders' future for the notoriously moody center. The deal for Yashin included winger Bill Muckalt, a young giant of a defenseman named Zdeno Chara, and the team's 2nd overall pick in the 2001 draft. The draft pick would unsurprisingly become Jason Spezza, and the aforementioned Chara would enjoy several season in Ottawa before becoming a Norris Trophy winner in Boston. Milbury would sign Yashin to one of the worst contracts in NHL history with a 10-year $87.5 millon deal, of which he was eventually bought out of. Yashin, now playing in the KHL will continue to be paid by the Islanders through the 2014-15 season.
10) Mark Messier Trade – October 4, 1991
Oilers Complete Dynasty Dismantling By Trading Messier
Mark Messier won four Stanley Cups with the Gretzky Oilers, and led the team to another one year after Gretzky was sold to the Kings. In a move dictated by "financial" reasons, Messier and Jeff Beukeboom were shipped to New York prior to the '91 season for Bernie Nicholls, and prospects Steven Rice, and Louie DeBrusk. Nicholls would spend a couple of lousy season in Edmonton while both Rice and to a lesser extent DeBrusk never panned out. Messier, who was coming off of an injury plagued '90-91 season, returned to form in the Big Apple recording 107 points in his first season to capture the Hart Trophy as the league's most valuable player. In 1993-94, Messier would win his sixth Stanley Cup notching 30-points in 23 playoff games.
9) Joe Thornton Trade – November 30, '05
Bruins Send Joe Thornton to San Jose
The Boston Bruins sent their captain and face of the franchise to the San Jose Sharks just a couple of months into the post-lockout era for next to nothing. Joe Thornton went on to lead the NHL in scoring in 2005-06, capturing the Art Ross and Hart Trophy as the league's most valuable player. What did the Bruins get back for the then 26-year old star? How's Wayne Primeau, Brad Stuart, and Marco Sturm for a return. Sturm is the only player still in a Bruins jersey, and despite being a perennial 20-goal scorer, he's hardly a consolation for the loss of Joe Thornton.
8) Phil Esposito Trade – May 15, 1967
Boston Robs Chicago of Phil Esposito
It makes you wonder if the Thornton deal was karma coming back for the Bruins for this 1967 heist. The Bruins absolutely robbed the Blackhawks when the sent them Pit Martin, Gille Marotte, and Jack Norris in exchange for Phil Esposito, Ken Hodge, and Fred Stanfield. Granted, Martin had a decent career in the Windy City, but Esposito solidified himself as one of the greats while playing Boston. Hodge, too, had an excellent NHL career posting 105 points with Boston on two occasions. Fred Stanfield was even a near point-per-game player while in Boston. Esposito led the NHL in scoring five times in eight full seasons as a Boston Bruin.
7) Doug Gilmour Trade – January 2, 1992

Calgary Sends Gilmour to Toronto
January 2, 1992 was the day that Cliff Fletcher effectively changed the fortunes of his Toronto Maple Leafs while robbing the once proud Flames of theirs. Fletcher acquired Doug Gilmour, Jamie Macoun, Ric Nattress, Rick Wamsley, and Kent Manderville in exchange for Gary Leeman, Jeff Reese, Michel Petit, Alexander Godynyuk, and Craig Berube. Gilmour was the centerpiece of the trade for Toronto, and he would vault himself into super stardom while donning the blue and white. Instrumental in a couple of gutsy deep playoff runs, Gilmour also set a Maple Leafs franchise record for points with a 127-point effort in 1992-93 while capturing the Selke Trophy as the league's best defensive forward. Leeman, a one time 50-goal scorer in Toronto, floundered in Calgary.
6) Brett Hull Trade – March 7, 1988
Brett Hull Departs Calgary for St. Louis
Yet another blundering trade by the Calgary Flames, a young and cocky Brett Hull is shipped to St. Louis for veterans Rob Ramage and Rick Wamsley. The Flames would win the Stanley Cup in 1989, but the effects of this trade would be felt for more than a decade after it took place. Hull's scoring prowess was apparent in Calgary, but the veteran-laden team was not the best fit for soon-to-be superstar son of Bobby Hull. The 41 goals scored by Hull the next season would be his lowest total in seven years until the strike shortened '94-95 season. Hull's goal totals in ten full seasons as a Blue: 41, 72, 86, 70, 54, 57, 29, 43, 42, and 27.
5) Marcel Dionne Trade – 1975
Detroit Sends Disgruntled Dionne to Lotus Land
With his contract having expired with the Detroit Red Wings and coming off a breakout 121-point season, Marcel Dionne was looking for more money than the Wings were willing to offer him. A deal was reached with the L.A. Kings to trade Dionne and Bart Crashley for Terry Harper, Dan Maloney, and Los Angeles' 2nd Round Pick in 1976. Dionne scored in bunches in California, and still stands today as the team's all-time scoring leader and the league's 5th all-time scorer. All this while standing at 5'8″, tiny by NHL standards.
4) The Great One Trade – August 9, 1988
The Unthinkable: Edmonton Trades Wayne Gretzky to L.A.
August 9, 1988 is a day that lives with infamy in Canada. Some call it Canada's Pearl Harbor, the country's biggest star and arguably the greatest professional athlete of his day, Wayne Gretzky was sold traded to the Los Angeles Kings. The fateful blow was only lessened by a gutsy 1990 Oilers team that managed to win a Cup without the Great One, but the day lives on as one that most Canadians wish never took place. Gretzky took his good buddies Marty McSorely and Mike Krushelnyski to the Kings in exchange for Jimmy Carson, Martin Gelinas, three first-round picks, and $15 million for Peter Pocklington's pockets. Edmonton would see another Stanley Cup, but Gretzky failed to win another after his departure. Hear much more about this trade and the book "Gretzky's Tears" in our Podcast interview with author Stephen Brunt.
3) Tom Kurvers Trade – October 16, 198
Toronto Swaps a 1st Round Pick for Tom Kurvers
The Toronto Maple Leafs have a long history of terrible draft decisions, and a number of bad trades to match. This one might be the one that stings the most. After a terrible start to the 1989-90 season, Cliff Fletcher felt the team needed more depth on defense and sent the team's first-round pick in the 1991 draft to New Jersey for Tom Kurvers. Kurvers was coming off of a career year having notched 66 points from the blueline, and followed that performance up with another strong season in Toronto with 52 points. Toronto's pick in 1991 ended up being the 3rd overall choice, and New Jersey used it to select Scott Niedermayer. Kurvers was later traded to Vancouver for Brian Bradley, and Niedermayer went on to win four Stanley Cups and two Olympic gold medals. In typical Leafs' fashion, Brian Bradley was lost to Tampa Bay in the expansion draft and scored 42 goals in his first season with the Lightning. It's hard to say if Toronto would have selected Niedermayer had they hung onto the pick, and given their history it's more likely they would have taken Brent Bilodeau. Still, an awful trade.
2) Cam Neely Trade – June 6, 1986
Canucks Send Cam Neely and a Pick to Boston
Cam Neely was a British Columbia product and had the makings of a premier power forward early on. So what did the Vancouver Canucks do with their young specimen of ferocity? They shipped him and their first-round pick to Boston for Barry Pederson. To his credit, Pederson was a shifty center with a nice scoring touch, but he was no Cam Neely. To make matters worse, that first-round choice ended up being Glen Wesley. Pederson's scoring started to drop of rapidly in Vancouver, to the point of almost vanishing. Neely went on to pile up goals and PIMs in Boston and had it not been for injuries, Neely's Hall of Fame career would have been even more accomplished.
1) Eric Lindros Trade – June 30, 1992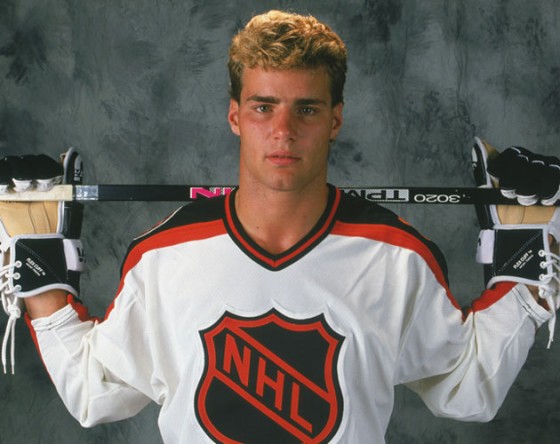 Philly Trades Six Players, a Pick, and Cash for Eric Lindros
To be fair, Eric Lindros was by no means a bust. Injuries derailed his career, and for a brief time he may have been the most dominant player in the world. When Lindros refused to play for the Quebec Nordiques after being selected first overall in 1991 it may have indirectly signaled the end of the team's time in Quebec, but it also ushered in an opportunity to rebuild the entire roster with just one move. The Flyers moved to acquire Lindros by sending their own '91 first-round choice Peter Forsberg, Mike Ricci, Kerry Huffman, Ron Hextall, Steve Duchesne, Chris Simon, a draft pick, and $15 million to Quebec for the Big E. Lindros enjoyed several great seasons in Philadelphia before it was realized that his head was made from pumpkin. Those players acquired in the Lindros deal helped the newly relocated Colorado Avalanche to Stanley Cup victories in 1996, and 2001. Further swinging the deal in Quebec/Colorado's favor was that the draft pick from Philadelphia became Jocelyn Thibault, who was later sent to Montreal as part of the deal for Patrick Roy.