Twenty Badass Comic Book Films
The earliest comic book movie was the Adventures of Captain Marvel, a film serial that became very popular in 1941. The film serial was basically a television series that you could only watch at the movie theaters each week. It was a series of shorts with a continuous story that progressed each and every week. It spawned several more film serials throughout the 1940's including Batman, Captain America, and Superman.
The popularity of turning comic books into movies started to gain some real popularity in the past few years with the Marvel Cinematic Universe and DC Comics Universe emerging as an entirely new way to enjoy the movies. In fact, from 1941 to 1999, there have been around 200 movies based on comic books compared to the 250+ that have been made since 2000. Because almost all of the superhero movies out there today were once a comic book, that has also helped the surge of comic book films. And when money is being made in Hollywood, you best believe they are going to milk it for all it is worth.
That means sequels, reboots, and new films from some of the most popular comic books ever written. Some of the reboots have worked out (The Amazing Spider-Man, The Dark Knight), while others have been tried multiple times to mixed reviews (Superman). But regardless of how many films, or how many times we get a new Batman franchise, the truth of the matter is that comic books turned into films is tearing up Hollywood right now and will not slow down anytime soon. There is just too much money to be made.
Since the trend isn't likely to stop in the near future,we decided it would be a good idea to take a look back at the past 30 years and find 20 badass examples of comic books turned feature film for your entertainment and, hopefully, discussion. Enjoy.
20) Barb Wire
Release Date: May 3rd, 1996
Directed By: David Hogan
Written By: Chris Warner
Box Office: $3.8 Million
Starring: Pamela Anderson
Comic Book Published By: Dark Horse Comics
19) The Mask
Release Date: July 29th, 1994
Directed By: Charles Russell
Written By: Mike Werb
Box Office: $351.6 Million
Starring: Jim Carrey, Cameron Diaz, Peter Riegert, Peter Greene
Comic Book Published By: Dark Horse Comics
18) X-Men: First Class
Release Date: June 3rd, 2011
Directed By: Matt Vaughn
Written By: Ashley Edward Miller, Zack Stentz, Jane Goldman, Matt Vaughn
Box Office: $353.6 Million
Starring: James McAvoy, Michael Fassbender, Rose Byrne, January Jones, Oliver Platt
Comic Book Published By: Marvel Entertainment
17) Suicide Squad
Release Date: August 5th, 2016
Directed By: David Ayer
Written By: David Ayer
Box Office: $745.6 Million
Starring: Will Smith, Margot Robbie, Jared Leto, Viola Davis, Jay Hernandez
Comic Book Published By: DC Comics
16) Watchmen
Release Date: March 6th, 2009
Directed By: Zack Snyder
Written By: David Hayter, Alex Tse
Box Office: $185.3 Million
Starring: Billy Crudup, Malin Ackerman, Carla Gugino, Jeffrey Dean Morgan, Patrick Wilson, Matthew Goode
Comic Book Published By: DC Comics
15) X-Men: Days of Future Past
Release Date: May 23rd, 2014
Directed By: Bryan Singer
Written By: Simon Kinberg
Box Office: $747.9 Million
Starring: Hugh Jackman, James McAvoy, Michael Fassbender, Jennifer Lawrence, Halle Berry, Patrick Stewart, Ian McKellan
Comic Book Published By: Marvel Entertainment
14) 300
Release Date: March 9th, 2007
Directed By: Zack Snyder
Written By: Michael B. Gordon, Kurt Johnstad, Zack Snyder
Box Office: $456.1 Million
Starring: Gerard Butler, Lena Headey, Rodrigo Santoro, Dominic West
Comic Book Published By: Dark Horse Comics
13) Blade
Release Date: August 21st, 1998
Directed By: Stephen Norrington
Written By: David S. Goyer
Box Office: $131.2 Million
Starring: Wesley Snipes, Kris Kristofferson, Stephen Dorff, N'Bushe Wright, Donal Logue
Comic Book Published By: Marvel Entertainment
12) Guardians of the Galaxy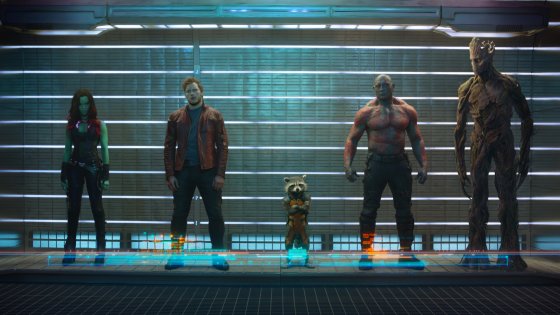 Release Date: August 1st, 2014
Directed By: James Gunn
Written By: James Gunn, Nicole Perlman
Box Office: $773.3 Million
Starring: Chris Pratt, Zoe Saldana, Dave Bautista, Vin Diesel, Bradley Cooper, Benicio del Toro, Glen Close
Comic Book Published By: Marvel Entertainment
11) Deadpool
Release Date: February 12th, 2016
Directed By: Tim Miller
Written By: Rhett Reese, Paul Wernick
Box Office: $783.1 Million
Starring: Ryan Reynolds, Morena Baccarin, Ed Skrein, TJ Miller, Gina Carano
Comic Book Published By: Marvel Entertainment
10) Kingsman: The Secret Service
Release Date: February 13th, 2015
Directed By: Matt Vaughn
Written By: Jane Goldman, Matt Vaughn
Box Office: $414.4 Million
Starring: Colin Firth, Samuel L Jackson, Mark Strong, Taron Egerton, Michael Caine
Comic Book Published By: Icon Comics
9) Batman Returns
Release Date: June 19th, 1992
Directed By: Tim Burton
Written By: Daniel Waters
Box Office: $266.8 Million
Starring Michael Keaton, Michelle Pfeiffer, Danny DeVito, Christopher Walken
Comic Book Published By: DC Comics
8) Kick-Ass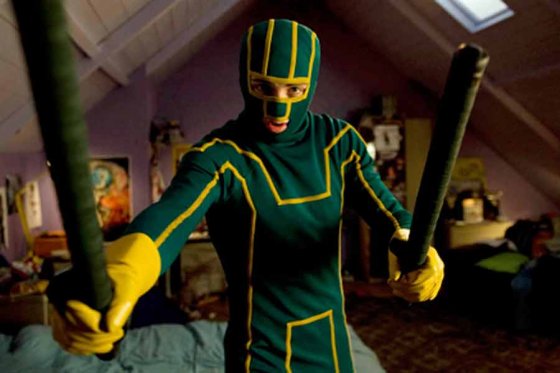 Release Date: April 16th, 2010
Directed By: Matt Vaughn
Written By: Jane Goldman, Matt Vaughn
Box Office: $96.2 Million
Starring: Aaron Johnson, Christopher Mintz-Plasse, Mark Strong, Chloe Grace Moretz, Nicolas Cage
Comic Book Published By: Icon Comics
7) Iron Man
Release Date: May 2nd, 2008
Directed By: Jon Favreau
Written By: Mark Fergus, Hawk Ostby, Art Marcum, Matt Holloway
Box Office: $585.2 Million
Starring: Robert Downey Jr, Terrence Howard, Jeff Bridges, Gwyneth Paltrow
Comic Book Published By: Marvel Entertainment
6) The Crow
Release Date: May 13th, 1994
Directed By: Alex Proyas
Written By: David J. Schow, John Shirley
Box Office: $50.7 Million
Starring: Brandon Lee, Ernie Hudson, Michael Wincott
Comic Book Published By: Image Comics
5) V for Vendetta
Release Date: March 17th, 2006
Directed By: James McTeigue
Written By: The Wachowski Brothers
Box Office: $132.5 Million
Starring: Natalie Portman, Hugo Weaving, Stephen Rea, John Hurt
Comic Book Published By: DC Comics
4) Batman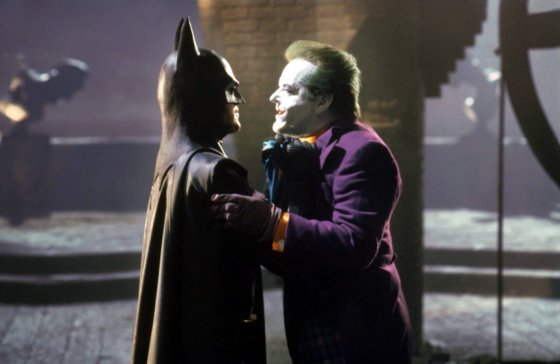 Release Date: June 23rd, 1989
Directed By: Tim Burton
Written By: Sam Hamm, Warren Skaaren
Box Office: $411.3 Million
Starring: Michael Keaton, Jack Nicholson, Kim Basinger, Robert Wuhl, Billy Dee Williams
Comic Book Published By: DC Comics
3) X2
Release Date: May 2nd, 2003
Directed By: Bryan Singer
Written By: Michael Dougherty, Dan Harris, David Hayter
Box Office: $407.7 Million
Starring: Patrick Stewart, Hugh Jackman, Ian McKellan, Halle Berry, Famke Janssen, James Marsden, Rebecca Romijn-Stamos
Comic Book Published By: Marvel Entertainment
2) Sin City
Release Date: April 1st, 2005
Directed By: Frank Miller, Robert Rodriguez, Quentin Tarantino
Written By: Frank Miller, Robert Rodriguez
Box Office: $158.8 Million
Starring: Jessica Alba, Bruce Willis, Mickey Rourke, Benicio del Toro, Brittany Murphy, Clive Owen, Elijah Wood
Comic Book Published By: Dark Horse Comics
1) The Dark Knight
Release Date: June 18th, 2008
Directed By: Christopher Nolan
Written By: Christopher Nolan, David Goyer
Box Office: $1.005 Billion
Starring: Heath Ledger, Christian Bale, Michael Caine, Gary Oldman, Aaron Eckhart, Maggie Gyllenhaal, Morgan Freeman
Comic Book Published By: DC Comics