The 20 Greatest "Killer Clown" Horror Films of All Time
In 1986, Stephen King wrote a story about seven children who were being terrorized by It, this mysterious entity that not only had the ability to shapeshift and change forms, it could also create illusions, regenerate, teleport, control the weather, control minds, and it even could read people's minds. It would use these abilities to exploit the darkest fears and biggest phobia's of someone just to lure them in while hunting them down to kill them.
Just a few years later, Warner Bros. created the film version of the novel, which aired as a two-part miniseries on ABC. Although there are many differences between the book and the 1990 film, the biggest was the misconception that It was an evil clown named Pennywise. Pennywise was just one of the many forms It took in the novel but because of Coulrophobia, the miniseries decided to focus on the evil clown more than any other forms It took in the novel.
Coulrophobia, if you have not figured it out by now, is the fear of clowns. An estimated 13% of all adults in the United States suffer from this phobia and the rise of this fear can be traced back to "It" and that scary clown. Of course it did not take Hollywood very long to start making dozens of horror films with evil clowns as the antagonist. So let's take a look at the 20 Greatest Killer Clown Movies of All Time, as we celebrate the latest version of "It" hitting theaters. Where should "It" rank on this list?
20) The Clown Murders, 1976
Release Date: September, 17th
Director: Martyn Burke
Starring: Stephen Young, Susan Keller, Lawrence Dane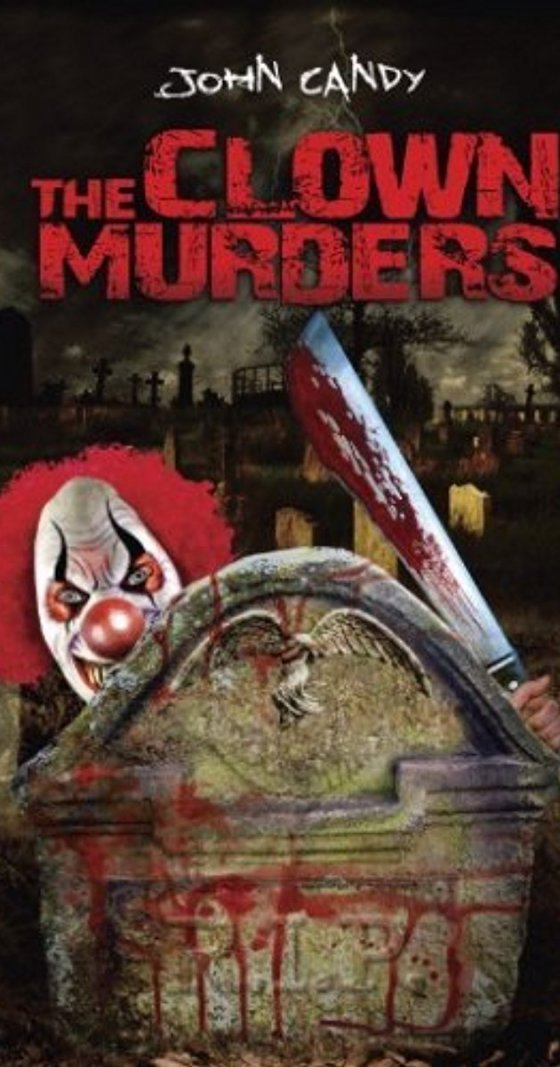 19) Killjoy, 2000
Release Date: October 24th
Director: Craig Ross
Starring: Angel Vargas, Vera Yell, Lee Marks
18) Secrets of the Clown, 2007
Release Date: September 29th
Director: Ryan Badalamenti
Starring: Ryan Badalamenti, Tami Badalamenti, John Blick
17) Dead Clowns, 2004
Release Date: July 31st
Director: Steve Sessions
Starring: Lucien Eisenach, Jeff Samford, Eric Spudic
16) The Clown at Midnight, 1999
Director: Jean Pellerin
Starring: Christopher Plummer, Margot Kidder, Sarah Lassez
15) Clown Town, 2016
Release Date: September 30th
Director: Tom Nagel
Starring: Brian Nagel, Lauren Compton, Andrew Staton
14) Funland, 1987
Director: Michael A. Simpson
Starring: William Windom, David Lander, Bruce Mahler
13) 100 Tears, 2007
Release Date: June 23rd
Director: Marcus Koch
Starring: Georgia Chris, Joe Davison, Raine Brown
12) Amusement, 2008
Release Date: January 20th
Director: John Simpson
Starring: Katheryn Winnick, Laura Breckenridge, Jessica Lucas
11) Carnival of Souls, 1998
Release Date: September 21st
Director: Adam Grossman, Ian Kessner
Starring: Bobbie Phillips, Shawnee Smith, Larry Miller
10) Scary or Die, 2012
Release Date: September 11th
Director: Bob Badway, Michael Emanual, Igor Meglic
Starring: Bill Oberst Jr, Hali Lula Hudson, Shawn-Caulin Young
Details: The fun of Scary or Die is enjoying the five different stories that are being told in the film and how they each interlock with the others. This film is among the most underrated on this list and deserves a shot this October.
9) Gacy, 2003
Release Date: May 13th
Director: Clive Saunders
Starring: Mark Holton, Adam Baldwin, Tom Waldman
Details: John Wayne Gacy is one of the scariest human beings to ever live. He was a model citizen that spent his time volunteering at hospitals dressed as a clown. But what no one knew was that he was kidnapping young men and little boys, bringing them back to his home, and eventually killing them. They still do not know the exact number of deaths he was responsible for but watching him on screen is scarier than anyone could imagine.
8) Clownhouse, 1989
Release Date: June 1st
Director: Victor Salva
Starring: Nathan Forrest Winters, Brian McHugh, Sam Rockwell
Details: What is scarier than an evil clown? What if you were trapped in a house while three escaped mental patients show up, dressed as clowns, and looking for blood? Clownhouse is older than most of the films on this list but should be given a chance.
7) 31, 2016
Release Date: September 16th
Director: Rob Zombie
Starring: Sheri Moon Zombie, Lew Temple, Jeff Daniel Phillips
Details: If you are not a Rob Zombie fan, then you are not going to enjoy this film. But for the rest of us, there is no other director we would want to line up to see and enjoy when it comes to evil clowns.
6) Stitches, 2012
Release Date: October 26th
Director: Conor McMahon
Starring: Ross Noble, Tommy Knight, Eoghan McQuinn
Details: Try to enjoy what a dark comedy starring a dead clown that returns to kill everyone that tortured him and lead to his death. It is one of the best films you will see if you go into it with an open mind about what a horror movie should be. It is not always about dark corners and blood.
5) Clown, 2014
Release Date: June 17th
Director: Jon Watts
Starring: Andy Powers, Laura Allen, Peter Stormare
Details: Don't ever leave a clown costume in your basement, let alone put it on. That is the moral of the story from the Eli Roth film "Clown".
4) The Houses October Built, 2014
Release Date: October 10th
Director: Bobby Roe
Starring: Brandy Schaefer, Zack Andrews, Bobby Roe
Details: When it comes to caught footage movies, The Houses October Built dominates the sub-genre when it comes to clowns and horror films. This movie is all about a group of friends traveling to the scariest haunted houses across the country but end up getting in a little too deep when they find themselves being harassed by a group of clowns.
3) Killer Klowns from Outer Space, 1988
Release Date: May 20th
Director: Stephen Chiodo
Starring: Grant Cramer, Suzanne Snyder, John Allen Nelson
Details: Horror movies today have desensitized audiences with their need for jump scares and caught footage films. It has become tougher to scare an audience without using some serious psychological story writing. In the case of Killer Klowns from Outer Space, it was not the scariest, in fact, it was cheesy. Yet it worked and remains a cult classic still today.
2) House of 1000 Corpses, 2003
Release Date: April 11th
Director: Rob Zombie
Starring: Sid Haig, Karen Black, Bill Moseley
Details: When Rob Zombie jumped into the movie making business, fans knew it was going to be epic and he did not disappoint. House of 1000 Corpses is his best work and it is absolutely incredible. From the striking visuals to the appreciation for the classic horror films, this movie gives viewers a whole new approach to the genre that some fans just were not prepared for. If you want to be scared, stick around for Sid Haig's monologue during his Richard Speck scene.
1) The Last Circus, 2010
Release Date: September 7th
Director: Alex de la Iglesia
Starring: Carlos Areces, Antonio de la Torre, Carolina Bang
Details: The Last Circus is, by far, the greatest overall horror film with clowns ever created. It is a tragic love story between two clowns, Sergio and Javier, and their love for Natalia, a trapeze artist. The story is very sad and dark. Although it might not have been the scariest, it was easily the best of all time, just above Rob Zombie's film debut.