2009 Oscar Predictions
In case you didn't know, this coming Sunday at 8 P.M. are the Oscars. I know many people don't like the show. I often hear to it referred as a big Hollywood circle jerk. I don't really agree with that sentiment as it's just an Awards show. And to be fair, just about anything I've ever been involved in has given out awards. My middle school gave out awards for academics, the junior varsity field hockey team at my high school gave out MVP awards, and even in business there are awards for excellence in just about anything. The Oscars are no different, except that the ceremony is on national television. So I can't fault them for doing what everyone else does. Nor can I fault them that enough people want to watch that it gets on network television. And here's the great thing, if you don't care you aren't forced to watch.
Still, maybe you're going to watch anyway. Maybe you want to or maybe someone's forcing you to watch. Either way, you can make the night a little more interesting by entering an Oscar Pool and predicting the winners. It will give you a rooting interest and possibly make a few bucks. And you can always DVR the show to fast forward through the boring parts and get to the winners.
Now you might think to yourself, I don't know that much about these movies and I haven't seen (or maybe even heard of) most of them. That's okay. The good news is that the Oscars are like an open book test. With so many precursor award shows, you generally know what's popular and who people will vote for. After all, the Oscars is a popularity contest, most votes win. If you take the time to look at the various guild and critics awards, you should have a pretty good idea of who will win. Maybe not every category, but enough to give you a fighting chance.
Armed with that knowledge, you can make a few easy bucks if things break right on Oscar night. But I'll go one step further and do some of the work for you. Below is a summary of who I'm going to pick on Oscar night and why. You can follow my lead, or simply find one or two categories where I'll be wrong and do even better than my selections. Hopefully, come Monday morning these picks will look pretty smart.
---
THE MAJORS
The awards everyone talks about and people remember years down the road. Writing is usually included in the major categories, bringing the total major awards to eight.
---
Best Picture

• The Curious Case of Benjamin Button, Kathleen Kennedy, Frank Marshall and Ceán Chaffin
• Frost/Nixon, Brian Grazer, Ron Howard and Eric Fellner
• Milk, Dan Jinks and Bruce Cohen
• The Reader, Anthony Minghella, Sydney Pollack, Donna Gigliotti, and Redmond Morris
• Slumdog Millionaire, Christian Colson
Favorite: Slumdog Millionaire
Slumdog Millionaire has swept most of the secondary awards (including all three awards associated with Oscar success: the Directors Guild Award, the Golden Globe, and the BAFTA) and seems to have unstoppable and ever growing momentum. The only other film still in its rear view mirror is Benjamin Button. Everything else has been left way behind. Sometimes people over think these things are look for reasons not to pick the favorite. This is not one of those times.
Pick: Slumdog Millionaire
---
Best Director
• The Curious Case of Benjamin Button, David Fincher
• Frost/Nixon, Ron Howard
• Milk, Gus Van Sant
• The Reader, Stephen Daldry
• Slumdog Millionaire, Danny Boyle
Favorite: Danny Boyle
Boyle captured the Directors Guild award, which predicts the Oscar winner 85-90% of the time. It's the most accurate guild predictor, and given Slumdog's likely success elsewhere, this seems like it's in the bag.
Pick: Danny Boyle
---
Best Actor
• Richard Jenkins in The Visitor
• Frank Langella in Frost/Nixon
• Sean Penn in Milk
• Brad Pitt in The Curious Case of Benjamin Button
• Mickey Rourke in The Wrestler
Favorite: Sean Penn or Mickey Rourke (varies)
This is a two horse race between Mickey Rourke and Sean Penn. And it's a pretty close one. Penn captured the SAG Award, which is voted upon by actors. And actors make up the largest section of the Academy. But Rourke took the Golden Globe and the BAFTA. Plus Rourke has an additional advantage, Penn won the Best Actor Oscar fairly recently so there may be some reluctance to award him again. And the Academy always likes a comeback story. If Rourke has an undoing, he may alienate voters due to his bad boy reputation and the fact his film seems to turn off a section of Academy voters.
Pick: Mickey Rourke
---
Best Supporting Actor
• Josh Brolin in Milk
• Robert Downey Jr. in Tropic Thunder
• Philip Seymour Hoffman in Doubt
• Heath Ledger in The Dark Knight
• Michael Shannon in Revolutionary Road
Favorite: Heath Ledger
Pretty much the lock of the night. A great performance by Ledger combined with his untimely death lead to about zero chance of an upset. And for good measure, Ledger has won every major award preceding this one, and would become only the second actor to win a posthumous Academy Award;
Pick: Heath Ledger
---
Best Actress
• Anne Hathaway in Rachel Getting Married
• Angelina Jolie in Changeling
• Melissa Leo in Frozen River
• Meryl Streep in Doubt
• Kate Winslet in The Reader
Favorite: Kate Winslet
Another tight race, much like Best Actor, where Winslet remains a slight favorite over Meryl Streep. Normally Streep would be a strong front-runner after capturing the SAG Award and the Critics' Choice. The one caveat is that Winslet won those same awards, but in the Best Supporting Actress category. Now they square off head to head. A few interesting tidbits to the race. The one major award Streep did not win was the Golden Globe, which went to Winslet, but for her role in Revolutionary Road (Winslet also captured a Golden Globe for Best Supporting actress in The Reader). Streep, maybe the best actress alive, hasn't won anything since 1982. Winslet has now been nominated six times without a win to her record. She's due and she's had a big year overall.
Pick: Kate Winslet
---
Best Supporting Actress
• Amy Adams in Doubt
• Penélope Cruz in Vicky Cristina Barcelona
• Viola Davis in Doubt
• Taraji P. Henson in The Curious Case of Benjamin Button
• Marisa Tomei in The Wrestler
Favorite: Penélope Cruz
The most interesting race of the night, and a truly wide open one at that. That can largely be attributed to Kate Winslet, who won nearly all the precursor awards for The Reader and then vacated the category. Penélope Cruz seems to have emerged from the pack as the favorite, followed by Viola Davis and Marisa Tomei. Still, this is a notoriously difficult category to predict. And while I'd love to see Cruz win, I just don't feel safe picking her in a comedy that wasn't nominated for any other awards. I'm more inclined to turn towards Doubt, a movie that made an impact with voters, scoring a rare four acting nominations. And yet I'm not picking Streep or Hoffman to win, so this is my last chance for Doubt to pick-up a win. I'd going with Adams, partly because she has the largest role in this category and because she's a bigger name then her Doubt co-star. I wouldn't advise following me on this limb, but I'm taking the longshot.
Pick: Amy Adams
---
Adapted Screenplay
• The Curious Case of Benjamin Button, Screenplay by Eric Roth, Screen story by Eric Roth and Robin Swicord
• Doubt, Screenplay by John Patrick Shanley
• Frost/Nixon, Screenplay by Peter Morgan
• The Reader, Screenplay by David Hare
• Slumdog Millionaire, Screenplay by Simon Beaufoy
Favorite: Slumdog Millionaire
Slumdog Millionaire has been cleaning up on the writing awards, winning the Golden Globe, the BAFTA, and the Writer's Guild. It's a heavy favorite for the Oscar too.
Pick: Slumdog Millionaire
---
Original Screenplay
• Frozen River, Screenplay by Courtney Hunt
• Happy-Go-Lucky, Screenplay by Mike Leigh
• In Bruges, Screenplay by Martin McDonagh
• Milk, Screenplay by Dustin Lance Black
• WALL•E, Screenplay by Andrew Stanton, Jim Reardon, Original story by Andrew Stanton, Pete Docter
Favorite: Milk
Milk is the betting favorite, but I've seen both In Bruges and WALL•E considered the frontrunner at some point. WALL•E is a unique choice given the lack of dialogue in the movie, and could become the first animated movie to collect a writer's award. In Bruges took the BAFTA over Milk, but Milk took the Writer's Guild Award. I'd side with the WGA in that battle.
Pick: Milk
---
THE TECHNICAL AWARDS
Not technical in the strictest sense (as there are Scientific and Technical Achievement Awards too), but these reward the those aspects that contribute to the final film. There are ten in total.
---
Art Direction
• Changeling, Art Direction: James J. Murakami, Set Decoration: Gary Fettis
• The Curious Case of Benjamin Button, Art Direction: Donald Graham Burt, Set Decoration: Victor J. Zolfo
• The Dark Knight, Art Direction: Nathan Crowley, Set Decoration: Peter Lando
• The Duchess, Art Direction: Michael Carlin, Set Decoration: Rebecca Alleway
• Revolutionary Road, Art Direction: Kristi Zea, Set Decoration: Debra Schutt
Favorite: The Curious Case of Benjamin Button
Art Direction is the building of sets, basically everything you see on screen that isn't naturally occurring. Benjamin Button and The Dark Knight are the only two getting any kind of buzz, and Benjamin Button is a Best Picture nominee, which is usually a good tiebreaker for close races. It also won the Art Director's Guild for contemporary film design.
Pick: The Curious Case of Benjamin Button
---
Cinematography
• Changeling, Tom Stern
• The Curious Case of Benjamin Button, Claudio Miranda
• The Dark Knight, Wally Pfister
• The Reader, Chris Menges and Roger Deakins
• Slumdog Millionaire, Anthony Dod Mantle
Favorite: Slumdog Millionaire
Cinematography is the picture you see on screen, the art of movie photography if you will. This award tends to go to a beautiful film, one that looks good on screen. Not all source material lends itself to such photography, but a few Best Picture nominess are included. Slumdog Millionaire and Benjamin Button are the two frontrunners, but the former took the American Society of Cinematographers award, so it will likely win here.
Pick: Slumdog Millionaire
---
Costume Design
• Australia, Catherine Martin
• The Curious Case of Benjamin Button, Jacqueline West
• The Duchess, Michael O'Connor
• Milk, Danny Glicker
• Revolutionary Road, Albert Wolsky
Favorite: The Duchess
The Academy is always a sucker for period piece dramas in the costume design category. Marie Antoinette won two years ago and Elizabeth: The Golden Age won last year. Neither received great reviews, and people often picked against them figuring the Academy would reward a better reviewed film (even though that has nothing to do with Costume Design). Those people were wrong.
Pick: The Duchess
---
Editing
• The Curious Case of Benjamin Button, Kirk Baxter and Angus Wall
• The Dark Knight, Lee Smith
• Frost/Nixon, Mike Hill and Dan Hanley
• Milk, Elliot Graham
• Slumdog Millionaire, Chris Dickens
Favorite: Slumdog Millionaire
Editing tends to be linked with Best Picture, and with Slumdog Millionaire the favorite there, it remains the favorite here. It also captured the American Cinema Editors award.
Pick: Slumdog Millionaire
---
Makeup
• The Curious Case of Benjamin Button, Greg Cannom
• The Dark Knight, John Caglione, Jr. and Conor O'Sullivan
• Hellboy II: The Golden Army, Mike Elizalde and Thom Floutz
Favorite: The Curious Case of Benjamin Button
There are usually two ways to win a best makeup Oscar. Show people aging or show people deformed. Pure fantasy tales have become more mainstream in the last decade, so creating fantasy characters is quickly becoming a third option. All three possibilities are represented here. Benjamin Button should prevail by hitting on an old Oscar favorite and showing characters aging in both directions.
Pick: The Curious Case of Benjamin Button
---
Original Score
• The Curious Case of Benjamin Button, Alexandre Desplat
• Defiance, James Newton Howard
• Milk, Danny Elfman
• Slumdog Millionaire, A.R. Rahman
• WALL•E, Thomas Newman
Favorite: Slumdog Millionaire
The Dark Knight caused a stir here, originally having its score disqualified, then later reinstated. It didn't even merit a nomination in the end, so much ado about nothing. That leaves the usual suspects plus Defiance, a true sleeper. Still, nothing appears to pill enough support to unseat Slumdog in this category.
Pick: Slumdog Millionaire
---
Original Song
• "Down to Earth" from WALL•E, Music by Peter Gabriel and Thomas Newman, Lyric by Peter Gabriel
• "Jai Ho" from Slumdog Millionaire, Music by A.R. Rahman, Lyric by Gulzar
• "O Saya" from Slumdog Millionaire, Music and Lyric by A.R. Rahman and Maya Arulpragasam
Favorite: Jai Ho
Original Song has been fairly unpredictable in recent years, as even Eminem and Three 6 Mafia won Oscars (and before Martin Scorsese). This from an Academy that's been historically viewed as too old. Who would have thought Academy would reward rap music? And twice? Down to three choices this year, blind odds say I can pick the winner 33% of the time. Despite the favored status of Slumdog, I'll go with a split vote between its nominees and an upset from Peter Gabriel.
Pick: "Down to Earth" from WALL•E
---
Sound Editing
• The Dark Knight, Richard King
• Iron Man, Frank Eulner and Christopher Boyes
• Slumdog Millionaire, Tom Sayers
• WALL•E, Ben Burtt and Matthew Wood
• Wanted, Wylie Stateman
Favorite: The Dark Knight
For those wondering, sound editing involves the creation of sound. Those predicting a Slumdog Millionaire sweep figure the movie can snatch up this category in the wave of a big night. That's not impossible, as the film rates as the favorite in most of its nominated categories. This is not one of them. And even Best Picture winners rarely sweep all the categories they're nominated in. Historically, this categorey goes to Summer blockbusters, and The Dark Knight and WALL•E are the latest potentials. I'm giving the edge to the Batman.
Pick: The Dark Knight
---
Sound Mixing
• The Curious Case of Benjamin Button, David Parker, Michael Semanick, Ren Klyce and Mark Weingarten
• The Dark Knight, Lora Hirschberg, Gary Rizzo and Ed Novick
• Slumdog Millionaire, Ian Tapp, Richard Pryke and Resul Pookutty
• WALL•E, Tom Myers, Michael Semanick and Ben Burtt
• Wanted, Chris Jenkins, Frank A. Montaño and Petr Forejt
Favorite: The Dark Knight
Sound Mixing is exactly what is says, the mixing the sound into the film including effects, music, and dialogue. Again, you're presented with the option of whether Slumdog Millionaire can sweep or just win some of the bigger categories. If it can pick up an early victory in either Sound categorey, you know it will be a big, big night for the film. Slumdog also won the Cinema Audio Society award, but I'm not ready to climb on board for a victory here.
Pick: The Dark Knight
---
Visual Effects
• The Curious Case of Benjamin Button, Eric Barba, Steve Preeg, Burt Dalton and Craig Barron
• The Dark Knight, Nick Davis, Chris Corbould, Tim Webber and Paul Franklin
• Iron Man, John Nelson, Ben Snow, Dan Sudick and Shane Mahan
Favorite: The Curious Case of Benjamin Button
Usually this category is reserved for the Summer blockbusters, although Lord of the Rings and Titanic both won here en route to huge Oscar nights. The Dark Knight had solid effects, but nothing outstanding. Iron Man had what Transformers had last year, and Transformers lost (although some blame Michael Bay for that). So I'm sticking with Benjamin Button.
Pick: The Curious Case of Benjamin Button 
---
THE SPECIALIZED AWARDS
These final six awards require a film to be of a certain type and/or length. They are often the most obscure and hardest to predict. 
---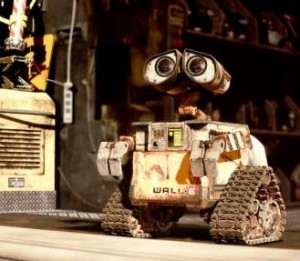 Best Animated Film
• Bolt, Chris Williams and Byron Howard
• Kung Fu Panda, John Stevenson and Mark Osborne
• WALL•E, Andrew Stanton
Favorite: WALL•E
You know it's going to be WALL•E, I know it's going to be WALL•E, feel safe picking WALL•E.
Pick: WALL•E
---
Best Animated Short
• La Maison en Petits Cubes, Kunio Kato
• Lavatory – Lovestory, Konstantin Bronzit
• Oktapodi, Emud Mokhberi and Thierry Marchand
• Presto, Doug Sweetland
• This Way Up, Alan Smith and Adam Foulkes
Favorite: Presto
With any of three short categories, you're probably better off just throwing a dart at a board to make the selection. They are that unpredictable. Pixar's Presto rates as a favorite based on brand name alone, but you can watch them online and pick your favorite. And it's not like Pixar wins this all the time, as they've lost plenty times this decade. When in doubt, vote for whichever short is longest. For the last five years, this award has been won by the nominee with the longest runtime.
Pick: La Maison en Petits Cubes
---
Best Documentary
• The Betrayal (Nerakhoon), Ellen Kuras and Thavisouk Phrasavath
• Encounters at the End of the World, Werner Herzog and Henry Kaiser
• The Garden, Scott Hamilton Kennedy
• Man on Wire, James Marsh and Simon Chinn
• Trouble the Water, Tia Lessin and Carl Deal
Favorite: Man on Wire
Trouble the Water is a remarkable and heartbreaking account of Hurricane Katrina, but Man on a Wire defeated Slumdog Millionare to win Best British film at the BAFTAs. And it features a man walking between the Towers of the World Trade Center. That should be enough to carry it to victory.
Pick: Man on Wire
---
Best Documentary Short
• The Conscience of Nhem En, Steven Okazaki
• The Final Inch, Irene Taylor Brodsky and Tom Grant
• Smile Pinki A Principe Production, Megan Mylan
• The Witness – From the Balcony of Room 306, Adam Pertofsky and Margaret Hyde
Favorite: The Conscience of Nhem En
At least there are only four nominations here, increasing one's blind luck odds from 20% to 25%. I like Witness, a documentary about the shooting of Martin Luther King, Jr.
Pick: The Witness
---
Best Foreign Film
• The Baader Meinhof Complex, Germany
• The Class, France
• Departures, Japan
• Revanche, Austria
• Waltz with Bashir, Israel
Favorite: Waltz with Bashir
Waltz with Bashir has two things going for it. It's won many of the precusor awards and its from Israel. I know it's a cliché, but the Academy has many Jewish members and I'm sure they wouldn't mind seeing Israel win Best Foreign Film. The Class also has its supporters.
Pick: Waltz with Bashir
---
Best Live Action Short
• Auf der Strecke (On the Line), Reto Caffi
• Manon on the Asphalt, Elizabeth Marre and Olivier Pont
• New Boy, Steph Green and Tamara Anghie
• The Pig, Tivi Magnusson and Dorte Høgh
• Spielzeugland (Toyland), Jochen Alexander Freydank
Favorite: Spielzeugland (Toyland)
I think Spielzeugland rates as a betting favorite due to its subject matter, a German mother who deals with a son close to a Jewish boy during World War 2. But in a wide open race, I'm going to trust The Movie Retriever on their choice.
Pick: Manon on the Asphalt
---
That's all twenty-four Oscars. If you want to play along, you can join the Gunaxin group at Oscars.com, Group ID 17399.