2011 Summer Movies as NFL Quarterbacks
After four eventful months, the 2011 summer movie season has come to an end. And with it comes the beginning of the 2011 NFL season. Lines at the box office will be replaced by lines at the stadium. Soda and popcorn takes a back seat to beer and hot dogs. Trim, beautiful film stars give way to buff, hulking professional athletes.
I'm obsessed with both movies and football, so rather than provide a traditional review of the summer slate, I'm going to instead evaluate Hollywood's best and worst offerings as if they were NFL quarterbacks. Trust me, it will all make sense, unless you know nothing about pigskin, in which case I strongly suggest you move to China because you're obviously a dirty Commie who relishes America's nosedive into the economic abyss.
Nevertheless, let's get ramblin'.
Fast Five – Kyle Orton
Fast Five held off an army of superheroes and aliens to become the fifth-highest domestic grossing  movie of the summer, to the surprise of many. Orton kept God's gift to football Tim Tebow on the bench during training camp and rightfully seized the starting job. Like them or not, both the movie and the quarterback produce results.
Captain America: The First Avenger – Matt Ryan
Cap will never be mistaken for the Dark Knight or Iron Man, but he and his magic shield of justice carved a nice chunk out of the July box office and got mostly positive reviews along the way. Matty Ice will always dwell in the shadow of bigger names like Brees, Brady and Manning. He's on the cusp of greatness — all he has to do is reach out and grab it.
The Hangover 2 – Matt Cassel
Based on the enormous amount of coin the first Hangover banked, it was a foregone conclusion there would be another chapter. Despite its huge haul, part deux was nothing more than a less funny retread of the original. Cassel was phenomenal in 2010, tossing a career high 27 touchdowns. Will he live up to the hype in 2011? Increased pressure and a first-place schedule suggest he won't.
Thor – Aaron Rodgers
Thor faced the daunting task of kicking the summer off in rousing fashion. Well, it delivered in spades finishing seventh in domestic profits, thus increasing the profile of star Chris Hemsworth. Rodgers won his first Super Bowl in February and has now been anointed the "it" quarterback in the NFL. He's young, bold and like the God of Thunder, tough as nails.
Zookeeper – Alex Smith
Kevin James just won't go away. His never-ending fat joke of a career should've been over years ago, but for some inexplicable reason people pay to see his schtick. Alex Smith is still in the 49ers quarterback picture six years after being drafted number one overall. He's never thrown for 3000-plus yards or 20 touchdowns in a season, and has been benched more times than Billy Martin was fired.
Bridesmaids – Ben Roethlisberger

A movie starring chicks, about chicks, targeting chicks turned out to be a genuinely funny smash hit. Go figure. Big Ben, an arrogant ass with questionable morals, turned into one of the game's best quarterbacks. Massive box office receipts and rave reviews don't lie, and neither does three Super Bowl appearances and two titles in seven seasons. Plus, he got married in July, which fits the whole wedding theme.
Transformers: Dark of the Moon – Jay Cutler
Funny thing about the Transformers movies: all three have cleaned house at the box office and yet none of them are particularly good. The third (and hopefully final) flick even dumped hotter than hot hottie Megan Fox. Cutler led the Bears to the NFC Championship game last season and yet nobody really thinks he's all that good. And he too dumped his hot girlfriend, Kristin Cavallari, last month.
Green Lantern – Kevin Kolb
I like Ryan Reynolds. Seems like an unpretentious guy's guy. That being said, he's not an A-List movie star. Never has been, never will be. I like Kevin Kolb. Seems like a decent young Texan with a good head on his shoulders. That being said, he's not an A-List signal caller. If the Eagles couldn't teach him to be one, do you really think the Cardinals can?
X-Men: First Class – Drew Brees

Of all the summer superhero stories, X-Men: First Class was by far my favorite. It wasn't as flashy as the others, but the writing was tight and the direction clean. Sadly, it appears to have been largely forgotten. Drew Brees won a Super Bowl and Super Bowl MVP just two years ago. He's thrown for over 4000 yards in six straight seasons and 30-plus touchdowns in the last three. However, all the talk entering 2011 surrounds Vick, Brady, Rodgers and Kolb. Makes no sense.
The Deathly Hallows Part 2 – Peyton Manning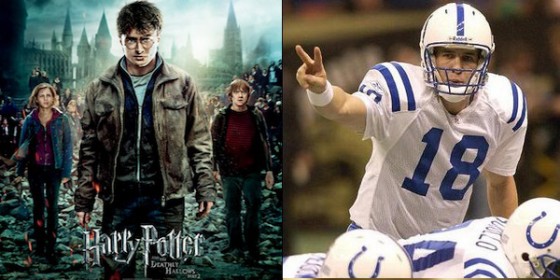 The Harry Potter swan song became the third highest grossing film of all time in a matter of weeks. For over a decade, the franchise has been delivering quality blockbusters capable of engaging audiences of all ages. Manning has been confusing defenses and dazzling crowds for close to fifteen years and recently signed a $90 million contract. He's never missed a start in his career, but like Potter, that could come to an end if his surgically repaired neck doesn't heal in time.
Final Destination 5 – Cam Newton
All five of the Destination films contain a couple Holy S scenes worth talking about with friends and family. Problem is the whole series has a been there done that feel to it which dulls the shine. Cam Newton is a BCS champion and Heisman Trophy-winning top draft pick with incredible athletic instincts and suspect passing skills. We've seen his kind before.  Their names are Culpepper, Young, Vick and Tebow. Thus far, Super Bowls have eluded them all.
Cowboys & Aliens – Donovan McNabb
Once upon a time Harrison Ford could do no wrong with his movie choices. He was a blockbuster machine, pumping out one hit after another. Since 2000, his resume includes duds like What Lies Beneath, Hollywood Homicide, Firewall, Extraordinary Measures and this lazily titled summer flop. As recent as 2009, Donovan McNabb was a franchise signal caller with five NFC Championship game starts. Now, he's on his third team in three seasons and is coming off his worst year as a pro.
The Change-Up – Eli Manning
The ol' switcheroo plot is boring and unoriginal. You keep hoping these kinds of movies will get better, but they never do. Sadly, they aren't going anywhere soon. Look for a similar turd to be pinched off next summer. The littlest Manning has a Super Bowl ring, although he'll never be confused for big brother Peyton. Just when you think he's ready to turn the corner, he accounts for 30 turnovers in 2010.
Rise of the Planet of the Apes – Mike Vick
The first Planet of the Apes series was lauded for being groundbreaking science fiction. The 2001 reboot was rife with problems and failed to achieve the status of the original. The 2011 version resurrected the franchise and impressed audiences and critics alike. Vick entered the league in 2001 touted as the future of quarterbacking. His life and career derailed in 2007 when he ended up in prison on dogfighting charges. After a miraculous comeback in 2010, he is once again the toast of the league.
Pirates of the Caribbean: On Stranger Tides – Tom Brady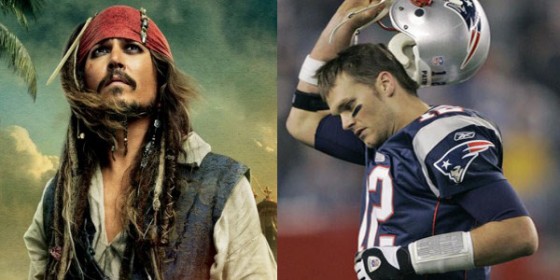 Hey, look, Johnny Depp and his luscious locks made another lucrative Pirates flick. Shocker. Hey, look, Tom Brady and his gorgeous mane are favorites to guide the Patriots back to the promised land. Yawn. If any two guys are living perfect lives, it's this dynamic duo.