2011 Tour de France Primer for Americans
The 98th Tour de France will begin on Saturday, with the opening stage departing ceremonially through the treacherous Passage du Gois. While I don't expect many Americans to tune in during the holiday weekend, you do have three weeks to enjoy this most epic of races. To help you get oriented for this event, today we provide a primer for Americans who are looking to experience the sport, possibly for the first time. Lance Armstrong is gone, but his impact is still being felt, as this year matches a high for American riders in the race and many more promising youngster are poised to join the peleton in the years to come.
Doping in Cycling
Lets get this out of the way first. Yes, there is a doping problem in Professional Cycling. In recent years, numerous riders have tested positive, and have been expelled from the race and the sport. The good news is that most of the names associated with doping scandals will not be racing in this year's Tour, although a few of them are indeed back. Cycling has a tarnished reputation for doping, however in my opinion the sport should be applauded for catching the cheats, and getting rid of them. Riders are tested numerous times during the race, and all throughout the season, much more extensively than you will see in any other sport.
In the 2008 Tour, 180 riders entered, and 8 were caught up in doping scandal. That is less than 4.5%, and the biggest names were caught using MIRCERA, a new form of EPO which had just recently been developed. The testing kept up with the cheaters, and even the newest form was detected. In 2009 and 2010 combined, only one rider tested positive for PEDs during the Tour, Alberto Contador, the winner. However he blamed the trace amount of clenbuterol in his system on tainted meat, and has since been cleared.
So what does this mean? Cycling has been relentless in its pursuit of cheaters, and it seems they have gotten in front of the problem. Teams and sponsors have zero tolerance for it, and the sport has turned a corner on this issue. Cycling has never ignored their doping problem, and they have always been at the forefront of fighting it. I wish the same could be said for the other sports that we enjoy.
Cycling Terms
Cycling certainly has its own language. For the most part, we'll try to avoid using the French terminology, but below are some terms that you should be aware of as you read this primer, and watch the coverage.
Peloton – The main group of riders.
Break, Breakaway – a group of riders that take off ahead of the Peleton.
Chase – single rider or group that tries to catch up to the leader or breakaway group.
Domestique – A designated rider who sacrifices personal performance to help the team.
Drafting – Riding closely behind another rider, saving energy.
GC, General Classification – Tracks the overall leader based on time.
Time Trial – Simply a race against the clock. Each rider rides individually.
Team Time Trial – A team race against the clock, ultimate test of teamwork.
Prologue – A short time trial that opens the Tour.
Flat stages – Minimal climbs, typically feature a bunched sprint finish.
Mountain stages – Big climbs, dominated by the Climbers and GC men.
Jerseys
There are several competitions going on during the three week Tour de France. The most prestigious of which is certainly the general classification. In addition, earning a stage win in the Tour de France is a prestigious event in itself. There is also a team competition which awards the team with the lowest overall time. At the conclusion of each stage there is a podium presentation (with babes) for the stage winner, and the winner of each jersey. Below is an overview of the primary jerseys.
Yellow – General Classification, Overall leader on time
Green – Points Classification – Most consistent rider, sprinting points leader
Polka Dot – King of the Mountains – climbing points leader
White – Best young rider – overall time leader under the age of 25
American Riders
The United States has ten riders entered into the 98th Tour de France, matching our highest total ever. While 10 out of 198 isn't a very large percentage of the entrants, the American riders will likely have a disproportionate impact on the race. Now that Armstrong has retired for real this time, the United States doesn't really have a rider that can honestly challenge for the General Classification. They do however have several that are capable of breaking the Top 10, with an outside shot at the podium.
As you can see below, some of these names are really creeping up there in age. However there is an entire generation of cyclists who grew up watching Lance Armstrong that are poised to crack this lineup in future years. I've included the Twitter page for each of these riders, although surprisingly the only rider in the group who isn't on Twitter is among the youngest, Tyler Farrar. They're arranged below in order of how much we expect them to impact this year's Tour:
Tyler Farrar, 27, Garmin-Cervelo
Tyler burst onto the scene in 2009, and was our favorite to win some stages in last year's Tour de France. Unfortunately he crashed out, but has returned to form this season. Unlike the other riders profiled here, Farrar is a sprinter, and will get demolished in the mountains. His time will come in the flat stages, towards the beginning of the Tour. It is very possible that he won't even finish the entire 21 stage event, but he is looking to make an impact among the fast men. He'll be looking to compete with the dominant sprinter, Mark Cavendish. In short time, with the retirement of the old guard, Farrar could become the biggest star in American cycling, however his window as a sprinter may not be open for very long.
Chris Horner, 39, RadioShack (@hornerakg)
Horner was a revelation at last year's Tour de France, outperforming his favored teammates Lance Armstrong and Levi Leipheimer to finish tenth. This will be his 5th Tour de France, and he appears to be in good form after winning the Tour of California. He will be one of the men competing for the leadership of Radio Shack, and believes he still has what it takes at 39 to finish on the podium. Horner certainly has confidence, as he declared in May, "With the exception of Alberto Contador I think there isn't anybody who can drop me!"
Christian Vande Velde, 35, Garmin-Cervelo (@christianvdv)
After finishing 4th overall in 2008, and 8th despite injury in 2009, Christian was hoping for an even better result last year. Unfortunately he crashed out of the race, and even considered retirement. He is now apparently injury-free and has riden a strong season. He is riding in his 9th Tour de France, and is a legitimate contender for the Top Ten. He'll compete for the top spot on his team with the Canadian, Ryder Hesjedal. Which ever rider is showing better form will most likely be given the full support of the team.
Levi Leipheimer, 37, RadioShack (@levileipheimer)
Levi is easily the second biggest name in American cycling over recent years. He has won his hometown Tour of California on three occasions. This will be his 9th time riding in the Tour de France, with his highest finish coming in 2007, when he placed 3rd behind his teammate Alberto Contador. He has finished in the Top 10 on 3 other occasions, but has also crashed out of the race twice. Despite winning the 2011 Tour de Suisse, it does appear that Levi is on the down side of his career, only finishing 13th at last year's Tour de France. Levi excels in time trials and in the mountains, and has served in a support role for Lance Armstrong and Alberto Contador in recent seasons. Now that he is no longer on a team with those clear favorites, its still not certain that he will be his team's leader.
Tom Danielson, 33, Gamin-Cervelo (@tomdanielson)
Once considered a future star of American Cycling, Danielson endured some setbacks, and is actually making his debut in the Tour de France at the age of 33. While he is a rookie in this race, he has been riding professionally since 1999, and has victories at the Tour of Austria and Tour de Georgia under his belt. So he probably won't ride like a rookie, and after finishing 3rd in the Tour of California (ahead of teammate Vande Velde), he has an outside shot of a top ten finish.
Tejay Van Garderen, 22, HTC-Highroad (@tvangarderen88)
The youngest of the Americans in the field, Van Garderen makes his Tour de France debut, and is a promising man for the future. Tejay finished 5th at the Tour of California, and won the Best Young Rider's Jersey. He is considered one of the top young riders in the world, and may challenge for the White Jersey at the Tour de France. This year he'll ride in a support role for HTC-Highroad, but don't be surprised if they send him out in front in pursuit of a stage win once they get to the mountains.
George Hincapie, 38, BMC (@ghincapie)
George is a favorite of American cycling fans, due to his longevity, loyalty, and determination. He is riding in a record-tying 16th Tour de France, and rode with Lance Armstrong in all seven of his victories. George's ability to cut the wind in front of Lance on the slopes of the low mountains was instrumental in Armstrong's success. He is the epitome of a team rider. He has had individual success in time trials and stages in the past, but in 2009 his primary role was as a lead out man for his team's sprinter, Mark Cavendish. In 2010 he joined BMC, and his role now is to ride in support of their leader, Cadel Evans. Personally we're hoping that the Peloton gives big George the honor of leading them onto the Champs-Élysées during the final day of the Tour.
David Zabriskie, 32, Garmin-Cervelo (@dzabriskie)
David is a time trial specialist, and has won stages in each of the grand tours (France, Italy, Spain). He has won the US National Time Trial Championship on five occasions, and is known for his quirky nature. This will be his 7th entry into the Tour de France, and his most successful ride came in 2005 when he held the Yellow Jersey for several days after winning the prologue. Zabriskie will likely be leaned on heavily to lead his team towards victory in the Team Time Trial, on the 2nd day of the Tour.
Brent Bookwalter, 27, BMC (@brentbookwalter)
Brent is also a time trial specialist, who makes his second start in the Tour de France. He's considered a good team rider, and will be working for his team leader, Cadel Evans. He finished both the Giro d'Italia and the Tour de France last season, and even placed 2nd in the Giro's opening Time Trial. He too will be counted on in the Team Time Trial, and to do much of the pace making on the flatter stages in the Tour.
Danny Pate, 32, HTC-Highroad (@TheDPate)
Danny is riding in his 3rd Tour de France, after being left off the team by Garmin-Transitions in 2010. He switched teams, and now gets another chance. He is another Time Trial specialist who is likely on the team specifically for the 2nd stage, and to help with the pace making for team sprinter, Mark Cavendish.
American Teams
Many people don't realize what a team sport cycling really is. 22 teams will participate in this year's Tour de France, each containing 9 members. Each team certainly has their own goals. While some will be riding for one man in the General Classification, others will be looking for stage victories in the sprints, or just to get some television time in France. A typical team is well rounded, with climbers, sprinters, and domestiques. As you watch the Tour, you will notice the teams riding in formation, with the leaders of the team drafting behind their teammates, conserving energy until the final climb or sprint. Lance Armstrong was definitely one of the strongest riders ever, but he also benefited greatly from having one of the strongest teams around him, built to help him succeed. Below we will feature the four teams that are based in the United States, and feature American riders. Only France has more teams entered in this year's tour than the United States, which is probably another result of the Lance Armstrong era.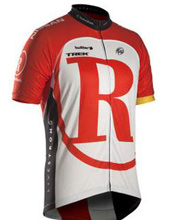 Team RadioShack was a new team last year, co-owned by Lance Armstrong. Armstrong essentially resurrected his former team, Discovery, under a new sponsor. That included bringing back his long time manager, Johan Bruyneel, and teammates Levi Leipheimer, Andreas Kloden, and Yaroslav Popovych. Last year Armstrong didn't have it, and Chris Horner emerged as the strongest rider on the team, which still ended up first in the Team Classification. This year they claim to have four leaders; Horner, Leipheimer, Kloden and the much younger Janez Brajkovic. Brajkovic is riding in his second Tour, and based on his number alone (71), we're guessing he is a bigger part of the team's plan than they are letting on. Traditionally teams give their leader the jersey ending in one. I guess we'll see if the old guys have still got it, or if the team has already set its site on the future.

If you are turned off by the drama and doping allegations that surround Lance Armstrong's former team, but still want to root American, then Garmin-Transitions is your team. The team was established in the United States in 2007, and will feature four American riders in this year's Tour. Garmin-Transitions is noted for having extensive internal doping controls. This team is riding in its 4th Tour and has shown very well at the first three. Team Leaders Christian Vande Velde and Ryder Hesjadal aren't big names, but together they've placed Garmin in the Top 8 for the past 3 Tours. However the most exciting part of this team is probably sprinters, Thor Hushovd and Tyler Farrar. Thor can typically challenge for stage victories in the low mountains, while Farrar will go for the wins on the flat stages. While this team has been impressive, they have yet to achieve a stage victory in the Tour de France, and that will be their first goal. The team is full of talent, and remarkably balanced. That may be their downfall however, as they won't be focusing on one particular area of the races as some other teams do.
While Radio Shack focuses on the General and Team Classifications, HTC-Highroad is the other extreme, focusing almost primarily on the sprints and stage victories. This team has an extensive history in the sport which may not be apparent to all who tune in. They were originally formed as Team Telekom, then became T-Mobile. Following doping scandals the team then moved to the United Stated under the name Team Highroad, and is now named for sponsor, HTC-Highroad. Last year they didn't have a single American riding in the tour, something that they've corrected this year with the additions of Tejay Van Garderen and Danny Pate. They will most likely make a lot of noise early with sprinter Mark Cavendish. Cavendish has won 15 stages in his three years at the Tour de France, and looks to continue that run this year. He is easily one of the most exciting young riders in the sport, and oozes confidence. In addition to Cavendish, fellow youngsters Tony Martin, Matthew Goss, and Van Garderen will be looking to grab some ink as well.

BMC Racing Team (BMC)
BMC is a relatively new team, established in 2007, and riding its first Grand Tours last year. They have been aggressive at signing talent, and boast the 2009 World Champion and two-time Tour de France runner-up Cadel Evans. Their goal will be to get team-leader Evans on the podium, but they face an up-hill battle. Despite a fractured arm, Cadel was able to finish 26th in last year's Tour, but he really wasn't able to hang with the main competitors. Hincapie and Bookwalter are the Americans on the team, but BMC is actually a Swiss-based bicycle manufacturer, so they don't provide as much to root for as some of the other teams on this list. Personally we don't think Evans has much left, so while they are nice guys, this team does little to excite us.

Television Coverage
So now that you know who the major players are for U.S. fans, how do you watch this spectacle? Well first of all, Versus has all of the coverage for the Tour de France again, and they do an excellent job. They have a four man team that tackles the action in groups of two. Each day coverage starts at around 8:00 AM ET with a pre-race set show (usually from the finish line). They then proceed to cover that day's stage in semi live fashion. The finish is live, but normally the beginning of the stage is summarized with video clips. Many of the stages are in excess of 5 hours, so you'll be thankful that they don't show you the entire thing. The morning coverage is handled by Phil Ligget and Paul Sherwin, and they tend to focus primarily on the race. I normally Tivo this coverage, and watch it in the evenings. Ligget and Sherwin are excellent, and honestly I enjoy their British accents.
However if you are a cycling novice, you may prefer the evening coverage. Each evening at 8 PM ET, Bob Roll and Craig Hummer (maybe Liam McHugh this year?) present prime-time expanded coverage. On weekends you may find this on NBC, instead of Versus. Expanded means that they cover more than just the race. They profile riders, teams, history, and locations. While they don't focus as much one the race as the morning coverage, its a very long race, so missing a few minutes here and there isn't going to hurt you. They also focus more on educating the viewers about the sport, the equipment, the tactics, etc. I find this to be similar to Olympic coverage, and honestly it annoys me.
Both shows are presented in glorious high definition, and we mean glorious. One of my favorite parts of watching cycling is the HD helicopter filmed panoramas of the French countryside and architecture. In addition, this year Versus is offering streaming HD via a $29.95 subscription on their website. So if you'd like the watch the event live from your office, they have the perfect solution for you.
If you'd like a little taste of how fabulous this sport can look on television, check out some fan-produced highlight videos from 2009 and 2010 :
… and the images below should give you further indication of the beauty of this sport:

What to Watch?
As for which stages you should watch, that's really up to you, as I'm going to watch all of them. If you prefer watching a heart pounding sprint finish, then the first week of the Tour will contain mostly flat stages. If you'd rather watch an epic battle up the slopes of mountains, then the stages in the Alps and Pyrenees in the later two weeks of the Tour are more your speed. If you really forced me to choose, here are some stages I would recommend :
Stage 2 – July 3rd : They are really trying to hook you early on the opening weekend this year, with the Team Time Trial on Day 2. This is the most apparent example you'll see of cycling being a team sport. While Time Trials aren't my favorite, they are an important part of the sport, and Team Trials are certainly more exciting than an Individual race against the clock that traditionally starts the Tour.
Stage 8 – July 9th : This is the first mountain test, where the contenders might try to test each other. While  not as big as the mountains to come, it could surprise a few riders who aren't yet fully in shape for a climb.
Stage 14 – July 16th : This year they packed the Tour with huge mountain finishes. This stage marks goodbye to the Pyrenees after three tough days. We expect some fireworks to come on this day, and for the true contenders to emerge.
Stage 18 – July 21st : For the Tour's 100th Anniversary in the Alps, Tour organizers decided to end a stage on a peak that they had crossed many times before, but never stopped at previously, The Galibier. Purists are excited about this climb, but I'm looking forward to the next day…
Stage 19 – July 22nd : A personal favorite of mine, and Lance Armstrong's as well, the ride to L'Alpe d'Huez is highlighted by 21 switchbacks and up to a million drunken fans on its slopes. This is the final mountain stage, and the main contenders will still be battling it out here.
Stage 21 – July 24th : Many people would tell you to watch the Individual Time Trial the day before, as it provides much more drama. However I'm a sucker for the ceremonial nature of the traditional final ride into Paris. The stage ends with 8 laps around the Champs-Élysées, in the shadow of the Arc de Triomphe, before a frantic bunch sprint with ultimate glory on the line for the sprinters.
Hopefully now you have a better understanding of this sport, and will tune in to watch. If you need further convincing, consider this; the French suck at the Tour de France. I haven't done the math yet, but there will most likely be more French riders in this event than any other nationality, yet the Frenchies typically make only a minor impact on their premier event. So if you enjoy watching the French struggle for some semblance of national pride, this is the event for you.