2012 Kia Rio 5-Door SX : Review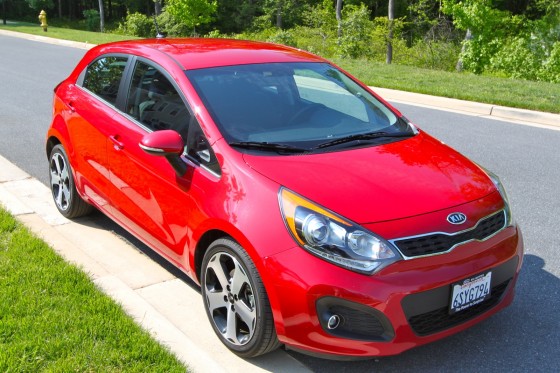 We recently had the chance to spend a week with the 2012 Kia Rio 5-Door SX, the second Kia we've had the pleasure of driving in the past six months. We definitely put this vehicle to the test, as we loaded it up and took it camping at the Relay for Life to benefit the American Cancer Society. What follows are my observations, but first lets take a look at a recent Kia commercial (which includes some options not included on our test model) to get you oriented :
Exterior

There is just something about the design aesthetics of Kia that appeals to me. The combination of the 17-inch alloy wheels with their distinctive front end styling is just attractive to me, and I am drawn to their vehicles. The overall shape of this 5-door is a bit familiar though, as many car companies have similar offerings. Not surprisingly, the "Signal Red" color attracted attention wherever we drove, and made the car a bit easier to spot in a parking lot.




Interior

The model we drove included some must-have goodies like the UVO In-Vehicle infotainment system which includes Satellite Radio, MP3 Audio, USB and Auxiliary Input Jacks, and Bluetooth Wireless. Unfortunately it did not include the Navigation, and push-button start highlighted in the commercial above, but that is certainly reflective in the price. One feature we've noticed in both Kias we've driven is the fabulous back-up camera, which is the best we've seen. The picture was bright and clear, and the colored zones are helpful to gauge distance.

The Kia Rio is a small car, so similar to (although to a lesser extent) the Mazda3 we reviewed recently, I don't really fit in this car comfortably. Also like that Mazda, the Rio included a sliding arm rest, a feature that I appreciate. Unfortunately it did not lock into place though, which ended up being a nuisance as it would shift around as I put pressure on it from different directions. As mentioned, we loaded the Kio up for a charity event and I was pleased at how much crap I could load into this tiny car, like over 200 bottles of water in the back.




Performance

This Kia Rio was rated at 40mpg highway, and 30mpg in the city. The total MSRP on this model was the cheapest car we've tested, at only $18,545. Those two factors combined led us not to expect much from the 1.6l Gas Direct Injection 4 cylinder engine. At 138 horsepower and 123 lb-ft torque, it was not only the lowest priced car we've driven, but contained the least power. However the car is small and light, and under normal driving conditions, the power seemed plenty adequate. While I personally prefer the power in the Kia Optima Turbo, more budget conscious drivers would do well to consider this more economical option.

Overview

Now that I've driven two Kia vehicles, I can say with certainty that I am impressed with this brand. This Rio was priced more than $12,000 less than the Optima that we drove, and I could definitely tell where the differences were. However both have a similar attention to detail, an impressive 10 Year / 100,000 Mile powertrain warranty, and compare favorably to the competition. Kia certainly doesn't have the same brand recognition of other auto makers, but I wouldn't let that stop you from considering it for your next purchase.
2012 Kia Rio 5-Door SX
Exterior - 75%
Interior - 75%
Performance - 75%
Value - 75%
Technology - 90%