2012 NFL Mock Draft – Version 1.0
The mock draft is quite a conversation piece. Some people enjoy them for what they are: a simple prediction about how teams will fill needs with their first-round pick. Other people get no enjoyment from them by declaring that their team would never do that. For me, they're fun and that's all there is to it.
With the 2012 NFL Draft still almost two full months away, mock draft predictions are a dime a dozen this year. I usually stick to about a total of three per year by only doing a new one when a major event happens that changes the board. The NFL scouting combine, free agency and pro day workouts are each events that could bring this forth.
With the scouting combine in the rear-view mirror, a lot of players moved up, down or stood pat as far as their draft stock is concerned. But enough has settled for me to whip up my first mock of the year. Let's get started, shall we?
Just a heads up, I do not explore trades unless it's a forgone conclusion, like St. Louis going on record they will trade the pick before the draft.
1
Indianapolis Colts
Andrew Luck, QB, Stanford
Anyone saying that Robert Griffin III is making this a tough choice for the Colts is just trying to create drama. Luck had an incredible showing at the Combine and he didn't even throw.
2
Cleveland Browns (Trade with St. Louis Rams)
Robert Griffin III, QB, Baylor
Like I mentioned a few seconds ago, this pick is ultimately traded to the Redskins or Browns. I don't buy a "mystery team" jumping up because the Rams don't want to miss out on Justin Blackmon. They'll want to stay in the top six.
3
Minnesota Vikings
Matt Kalil, OT, USC
Unless the Rams crap the bed and don't trade their pick, and RG3 is available, Minny will take the best lineman available in Kalil to protect Christian Ponder, who they'll be forced to go forward with.
4
St. Louis Rams (Trade with Cleveland Browns)
Justin Blackmon, WR, Oklahoma St.
The Rams will get their guy and extra picks. Jeff Fisher couldn't have walked into a better situation.
5
Tampa Bay Buccaneers
Trent Richardson, RB, Alabama
I wanted to go with Morris Claiborne here, but one Bucs beat writer is insistent  they'll go with Richardson and I'm inclined to believe him.
6
Washington Redskins
Ryan Tannehill, QB, Texas A&M
Do I think it's the right pick? Absolutely not. But teams are desperate for a QB and Tannehill is the best one left. If Blaine Gabbert and Jake Locker can go where they went last year, Tannehill could easily go this high.
7
Jacksonville Jaguars
Michael Floyd, WR, Notre Dame
Given that he interviewed well, Floyd was a stud at the Combine and the Jags will be looking for a player to help salvage Blaine Gabbert.
8
Miami Dolphins
Riley Reiff, OT, Iowa
With all the quarterback options off the board, Miami looks to protect whoever they have behind center next year with the amazing Hawkeye prospect who they never expected to be available.
9
Carolina Panthers
Morris Claiborne, CB, LSU
Not in the Panthers wildest dreams did they see Claiborne sliding to them. With the chance to make a huge upgrade in their porous secondary, they run to the podium with this pick.
10
Buffalo Bills
Melvin Ingram, DE, South Carolina
Buffalo was in desperate need of a pass rush last year. This pick makes a lot of sense and is a slam dunk over Courtney Upshaw, who they've talked to multiple times.
11
Kansas City Chiefs
Dontari Poe, NT, Memphis
Meet this year's "workout warrior" at the Combine. I'm not denying his performance, because it was sick. But no one had him listed higher than the 20s before then. Some team will jump on him early thinking he is the next Haloti Ngata.
12
Seattle Seahawks
Quinton Coples, DE, North Carolina
Another team in desperate need of a pass rusher is elated to see a prospect like Coples still on the board.
13
Arizona Cardinals
Jonathan Martin, OT, Stanford
Whether it's Peyton Manning or Kevin Kolb leading the charge next season, the Cards are paying a lot of coin for their signal-caller. They'll be looking for someone to make sure he stays upright in the game.
14
Dallas Cowboys
Janoris Jenkins, CB, North Alabama
If there is an owner out there who couldn't give a damn about character over talent, it's Jerry Jones. Jenkins is a boom or bust guy and Dallas will be willing to take the risk.
15
Philadelphia Eagles
Luke Kuechly, LB, Boston College
After a sick Combine showing, Kuechly might not be available here. But if he is, Philly should be all over it with their needs at linebacker.
16
New York Jets
Courtney Upshaw, DE, Alabama
The Jets would probably blitz a whole lot less if they had even an above average pass rush. Upshaw can help in that category.
17
Cincinnati Bengals
Dre Kirkpatrick, CB, Alabama
Leon Hall probably won't be ready in time for the start of next year and Nate Clements will be 32. It's time to look toward the future and Kirkpatrick represents incredible value here.
18
San Diego Chargers
David DeCastro, G, Stanford
With a large chunk of their linemen being either free agents, likely to be cut, or retiring, I see San Diego going best offensive lineman available.
19
Chicago Bears
Kendall Wright, WR, Baylor
Talk all you want about Wright's subpar 40-time at the Combine. Just look at the tape, like the Bears will. That's why he won't get past them at 19.
20
Tennessee Titans
Nick Perry, DE, USC
The Titans could really use some help getting after the quarterback and a talent like Perry sliding to them will address the need.
21
Cincinnati Bengals
Lamar Miller, RB, Miami
With Cedric Benson reaching Logan's Run status (over 30), I think they take the best running back available and that's the ex-Hurricane.
22
St. Louis Rams (Trade with Cleveland Browns)
Devon Still, DT, Penn State
The Rams could go anywhere with this pick, as they have a lot of needs. But they go best player available and that's the run stuffer from Penn State.
23
Detroit Lions
Mark Barron, S, Alabama
The playoff game against the Saints showed that the Lions need to improve their secondary and they'll go best available here. Barron fits the bill as the best safety in the draft.
24
Pittsburgh Steelers
Dont'a Hightower, LB, Alabama
With James Farrior being cut, this pick is pretty much a sure thing. He'll be a perfect fit in their 3-4 scheme.
25
Denver Broncos
Fletcher Cox, DT, Mississippi State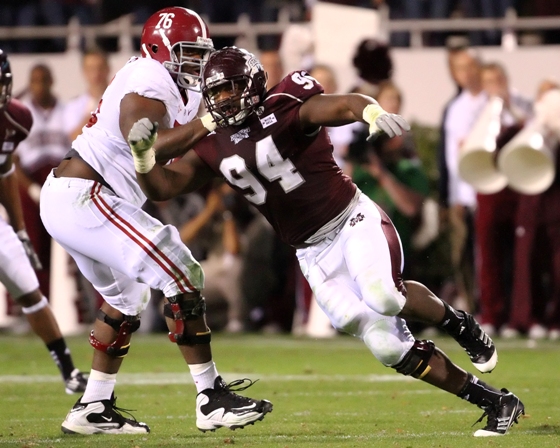 Marcus Thomas is a free agent and Cox is an affordable replacement.
26
Houston Texans
Whitney Mercilus, OLB, Illinois
I'm still of the belief that Mario Williams walks in free agency, so Houston will go best pass rusher available to move to linebacker. Mercilus would rake in a Wade Phillips defense.
27
New England Patriots
Michael Brockers, DT, LSU
I feel sick moving Brockers this low in the first-round, but he had a TON of red flags at the Combine. The Pats will take the risk, needing to greatly improve their front seven.
28
Green Bay Packers
Peter Konz, C, Wisconsin
Enjoy your greener pastures, Scott Wells. Konz is a great value and fits what the Packers do along the offensive line.
29
Baltimore Ravens
Corgy Glenn, G, Georgia
With Bryant McKinnie getting older and Glenn capable of playing tackle and guard, I could see them taking him with that in mind.
30
San Francisco 49ers
Stephen Hill, WR, Georgia Tech
Not a single prospect helped themselves at the Combine more than Stephen Hill. Many will say "what about Poe," but he was already thought of as a first-rounder. Hill was a fringe second. He'll look to help Alex Smith develop a vertical threat in 2012.
31
New England Patriots
Alshon Jeffery, WR, South Carolina
I still think Jeffery is a wild card. Not running at the Combine hurt him temporarily, but if he flashes 4.5 speed on his pro day, he'll probably go top 20. As is, I see the Pats looking for a wide receiver if they don't trade this pick as they usually do.
32
New York Giants
Coby Fleener, TE, Stanford
The defending champs will be going best player available here and are delighted to see a guy like Fleener hanging around.
——–
With Zach Brown, Andre Branch and Mike Adams still on the board, it just shows you how deep this draft is. And after free agency begins on the 15th, this entire board could change drastically should teams fill the gaps with available players. I'll update again after free agency begins and all of the pro day workouts are completed.