Gunaxin's Favorite Things : Spirits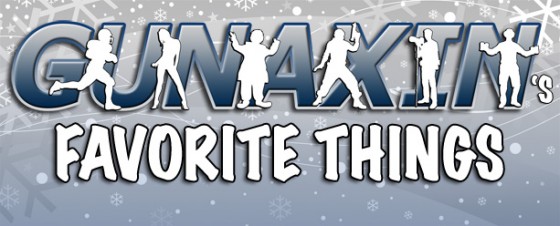 Last year we began the tradition of Gunaxin's Favorite Things – a Holiday Gift Guide and Giveaway similar to Oprah's Favorite Things. While we don't have everything for every person in our audience (and no Cars, sorry), we do have one of each item you see below in order to give out to some lucky winners!
Today is Day 2 of Gunaxin's Favorite Things, and today we're featuring eleven of our favorite Spirits for this Holiday Season.
In all we have about 30 items on our Favorite Things List, so start by checking out this great list of holiday gift recommendations. If you'd like to win something you see below, just respond in the comments at the bottom of the page (and check that box to Post to Facebook) and let us know which of our Favorite Things are your favorites. We'll select some winners, and ship the product to you as our gift, just in time for Christmas!
George Dickel Rye, the newest addition to George Dickel's whiskies, is a straight rye whisky matured in new charred oak barrels for at least 5 years. George Dickel Rye delivers a fresh, grainy scent with a pleasant note of fruit on the finish. The new variant is perfect for sipping on the rocks or incorporating into a classic cocktail like the Manhattan – a favorite for all those holiday gatherings. And, at $24.99, it's one of the best deals available in the popular rye whisky category.
Just weeks ago, Crown Royal added another branch to the family tree with its first flavored whisky. Crown Royal Maple Finished combines the legendary taste of Crown Royal Whisky with a touch of natural maple flavor. Perfect for toasting occasions, it is best enjoyed as a shot or on the rocks and will be a go-to gift this holiday season. Crown Royal's first foray into flavored whisky comes in the midst of a spirits revolution where flavored brown spirits are HOT – posting tremendous year over year growth.
This year we're participating in the Pass the Crown Holiday Gift Exchange, which features the iconic Crown Royal bag, custom embroidered to your specifications. Its available to adults (21+) on www.CrownRoyal.com for $9.95 and features a max of 40 characters – perfect for the person who says it short and sweet. Or, you can also personalize a Crown Royal bottle label – for free.
Introducing the newest flavors from Smirnoff — Iced Cake and Kissed Caramel Flavored Vodkas — the perfect complement to any night, anywhere. Whatever your mood, flavored vodka never felt this good. Iced Cake is the nostalgic flavor experience of vanilla cake made from the box. This is a unique cake flavor experience, not just notes of sugar and vanilla. Kissed Caramel is the authentic flavor experience of homemade caramel complete with a hint of salt.
Limited in production and distribution, each Reserva is hand-bottled, labeled, numbered, boxed and sealed in wax with the Cuervo family crest. Distilling tequila is an art and not only an art but a Mexican art. A passion for Mexico, tequila and Mexican art inspired Cuervo to celebrate each year's distinctive blend by commissioning a different Mexican artist to handcraft a limited edition wooden box.
Already one of the most exciting traditions in the spirits world, the 2012 Jose Cuervo Reserva de la Familia bottle encasing has been unveiled just in time for holidays which makes for a great holiday gift idea for men. Every year Jose Cuervo gives a Mexican artist a unique opportunity to showcase their individuality and creativity by designing the box for one of the most acclaimed extra anejo tequilas in the world, Reserva de la Familia. The tradition has become a popular collector's item for men!
Bulleit Bourbon ranks as one of the fastest-growing Small Batch Bourbons in America. Kentucky limestone-filtered water provides the foundation for the bourbon's character, while charred American oak barrels lend a smoky backbone. Bulleit's distillers age the bourbon until it is ready, and the result is placed into a bottle whose design has won awards of its own. Finally, a gift that lets you skip the giftwrap.
Captain Morgan Black Spiced Rum is a prime alternative for whiskey lovers, crafted from only the finest Caribbean Blackstrap rum and ingredients, including rich clove spice, premium cassia bark and finished with double charred blackened oak for a premium, smooth taste. This newest member of the Captain Morgan brand's robust rum portfolio is bolder, darker, and has a back story to match. Captain Morgan Black Spiced Rum is inspired by the true story of Captain Henry Morgan's burial on the shores of Port Royal Harbour, Jamaica. After his burial, an earthquake rocked the shores of Jamaica, washing the Captain's casket out to see, never to be seen again. Legend has it that his restless spirit lives on to this day. Good for those who want to give a spirit with real spirit this Christmas.
George Dickel No. 8 Whisky is barrel-aged to perfection, creating the signature balance of Tennessee whisky flavors and aromas of light caramel and vanilla, leading to a smoky finish and a smooth sippin' experience. Old No. 8 is the classic whisky that made George Dickel famous. And for $19.99, this 80° Proof whisky is a great gift for any man on your shopping list.
For those celebrating in style this holiday season, Tanqueray's limited edition Tonight We Tanqueray bottle is the perfect spirit to stock your bar or to gift. Tanqueray's limited edition holiday packaging adds a fresh twist to the iconic green bottle while inspiring memorable nights that start right with Tanqueray. As the premium gin of choice for top bartenders all over the world, Tanqueray London Dry Gin is perfectly balanced, with a sophisticated and vibrant taste, which comes from the passion and expertise that has been passed down through the Tanqueray family over hundreds of years.
One of the pioneers of small batch bourbon, Wild Turkey Rare Breed Bourbon is barrel proof, meaning no water is added to reduce the level of alcohol during the bottling process. This method captures its rich, pure bourbon flavor. A marriage of select 6, 8 and 12-year-old bourbons is used to find the perfect smoothness and a consistent taste. Because such a perfect combination is not easy to achieve, Rare Breed is available in limited quantities.
Stark Raving wines go against the grain and celebrate the idea of doing things differently and with great passion. They are rooted in the entrepreneurial spirit of Rosenblum's founder, who took a chance and did what he loved, no matter what anybody said. The wines are playful and bold blends that prove a little dose of madness can lead to extraordinary things. Stark Raving's collection includes White Wine, Red Wine, Malbec, and Cabernet.
This season is sure to be one for the books as Guinness has released a special brew – introducing Guinness Generous Ale. Inspired by Arthur's philanthropic legacy and devotion to generous, full-flavored beers, Guinness Generous Ale is a special edition holiday beer that was developed in a traditional winter ale style, but with more body and the distinct roast for which Guinness Draught is known. With a rich amber appearance, the vanilla notes accent Guinness Generous Ale's silky, yet vibrant taste. Guinness Generous Ale is available nationwide this holiday season and will be featured as part of the Guinness Winter Selection Pack, a diverse selection of beers perfect for special holiday gatherings and includes Guinness Draught, Guinness Foreign Extra Stout and Guinness Black Lager.
So there you have it, eleven of our Favorite Spirits this Holiday Season. Any of them would make an excellent gift, but we're sure you have a favorite from the list. If you'd like to win something you see above, just respond in the comments below (and check that box to Post to Facebook) and let us know which of our Favorite Things are your favorites. We'll select some winners (must be 21 to enter this one obviously), and ship the product to you as our gift, just in time for Christmas!