2013 Hyundai Santa Fe Limited : Review
Recently we were invited out to Coronado, California to get a first hand look at the new 2013 Hyundai Santa Fe Limited. You may recall that we drove the Santa Fe Sport back in August, and this is the big brother with a longer wheel base to that model. The setting was simply stunning, and the event was first class all the way. Everything was perfectly suited to showing off the capabilities of the all-new CUV from Hyundai, and we even took it for a road trip to the world-famous San Diego Zoo.
The model that we drove was the 6-passenger Santa Fe Limited, while a 7-passenger version (GLS) is also available with a bench seat. The Santa Fe Limited maxes out at around $38,500, and you can safely assume the model we drove packed all of the bells and whistles. We wouldn't have it any other way. That is only about $3,500 more than a fully loaded Santa Fe Sport, which is a great value considering the upgrades.
Exterior
This Santa Fe has been completely redesigned inside and out, and the exterior is truly eye-catching now. While some of the lines may seem a bit similar to other models on the market, Hyundai maintains some originality with their fluidic sculpture design of the body. The differences from the smaller Santa Fe Sport are subtle, and even when viewing them side by side they were difficult to spot.
The attention to detail apparent in the lighting, bumper treatments, and chrome accents give the Santa Fe a polished look that is indicative of a higher priced luxury CUV. However this isn't just a soccer mom's shiny grocery getter. It looks even more stunning when equipped with bike and kayak racks, and appears to be at home in the stunning San Diego setting. Most of the photos in this review are from Hyundai, but we did take the fabulous collection below:
The color shown (Regal Red Pearl) in most photos in this section is no-doubt what I would choose if buying this vehicle. Overall I found the color choices to be a bit tame (as I do for most vehicles these days) but I suppose they're aiming for a more conservative family demographic. The standard tires (with no option to upgrade) were also less aggressive than my heart desires.
Interior
The interior of the Santa Fe Limited is spacious and luxurious upfront, and they even extend some of those creature comforts to the back seats. Manually operated sun shades on the side windows are perfect for folks with young kids, and the huge sunroof provides the most unobstructed view of the sky we've seen in any vehicles.
While full-sized adults can fit into the 3rd row seats, they likely won't be your friends very long if you make them sit back there for an extended road trip (31.5″ legroom). The 3rd row is perfect though for children, and your adult companions will appreciate the individually adjustable captains chairs of the 2nd row (41.3″ legroom).
The rear features some clever storage underneath the floor, where you might typically find a spare tire, which is instead located underneath the vehicle behind the rear bumper. The 3rd row seats easily fold flat when not needed, and the middle row can also be folded down as needed. The result is very flexible configurations which satisfy any storage or passenger requirements.
Technology
The technology and polish is where this vehicle, and many recent entries into the auto market really shine. The fully equipped Santa Fe features almost everything you'd expect in a modern vehicle, with its 8″ screen, navigation, bluetooth audio and phone, steering wheel controls, dual climate zones, push button start, backup camera, and extensive dash display. Some features we've seen on other vehicles that were noticeably absent include dual driver memory, automatic wipers, blind spot monitoring, and folding side mirrors.
The controls all seemed natural and easy to use as we were able to figure out how to do everything necessary within seconds. The digital link to my iPhone provided full track and album info (and cover art) on the screen, and the Harman Infinity sound system was amazing. The navigation system allowed access even while driving (by the passenger of course), although we were mostly utilizing our route book, and didn't fully test it out.
The Santa Fe Limited offers some additional features not seen in the Santa Fe Sport, included rear climate controls, and a 115 volt power outlet. Yep, that means you can plug-in your laptop, television, or even a small electric grill for your tailgating needs. It also features a power rear tail-gate.
Performance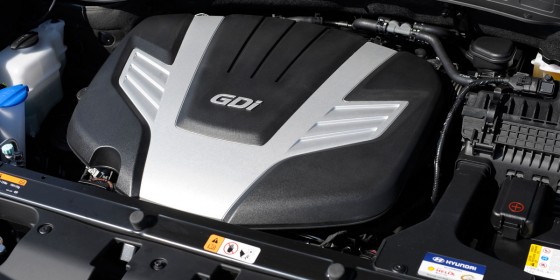 The engine is one significant upgrade in the Santa Fe Limited when compared to the Santa Fe Sport. This 6 passenger model is equipped with a 3.3L GDI
DOHC 24-valve V6 which is a noticeably more powerful than the 2.0L Turbo GDI offered in the Sport. The result is 290 horsepower and some hefty towing capacity, rated at an impressive 5,000 lbs.
The tradeoff, as you would expect, comes at the expense of gas-mileage for the larger and heavier Limited but it's still rated at a competitive 21 combined MPG. Hyundai accomplishes this largely due to their exhaustive efforts to eliminate weight from this vehicle, which even led them to consider eliminating the spare tire (an idea we would not support).
The Santa Fe Limited also features Motor Driven Power Steering (MDPS), which allows for push-button adjustable steering feel. While not our favorite feature, it does appeal to some drivers.
Overview
We were impressed when we first experienced the 2013 Santa Fe Sport in Utah, and we're equally impressed with it's larger wheel-base big brother. The fully equipped model is luxurious, rugged, powerful, and capable. The Santa Fe Limited certainly should be on your list if you are looking to purchase a new family vehicle and continues Hyundai's recent run of surprising entries into the auto market.
We thoroughly enjoyed our time in Coronado, and our time behind the wheel of the new Santa Fe. Even if your test-drive roads aren't along the Pacific coast and into the mountains of Southern California, we still suggest you check out the new 2013 Santa Fe Limited. Let's be honest, it's more capable, and way cooler than a mini-van.
Reviews
We were joined in Coronado by many other great sites, here are some of their impressions of the 2013 Hyundai Santa Fe Limited :