2014 Lexus IS : Track Day
Recently we were invited down to North Carolina to get a first hand look at the newest Lexus, the 2014 IS. The new IS will be available later this summer, with a keen focus on Performance, Technology, and Design. Warning : It's nearly impossible to watch this video without getting excited about the design of the new IS, it's that sexy :
The setting for our quick trip was absolutely stunning as we stayed at the historic Pinehurst Resort, and were treated to a relaxing evening at Shady Wagon Farms discussing design with some fabulous artisans. You can check out our Facebook page for more photos from that experience, but in this article we're going to focus primarily on the vehicle.
Track Day
We spent the majority of our day with the 2014 Lexus IS at Rockingham Speedway, putting it to the test on the track. They informed us that the new IS had been put through one million hours of test driving, with the constant goal of making it more fun to drive, so we were excited to see the results.
We drove several laps on a fun course which included part of the main track, and then an infield circuit with more than just left turns. All three flavors of the 2014 Lexus IS were available for testing, the IS 250, IS 350, and IS F-Sport. Of course the F-Sport was clearly the choice for laps around a track, and we concluded that those hours spent by engineers aiming for a vehicle that was fun to drive were definitely not wasted. Check out a few of our photos from Track Day below, and for the remainder of this review, the photos have been provided to us by Lexus.
Exterior
Clearly we've found her best angle in that photo above. It's a bold look from Lexus, which is sure to attract some younger drivers into their showroom. The F-Sport in particular (above) has a strikingly aggressive front-end, but even the IS 250 and 350 kicks it up a notch from previous models. The twin projector LED headlamps with LED daytime running lights are arranged in a delightfully artistic and aggressive manner. Unique barely even begins to describe the lines and curves that they were able to mold into the nose of the 2014 IS, and if there is one trait we appreciate in any vehicle we drive, it's uniqueness.
The design focus is apparent all over the vehicle, but of particular note is that sweeping sculpted curve (best seen in the 1st photo in the group above) that starts in the rear and works its way down the side of the vehicle. You really do need to see the car in person to appreciate it as sculpture, as two-dimensional photos have difficulty expressing the complexity.
Interior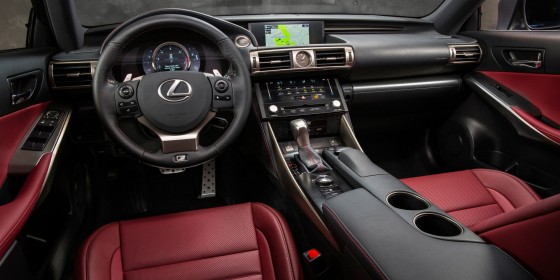 The interior has been redesigned, drawing inspiration from the LFA, and focus on design and quality were apparent throughout. We're particularly smitten with the Rioja Red option in the F-Sport model pictured above. It's impossible to sit in this vehicle without being impressed by the luxury and sportiness. We even liked the somewhat impractical analog clock.
As a Big & Tall guy, I did find it difficult to get in and out of the new IS, due to the seat position and height of the vehicle. This is probably true of most sports sedans, but in particular when the seat was fully back to maximize leg room, it was noticeably behind the B Pillar which made ingress and egress awkward. Once seated however, the seats were comfortable and the cabin certainly didn't feel cramped.
The 2014 IS packs a ton of impressive technology that we've come to expect from Lexus, including Navigation, Bluetooth, Voice Recognition, SiriusXM/HD Radio, Back-up camera, blind spot monitor, rain-sensing wipers, dual climate zones, driver memory, seat heater/ventilation, and push button start. For those of us that must be connected to the internet at all times, they offer Lexus Enform, which features Bing search, Pandora streaming, Facebook Places, Yelp integration, and more. For audiophiles, they offer a Mark Levinson Premium Surround Sound system which bumps the speaker count up from 8 to a ridiculous 15. You may never leave your car again.
Designers took care to create two distinct zones on the dashboard, the "display zone" to provide information, and the "operation zone" for interaction with controls. The idea is to keep the display zones up high so your eyes don't need to wander far from the road, while interaction remains low where your hands can easily access it. So while many automakers are working on touch interfaces (which Lexus has had for years), Lexus has moved away from that and instead has implemented their Lexus Remote Touch Interface, which is similar to using a mouse or track-pad on a computer.
While it seems like a good idea that would grow on you as you became more proficient with it, with additional testing, we weren't as fond of the Remote Touch Interface as we were when we first saw it on the GS. Combining its sometimes quirky movement with a visual interface that didn't match the design sophistication of the rest of the vehicle, we found this to be one of the few opportunities for improvement for Lexus. In addition, there was curious placement of the cup holders, directly behind the Remote Touch controller, where your arm would likely be resting when operating it. We didn't have any cups with us to test it out, but we think this would likely cause awkwardness in every day driving situations.
Performance
First, let us say that it's nice to actually be able to see a little bit of what is under the hood in a Lexus. We're so used to everything being covered in sound-dampening plastic, that this uncovered shot above caught our attention as a rare bird.
The IS 250 is powered by a 2.5-liter V6 delivering 204 horsepower and 185 lb.-ft. of torque. The IS 350 bumps up to a 3.5-liter V6 which produces 306 horsepower and 277 lb.-ft. of torque. So now you know what the 250 and 350 numbers correspond to. The 250 includes a 6-speed transmission while the 350 features and 8-speed transmission, both with steering wheel-mounted paddle shifters. Note that both engines require Premium 91-octane unleaded fuel.
For folks who are reaching up to get into the IS 250, we think you'll be satisfied with the power of the 2.5-liter V6. You're still driving a Lexus and it's definitely plenty capable for your every day driving. If you have the room in the budget though, the 350 is a very noticeable upgrade for anyone who craves more power. Both models handled well, but if you're really looking for that sports car feel, you're going to want to bump up to the sport-tuned F-Sport.
All models feature the Lexus Drive Mode Selector, which allow you to adjust throttle response, suspension and steering with the turn of a dial. Modes offered are Eco, Normal, Sport S or Sport S+ (F-Sport) and they provide a very noticeable array of driver experiences. It's almost like having 3 cars in one, and the system allows you to choose what fits your mood each time you drive it, or each time a different driver sits behind the wheel.
Overview
The 2014 Lexus IS has a stunning focus on design that we really appreciate for the risks they took, especially on the bold front end. Their relentless pursuit of a fun to drive car has paid off as that was one of the major factors that led it to victory in Car & Driver's recent comparison to the BMW 335i. We experienced it for ourselves at the track, and would definitely recommend giving it your own test drive.
The IS 250 starts at about $36,000 and the model we would want, a sexy F-Sport 350 AWD with Navigation would set us back about $47,000. You don't have to look hard to figure out where the money goes though, with a bevy of advanced features, impressive power, and luxury finishes.
We look forward to spending more time in the future with other new Lexus models, so we can more thoroughly experience the Remote Touch Interface and Enform system which are promising, but so far have left us wanting more. Overall we like the direction that Lexus is heading with their entire line of vehicles and think they hit the mark when it comes to appealing to younger buyers.