2015-16 NBA Power Rankings
LaMarcus Aldridge made the best decision of his career and signed with the San Antonio Spurs. Kevin Love resigned with the Cavaliers because he wants to win an NBA title. Marc Gasol, Kawhi Leonard, Draymond Green, Jimmy Butler, DeMarre Carroll, and Brandon Knight are some of the other big names in the NBA that made choices that will benefit their career.
Then there are players like Rajon Rondo. He went from leading the Boston Celtics to six consecutive playoff appearances, with one NBA Title mixed in, to being almost useless in Dallas last year before moving to Sacramento? The Kings might have needed a PG but the reason they did not have one is because no one was dumb enough to go there let alone sign there by their own will.
At least he is not playing for the Lakers. They just might be as bad as the Knicks this season and that is just plain sad. Both of those franchises are staples of the NBA's historic past. They combine for 18 NBA Titles, 39 NBA Final appearances, 9 league MVPs, and 41 Hall of Famers. There is simply no excuse for either team, especially in the markets they are in to be considered as terrible as this.
Before the Mavericks decide to sue DeAndre Jordan for being a baby, we should get started with our preview for the upcoming 2015-16 NBA Season. Enjoy folks!
30. Philadelphia 76ers
Enough is enough and it is time for something to change in Philly. They have not been above .500 since 2005 and have only managed 37 wins in the past two seasons combined. That means that 21 NBA teams, 5 of which did not even make the playoffs, had more wins last season than the 76ers have had in two years. They are young, Carl Landry is the oldest player on the roster at 32 years old, but they are in need of a leader. Nerlens Noel is the Captain with Jahlil Okafor heading to town as the future of this team. They have the talent to be something one day just not this year.
29. Los Angeles Lakers
What is there to say about the Lakers that has not already been addressed by ESPN and 4,592 talk shows. The Lakers are a mess and that is not going to change anytime soon. Kobe Bryant can be healthy all season long but that is highly unlikely. He has not played a full 82 game season since 2010. His 20 shots per game average takeaways from the flow of the game and keeps players like Julius Randle or D'Angelo Russell from establishing themselves as something more than just a couple of young newbies. This team cannot compete in the Western Conference with Kobe at the helm. He is one of the best to ever play the game but Michael Jordan, towards the end of his career, couldn't make the Wizards great, why should we believe in Kobe?
28. Minnesota T'Wolves
Karl-Anthony Towns is going to be amazing. But Anthony Davis took three seasons before he began to show signs of just how good he will be for the Pelicans. It might take just as long. And do us all a favor and stop relying on Ricky Rubio, he just can't be the guy we thought he could be 5 years ago when he came into the league. He had Kevin Love and still couldn't figure it out.
27. Denver Nuggets
Emmanuel Mudiay was the 7th overall pick by the Denver Nuggets this past summer. He has done nothing but solidify his talents by absolutely destroying the NBA's summer league. But do not expect him to single handily turnaround this young group of guys. It might be this year but within two or three seasons you can consider Denver a playoff caliber team. However, until they learn to play as one unit and they can figure out that you can't win without a defense, the Nuggets will continue to struggle. The Warriors scored a lot of points but it wasn't until they started to play defense that they became an NBA champion. This team could become the Warriors in a few years. Be aware!
26. New York Knicks
If the Knicks played in the Western Conference, they would be in a battle with the Lakers for the bottom of the list. However, they are lucky enough to play in the East. For the past 11 seasons, the Eastern Conference has sent an 8th seed with a winning record to the playoffs only once. That is weak. For comparison, the Western Conference has only had one 8th seed enter the playoffs with a losing record in 19 years. The point? The Knicks might find a way to win just enough games to make the playoffs before being embarrassed by Cavaliers.
25. Sacramento Kings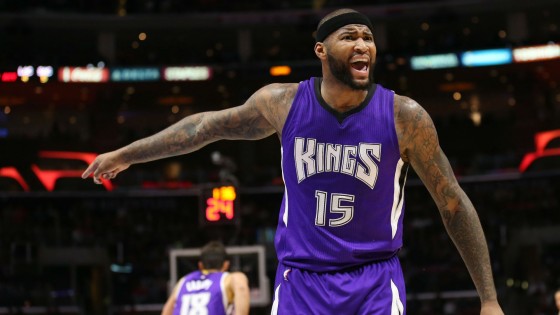 Game, set, match. DeMarcus Cousins and Rudy Gay are the only reason this team is ranked this high. Those two players are a tough duo but without much depth or a reliable PG, this team might be doomed. Rajon Rondo was the answer? Really? He is not horrible, he just isn't what he used to be and that is not good. At least it was only a one year deal and they will be able to chase down the real PG they need, Mike Conley, in 2016.
24. Portland Trailblazers
Without LaMarcus Aldridge, the Portland Trailblazers are about to fall. He was the leader and he carried that team on his back for a few years until they added Damian Lilliard. The future was just about to look bright in Oregon until he left for a shot at a title with the Spurs. Wes Matthews, Nicolas Batum, Robin Lopez, and Aaron Afflalo are gone leaving the Blazers
23. Orlando Magic
Youth. That is the only thing hurting this Orlando Magic lineup. Well, that and depth. It is always difficult to project a team like them because of all the young talented players that are starting to play as a unit. They went 3-5 in last season's final eight games with a couple of close losses to Toronto, San Antonio, and Miami. They had an impressive win over Chicago too. It is starting to look like these guys might be able to upset a few big guys this season. The question is, can they do it consistently?
22. Brooklyn Nets
Are you really shocked that Joe Johnson, Brook Lopez, and Deron Williams could not win together? Brook and one of those two guys is perfect, not all three. So Deron left for Dallas and Joe stayed in Brooklyn leaving us with a line-up that will win a few games this season. Much like any NBA team with two veterans and loads of young talent, they are a crap shoot to predict going into next season so we are going to play it safe right now.
21. Detroit Pistons
The Detroit Pistons have a solid foundation for building a championship team. However, they continue to make awful decisions like when they gave Josh Smith $54 million and cut him a year later. This year they decided to pay Reggie Jackson $80 million dollars for 5 years. I understand he might be good but he has only one season of showing the world what he can do and he has been around a few years. How does a guy with zero All-Star games and only one good season earn a bigger contract than James Harden, Russell Westbrook, Al Horford, DeMarcus Cousins, Joakim Noah, Demarre Carroll… Do you need us to continue because we have another 29 names that should be earning more than him. Sorry Pistons but with moves like that, this might be a little too high of a ranking.
20. Phoenix Suns
Tyson Chandler just turned 33 years of age. The Suns made one of the most impressive undervalued moves of the year when they signed him. He brings a huge defensive presence in the paint and will give you a double-double every single night. Even if Markieff Morris is traded or ends up not playing, the Suns are still going to be a good team. In addition to Chandler, the Suns signed Brandon Knight, Mirza Teletovic, Ronnie Price, and Sonny Weems while drafting some Kentucky stars in Andrew Harrison and Devin Booker. The Suns can become the surprise team of the season, just you wait.
19. Charlotte Hornets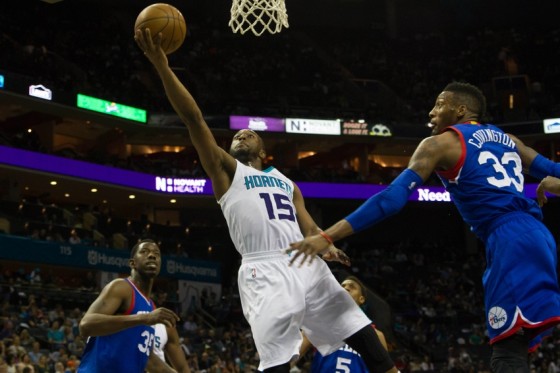 In 10 years, Michael Jordan and the rest of the Charlotte front office has only struck gold once during the NBA draft when they landed Kemba Walker in 2011. That is terrible and their record over the past 10 seasons proves it. However, they are finally starting to look like a ball club this season with the addition of Nicolas Batum and the separation with Lance Stephenson. Lance was one of the worse ideas Charlotte has had since they called themselves the Bobcats. He is gone and now this team can play better, score more effectively, and be an overall better group of guys.
18. Indiana Pacers
What happened to the Pacers? Last season we had them projected to win the NBA Title and finish with the best record in the NBA. Yet somehow they finished with 38 wins, missed the playoffs, and lost Roy Hibbert, Chris Copeland, David West, Luis Scola, and C.J. Watson. This is not going to be a rebuilding season but it will be a transitional one. They still have Paul George and they added Monta Ellis, Jordan Hill, Chase Budinger, and Glenn Robinson III. They also acquired rookies Rakeem Christmas, Myles Turner, and Joseph Young. The season could easily go great or quickly go South.
17. Boston Celtics
There was no need to go out and spend a billion dollars on a Free Agent this past off-season so the Celtics decided to be smart about it and they signed both Amir Johnson and David Lee. They have a good coach, Brad Stevens, and a loaded lineup of young talent that needs veteran leaders like Lee. The 2016-17 Celtics are going to be much stronger.
16. Utah Jazz
The Utah Jazz have a defense that could propel them into the Western Conference playoffs this season. Their roster is full of returning players from a team that won 38 games and was led by Gordon Haywood. He has grown into an All-Star and has improved his numbers year after year. This is his time to become the man the Jazz expected him to be when they drafted him.
15. Dallas Mavericks
The Dallas Mavericks belong much higher but it is always tough to tell where this team will end up in the Western Conference. Sure, they won 50 games last year but the losses of Monta Ellis, Tyson Chandler, and DeAndre Jordan (Almost) makes them vulnerable to rebounding and second chance opportunities. The signing of Wes Matthews is confusing because they offered him $70 million. But this is also a lineup that will score points, lots of points. Chandler Parsons, Dirk Nowitzki, Deron Williams, Wes Matthews, and Zaza Pachulia could end up being their starting lineup and that is about as scary as anything Dallas has fielded in a long time.
14. Milwaukee Bucks
Jabari Parker tore his ACL in December and ended up having to have surgery and miss the rest of his rookie season. He is back along with Greg Monroe to make this Bucks team scary to even the most pessimistic of writers. Rashad Vaughn, Chris Copeland, and Marcus Landry all get added to an already exciting Bucks lineup. The veterans that left are old news anyways. This is now the time for the Bucks to rise from the middle-bottom to become a contender for years to come. They have a lot of the pieces in place, now all they need to do is play.
13. Toronto Raptors
Prior to last season, only a few people believed the Toronto Raptors would start the season 24-7 let alone win their division. But after that hot start, they cooled off and finished as the 4th seed in the Eastern Conference before losing in the first round to the Washington Wizards. So they added Demarre Carroll and Corey Joseph which could possibly be the most underrated off-season in the NBA as both players can help this team win 60 games this season. It sounds crazy enough to be true.
12. Washington Wizards
We are slowly inching up on the time where the Washington Wizards either finish or get off the pot. This is the first time in a very long time, about 40 years, that an NBA team from Washington was heading into the season as a favorite. Bradley Beal missed a few games to injury last season but should be ready to run along side John Wall, Nene, and Otto Porter Jr. This just might be one of the better teams Washington has ever put on the court.
11. Miami Heat
It has been one season and the Miami Heat are already starting to look better since Lebron left town. They resigned Dwyane Wade for one more season and added Goran Dragic, and a couple rookies when they signed Justise Winslow and Josh Richardson. With Hassan Whiteside becoming a huge factor on defense and Chris Bosh starting the season healthy, this could be one of surprise teams of the season. This is the same team that won 37 games without Chris Bosh (44 games) or D-Wade (62 games) for most of the season.
10. New Orleans Pelicans
Many people forgot that Anthony Davis and the New Orleans Pelicans faced the Golden State Warriors in the first round of the playoffs last year and had them on the ropes. They lead in both games 2 and 3 by as much as 20 and blew it in the 4th quarter. That means one thing and one thing only, they are good enough. This team went to Golden State's arena and played hard for 3 quarters until a barrage of 3's changed the fate of the future World Champions. Anthony Davis has his big contract, New Orleans has a new coach in Alvin Gentry, and they will be hungry for revenge. In a tough Western Conference, AD is one of the league's brightest young stars and he has a lot of tools around him that, when healthy, could make this team dangerous.
9. Memphis Grizzlies
The Memphis Grizzlies have never been exciting to watch but they sure do know how to win as they have won 50 or more games for the last 3 seasons. If they want to do something, the time is now as Mike Conley, Jeff Green, and Courtney Lee are all in the final years of their contracts. So while they play tough defense and make opponents turn the ball over, they need to also figure out how to sign those guys next season too.
8. Oklahoma City Thunder
Billy Donovan is back in the NBA. Only difference this time is that he has a true NBA MVP candidate, actually, he has two. Both Russell Westbrook and Kevin Durant are legit candidates to win the NBA MVP award and they both play for Oklahoma City. That alone is enough to entice anyone to leave their hometown and head for the plains. If KD stays healthy, they will finish the season three or four spots higher, guaranteed now that Billy D is in town and he loves scoring.
7. Atlanta Hawks
Did you see 60 wins coming for the Atlanta Hawks last season following the Bruce Levenson controversial e-mail that was released from 2012 that had racial remarks in it. That and a roster with no true All-Stars makes for the recipe for disaster. But something else happened and they became the first team in NBA history to finish a month with 17 wins. (January 2015, 17-0) Losing Demarre Carroll hurts but they have most of the team returning for this season which means another 50-60 wins is likely.
6. Chicago Bulls
Derrick Rose is one of the most talented point guards in NBA history. He has amazing speed, incredible range, quickness, and the ability to pass the ball while making his entire team better along the way. Too bad he is a constant addition to the injury report. He, once again, finds himself needing surgery. This time for a fractured left orbital following an elbow during a practice session with his own team. The Bulls discovered Jimmy Butler and they figured out how to win without Rose, if he is able to play, they become even better.
5. Los Angeles Clippers
With the loss of DeAndre Jordan…No, wait, that part was written on July 3rd. As we continue this story, on July 6th, we realize that a rumor is going around about Jordan not leaving town. Finally, on July 9th, he has signed with the Clippers. Whew! That was almost a terrible decision by a terrific defensive player on a team that has more talent than 90% of the NBA in their starting 5. They just need to start winning consistently in the post-season.
4. Houston Rockets
If the Houston Rockets can eliminate turning the ball over and improve their team rebounding, this could be your next NBA Champion. They are close and have very little weaknesses at this point. They added Ty Lawson to help run the offense and let James Harden be James Harden at the SG spot. Dwight Howard, Terrence Jones, and Trevor Ariza form a tough defensive unit and the bench is so deep, 3 players could start for most other teams. This Rockets team is ready to make up for last season's Western Conference Championship loss. They have no excuses now.
3. Golden State Warriors
The NBA's defending Champions aren't going to be the best team in the NBA this season. Even with most of the entire team returning, the Warriors are going to have trouble keeping up their pace. If you live by the outside shot, you will die by it too. Klay Thompson proved it and they nearly lost the NBA Finals to Lebron James and his band of misfits.
2. San Antonio Spurs
If you were expecting the San Antonio Spurs to have a rebuilding year soon, you might have to wait a little bit longer. The additions of LaMarcus Aldridge and David West along with the resigning of Danny Green and Kawhi Leonard all but guarantees the Spurs will continue to be among the NBA's elite. Any team coached by Greg Popovich belongs near the top. But when you give him 5 NBA All-Stars too, that is simply not friggin' fair.
1. Cleveland Cavaliers
Without All-Stars Kevin Love and Kyrie Irving, Lebron James was still able to led the Cavs to within two wins of the NBA Championship. He lost Kyrie in the first game of the Eastern Conference Finals and somehow still figured out a way to sweep them and win two in the NBA Finals. Imagine what would have happened if both players were healthy. They are all back and they even added Mo Williams. If the Cavs stay healthy, no one can stop them.