2015 Fantasy Football RB Cheat Sheet
For the past two NFL Drafts, 2014 and 2013, the first Running Back wasn't called to the podium until the second round. In 2011, only one, Mark Ingram at 28th Overall, was drafted in the 1st round. Needless to say, RB1 is a very scarce position in fantasy football and has gotten even harder in the past four years.
Luckily for us all, 2014 brought a large number of future RB stars to the NFL. After Bishop Sankey was drafted in the 2nd Round, the Running Backs started to flow like wine. Not only did they come off the draft boards faster than free chili in Texas, but they have also started to become RB1s for their respected teams.
Jeremy Hill, Carlos Hyde, Tre Mason, Terrence West, Devonta Freeman, Andre Williams, and Lorenzo Taliaferro were all drafted between the 2nd and 4th rounds and are now key contributors to their teams. That brings us to the 2015 season.
Todd Gurley and Melvin Gordon are going to be fun to watch this season once they start playing. Melvin Gordon should end up starting for San Diego and has a big chance to help many teams win and become a huge keeper for 2016. Todd Gurley will be great once he gets back from injury and has some time to adjust. Give him another season but do not pass on him if you are thinking about keeping him in 2016. Below we list our Top 25 Running Backs for 2015 in PPR leagues. Where did we rank the youngsters?
1. Le'Veon Bell, Steelers : 315.4 Pts
That three game suspension has now become a two gamer and all fantasy football players are cheering. Even though he will miss a couple games right out the gate, the dual-threat RB is the NFL's best. He has speed, stamina, and the ability to catch the ball in open spaces. He will do exactly what you expected from him last season and could be the reason you win your league.
2. Jamaal Charles, Chiefs : 287.1 Pts
If Jamaal Charles does not tear his ACL in 2011, he is the consensus number one pick in every fantasy football PPR draft each season after. He is still as elite as they come and no one should pass on him behind Bell. He had one game last season over 100 yards rushing and had 5 receptions only one time in a game yet he was one of the top fantasy RBs in the NFL. How can you not pick him?
3. Matt Forte, Bears : 276.3 Pts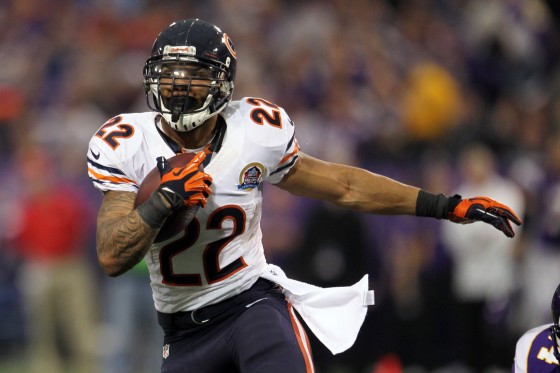 John Fox is normally a coach that loves to run. He has been ranked in the top ten in rushing attempts 7 of 13 seasons and found his most success when his team had a dominant rushing attack. Since we already know Matt Forte is a consistently great RB to draft, outside of 2012 when he had a slow start, we can go ahead and assume he will be great in this offense with Fox as the HC.
4. Adrian Peterson, Vikings : 274 Pts
With the legal troubles behind him, Adrian Peterson is now ready to play football again. It is not like he was injured last season. He was suspended but has since shown he is ready to be one of the elite backs in the NFL. What reasons would you have to not take him now that he has a legit QB to help him lead this team to the Super Bowl?
5. LeSean McCoy, Bills : 271.6 Pts
The 2015 NFL offseason was crazy enough that we forgot most of the trades and transactions already. Buffalo isn't forgetting them as they acquired LeSean McCoy for Kiko Alonso, coming off a season ending knee injury in 2014. They now have a proven elite RB ready to become the star of the show. Fred Jackson might end up becoming useless this season leading the way for McCoy to be the most dependable scoring threat amongst all RBs.
6. Eddie Lacy, Packers : 271.1 Pts
Aaron Rodgers has turned Green Bay's offense into a machine that puts up amazing numbers year after year. Eddie Lacy has become the athlete he was born to be and is thriving in this pass first offense. The loaded WR talent in Wisconsin gives Lacy less pressure to perform and is therefore moving up the charts every season.
7. Marshawn Lynch, Seahawks : 257.4 Pts
Marshawn Lynch has missed one game since joining Seattle back in 2010 and has started in 64 consecutive games including 2 straight Super Bowls. (58 regular season, 8 playoffs) He will get you 1,200 rushing yards, 35 catches, 300 receiving yards, and 13 total TDs every single year he is in Seattle. That is the definition of consistent.
8. DeMarco Murray, Eagles : 238.9 Pts
DeMarco Murray can best be described as the Rodney Dangerfield of NFL RBs. He gets no respect at all. Last season he leads the NFL with 1,845 rushing yards while also breaking the single season Cowboys rushing record once held by Emmitt Smith and all the credit goes to the offensive line. So he heads to Philly to play for Chip Kelly in an offense that is designed specifically for a RB that gets the ball and goes downfield, quickly and efficiently. DeMarco might be ranked a bit low come to think of it. He should be a top five but since it is his first time in green, we need to wait and see.
9. C.J. Anderson, Broncos : 237.5 Pts
Last season, Montee Ball was a fantasy football Tier 1 RB. His ADP was between late 1st round and early 2nd round. Then he got hurt and battled injuries all season long. This led to Denver having a RB by committee approach until Anderson stepped up and dominated down the stretch. The schedule was favorable and the timing was right for him in 2014. Can he duplicate the same thing with Ball and Ronnie Hillman waiting in line behind him?
10. Carlos Hyde, 49ers : 236.1 Pts
Finally. After the 49ers drafted Carlos Hyde last season, the fans knew things were about to change by the Bay. Frank Gore knew it too and signed with the Colts. What did they know? They knew that Hyde is the future and his time is now. He fits perfectly in the 49ers system and just might finish the season in the top five. It all depends on his Red Zone carries and the number of TDs he gets but we would not be shocked to see him battling to become elite.
11. Jeremy Hill, Bengals : 226 Pts
12. Andre Ellington, Cardinals : 210.9 Pts
13. Mark Ingram, Saints : 209.1 Pts
14. Melvin Gordon, Chargers : 206.8 Pts
15. C.J. Spiller, Saints : 202.3 Pts
16. Justin Forsett, Ravens : 199.4 Pts
17. Jonathan Stewart, Panthers : 195.3 Pts
18. Latavius Murray, Raiders : 188.7 Pts
19. Ameer Abdullah, Lions : 186.8 Pts
20. Frank Gore, Colts : 186.6 Pts
21. Tevin Coleman, Falcons : 181.2 Pts
22. Alfred Morris, Redskins : 176.8 Pts
23. T.J. Yeldon, Jaguars : 175.8 Pts
24. Isaiah Crowell, Browns : 174.5 Pts
25. Todd Gurley, Rams : 173.5 Pts