2015 Ford Edge : Review
The popular Ford Edge crossover utility is all-new for 2015 and is now loaded with more technology, higher levels of craftsmanship and greatly improved vehicle dynamics. The all-new Edge will be sold in more than 100 markets across the globe and will arrive in North American Ford showrooms soon. The Edge is being assembled at the Oakville Assembly Complex in Ontario, Canada and this short video will introduce you to some of the people and processes that go into building this exceptional new vehicle…
Recently we were invited out to Scottsdale, Arizona to be among the first to get behind the wheel of the 2015 Ford Edge. The trip was quick, but packed with information, and we were left impressed with the latest update to Ford's lineup. Below we'll share what we've learned about the all-new Ford Edge.
Exterior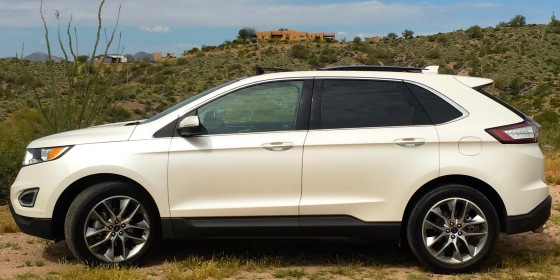 The outgoing Ford Edge has been a popular class leading vehicle, so the design team didn't wish to completely start from scratch, despite the new model being built off a new platform. So the overall shape remains generally the same, and some signature details of the Edge are carried over to the new model. However the new Edge definitely appears sleeker, more refined, and more athletic. The new Edge has also grown in size with an increase of 3.9 inches in length and 1.6 inches in height. We especially liked the substantially updated front end with the large Ford trapezoidal grille that has been popular on the Fusion.
We drove both the Sport and Titanium trims, but sadly both of our test vehicles were white. You can get a taste of the more delicious "Electric Spice" color in the detail shots above. The attention to design is apparent throughout, but we particularly noticed the new creases on both the side and hood, which are tough to photograph and best appreciated in person. The LED tail-lamp package is noticeably sharp-looking on the higher trims, and overall we're fond of the exterior design direction of the new Ford Edge.
Interior
The interior of the new Ford Edge is also noticeably upgraded, with higher quality materials and finishes. There is an attention to detail apparent when you sit in the new Edge that is a welcome change from some older Ford models. Objectively it would be nearly impossible not to find every aspect of the interior superior to the outgoing model.
Thankfully Ford has even decided to give us some buttons back in the new Edge. While we may one day be controlling every aspect of our vehicles with voice and touch controls, that day is not yet here and there is nothing more frustrating than fighting with the technology in your car. While the inclusion of more buttons may seem like a technological reversion to some, there is plenty of other new tech available in the Edge to get excited about. Here is a quick list of features that we found interesting :
Active Grille Shutters
Adaptive Cruise Control
180-degree front camera with washer
Enhanced Active Park Assist
Hands-free Lift Gate
Sensors, sensors, and more sensors
Performance
The 2015 Ford Edge is offered in three different engine configurations, but the engineers would prefer that you ignore the relatively unimpressive naturally aspirated 3.5-liter V6 engine and instead select one of their new modern EcoBoost engines.
We experienced the standard twin-scroll 2.0-liter EcoBoost in the Titanium Edge. It is significantly improved over the previous 2.0-liter engine and produces 245 horsepower, 275 lb.-ft. of torque and is capable of hauling 3,500 pounds. EPA-estimated fuel economy ratings for the front-wheel-drive Edge are 20 mpg city, 30 mpg highway and 24 mpg combined. Most people will find that standard engine to be perfect for them, offering plenty of power, good fuel economy, and nothing really to complain about. If you can't afford the upgrade to the Sport trim, then we recommend you never get behind the wheel unless you're okay with sacrificing the kid's college fund for your own pleasure.
The 2.7-liter EcoBoost V6 is only available in the Edge Sport and it provides an exceptional combination of power and efficiency. We're talking 315 horsepower and 350 lb.-ft. of torque for a very noticeable upgrade over the twin-scroll engine. Ford calls their twin-turbocharged V6 a world-class engine, and its tough to argue with them. The front-wheel-drive Edge Sport returns EPA-estimated fuel economy ratings of 18 mpg city, 27 mpg highway and 21 mpg combined. Mix that advanced engine with improved driving dynamics, redesigned suspension, and Ford's SelectShift six-speed automatic transmission and you have a recipe for unexpected fun in a Ford crossover.
Overview
The 2015 Ford Edge is completely new and better than the outgoing model in every way possible. Showcasing Ford's innovation, the Edge features updated design, upgraded materials, impressive new technology, and efficient new engines. Pricing starts at around $29,000 and tops out at about $47,000 for a fully-loaded AWD Edge Sport. Those clearly aren't entry-level prices, but we think you'll find that the high-end models are comparable to several luxury offerings currently on the market. We have no doubt that the Edge will continue to be a successful product for Ford and continue to lead the segment.