2015 Gunaxin NFL Awards
Outside of the Pro Bowl, the chances a player from a struggling team like the Tennessee Titans or the Cleveland Browns gets an award for excellence is slim to none. The Gunaxin NFL Awards are given out to the players that play for teams that had a bit of bad luck or just did not quite cut it this season, the non-contenders or teams not in the playoffs. We chose a list of players that deserve to be recognized for all their hard work that will be forgotten because the season is over for them but shouldn't be, not yet. These are players that deserve an award for their individual performance during the 2015 NFL Season, despite their team's failure to make the postseason.
Quarterback
Phillip Rivers, San Diego Chargers
2015: 66.1% Comp. Pct., 4,792 yards, 29 TD, 13 INT
Philip Rivers has been putting up great numbers year after year but this is the first time in his career the Chargers have lost 12 games. He still finished 2nd in passing yards in the NFL even though he lost most of his receiving corp to injuries this season. He has been so consistent that fans have not even noticed how good he has been the last three seasons.
Drew Brees, New Orleans Saints
2015: 68.3% Comp. Pct., 4,820 yards, 32 TD, 11 INT
What can you say that hasn't already been said about the New Orleans Saints and Drew Brees? Every time they say he is done, he fights back and puts up bigger numbers. The Saints fell short
Running Back
Doug Martin, Tampa Bay Bucs
2015: 1,402 Rushing Yards, 33 Receptions, 271 Receiving Yards, 7 TDs
Before the 2015 season started, Doug Martin was being considered a long shot for remaining healthy and putting up big numbers again. Yet, somehow, he did it. He finished the season 2nd in the NFL in rushing yards and has put himself back into the elite RBs in the NFL. The dark horse of 2016 is going to be the Tampa Bay Bucs and their young powerful offense.
Darren McFadden, Dallas Cowboys
2015: 1,089 Rushing Yards, 40 Receptions, 328 Receiving Yards, 3 TDs
Much like Doug Martin, a lot of critics considered Darren McFadden DOA but he squashed all the negativity when he rushed for just over 1,000 yards this season. Also proving that the Dallas Cowboys offensive line is the best thing in the NFL in a very long time.
Devonta Freeman, Atlanta Falcons
2015: 1,061 Rushing Yards, 73 Receptions, 578 Receiving Yards, 14 TDs
Tevin Coleman was supposed to be the man in Atlanta but an early season injury gave Devonta Freeman the chance to prove himself and he did not disappoint.
Fullback
Patrick DiMarco, Atlanta Falcons
His stat line is non-existent but that does not matter for a man in a true Fullback position. Just take a look at what Devonta Freeman did this season and you should have clarity on why Mr.DiMarco is the clear cut choice for our NFL Diamond award winner at the Fullback position.
Wide Receiver
Odell Beckham Jr., New York Giants
2015: 96 Receptions, 1,450 Yards, 13 TDs
After 2 seasons and only 27 games, Odell Beckham Jr. has broken the record for most yards in his first two seasons in the NFL. Jerry Rice, Cris Carter, Randy Moss, Dez Bryant, or anyone else you can think of are behind ODB in total yards after two seasons. The former LSU Tiger is the real deal. He just needs a better team.
Allen Robinson, Jacksonville Jaguars
2015: 80 Receptions, 1,400 Yards, 14 TDs
Allen Robinson did not simply get lucky this season, he is one of the best in the NFL. His 14 TDs is the league's best too. With a very young QB behind a maturing offensive line in Jax, the future for A-Rob is extremely bright.
Travis Benjamin, Cleveland Browns
2015: 68 Receptions, 966 Yards, 5 TDs
By week 3, people were calling Travis Benjamin a fluke but he went on to have an amazing season as Cleveland's top WR.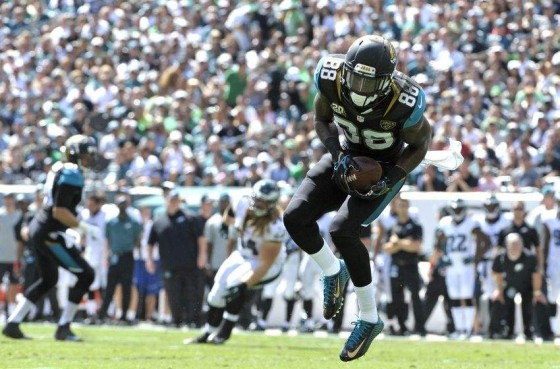 Allen Hurns, Jacksonville Jaguars
2015: 64 Receptions, 1,031 Yards, 10 TDs
Allen Hurns and Allen Robinson form the most dangerous WR duo in the NFL today. Blake Bortles has helped mold them into two great receivers that do nothing but make big plays all day long.
Tight End
Delanie Walker, Tennessee Titans
2015: 94 Receptions, 1,088 Yards, 6 TDs
Finally! After leaving San Francisco to become a Titan, Delanie Walker as progressively become one of the best TE's in the NFL that no one is worried about. His numbers have gone up triple from what he was doing in California and that is just in 3 seasons in Tennessee.
Gary Barnidge, Cleveland Browns
2015: 79 Receptions, 1,043 Yards, 9 TDs
Who? Gary Barnidge has been on the Cleveland Browns roster for 3 seasons and this is the first time anyone has even noticed him. The beast of a man is faster than you think and stronger than he looks. He helped the Cleveland offense and himself in the process as becoming one of the best stories of 2015's NFL season.
Offensive Tackle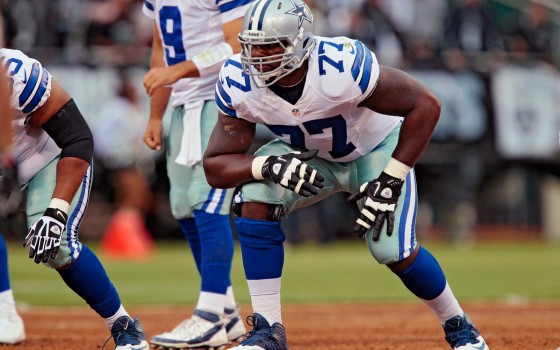 Tyron Smith, Dallas Cowboys
Darren McFadden should write Tyron Smith and the rest of the Dallas Cowboys o-line a really fat check for helping him return to his once seen form. Tyron Smith is the best you will see in the NFL at the Tackle position so enjoy it Cowboys fans, this guy is a future Hall of Famer.
Joe Thomas, Cleveland Browns
In 9 seasons, can you guess how many times Joe Thomas has missed a play? None. He has played every single offensive snap in his amazingly underrated NFL career. How does Cleveland struggle on offense with a line full of players that can protect like Joe Thomas?
Terron Armstead, New Orleans Saints
For the O-Line coaches and fans from all over, this should be an easy pick. Terron Armstead missed two games this season during Weeks 5 and 6, against Philadelphia and Atlanta. In those two games, Drew Brees was sacked six times, 5 in the Philadelphia game alone. For the season he was only sacked 31 times. You do the math.
Center
Weston Richburg, New York Giants
If you are asking yourself, who is this, you wouldn't be alone. Weston Richburg is only in his second year in the NFL and last season he was a Tackle. After moving to the Center spot, he has become the best Center in the NFL behind Carolina's Ryan Kalil. He gave up ZERO sacks this season too.
Travis Frederick, Dallas Cowboys
As part of the best offensive line in the NFL, Travis Frederick continues to dominate in the Center position. If the Cowboys can keep Tony Romo healthy, they can win games and this o-line can get the true satisfaction it deserves.
Offensive Guard
Richie Incognito, Buffalo Bills
When people decided to write off Richie Incognito after the situation in Miami, what they forgot about was that he was still one of the NFL's best Guards. He ended the season ranked as the highest rated Left Guard by Pro Football Focus.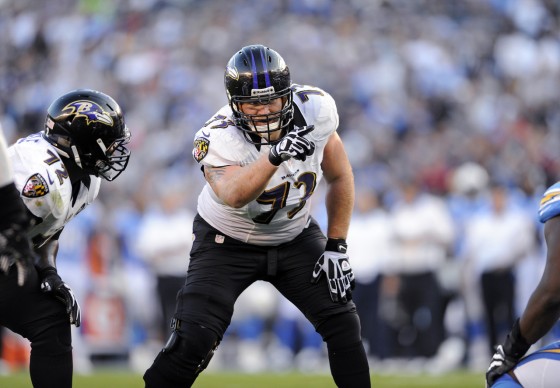 Marshal Yanda, Baltimore Ravens
As long as the Ravens have Joe Flacco, they will have Marshal Yanda. He is a truly gifted Guard that has done nothing but protect the QB and open up holes for the RBs. When he pulls to block, he becomes a massive train ready to bulldoze anyone that gets in his way.
Defensive Tackle
Gerald McCoy, Tampa Bay Buccaneers
2015: 34 Tackles, 8.5 Sacks
We will say this one more time, the Tampa Bay Bucs are going to be a 10 game winner next season, at least. They have a very young squad with so much unlimited potential it will make you wish Gerald McCoy was back in the plains of Oklahoma.
Aaron Donald, St.Louis Rams
2015: 69 Tackles, 11.0 Sacks, 1 Fumble Recovery
In just two seasons, Aaron Donald has become one of the best DTs in the NFL with 20 sacks already and he isn't even 25 years old.
Defensive End
Khalil Mack, Oakland Raiders
2015: 77 Tackles, 15.0 Sacks, 2 Forced Fumbles
We decided to feature Khalil Mack at the DE position even though he was recently named the NFL's first player to be named All-Pro at two positions in the same season, DE and LB. His 15 sacks were amazing but the fact that he can play two positions better than 95% of the NFL in only his second season, that makes him the future of the city of Oakland.
Ezekiel Ansah, Detroit Lions
2015: 47 Tackles, 14.5 Sacks, 4 Forced Fumbles, 2 Fumble Recoveries
Behind J.J. Watt and Khalil Mack stands another future defensive stud, Ezekiel Ansah. He finished the season with 14.5 sacks which only trailed the two names you just heard.
Jurrell Casey, Tennessee Titans
2015: 54 Tackles, 7.0 Sacks
The one shining moment for the Tennessee Titans terrible 2015 season was their defense. They only gave up 229.9 passing yards per game, 7th in the NFL. But their defensive line slowly grew into a potential future beast with Jurrell Casey at the forefront.
Cam Jordan, New Orleans Saints
2015: 45 Tackles, 10.0 Sacks, 1 Forced Fumble, 2 Fumble Recoveries
The Saints knew what they were doing last summer when they signed Cam Jordan to a 5-year contract extension worth around $60 million. He didn't let them down and had 10 sacks helping a weak Saints defense the best way he can, harassing the opposing QB.
Linebacker
NaVorro Bowman, San Francisco 49ers
2015: 154 Tackles, 2.5 Sacks, 1 Forced Fumble
After missing the entire 2014 season, NaVorro Bowman returned without former NFL stud and top rated MLB Patrick Willis by his side. That did not seem to stop him as he finished the season leading the NFL in tackles.
Lavonte David, Tampa Bay Buccaneers
2015: 147 Tackles, 3.0 Sacks, 3 Interceptions, 16 Passes Defended, 2 Forced Fumbles, 2 Fumble Recoveries, 1 Defensive TD
Now that the Tampa Bay Bucs are starting to grow into a contender, Lavonte David couldn't have chosen a better season to explode than this year. Not only did he do everything from everywhere on the field, he also scored a Touchdown.
Melvin Ingram, San Diego Chargers
2015: 65 Tackles, 10.5 Sacks, 3 Forced Fumbles, 1 Fumble Recovery
After spending the last two seasons battling injuries, Melvin Ingram finally played a full season and he looked as tough as he did coming out of South Carolina four years ago. His 8.5 sacks led all linebackers in the NFL this season too.
D'Qwell Jackson, Indianapolis Colts
2015: 150 Tackles, 3.0 Sacks, 1 Interception, 10 Passes Defended, 1 Forced Fumble, 1 Defensive TD
Behind Bowman, D'Qwell Jackson finished with the second most tackles in the NFL last season. He grew a reputation over the past 12 months thanks to the deflategate scandal in which he picked off a Tom Brady pass and brought the ball to the sidelines to save for himself.
Cornerback
Kenneth Acker, San Francisco 49ers
2015: 65 Tackles, 3 Interceptions, 11 Passes Defended
The 49ers had very little to be excited about in 2015 except their defensive secondary which featured Kenneth Acker and Tramaine Brock. They might not be as good as they were a few years ago but they will get there very soon.
Trumaine Johnson, St.Louis Rams
2015: 71 Tackles, 7 Interceptions, 17 Passes Defended, 1 Defensive TD
The Rams have looked like a playoff contender for a couple seasons thanks to a an elite defense. Trumaine Johnson finished the season with his best season as a Pro ever in 2015.
Davon House, Jacksonville Jaguars
2015: 49 Tackles, 4 Interceptions, 23 Passes Defended, 1 Forced Fumble, 1 Fumble Recovery
The Jaguars are going to shock people in 2016 and beyond, they are stacked on both sides of the ball. They are just young and unpolished. Davon House has slowly become one of the most underrated cornerbacks in the NFL too.
Free Safety
Charles Woodson, Oakland Raiders
2015: 74 Tackles, 5 Interceptions, 1 Forced Fumble
Quarterbacks from all over the NFL are popping champagne because Charles Woodson has retired. He has been the league's best playmaker for nearly 20 years now and will be missed. He is a true legend at the defensive back slot.
Strong Safety
Reshad Jones, Miami Dolphins
2015: 135 Tackles, 5 Interceptions, 2.0 Sacks, 15 Passes Defended, 1 Fumble Recovery, 2 Defensive TDs
When it comes to defensive backs, no one does it better than Miami and they have brought in Reshad Jones to become the next greatest safety in the NFL as proven by his league leading 135 tackles.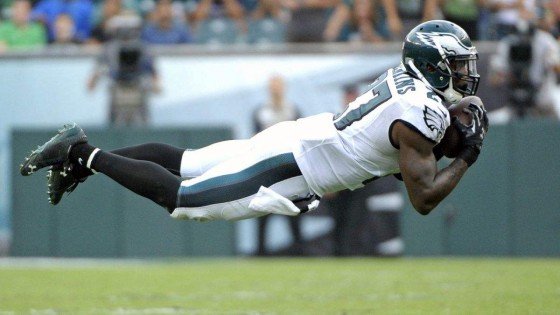 Malcolm Jenkins, Philadelphia Eagles
2015: 87 Tackles, 2 Interceptions, 3 Forced Fumbles, 1 Fumble Recovery, 1 Defensive TD
The New Orleans Saints should not have allowed him to leave. He is proving them wrong today as one of the NFL's best Strong Safeties.