2015 National League Preview

Clayton Kershaw, Adam Wainwright, John Lackey, Aroldis Chapman, Max Scherzer, Madison Bumgarner, Stephen Strasburg, Jordan Zimmerman, Zack Greinke… The worse job in Major League Baseball is the award committee that selects the Cy Young winner each season. Not only is the National League loaded with All-Star pitchers, they are full of the best pitchers in all of baseball. The American League could put their ten best pitchers and one or two might make the list of the National League top ten pitchers. Barely. The Nationals alone have arguably five guys who would be Cy Young candidates in the AL.
The National League is the equivalent of the NBA's Western Conference. For example, the New Orleans Pelicans are three games out of the 8th and final playoff spot in the Western Conference. However, if they were in the Eastern Conference, they would be fighting for a 5th seed. Some things just do not make sense anymore. If the National League held its' own playoffs, it would be more entertaining than having to play the weaker American League.
Enough of that, let's dive right into the predictions for the National League's 2015 season. Enjoy.
National League East
5. New York Mets
MVP: David Wright, 3B – He would be the MVP of the Mets even if they had three more All-Stars on the roster. Too bad they don't and he literally is the only reason the Mets win more than 50 games this year.
Ace: Matt Harvey, RHP – One year removed from Tommy John surgery, Matt Harvey has low expectations from analysts, scouts, coaches, and everyone else in the United States (except for New York Mets fans). The Mets fans will be pissed if he doesn't win 20 games and finish with a 2.10 ERA. That is just the way it is. He makes this list because he literally is the best thing they have in the bullpen in 2015.
X-Factor: Jacob de Grom, RHP – The young gun will either be the next big thing in New York, or he will have a season to forget. Either way, if he plays to his potential, he will be part of the reason they win North of 70 games.
Future Star: Noah Syndergaard, RHP – Do the Mets have anyone to look forward to in the dugout? Or is it all or nothing with the young pitching staff they have built up over the years?
Craziest 2015 Prediction: The Mets struggle early on, as usual, but trade for Bryce Harper, Mark Trumbo, and Clayton Kershaw to become the last Wild Card team in the National League. Crazy prediction? Try insane.
4. Philadelphia Phillies
MVP: Carlos Ruiz, C – It is about time we see a Catcher lead his team. Isn't that the whole point? A catcher is the quarterback. He calls the shots and helps run the defense from behind the plate. Ruiz can also hit. He has power and enough speed to score some runs too.
Ace: Cole Hamels, LHP – Cliff Lee could also be the Ace but we don't expect him to be a Philly by July so we'll just have to settle on Cole Hamels. He has struggled the last two seasons but this is going to be the time for him to bounce back. He only needs to win 15-18 games too.
X-Factor: Jimmy Rollins would have been the man in this spot but they traded him away back in December. So we will have to settle for Ryan Howard. When he hits more than 30 Home Runs, the Phillies win and make the playoffs. When he hits more than 40, they win 90 or more. It is on him to produce like he did nine years ago.
Future Star: J.P. Crawford, SS – The time is coming for J.P. Crawford in Philadelphia. He is hurt right now in the Minors but he will be starting by the All-Star break. They have nothing to lose waiting around anymore.
Craziest 2015 Prediction: Ryan Howard goes off and hits 50 Home Runs, Utley hits .350, Lee and Hamels win 20 games… Wait a second, is it 2008?
3. Atlanta Braves
MVP: Freddie Freeman, 1B – On offense, the Braves have a solid list of "could-be's" but Freddie Freeman is the one guy that is a no-brainer. This guy can hit around 20 HR's, 100 RBI's, and get on base half of the time he gets to the plate. This should be his year to rise to the level we all expect from him.
Ace: Julio Teheran – If you had asked us yesterday, it would have been Craig Kimbrel. The future is now for Teheran, he's almost all that is left.
X-Factor: Andrelton Simmons, SS – He has been a defensive star over his first few seasons, but the offense has lagged a bit after showing glimpses in 2013. With a light hitting lineup around him, this could be his year to break out.
Future Star: Christian Bethancourt, C – In the 31 games he played in last season, he didn't do enough to knock us down. His .248 batting average and 9 RBIs were not great especially for a kid many people believe to be the next big star in Atlanta. He will be eventually, just not sure when.
Craziest 2015 Prediction: Shelby Miller surpasses all expectations, as does Julio Tehran and they combine for 40 wins to lead the Braves to the best record in the NL.
2. Miami Marlins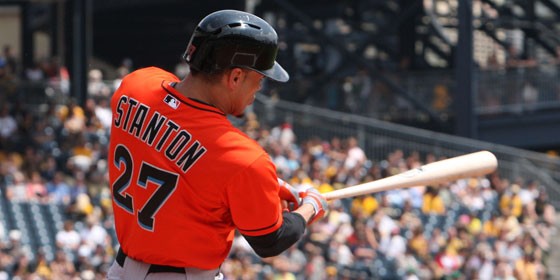 MVP: Giancarlo Stanton, RF – At 24 years old, Giancarlo Stanton hit 37 Home Runs in 2014. But he also did that when he was 22 and at 21 he hit 33. He finally surpassed the century mark for RBI's in a season last year and we expect more of that this year. 2015 has the makings to be his MVP season. He WILL hit 45 HR's, 120 RBI's, and hit around .325
Ace: Mat Latos, RHP – Only because Jose Fernandez won't be back until late June. The Marlins might struggle early on this year but that will balance out come July. We think Latos could be their best pitcher.
X-Factor: See Above in the MVP box. Stanton is it in South Beach. This guy is the reason they win or go home losers. He has the ability to make others better and he is a natural born leader. Without Stanton in Right Field, the Marlins have no chance at anything.
Future Star: Tyler Kolek, RHP – Depending on how bad things get early on will help the Marlins decide how and when to use last year's first round draft pick Tyler Kolek. (2nd Overall)
Craziest 2015 Prediction: The power comes often and the Marlins dominate to led the National League in hitting. From doubles to Home Runs, they lead in all categories. They are the only thing that can stop the Nationals from complete and total domination.
1. Washington Nationals
MVP: We can't pinpoint one guy. It's just too hard. The 3,4, and 5 spot hitters could all be MVP's. (Harper, Zimmerman, Werth) Then you have Ramos, Span, Desmond, and the pitching staff too.
Ace: Max Scherzer, RHP – It is not fair to have to pick just one guy as the Nationals Ace. One? What about Strasburg? Or Zimmerman? Even the guy in the 5th spot in their rotation could be an Ace for 20 other MLB teams. (Gio Gonzalez) Don't expect less than 100 wins from this club. Easy!
X-Factor: Injury Bug – The Texas Rangers are proof that even the teams that look like the best on paper, could end up at the bottom of the Major's simply because of injuries to 90% of the starting lineup. If these guys stay healthy, it is scary to think of what they might do in the NL.
Future Star: A.J. Cole, RHP – Again, and we sound like a broken record, but this guy could start for so many other clubs already. Houston, for example, would have him as high as 3rd in their rotation. Hell, maybe even 2nd.
Craziest 2015 Prediction: This lineup is insane, the rotation is unfair, and their bullpen is just plain sick. The craziest thing to say about this monster would be that they win 140 games. But it isn't that crazy to think that.
National League Central
5. Cincinnati Reds
MVP: Todd Frazier, 3B – 2014 was the first full season for Todd and he should get the same amount of playing time this year. He won't hit 30 Home Runs but he will surpass the 100 RBI mark and hit North of .315 to remain a MVP caliber player.
Ace: Johnny Cueto, RHP – Mr.Cueto had career highs in Wins, Innings Pitched, Strikeouts, and Hits Allowed per 9 IP last season. With the lineup and rotation they are sporting for 2015, there is no doubt in our mind he wins 18 or more and remains in the running for the NL Cy Young.
X-Factor: Joey Votto, 1B – HE is the X-Factor and has been for years. The Reds will live or die based on how Votto plays in 2015. Too bad they have very little help around him.
Future Star: Jesse Winker, OF – His 2015 Spring Training wasn't the greatest but this kid will be the future of the Cincy outfield. He just hit the 21 year old mark so there is plenty of time for him to develop. If he doesn't impact the 2015 year, he definitely will in 2016.
Craziest 2015 Prediction: Things can always go wrong for other teams and in a division that features the Brewers, Cubs, and Pirates, the Reds can be on the beneficial end of it once their players start to go down throughout the year.
4. Milwaukee Brewers
MVP: Jonathan Lucroy, C – Lucroy actually finished 4th in NL MVP voting last season, so he must be the MVP for this team. He is an offensive star, but also handles his catching duties with above average skill. Lucroy and not Braun is the best player on the Brewers now.
Ace: Wily Peralta, RHP – The Brewers are lacking an Ace and have been for several years. Peralta isn't quite to that level but he has the ability to one day become an Ace. 2015 is setup to be his time to shine and take over the rotation.
X-Factor: Ryan Braun, RF – Yes, he lied. Yes, he took steroids. But guess what? It is over with and time to move on. The Brewers were once in the running for the NL Central top spot year after year until Ryan Braun got suspended. If they want to be any sort of successful, it will be on him again. He has the ability to hit 40 Home Runs, with or without the roids.
Future Star: Jean Segura, SS – He broke out in 2013, but regressed in 2014. We think he'll regain his form and become a legitimate star this season for Milwaukee. He better, because the top prospects in the minors are still a full season away from playing for the Brew Crew.
Craziest 2015 Prediction: Ryan Braun gets caught again. Because you can't fix stupid.
3. Chicago Cubs
MVP: Kris Bryant, 3B – It isn't fair to put a guy that is finally getting his big league debut as the team MVP but guess what, Jose Abreu was in the same boat last season and look at what he did. Crash and burn or run and gun. Either way, this kid has MVP written all over him.
Ace: Jon Lester, LHP – What does $155 million pay for? How about an Ace with two World Series rings and tons of experience with winning? That is what the Cubs got when they purchased Mr.Lester from Free Agency. They are expecting him to shape the lineup into one of the best in baseball for the next few years.
X-Factor: Anthony Rizzo, 1B – The power is there, the hitting is improving, and the overall production scores are going up, up, up. If Rizzo performs to the caliber he did in 2014, he will be the reason they exceed expectations.
Future Star: Jorge Soler, RF – Why aren't the Cubs being projected higher? Because most of their roster is so young. However, Soler is one of the few young stars that is ready to explode in 2015.
Craziest 2015 Prediction: All the young talent they have are lead by Joe Maddon and they end up becoming what the Rays were in the late 00's.
2. St. Louis Cardinals
MVP: Yadier Molina, C – The true leader of this team was Albert Pujols but then he left for LA and Yadier Molina took over as the team leader. When he plays 130 or more games, the Cardinals win.
Ace: Adam Wainwright, RHP – He is as big as they come for Right Handed pitchers. He has 39 wins in the past two seasons in 67 starts. Wow! But that isn't the most impressive stat of the beast from the Mid-West. His ERA has gone down each season and in 2014, he dropped below the 3.00 mark for the first time in his career.
X-Factor: Jason Heyward, OF – The Cardinals decided to trade for Heyward and now they have him. If he stays healthy and hits the level he should be, he will boost the lineup from top to bottom. It will not take too long to see him help the lineup.
Future Star: Marco Gonzalez, LHP – He rose to the Majors in two years and we were able to get a taste of his future stardom last season. It will not be long before he locks in a spot in the rotation.
Craziest 2015 Prediction: This team has the pitching to win. However, they might end up going downhill really quickly if the hitting goes stagnant.
1. Pittsburgh Pirates
MVP: Andrew McCutchen, CF – The best Center Fielder in Major League Baseball is Andrew McCutchen. He can also hit 20 Home Runs, steal 30 bases, and hit for 0.315. He is the ONLY reason Pittsburgh remains in contention for the top spot in a division which features the St.Louis Cardinals.
Ace: Gerrit Cole, RHP – Yep, this guy! He is only in his 3rd Major League season as a starter but he is due for an explosion of production. His WHIP is always under 1.2 and he is a high K pitcher. Trust us, he will surpass Francisco Liriano before the season ends as the ACE.
X-Factor: Andrew McCutchen, CF – Hands down. As we stated above, this guy is the reason Pittsburgh plays at the level they did in 2014.
Future Star: Jameson Taillon, RHP – This is one of the biggest gambles of this article simply because he might be another year out before becoming a starter but we expect an injury or two in the rotation.
Craziest 2015 Prediction: This is the toughest one yet. The Pirates are being talked about very highly but with the talent they have and the youth they also have in the bullpen, things could go South in a hurry. A.J. Burnett wins 20 games would be the craziest thing we could predict for these guys.
National League West
5. Colorado Rockies
MVP: Carlos Gonzalez, RF – The time is now! He turns 30 in October and he isn't going to get any better. If you are expecting him to produce, this is the season he does it. If he remains healthy, he can hit 35 long balls. IF is the biggest IF of all time too.
Ace: Jorge de la Rosa, LHP – Pitching in Colorado is like pitching in the NCAA back in the late 90's when they had those hollowed out aluminum bats. However, this man learned how to win more than 10 games and keep a low ERA. Too bad his age is starting to affect his game. He is still the best they have in 2015.
X-Factor: The Rockies on the road. They play half their games in a city that a fly ball travels a mile further than any other place in the United States so the biggest factor for them is winning outside of their home since playing in Denver is always a 50/50 chance.
Future Star: Eddie Butler, RHP – He didn't make the rotation this season but he is on the verge of making it. He might get the call come July. If he does, you will be very impressed with his ability to throw a baseball. After all, he is in the city with no air.
Craziest 2015 Prediction: Troy Tulowitzki retires in May. Tyler Matzek and Jordan Lyles show off incredibly stuff and become the future of Denver. Charlie Blackmon replaces Andrew McCutchen as the best CF in the game and the Rockies win 90 games, make the playoffs, upset a few teams, and become the Cinderella story of 2015. (This isn't as crazy as it sounds)
4. Arizona Diamondbacks
MVP: Paul Goldschmidt, 1B – If the Diamondbacks struggle, it might be so long for now for Mr.Goldschmidt. He is too good and too easy to trade if the D-Backs need more talent and someone offers them something worth looking at. He is the best thing they have in a lineup that could be great or could be terrible.
Ace: ??? – Two of their top three pitchers are coming off of Tommy John surgery in 2014. That is just plain bad luck. Their top pitcher isn't the greatest and is probably the worst #1 in Major League Baseball. It is a shame to see such a solid lineup have a pitching rotation that could be their downfall in 2015.
X-Factor: We think the pitching, as stated above, will determine their success in 2015. They will have a virtual revolving door come June and trades might be needed to cover up the weaknesses.
Future Star: Jake Lamb, 3B – He played in 37 games last season and showed us that he can do great things but he isn't quite as good as Yasmany Tomas just yet.
Craziest 2015 Prediction: They trade Paul Goldschmidt and Aaron Hill for Clayton Kershaw. It sounds crazy but who knows anymore.
3. San Diego Padres
MVP: Matt Kemp, RF – Wait, when did they sign him?
Ace: Craig Kimbrel, Closer – OK, did someone mess with my notes over here? They managed to sign Kemp and Shields… and then trade for Kimbrel? He's the best closer in the game, and his presence pushes the Padres into playoff contention.
X-Factor: Justin Upton, OF and Will Myers, OF – What happened to San Diego between the end of last year and now? They have an almost completely new look lineup that features enough talent to win some games. For a team that won 77 games in 2014.
Future Star: Trea Turner, SS – Alexi Amarista better be looking over his shoulder because Trea Turner wants the job so badly, he might end up outplaying him and earning the slot.
Craziest 2015 Prediction: The gamble works and everyone meshes together like spaghetti and meatballs to run them into the World Series after posting a 100+ win season.
2. San Francisco Giants
MVP: Madison Bumgarner, RHP – He is a winner. That is why he belongs in this spot. He wins games, gets excited about it, and helps leads this team to the highest level they can achieve, a World Series.
Ace: Madison Bumgarner, RHP – Does the front office of the San Francisco Giants hang out at local Ultimate Frisbee competition's to find these guys? (See Tim Lincecum) Regardless of how long his hair is, this kid can pitch. His numbers speak for themselves.
X-Factor: Buster Posey, C – He might not look like it, but this kid is a 3-time World Series champion, former MVP, and a NL Rookie of the Year. He is the best in the game from behind the plate and he is their true x-factor.
Future Star: Kyle Crick, RHP – Maybe, just maybe, 2015 will be his time to shine.
Craziest 2015 Prediction: What year is it? 2015? Oh, then the Giants aren't going to be winning a World Series just yet. Maybe in 2016.
1. Los Angeles Dodgers
MVP: Yasiel Puig, Adrian Gonzalez, Jimmy Rollins, Howie Kendrick – These four men will help the Dodgers win a World Series. The pitching is already loaded with talent but their lineup is stocked with guys that can produce daily. If the new guys, Kendrick and Rollins, earn their stripes, this lineup has the makings of a beast.
Ace: Clayton Kershaw, LHP – He is the best pitcher in baseball. He puts up stupid video game numbers that even I can't seem to match and he does it yearly. The scary part is he just keeps getting better.
X-Factor: The Starting Rotation staying healthy. This group has the potential to be the best in baseball, however, they are also the most likely to fail because of injuries. There is a 75% chance that someone will go down before the season ends. Ryu is already starting the season on the DL.
Future Star: Julio Urias, LHP – At 18 years old, this kid will be starting before he turns 20. He might even work his way into the lineup by season's end. Since this lineup is very risky to begin with, we think we will not see much of Urias until very late in the season.
Craziest 2015 Prediction: The Giants won the World Series last season because they win every other year so they will not win in 2015. The Dodgers end up losing to the Pirates in the first round and begin to unload players in efforts to fix the sinking ship and Clayton Kershaw ends up in Baltimore.