2015 Rookie Fantasy Football Rankings
The 2015 NFL Draft is coming up fast. The draft is followed by a three months of anticipation, projections, and hope that this will be the year of the Tiger. (Also known as, your year to win at Fantasy Football) There is never a bad time to get ready for Fantasy Football and this is just the beginning. If you have not already begun looking into the upcoming season and the different players you would like to draft, you are already falling behind. You need to start preparing yesterday if you want to win. No one wins simply by showing up.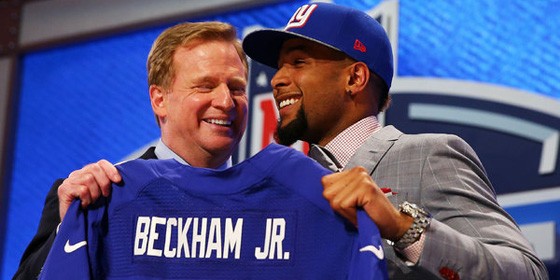 The NFL Draft is going to bring a handful of producers and scorers that may or may not be useful in your 2015 Fantasy football championship campaigns. Not every year do you run into an Odell Beckham Jr. but for the ones that did grab him last season, congratulations on your keeper in 2015. Below we'll take a look at some names to pay attention to on NFL Draft Day, so you aren't caught with your pants down when they turn into Fantasy Football Studs in Week 6 of the upcoming season…
2015 NFL Draft Potential Studs
Without knowing what offense they are running or who is throwing them the ball, this is going to be a ranking based solely from which players have the best chance, regardless of who drafts them, to help you win some games in 2015. Realistically, these are the only rookies currently worth drafting in Fantasy Football this year.
Pos.: Player Name, School – Projected Stats (16 Game Season)
Quarterbacks
QB #1 : Jameis Winston, Florida State
Passing Yards: 2,900
Passing TDs: 17
Interceptions: 11
Rushing Yards: 200
Rushing TDs: 2
Fumbles Lost: 2
QB #2 : Marcus Mariota, Oregon
Passing Yards: 2,100
Passing TDs: 14
Interceptions: 15
Rushing Yards: 800
Rushing TDs: 7
Fumbles Lost: 5
Running Backs
RB #1 : Todd Gurley, Georgia
Rushing Yards: 1,200
Rushing TDs: 10
Receptions: 20
Receiving Yards: 270
Receiving TDs: 1
RB #2 : Melvin Gordon, Wisconsin
Rushing Yards: 1,100
Rushing TDs: 6
Receptions: 10
Receiving Yards: 125
Receiving TDs: 0
RB #3 : Jay Ajayi, Boise State
Rushing Yards: 300
Rushing TDs: 2
Receptions: 35
Receiving Yards: 550
Receiving TDs: 4
RB #4 : Tevin Coleman, Indiana
Rushing Yards: 575
Rushing TDs: 3
Receptions: 25
Receiving Yards: 345
Receiving TDs: 2
RB #5 : Ameer Abdullah, Nebraska
Rushing Yards: 650
Rushing TDs: 5
Receptions: 30
Receiving Yards: 450
Receiving TDs: 4
Wide Receivers
WR #1 : Amari Cooper, Alabama
Receptions: 71
Receiving Yards: 1,100
Receiving TDs: 12
WR #2 : Kevin White, West Virginia
Receptions: 65
Receiving Yards: 1,000
Receiving TDs: 8
WR #3 : Dorial Green-Beckham, Oklahoma
Receptions: 50
Receiving Yards: 775
Receiving TDs: 9
WR #4 : Breshad Perriman, Central Florida
Receptions: 60
Receiving Yards: 800
Receiving TDs: 5
WR #5 : Devante Parker, Louisville
Receptions: 65
Receiving Yards: 1,000
Receiving TDs: 7
Tight Ends
TE #1 : Maxx Williams, Minnesota
Receptions: 45
Receiving Yards: 600
Receiving TDs: 11
TE #2 : Clive Walford, Miami
Receptions: 30
Receiving Yards: 450
Receiving TDs: 8
Those are the NFL draftees that have the biggest upside and have the best chance to help you win a fantasy football league.
We do not want say they are a sure thing but when it comes to risk, they have the least amount. This next part is the long shot sleepers.
2nd Tier Rookies to Look at in 2015
When you start looking at the kids coming into the NFL in 2015, there are a few positions that are weak, QB and RB, while others like WR and TE have a plethora of possible future heroes.
This is the part of the post where we throw a bunch of names at you and hope some stick. For the most part, a lot of these guys, outside of the QB, should get enough playing time to make plays but it all comes down to who goes where.
Quarterbacks
Bryce Petty, Baylor
Garrett Grayson, Colorado State
Running Backs
T.J. Yeldon, Alabama
Duke Johnson, Miami (Fl)
Buck Allen, USC
Jeremy Langford, Michigan State
Matt Jones, Florida
Mike Davis, South Carolina
Wide Receivers
Phillip Dorsett, Miami (Fl)
Jaelen Strong, Arizona State
Nelson Agholor, USC
Devin Smith, Ohio State
Devin Funchess, Michigan
Rashad Greene, Florida State
Sammie Coates, Auburn
Tyler Lockett, Kansas State
Tight Ends
Tyler Kroft, Rutgers
Jeff Heuerman, Ohio State
The Longshots
It is not normal to go into a Fantasy Football draft with a list of rookies but over the past few seasons, the NFL has changed. The word rookie does not mean as much these days as players are coming into the NFL more prepared than ever before. There were players in 2014 that made teams regret their draft day decisions.
Offensive players like Alfred Blue, Devonta Freeman, Andre Williams, Martavis Bryant, and Lorenzo Talleferro were all drafted in the fourth round or later. Quarterbacks were also taken later on and put up solid numbers like Zach Mettenberger, 6th round draftee. So how about a peek at a few guys that you might end up picking up off the waiver wire come week four.
Quarterbacks
Brett Hundley, UCLA
Bryan Bennett, Southeastern Louisiana
Running Backs
David Cobb, Minnesota
Terrence Magee, LSU
Malcolm Brown, Texas
Cameron Artis-Payne, Auburn
Dominique Brown, Louisville
Karlos Williams, Florida State
Wide Receivers
Justin Hardy, East Carolina
Kenny Bell, Nebraska
Ty Montgomery, Stanford
Stefon Diggs, Maryland
Jamison Crowder, Duke
Josh Harper, Fresno State
Devante Davis, UNLV
Tre McBride, William & Mary
Tight Ends
Wes Saxton, South Alabama
Jean Sifrin, Massachusetts
E.J. Bibbs, Iowa State
Review – 2015 Fantasy Football Rookies
Look, we do not expect you to take this to the bank. All we are doing is giving you enough information based on countless scouting reports, rumors, and inside information to put together a list of players that you might want to monitor during the draft.
99% of everything we said today can change based on who drafts them. For example, Brett Hundley can get drafted as a backup QB like Matt Barkley has become. If that happens, forget drafting him because he will not help your team at all. Ever.
On the other hand, when a team like Chicago drafts a wideout late in the draft, pay close attention. That kid could end up being the monster you have been searching for next season. When you line up opposite Alshon Jeffrey, Martellus Bennett, and Matt Forte, all you have to do is not fall down and you will catch 55+ balls.
So try not to worry about the rankings until the draft. Then come back and match up the players according to the teams that took them. If you do that, life and Fantasy Football will be much easier.