NFL Honors : Who Will Win at the 5th Annual Award Show?
On February 6th, Conan O'Brien will host the 5th annual NFL Honors award show on CBS where they will present the biggest awards in the sport, all 19 of them. The 2015 NFL season has given them much to debate about when voting thanks to a very tight race between several key NFL superstars.
In a surprising twist, the biggest group of talented NFL stars this season were rookies. For the first time in a very long time, the NFL enjoyed a slew of talented fresh faces that are going to be the future of the league. Players like Todd Gurley, Marcus Mariota, Jameis Winston, Thomas Rawls, Tyler Lockett, Amari Cooper, T.J. Yeldon, Stefon Diggs, Preston Smith, Marcus Peters, Landon Collins, and Stephone Anthony are all putting up huge numbers in their rookie campaigns.
Cam Newton, Carson Palmer, Antonio Brown, Adrian Peterson, and Tom Brady all have a chance to bring home the AP MVP award. They all did more for their team this season than most players can do over the course of their career including leading them to a playoff appearance and for some, a Super Bowl.
In advance of the big show, below we present our predictions…
Deacon Jones Award
J.J. Watt, DE, Houston Texans
76 Tackles, 17.5 sacks, 8 pass deflections, 3 forced fumbles, 1 fumble recovery
There is almost no debate to be had for the Deacon Jones award as it is given to the NFL's sack leader each year and J.J. Watt was that man in 2015. He led a tough Houston Texans defense all the way to the AFC Wild Card round of the playoffs, a game no one expected to see them in. As long as he rocks the Texans gear, they will be relevant in the AFC. That alone is a testament to his level of play.
Greatness on the Road
Aaron Rodgers Hail Mary Stunner (Green Bay over Detroit)
Since we are only going to judge plays from the regular season, Aaron Rodger's first hail mary touchdown pass to end a game wins this award. He duplicated his majestic finish against Arizona in the NFC Divisional round, however, it led to a nightmare of a loss for the Packers. The regular season hail mary helped propel the Pack into the playoffs making this the easiest choice of any award.
Bridgestone Performance Play of the Year
Marcus Mariota's 87-yard TD Run
As exciting as Cam Newton has been in 2015, the 87-yard touchdown run by Tennessee Titans QB Marcus Mariota deserves to be named Bridgestone Performance Play of the Year. His amazing run is the 3rd longest rush by a QB in NFL history. In a close game against the Jacksonville Jaguars, and trailing 32-28, the Titans were pinned deep in their own territory until Mariota broke free for 87-yards and a score which led to a Titan win.
FedEx Ground Player of the Year
Adrian Peterson, RB, Minnesota Vikings
1,485 rushing yards, 30 receptions, 222 receiving yards, 11 TDs
After missing almost the entire 2014 season, Adrian Peterson bounced back in epic fashion leading the NFL in rushing and single handedly carrying his Minnesota Vikings on his back and into the postseason. A lot of running backs had a good year but none of them can do what he does every single year in Minnesota, lead them to wins. If you stop AP, you can beat the Vikings.
FedEx Air Player of the Year
Carson Palmer, QB, Arizona Cardinals
4,671 passing yards, 36 total TDs, 11 interceptions
There is no other quarterback in the NFL in the last couple of seasons that has worked harder and has not reaped any benefits from it. In 2014, Carson Palmer started off hot but after six games, his season was cut short when he tore his ACL. But in 2015, he played all 16 games and got his Cardinals within one game of the postseason and a 13-3 record. At 36 years old, that is impressive as anything he has done over his entire NFL career. In fact, it was his best season ever.
NFL.Com Fantasy Player of the Year
Cam Newton, QB, Carolina Panthers
3,837 passing yards, 636 rushing yards, 45 total TDs, 10 interceptions
If you owned Cam Newton on your fantasy football team, you would agree with this choice as the clear cut NFL.com Fantasy Player of the Year. He ran away with most leagues, regardless of the scoring method used, and had the most points in most all of them. If he does not win, you can thank the voters.
AP Comeback Player of the Year
Eric Berry, S, Kansas City Chiefs
61 tackles, 2 interceptions, 10 pass defended
In 2011, Eric Berry tore his ACL in the first game of the season, missing the remaining games. He bounced back in 2012 and 2013 making consecutive Pro Bowls and being named an All-Pro. However, he was diagnosed with Hodgkin's lymphoma after week 5 of the 2014 season and missed the rest of that season with a high probability of retiring and never playing in the NFL ever again. So when he came back in 2015, all he had to do was show up and people would worship the ground he walked on after beating cancer. He started 15 games and is the only choice for Comeback Player of the Year if there ever was one.
AP Defensive Rookie of the Year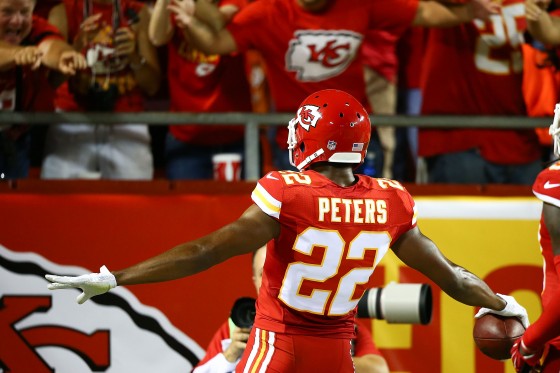 Marcus Peters, CB, Kansas City Chiefs
60 tackles, 8 interceptions, 26 passes defended, 2 defensive TDs
Back in April, the Kansas City Chiefs decided to draft a defensive back from the University of Washington. It seems to have been the best choice they could have made as he has become one of their key defenders and one of the reasons they won 11 straight games.
AP Offensive Rookie of the Year
Todd Gurley, RB, St.Louis Rams
1,106 rushing yards, 21 receptions, 188 receiving yards, 10 TDs
After missing the first two weeks of the season, Todd Gurley got a few carries during week 3 but it was nothing to brag about. But then he exploded in Week 4 and became the RB everyone had hoped he would as he spent the next 4 games rushing for 566 yards. His talent is unquestionable and now that they will be playing in LA, maybe he is ready for an MVP caliber 2016 season.
Pepsi NEXT Rookie of the Year
Jameis Winston, QB, Tampa Bay Buccaneers
4,042 passing yards, 210 rushing yards, 28 Total TDs, 15 interceptions
When Jameis Winston was selected as the top overall pick in the 2015 NFL Draft, the Tampa Bay Bucs were going all-in and hoping he would be the QB of their future. He threw for over 4,000 yards making him the first Tampa Bay QB since Josh Freeman did it in 2012.
AP Defensive Player of the Year
Josh Norman, CB, Carolina Panthers
56 tackles, 4 INTs, 18 passes def, 3 forced fumbles, 2 fumble recoveries, 2 TDs
Any player that is part of a Super Bowl contender is going to get a bump during awards season mainly because their value can be directly contributed to his team's success. In Josh Norman's case however, he has earned the AP Defensive Player of the Year and has become the NFL's best cover cornerback.
AP Offensive Player of the Year
Antonio Brown, WR, Pittsburgh Steelers
136 receptions, 1,834 receiving yards, 10 TDs
At what point do we have to just step back and give Antonio Brown the respect he deserves. In the past three seasons, he has in 46 games and has watched his production slowly increase every single season. His numbers in 2015 were his best to date and Ben Roethlisberger missed 5 games this year. Imagine if he played those games?
AP Assistant Coach of the Year
Adam Gase, OC, Chicago Bears
The AP Assistant Coach of the Year award goes to the best assistant coach in the NFL. So when the Miami Dolphins named Adam Gase their newest head coach, it justified our selection. Shaun Hill, J.T. O'Sullivan, Jon Kitna, Joey Harrington, and Tim Tebow can all thank Adam Gase for coaching them up.
AP Coach of the Year
Ron Rivera, Carolina Panthers
In 2011, Ron Rivera was named Head Coach of the Carolina Panthers and in 5 seasons has turned them into a Super Bowl contender. He has also coached them into the best defense in the NFL over the past couple of seasons and 3 consecutive NFC South titles. At 15-1, the Panthers nearly finished the season perfect but fell a little short. There is only one other man who could beat Rivera for this award, Bruce Arians, and Ron recently beat his Cardinals, easily.
AP MVP
Cam Newton, QB, Carolina Panthers
As we mentioned earlier, there are very few players in the NFL today that can match or surpass what Cam Newton has the ability to do. There is no question that he is the only reason Carolina is in the Super Bowl this season.Without Cam Newton, the Panthers go 5-12 this season. He is without question the MVP of his team and seeing as they are in the Super Bowl, he is the MVP of the NFL too.