2015 Nissan Murano : Review
Completely redesigned for the new model year, the 2015 Nissan Murano has become Nissan's affordable limousine, with a stylish and eye-grabbing exterior, beautiful upscale interior, better fuel economy, and a more substantial ride quality.
Everything about the new Murano stands out from the crowd. It's one of the most beautiful midsize crossovers on the market and it hasn't lost touch with its core point of being: hauling family and friends around as an everyday driver.
The previous generation Murano was known for its ergonomics and sedan-like drive appeal. Now the flagship 2015 Murano keeps those qualities and adds a lot more, making it the new benchmark for midsize five-seat crossovers.
Exterior
The new styling for the 2015 Nissan Murano is bold, distinctive, and luxurious. Most in the midsize crossover segment tend towards contemporary and sedate, aiming for that family buyer who settles for white paint and cardigans. The Murano eschews that and instead brings attention-grabbing looks and sleek, even sexy style to the usually boring family crossover market.
The 2015 Murano carries strong character lines, a floating roof, and gleaming chrome. In its black paint option, the word "limousine" is easily used to describe the theme. The Murano brought this big design statement to market and then Nissan followed it with the beautiful new Maxima sedan, signaling that this boldness is their plan going forward.
The Murano's new look begins with a sweeping, sedan-like hood that carries up to a raked windscreen and coupe-like roofline. Along the sides, a strong fender hump begins a line that sweeps down under the side mirror and then back up along the doors, following the upward-angled beltline to the point of the rear taillamp. Underneath that strong character line comes a light set of bone lines under the sheet to accentuate the curves and bring out the traditional, also uppercutting running board accent. Blacked pillars and a strongly-accented rear hatch finish the sinewy appeal of the overall look.
Wheel options range the gamut in size, but all are beautiful alloys that accent chrome trim points and the integrated and sleek roof racks.
Interior
The 2015 Murano's interior is extremely upscale. Those familiar with the great little Rogue and the premium-level Infiniti QX series of crossovers will recognize many of the design points appearing within this new Murano. Zero Gravity seating, an airy interior feeling, and high levels of material quality and workmanship come together very well here.
The front seats are very comfortable, with Zero Gravity being standard in the front and second row outboard positions. Cloth or leather proves to be very well done with these seats and options for adjustment abound.
Driver's controls are well-placed and within easy reach. The rear seats are split-fold as a bench with a lot more leg, shoulder, and headroom than there was last year. The 2015 Nissan Murano also sports almost 40 cubic feet of cargo space behind those, with another 30 added when the rear seats are folded. Tie-downs and organization options are found in various trim levels to aid the usefulness of all that cargo room. There is no third row in the Murano.
Infotainment also sees some tweaks this year with the 2015 Nissan Murano featuring the latest Nissan Connect system. Upper trims will see a more usable interface with more functionality, including added integration with smartphone apps. Most of this is fairly easy to use with only a small learning curve. We found the Bluetooth connectivity and plug-and-play USB setup to be quite good. The added details for phone and MP3 player storage are excellent little points that show attention to detail.
Performance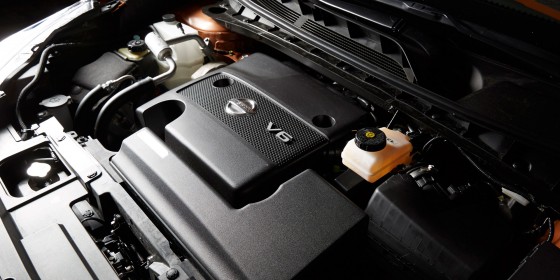 Powered by a 3.5-liter V6 that produces 260 horsepower and 240 pound-feet of torque, the Murano utilizes a continuously variable transmission (CVT). Nissan is one of the few companies that "gets" how a CVT should operate in a modern automobile and it shows in this Murano. The CVT is smooth, well-mannered, and emits no whining or overdone "fake shifting" like many competitors do.
Thanks to that efficient setup, the 2015 Murano rates 24 mpg combined per the EPA, with 21 mpg in the city and 28 mpg on the highway. This Is true for both the front-wheel drive and all-wheel drive options, giving little reason not to upgrade to AWD if It's needed. Our week in the 2015 Nissan Murano, in which we put about 192 miles worth of mixed driving on the crossover, returned 22 mpg as our average. Given our high altitude and occasional crosswinds on the freeway, that's a very good indication that the EPA's estimates are spot on.
As a daily driver, the 2015 Murano is a very ergonomic vehicle, offering a lot of family-friendly points. It's comfortable to drive in all situations, absorbs the road well, and will carry about as much as you'd like to stack inside it without complaint. We did note that for sport drivers, the drivetrain and steering are a bit soft and blasé, returning little road feedback. For the majority of those buying in this segment, though, the Nissan Murano is a solid choice. It accelerates up to freeway speeds well, passes with ease, and offers plenty of visibility and maneuverability when driving around town.
Safety
This is an important metric for family buyers and the 2015 Murano does very well in safety. The Insurance Institute for Highway Safety (IIHS) gives the 2015 Nissan Murano its best Top Safety Pick Plus designation with highest-possible "Good" scores on all crash tests plus high scores for whiplash protection and, with optional equipment, crash mitigation.
The National Highway Traffic Safety Administration (NHTSA) rates the 2015 Murano with 4-Stars out of five, with a total of four stars in frontal crash tests, four stars in rollover protection, and five stars for side crash protection.
Overview
The midsize crossover segment has some strong competition, but none can meet the new Murano's style and panache. The Kia Sorento offers a third row and lower price point and the Jeep Grand Cherokee has more versatility. The Ford Edge brings higher fuel economy. In all, though, only the 2015 Murano brings style, efficiency, and value in one package.
The 2015 Nissan Murano is a beautiful, well-made crossover with an eye-grabbing look, excellent family ergonomics, and superior interior comfort. Much of the new Murano is on par with the premium segment of luxury crossovers, which belies the Murano's window sticker. You'll be hard pressed to find a better-looking midsize crossover with more bang for the buck than you'll get with the 2015 Murano.