2015 Ram 1500 Rebel : First Look
The 2015 Ram 1500 Rebel was unveiled at the Detroit Auto Show in January, bringing stiff competition to the announcement of the new Ford Raptor. The Rebel immediately caught our attention as Ram's aggressively styled off-road capable model featuring increased ride height, standard 33-inch tires, skids plates, tow hooks and a unique interior.
Rebel features an all-new grille with a prominent billet silver "RAM" letter badge. Departing from the brand's iconic "crosshair" designs, the blacked-out Rebel grille tops a completely new black off-road front bumper design with a durable powder-coated surface. It also incorporates a powder coated, billet silver skid plate, front tow hooks, 33-inch Toyo tires and an all-new 17-inch aluminum wheels.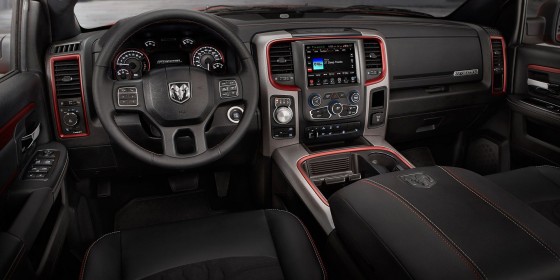 Inside, Rebel is every bit as brawny and rugged as it is outside. The truck features industry-exclusive seating elements finished in Radar Red and black with fabric inserts embossed with the Toyo tire tread pattern, matching the Rebel's actual footprint. Standard heated front seats feature Light Diesel Gray accent stitching, Radar Red Ram's head embroidery on the headrests and black with Light Diesel Gray Rebel nameplate embroidered on the upper seat bolsters.
Pricing has just been announced and the Ram Rebel (available this summer) will start at $42,790, with a 4×4 Crew Cab 5.7-liter HEMI V-8 maxing out at just $46,370. We can't wait to get one dirty, to see if it performs as good as it looks.