2016 College World Series Preview
The 2016 NCAA baseball season has been going strong since late February but since the sport has an overall lack of support around the country, many of the baseball fans haven't even seen their favorite teams in action due to local markets not carrying that many games. LSU and the rest of the SEC seems to be an exception. Almost every single one of their games has been easily available all season long including the series between Arkansas and LSU that starred a possum. (#RallyPossum)
With all the remaining conference tournaments beginning this week, we wanted to bring you our predictions for the college baseball postseason. For those of you who are new to the Road to Omaha, here is a quick breakdown to bring you up to speed. A panel of voters get together this Sunday and begin the process of choosing the 64 teams that will be playing for a College World Series title in 2016. Of the 64 teams selected to compete, eight national seeds are chosen and represent the best 8 teams in the country heading into the postseason. These teams are ranked #1 through #8 are granted home field advantage in the first two rounds of the tournament.
Have I lost you yet? Good, let's keep going.
The first round is called the Regionals and features 16 teams that will host three other teams in a double elimination style tournament at their home field with the top team advancing to the Super Regionals. The Super Regionals is a best-of-3 series between two teams where the winners advance to form the final 8 teams of the season. These eight teams move on to Omaha where they compete in another double elimination tournament, broken into two sides, where the champion of each bracket squares off in one last best-of-3 series to determine the champion.
Now that we're all up to speed on the tournament format, lets take a look at our predictions in our 2016 College World Series Preview…
National Seeds
1. Miami (FL)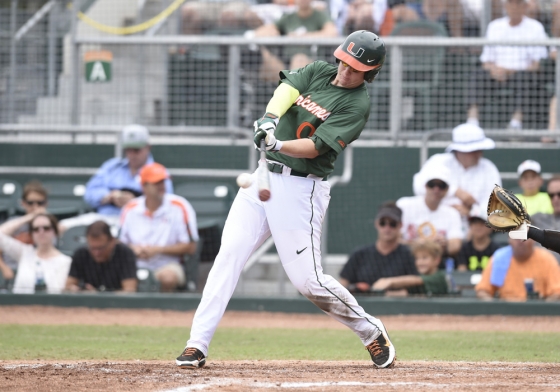 Regular Season: 41-10  (Road, 11-4)
Conference: 21-7
Vs. Top 100 RPI: 24-9
RPI: 3
SOS: 5
Biggest Wins: Louisville (x2), Clemson (x3), North Carolina (x3), Virginia, Florida State (x2), Florida
The Hurricanes have fought hard all season long and are not the most dominant hitting or pitching club in the country but they are good in almost every category which is usually better. In their case, it has lead to a bunch of close wins that required Bryan Garcia to come in and save the day. (His 14 saves is 5th in the nation) After seeing their schedule breakdown, this was an easy choice for the top ranked national seed this year.
2. Texas A&M
Regular Season: 41-13  (Road, 12-8)
Conference: 20-10
Vs. Top 100 RPI: 24-11
RPI: 4
SOS: 12
Biggest Wins: South Carolina (x2), Ole Miss (x2), Vanderbilt (x2), LSU (x2), Mississippi State (x3)
The 2016 season has proven to be a good one for the Aggies offense as they rank highly nationally in almost every hitting category. Their pitching was also a blessing as it helped them run through the SEC like a hammer looking for a nail. That high powered offense might go cold but they have enough pitching to find other ways to win. After battling injuries and upsets, the Aggies are looking to be heading to Omaha in 2016.
3. Florida
Regular Season: 44-11  (Road, 13-7 )
Conference: 19-10
Vs. Top 100 RPI: 23-11
RPI: 2
SOS: 4
Biggest Wins: Miami (x2), Texas A&M (x3), Vanderbilt (x2), Florida State (x3)
Prior to facing the LSU Tigers in Baton Rouge last weekend, the Gators were a lock to be the nation's top seed. But they lost a few key players including Peter Alonso and it showed as they struggled to win one game in the final series of the season. It wasn't enough to push them too far back as they have one of the scariest pitching rotations in the nation.
4. Louisville
Regular Season: 46-10 (Road, 13-9)
Conference: 22-8
Vs. Top 100 RPI: 27-10
RPI: 1
SOS: 9
Biggest Wins: Miami, Ole Miss, NC State (x3), Vanderbilt, Clemson (x3), Virginia (x2)
If you thought the Aggies had great hitting and the Gators had great pitching, you haven't seen the Cardinals play this year, have you? They have the nation's fourth ranked team batting average to go along with the third ranked team ERA making them a dangerous fourth seed. Did we mention they finished the season with the most wins?
5. South Carolina
Regular Season: 42-13  (Road, 11-7 )
Conference: 20-9
Vs. Top 100 RPI: 16-13
RPI: 5
SOS: 18
Biggest Wins: Florida, Texas A&M, Ole Miss (x3), Vanderbilt, Coastal Carolina, Clemson
It did not take long for the South Carolina Gamecocks to return to the national spotlight and they showed up with a chip on their backs. After beating up the Ole Miss Rebels, they have earned a spot in our top eight national seeds this year.
6. Texas Tech
Regular Season: 40-14 (Road, 17-6)
Conference: 19-5
Vs. Top 100 RPI: 21-7
RPI: 12
SOS: 32
Biggest Wins: TCU (x2), Florida State, ULL, Oklahoma State (x3), Sam Houston State (x3) Cal State Fullerton
Texas Tech has been quietly good all season long and they now seem to have earned themselves a chance at a free plane ride to Omaha.
7. North Carolina State
Regular Season: 34-18 (Road, 9-10)
Conference: 15-13
Vs. Top 100 RPI: 24-18
RPI: 7
SOS: 2
Biggest Wins:  Clemson, Virginia (x2), Coastal Carolina, North Carolina (x2), Georgia Tech (x2), Duke (x2), Wake Forest (x3), UNC Wilmington
There has never been four teams from the same conference ranked as national seeds so Mississippi State might be out of luck. As ridiculous as it sounds, the committee does know about that statistic and they do pay attention to how many teams are national seeds so the Wolfpac of NC State end up with the best resume for replacing a fourth SEC school.
8. Virginia
Regular Season: 36-18 (Road, 11-8)
Conference: 19-11
Vs. Top 100 RPI: 19-17
RPI: 13
SOS: 10
Biggest Wins: Louisville, Miami (x2), NC State, North Carolina (x2), Georgia Tech (x2), Duke (x2)
Virginia is just too good to not be a national seed at this point of the year. If they were to somehow not make it as the 8th overall, we suspect LSU could be a last minute addition depending on how each team does in their conference tournaments.
Regional Host Sites & Pairings
*Each regional below is paired with the regional that follows for the Super Regional round. For example, the winners of the Coral Gables regional and the Boca Raton regional will play in the next round.
Coral Gables, FL – Miami (#1)
Boca Raton, FL – Florida Atlantic
College Station, TX – Texas A&M (#2)
Fort Worth, TX – TCU
Gainesville, FL – Florida (#3)
Tallahassee, FL – Florida State
Louisville, KY – Louisville (#4)
Nashville, TN – Vanderbilt
Columbia, SC – South Carolina (#5)
Conway, SC – Coastal Carolina
Lubbock, TX – Texas Tech (#6)
Baton Rouge, LA – LSU
Raleigh, NC – North Carolina State (#7)
Oxford, MS – Ole Miss
Charlottesville, VA – Virginia (#8)
Starkville, MS – Mississippi State
The Other 48
ACC (6): Boston College, Clemson, Duke, Georgia Tech, North Carolina, Wake Forest
America East (1): Binghamton
American (2): Tulane, East Carolina
Atlantic-10 (1): VCU
Atlantic-Sun (1): Kennesaw St.
Big 12 (1): Oklahoma State
Big East (1): Creighton
Big Ten (3): Michigan, Minnesota, Nebraska
Big West (3): UC Santa Barbara, Cal State Fullerton, Long Beach St.
CAA (1): UNC-Wilmington
C-USA (3): Rice, Southern Miss, Louisiana Tech
Horizon (1): Wright St.
Ivy (1): Princeton
MAAC (1): Fairfield
MAC (1): Kent State
MEAC (1): Florida A&M
MVC (1): Dallas Baptist
MWC (1): Fresno St.
NEC (1): Bryant
OVC (1): Southeast Missouri
Pac-12 (4): Arizona, Arizona St., Washington, Utah
Patriot (1): Navy
SEC (1): Kentucky
Southern (1): Mercer
Southland (2): Southeastern LA, Sam Houston St.
Summit (1): Summit
Sun Belt (2): South Alabama, ULL
SWAC (1): Alabama State
WAC (1): Seattle
WCC (2): Gonzaga, St.Mary's
The College World Series Final 8
(1) Miami vs. TCU
(3) Florida vs. (4) Louisville
Coastal Carolina vs. LSU
(7) NC State vs. (8) Virginia