Seven Sweet Jeep Safari Concept SUVs
For Jeep owners and off-road enthusiasts, the annual Jeep Easter Safari (March 19-27) is a bucket-list-worthy event. It was started in 1967 by the Moab Chamber of Commerce and 50 years later it is now organized by Red Rock 4-Wheelers. This amazing event is expected to be attended by thousands, and the good folks at Jeep have prepared some special treats to share with their most dedicated fans.
"Every year, the Jeep team looks forward to pushing the limits with new, exciting and capable concept vehicles for our most loyal enthusiasts at the Easter Jeep Safari in Moab, where we receive a tremendous amount of valuable feedback," said Mike Manley, Head of Jeep Brand – FCA Global. "This year is extra special, as together with our biggest fans, we celebrate Jeep's 75th anniversary, as well as the 50th running of the Jeep Safari. We're delighted to share seven of the most capable and eye-catching concept Jeep vehicles we've ever created at this year's historic event."
The seven concepts are incredible, and we've attempted to rank them in the list below. Honestly though, it's a bit like ranking Victoria's Secret Angels. They're all awesome and we'd jump at the chance to spend time riding any of these beauties. It's very unlikely to happen, so we'll just admire these sexy ladies from afar and subjectively rank them in the order we'd love to get dirty with them.
7) Jeep Renegade Commander
The Jeep Renegade Commander concept vehicle is equipped with an assortment of Mopar and Jeep Performance Parts for the ultimate off-road adventure. A 2-inch lift kit and 17-inch Rubicon aluminum wheels with 29.5-inch BFGoodrich All-Terrain T/A KO2 tires increase the off-road capabilities of the Jeep Renegade Commander.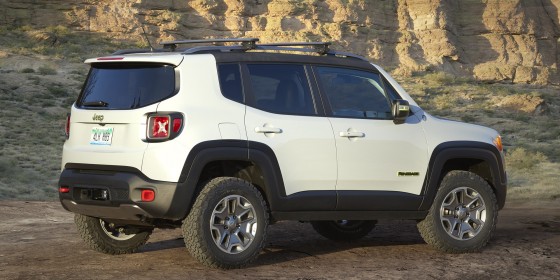 6) Jeep Trailstorm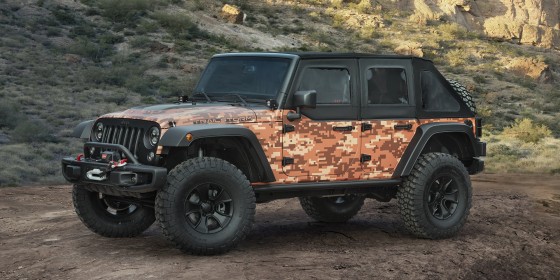 The Trailstorm concept vehicle is the ultimate Jeep Wrangler for exploring off the beaten path. Offering room for extra gear and fuel tanks, it is based on the Jeep Wrangler Unlimited, and delivers elevated capability to conquer trails with ease.
5) Jeep Shortcut
A carefully crafted take on the beloved Jeep CJ-5, this Wrangler-based concept vehicle invokes the spirit of 1950s Americana with a shortened body and functional simplicity.
4) Jeep Comanche
Based on the Jeep Renegade, the Jeep Comanche concept vehicle is designed to be off-road ready with practical utility. A nod to Jeep pickup trucks of years past, the Comanche concept takes styling cues from military and civilian Jeep heritage.
3) Jeep FC 150
A true American workhorse, this 1960 Jeep FC 150 concept vehicle is rich with heritage and built to tackle both challenging rocky trails and the harshness of a western cattle ranch. Originally built from 1956 to 1965, the FC 150 is based on the CJ-5 and offers a clever packaging solution by keeping overall length to a minimum for maneuverability, but maintaining a full-length cargo box for utility.
2) Jeep Trailcat
The Jeep Trailcat concept vehicle is the ultimate off-road machine, equally at home on Moab's rugged trails or a high-speed section. Utilizing the supercharged 6.2-liter HEMI® Hellcat V-8 engine, and mated to a 6-speed manual transmission with a custom shifter ball featuring an embossed Hellcat logo, the Trailcat concept vehicle leaves everything else in a cloud of dust.
1) Jeep Crew Chief 715
The Jeep Crew Chief 715 concept vehicle was built as a salute to legendary Jeep military service vehicles, in particular the Kaiser M715. This open-air Wrangler Unlimited-based concept vehicle showcases a burly design with heritage styling cues. The Crew Chief 715 utilizes modern-day construction with a rear seat and extra doors for additional passenger capacity while staying close to its classic military roots.
For full details on each of these seven sweet concepts, check out the official press release.