2016 Fantasy Football TE Rankings
Dave Casper, Kellen Winslow Sr., Ozzie Newsome, Shannon Sharpe, John Mackey, Charlie Sanders, and Mike Ditka are considered the greatest Tight Ends in the history of the game and are all in the Pro Football Hall of Fame. Not a single one of them had as many receiving yards as Rob Gronkowski does, at the same point of their career. He is the best TE in the NFL and is on pace to become the greatest. His size and speed combined with a very high catch rate, the percentage of receptions divided by the number of targets, give him a very high ceiling in an offense that is designed around him. The 2015 season was the second best of his career but no one noticed because we have become used to his dominance.
Aside from Rob Gronkowski, the TE rankings are stronger than they have been in a very long time for fantasy football. There are 4-5 TEs that can literally be ranked second at the end of the year in total points. Let's take a look at our 2016 Fantasy football Tight End rankings using the PPR scoring format.
20. Jordan Cameron
Team: Miami Dolphins
2016 Projections:
Receptions: 45
Yards: 515
Touchdowns: 4
19. Ladarius Green
Team: Pittsburgh Steelers
2016 Projections:
Receptions: 45
Yards: 575
Touchdowns: 5
18. Charles Clay
Team: Buffalo Bills
2016 Projections:
Receptions: 52
Yards: 585
Touchdowns: 4
17. Eric Ebron
Team: Detroit Lions
2016 Projections:
Receptions: 49
Yards: 600
Touchdowns: 5
16. Zach Miller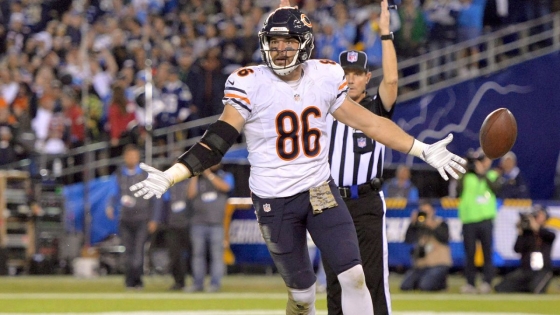 Team: Chicago Bears
2016 Projections:
Receptions: 55
Yards: 645
Touchdowns: 4
15. Martellus Bennett
Team: New England Patriots
2016 Projections:
Receptions: 55
Yards: 550
Touchdowns: 6
14. Dwayne Allen
Team: Indianapolis Colts
2016 Projections:
Receptions: 55
Yards: 580
Touchdowns: 6
13. Julius Thomas
Team: Jacksonville Jaguars
2016 Projections:
Receptions: 56
Yards: 625
Touchdowns: 6
12. Zach Ertz
Team: Philadelphia Eagles
2016 Projections:
Receptions: 61
Yards: 700
Touchdowns: 4
11. Tyler Eifert
Team: Cincinnati Bengals
2016 Projections:
Receptions: 58
Yards: 675
Touchdowns: 5
10. Jimmy Graham
Team: Seattle Seahawks
2016 Projections:
Receptions: 62
Yards: 750
Touchdowns: 4
Outlook: After being traded to Seattle before the 2015 season, the time came for Jimmy Graham to prove he wasn't just the part of a good system in New Orleans and that he was a legit elite TE. However, he was awful last season compared to what he did in New Orleans causing many fans to question his talents. Yes, he did miss 5 games last year too, but that's old news and this season is his chance to prove he is much better than 10th overall.
9. Jason Witten
Team: Dallas Cowboys
2016 Projections:
Receptions: 68
Yards: 750
Touchdowns: 4
Outlook: The Dallas Cowboys are going to have a hard time finding someone to replace Jason Witten when he retires one day. He is one of those players that is more than just a TE, he is part of their heart and has not missed a single game since Week 5 of his rookie season in 2003. That means he has played in the 203 consecutive games for the Cowboys which all but earns him a spot in the top ten because you know he is going to give you a full season.
8. Gary Barnidge
Team: Cleveland Browns
2016 Projections:
Receptions: 64
Yards: 740
Touchdowns: 6
Outlook: Up until last season, Gary Barnidge was nothing more than a role playing TE for the Carolina Panthers and Cleveland Browns. His best season prior to 2015 was 2009 when he had 12 catches for 242 yards. So when he exploded onto the scene last year and dropped a 79 catch, 1,043 yard, 9 touchdown stat line, his fantasy value became evident. He is now a threat and will give the Browns another good season, regardless of how bad they are this year.
7. Antonio Gates
Team: San Diego Chargers
2016 Projections:
Receptions: 60
Yards: 750
Touchdowns: 9
Outlook: Antonio Gates struggled in 2015 and only started in 4 games (only played in 11 all season). He was coming off a 12 touchdown season in 2014 too. He has played with Philip Rivers since 2006 and they have become a dangerous red zone threat. If he stays healthy this season, and that is a big if, then the Chargers offense is going to remember that the NFL veteran still has some good years left in him.
6. Coby Fleener
Team: New Orleans Saints
2016 Projections:
Receptions: 73
Yards: 800
Touchdowns: 6
Outlook: Jeremy Shockey, Jimmy Graham, and Benjamin Watson have all benefited from the accuracy of Drew Brees and the high-powered offense of the New Orleans Saints. Coby Fleener signing with the Saints was one of the best moves of the off-season and he could easily be one of the biggest sleeper picks of the year. It all comes back to how quickly he can understand the offense and get going. He showed signs of what he could become back in 2014 and could end up with an even better year in New Orleans.
5. Travis Kelce
Team: Kansas City Chiefs
2016 Projections:
Receptions: 72
Yards: 840
Touchdowns: 6
Outlook: After three seasons, Travis Kelce is finally coming off consecutive seasons of playing a full slate of games after missing his entire rookie season. He is not going to give you 1,200 yards and 12 touchdowns but he will guarantee you about 70 catches, 900 yards, and 5 or 6 scores, which is more valuable than you would think.
4. Delanie Walker
Team: Tennessee Titans
2016 Projections:
Receptions: 75
Yards: 900
Touchdowns: 5
Outlook: Delanie Walker is now 32 years old and we are all still waiting for him to become the star TE we wanted him to be when he was in San Francisco. He finally grew up in 2015 and reached 1,088 yards, marking the first time in his career he surpassed that milestone. He added an extra 94 catches on 133 targets making him a favorite target of Marcus Mariota heading into the 2016 season.
3. Greg Olsen
Team: Carolina Panthers
2016 Projections:
Receptions: 75
Yards: 1,000
Touchdowns: 6
Outlook: A good season for a TE in fantasy football would be see a stat line of 60 receptions, 700 yards, and 5 touchdowns. That also happens to be Greg Olsen's averages per season, since 2007. Since he got to Carolina, however, he has become even better and now averages 70 catches, 862 yards, and 6 touchdowns. Did we mention he is coming off consecutive seasons of 1,000 yards receiving too? Kelvin Benjamin will help open up the middle of the field so expect Olsen's numbers to go up from last season.
2. Jordan Reed
Team: Washington Redskins
2016 Projections:
Receptions: 82
Yards: 950
Touchdowns: 7
Outlook: In his first three seasons, Jordan Reed has only played in 34 of a possible 48 games, starting in 15 of them, due to various different injuries. He managed to stay healthy long enough in 2015 to play in 14 games and we finally got to see what he could do. He finished with 87 catches for 952 yards with 11 touchdowns, in only 14 games. Kirk Cousins returns and will keep tossing him the ball in 2016 as he tries to secure a long-term contract so Reed could end up better off than we are projecting.
1. Rob Gronkowski
Team: New England Patriots
2016 Projections:
Receptions: 80
Yards: 1,250
Touchdowns: 12
Outlook: In just six seasons, Rob Gronkowski has become one of the best TEs in NFL history, and he is only 27 years old. He is already ranked 4th, among TEs, for career touchdowns. Although he has dealt with injuries over the past few years, he averages 63 receptions, 926 yards, and 11 touchdowns per season making him the most valuable TE in the NFL, easy. So if you can't draft Antonio Brown or Julio Jones, you can feel good about taking Gronk.