2016 Jeep Renegade Trailhawk : Review
Hardcore Jeep fans may groan when we say this, but the 2016 Jeep Renegade Trailhawk is surprisingly capable off-road and probably a lot more pleasant on-road than enthusiasts' favorite, the Wrangler.
Fact is there's a gaggle of these little crossover SUVs on the market nowadays, but none is as well-endowed for off-road adventures as the Jeep Renegade in Trailhawk trim. It takes an already willing, stout chassis and adds more ground clearance, a lower final-drive ratio, and a bunch of skid plates to make short work of settings that would neuter less offroad-oriented entries in the segment such as the Buick Encore AWD, Chevrolet Trax AWD, Nissan Juke, and even AWD versions of its sister car, the Fiat 500X — itself a more street-biased version of the platform shared between the two models.
Some take issue with this being the first Jeep sold in America that was not built there. To them we say: Drive one. You'll get over that real quick.
Exterior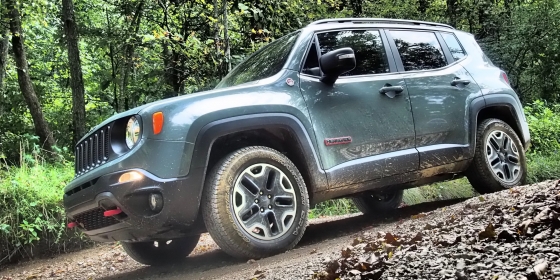 The Renegade's styling is a bonafide hit. You'll see a lot of these on the road if you pay attention — and the styling is what drew all those buyers to Jeep dealerships.
Equal parts cute and tough, the Renegade's styling just, works. There are several Jeep hallmarks such as the seven-slot grille and big, round headlights that make it unmistakably a Jeep, while its boxy shape and fender bulges bring a dash of muscular, attractive style. It looks both sporty and utilitarian — which is fitting, because the Renegade is both of those things.
Our Renegade Trailhawk tester included several Trailhawk-specific exterior trim pieces, including the "TRAIL RATED" badges on both front fenders, unique plastic ground effects (all the better for stopping pebbles during gravel-road adventures), and a pair of red tow hooks underneath the front bumper for the rare times you find a situation too sticky to get out of.
There are several so-called "Easter eggs" hidden within the Renegade's design. Many are found inside, but look carefully on the outside and you'll find taillights styled like military gas cans, plus tiny things like a military Jeep silhouette climbing the passenger side lower corner of the windshield and a little spider behind the gasoline filler door that reminds us of the Renegade's Italian build by saying, "Ciao, baby!"
Interior
The interior of the 2016 Jeep Renegade Trailhawk is equal parts nice stuff and rugged/useful stuff. Our tester had well-bolstered, heated black leather seats up front with the Trailhawk logo embroidered on them and a leather-covered bench seat in back that would hold three not-too-wide adults in a pinch. Leather also covered the heated steering wheel, and there were soft-touch surfaces on the dash and door panels.
Leather would prove easier to clean than cloth in the event of muddy, dusty off-road adventures, so it was both a luxury and a practical-minded feature. Other practical features included the Renegade Trailhawk's rubber easy-clean floor mats, the pair of optional My Sky removable roof panels made of what appeared to be a tough scratch-resistant plastic, and useful touches such as a couple of USB charge ports for our electronic devices.
The Renegade has a similar footprint to others in its class. What makes each entry in this class unique is the way each uses that footprint. Some, like the Kia Soul and now-discontinued Nissan cube, placed an obvious priority on passenger comfort, sacrificing some cargo space behind the second row. Others are like the Renegade, seeking a balance between passenger comfort and cargo room behind the rear seat.
This made transporting a rear-facing child seat a bit snug for the front-seat passenger. But such seating arrangements are temporary and would not stop those of us with children from considering the Renegade. In fact, the tall roofline gave us room to crank up both front seats for a more upright seating position that also made a little extra room for the kids.
Performance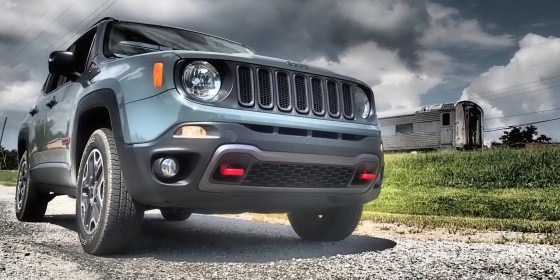 Nobody expects a Jeep to set speed records on pavement. It's not Jeep's thing. The Renegade Trailhawk definitely isn't an autocrosser's toy, but it isn't slow or clumsy at all. The 2.4-liter "Tigershark" naturally aspirated four-cylinder gasoline engine makes 180 horsepower and 174 lb-ft of torque and routes that power through Fiat-Chrysler's nine-speed ZF-designed automatic transaxle. There's a transfer case to send power to the rear wheels automatically when needed, and a button would lock this powertrain into four-wheel drive or 4×4 low range at our command.
Take away all the 4×4 goodies, and this is essentially the same powertrain we fairly loved in the Ram ProMaster City not too long ago. On the road, it behaves well. There's enough noise to let you know it's there when you get on the gas, but it's not unduly loud on the highway. The transmission would sometimes drop multiple gears climbing hills, but it never seemed harsh or hunted too long for the right ratio.
The combo proved relatively fuel efficient despite our photo run (read: lots of idle time and low-range 4×4 action) on a series of rocky, steep Tennessee trails. Our first tankful returned a calculated 22.5 MPG. If we are to believe the on-board trip computer in our Renegade, the second tankful was showing a considerably better 26 MPG in on-road use. EPA rates 4×4 Renegades at 21 MPG city, 29 MPG highway, and 24 MPG combined.
Overview
The 2016 Jeep Renegade Trailhawk was surprisingly capable off-road and pleasant on-road. There are compromises in either environment, to be sure. The Jeep's Goodyear Eagle SR-A all-season radials were not up to some of the more serious rocks and rain gullies we found on trails, but they were fine on-road. Though it had a pleasing, tight feel on-road — a trait that definitely sets it apart from old-school Jeeps like the Wrangler —  the Renegade's performance wouldn't wow anyone in a slalom or autocross.
Most crossovers are compromise-laden, but Jeep strikes one hell of a balance in the Renegade Trailhawk. Here is a Jeeplet that would gladly gobble up surprisingly difficult trails with the right tires, while at the same time feeling more connected and pleasant to drive on pavement than just about any Jeep that came before it, not to mention most of its competition.
Fully loaded at $32,000, the Renegade Trailhawk we tested isn't likely to woo the budget-conscious in this segment. But compare a base Renegade Trailhawk ($26,745) with its competition, and it puts up a much stronger fight. Dropping $26,000 barely gets you into a Buick Encore front-wheel drive model that would be murdered by the kinds of dirt and rock trails we pummeled in the Renegade Trailhawk, for example.
Around the start button on the steering column of the Renegade is another of those Easter eggs. It says, "To new adventures!" If you're the type of shopper who likes to go on new adventures, sometimes off the beaten path, the Jeep Renegade Trailhawk deserves your attention.