2016 Kia Optima : Review
The third generation Kia Optima was unveiled at the New York Auto Show in 2010, and ushered in a new era of style, quality, and growth for the Korean car manufacturer. The popular Optima became the volume leader for Kia, and has begun eating into the market-share of more established brands. Five years later, we were excited to have the opportunity to drive the current 2015 model to the New York Auto Show, to see how the fourth generation Optima would build upon that success. The 2016 Kia Optima was unveiled, and admittedly it looks remarkably similar to the outgoing model from the outside.
"The Optima changed the way people felt about the Kia brand, and Kia owes much of its growth and success in this country to the car's head­-turning design and sporty performance. The all-­new Optima encompasses everything the outgoing model did so well but does it even better. It has matured in all the right ways, from the European sport-­sedan design to the premium materials to its improved ride and handling," said Orth Hedrick, vice president, product planning KMA. "The all­-new Optima retains the signature personality of its predecessor, but we've literally improved everything, providing more space, better ergonomics, more technology and greater refinement."
Obviously this update is intended to be more evolutionary than revolutionary, but was Kia able to improve upon an already great product, or did their tinkering cause it to lose some of its charm? With those questions in mind, we were eager to get behind the wheel of the new Optima on the stunning mountain roads near Aspen to find out for ourselves. One thing was for certain, Kia had no concerns about how the Optima would perform at altitude, as the drive route took us up to 12k feet above sea level to cross Independence Pass.
Exterior
Peter Schreyer's design team had an interesting challenge for the new Optima, retaining the identity of the vehicle while making a move forward to keep the car modern and fresh. It's not unlike the challenge they had when updating the new Soul. Optima owners and automotive journalists can tell you the difference, but to the rest of the world the new model will likely just be identified as "another one of those stunning Optimas that I keep seeing everywhere" when it drives past. To be honest, after five years, the general public probably still doesn't even realize this vehicle is a Kia. So the goal here is obviously to not mess with success and to continue to grow the fleet of recognizable Optimas out on the road. We're willing to bet you see a third generation Optima every day on your commute, but when was the last time you remember seeing a second generation Optima? Exactly.
Above we've included a photo showing both the 2015 and 2016 Optima, so that the changes should be bit more obvious. While the new front styling is growing on us, subjectively there are still some aspects of the outgoing design that we prefer. That isn't to say that we don't like the new design, it's just that the old model was so strong, it is a tough act to follow.
The panoramic sunroof is one of our favorite features of the Optima, so we were happy to see that carry forward onto the new model. There is just something about that black glass roof that looks stunning from the outside, while being so useful on the inside. Our other favorite exterior features that return with the new model are the LED tail lights, chrome accented door handles, and the power outside mirrors. New exterior features include Kia's first application of Bi-Xenon HID headlights, and unique new alloy wheel designs (16″-18″).
Interior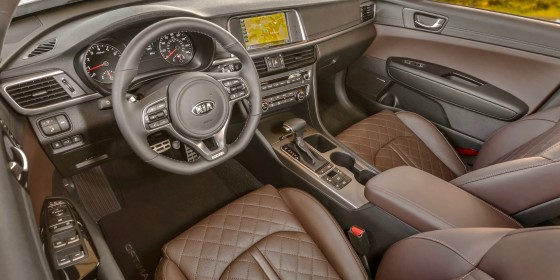 While the goal for the exterior was to retain the overall recognizable design of the Optima, the updated interior offered much more flexibility for the design team. The most important update however is the least noticeable in photos. Exterior dimensions are marginally longer, taller and wider than the outgoing Optima, enabling a roomier and more comfortable cabin with more head room, shoulder room and rear seat leg room. The interior design team also paid particular attention to seat comfort. Honestly, we never had a problem with the old model in those aspects, but it did feel even more spacious and comfortable.
The more obvious updates come in the completely re-designed cleaner dashboard design, utilizing a strong horizontal plane and a wider center console. The 8-inch touchscreen display is excellent, however we wish it weren't housed in an over-sized chrome bezel, making it feel like a compromise and something that will be replaced with a larger screen in a later model. Apple CarPlay and Android Auto running on that screen is what excites us most, but we were also delighted to find a Harman/Kardon QuantumLogic Premium Surround Sound System in the Optima as well. It includes 10 speakers, Clari-Fi technology and a 630-watt digital amplifier.
Available on every Optima is a rear­-camera display while SX and SXL trims offer an available 360­-degree Surround­-View Monitor. Available driver-­aid technology includes Advanced Smart Cruise Control (ASCC), Blind Spot Detection (BSD) with Lane Change Assist, Rear Cross Traffic Alert (RCTA), Rear Parking Assist System (RPAS), Front Collision Warning System (FCWS), Lane Departure Warning System (LDWS), and Autonomous Emergency Braking (AEB).
Performance
We've previously driven the 2.0-liter GDI Turbo Optima in 2012 and 2015, and have always had fun behind wheel. So we weren't surprised to see that engine offered on the new model. Two power-plants carry over from the previous generation, the 2.4­-liter GDI four­-cylinder producing 185 horsepower and 178 lb.­ft. of torque and the 2.0­-liter GDI turbo engine, that generates 245 horsepower and 260 lb.­ft. of torque. Both engines have been retuned for fuel economy and better performance and drivability with maximum torque now available at lower RPM. Essentially that means your top speed on the highway has been reduced but the Optima is more responsive in everyday driving situations while improving fuel consumption.
The 2016 Optima features significant upgrades in ride quality with improved steering response, high-speed stability, and handling due in part to a lighter and stiffer chassis. Kia also made a variety of smaller enhancements that come together to result in substantial improvements to NVH (road noise) and aerodynamics. We spent several hours driving the new Optima up and down mountains in Colorado and enjoyed every minute of it. It's responsive, agile, quiet, and handled the altitude with ease.
Overview
For 2015, Kia ranked second overall (to Porsche) in J.D. Power and Associates survey of new-vehicle quality. The quality story at Kia is undeniable, despite what your uninformed xenophobic uncle says. They are making some high-quality vehicles (especially those manufactured in Georgia) and offering them for a compelling value. So it makes sense that Kia would seek to make incremental improvements to their top-selling model without messing up what has been working so well for them in recent years.
Generally we find the update to the new 2016 Kia Optima successful. While subjectively we prefer some styling queues from the outgoing model, it's clear that objectively there are improvements to be found throughout the entire vehicle. We still find it to be the most stylish vehicle in the segment and there is no mid-size sedan we would rather own. The new Optima is poised to build upon the success of its predecessor and continue to further the reputation of Kia. If you've never driven one, we highly suggest you add it to your test drive list. You won't be disappointed.
For more thoughts on the new Kia Optima, check out the review by our drive partner, Vincent Nguyen over at Slashgear.