2016 Lincoln MKX : Review
Lincoln completely redesigned the MKX crossover for 2016, improving the vehicle immensely. The MKX is no longer a re-badged Ford Edge, having finally come up to true Lincoln quality. Equipment is now of good luxury value with the materials quality inside the MKX being much more plush. The 2016 Lincoln MKX is also roomier and more balanced on the road, things which it inherits from the Edge it's based upon, which saw an update last year.
Our only complaint, in fact, is with the infotainment, which is still last-generation and slow. Ford will update that mid-year with Sync 3, however, so most buyers on the lot now will be able to see the newer, far better infotainment interface when shopping. Outside of that one flaw, the 2016 Lincoln MKX is an excellent midsize crossover that's far more competitive in this very contentious luxury market. Even Matthew McConaughey thinks it's alright, alright…
The 2016 Lincoln MKX is a five-passenger, midsize luxury crossover-SUV that is offered in four trim levels. The Premier is the base option and comes well-equipped with adaptive suspension dampers (on AWD models) and automatic headlights, among other highlights. The top-most level is the Black Label, which we drove, which has items like a simulated suede headliner, excellent leather upholstery, and a beautiful 19-speaker Revel Ultima sound system.
Exterior
The 2016 Lincoln MKX has seen a thorough exterior overhaul from the previous generation. A more rounded, narrow fascia up front has the signature "Lincoln nose" and peering headlights flanking either side of the split grille. A somewhat longer, lightly tapering hood carries nice accent lines while the fenders on either side have ridge lines that flow into the beltline along the sides of the crossover.
The door and body panels are relatively simple, but classy with a pronounced beltline under which speedy ridges are seen. The dimple at bottom hints at a body fold. To the rear, a more fastback design with a pronounced spoiler and large, tapered taillamps complete the look.
This is a much more luxurious-appearing MKX than has been seen in the past and it's very on par with segment leaders like the Acura MDX. A few choices of awesome wheel designs finish the Lincoln MKX's new look.
Interior
Inside, passengers are treated to upscale materials and soft-touch appointments. Several trim options are available for the MKX, depending on trim level, including beautiful aluminum, open-pore wood, and high-gloss plastics. Drivers will immediately notice the almost throwback push-button shifting along the left side of the dash where it meets the instrument cluster. This may throw some for a loop their first time in the MKX, but its advantages in quick selection and a more open center console quickly become apparent.
One concern, which we've already mentioned, is the infotainment in the MKX. Most buyers in the 2016 model year will likely have the MyLincoln Touch system, which is clunky and outdated by today's standards. Rebranded from the MyFord Touch interface, the MyLincoln Touch infotainment requires a long learning curve to use correctly, though its integrated voice activation can be very helpful along those lines. The newer Sync 3 system was introduced into late-build models of the 2016 Lincoln MKX and is a far superior interface. Buyers should consider this if infotainment is important to them.
The rest of the MKX's interior is very well done. The new design is a bit wider and longer, adding much-needed shoulder and legroom inside. The previous-generation MKX was already pretty adult-friendly in the back seat, but this one might be the best on the market. Cargo is similarly expanded, adding a few cubic inches to become 37.2 cubic feet with the rear seats up. The loading floor is long and flat and has convenient integrated tie-downs as well.
Performance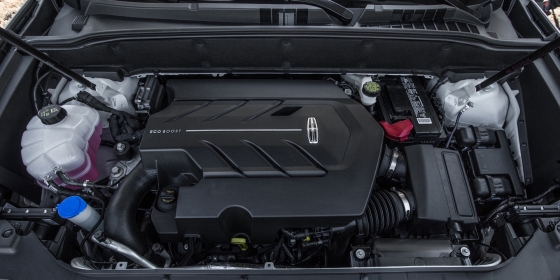 There are a couple of powertrain options for the 2016 MKX. The base engine is a smooth 3.7-liter V6 that has been in Ford's lineup for years. This engine produces 303 horsepower and 278 pound-feet of torque and delivers 20 mpg combined (17 city, 26 highway) in front-wheel drive and 19 mpg combined (16/23) in all-wheel drive.
The upgrade engine is a powerful little 2.7-liter four-cylinder that's turbocharged under high compression to 335 hp and 380 lb-ft. That latter number really helps motivate the MKX with a sporty, fun drive and boosts fuel economy a bit as well. The 2.7 EcoBoost is rated at 21 mpg combined (17/26) in FWD and 19 mpg combined (17/24) in AWD.
A six-speed automatic transmission is found connected to either engine choice. Its shift vectors have been improved and, with the 2.7L option, does well with the torquey output.
On the road in the AWD model we drove, using that 2.7, we found the suspension to be excellent and the adaptive dampers (standard on all AWD models) to be a wonderful way to adapt to the road and driver's mood. Even with the large wheels (20-inch on our package), the 2016 Lincoln MKX was a smooth-riding, road-absorbing luxury machine on the highway and a fun little runabout around town. The MKX definitely drives smaller than it is and the added self-parking options are a delight in tight spaces.
Safety
In the midsize luxury crossover segment, safety is often a selling point. The MKX has done well in crash testing and carries top scores from both the National Highway Traffic Safety Administration and the Insurance Institute for Highway Safety.
Standard equipment on the 2016 MKX includes a lot of excellent items such as front side and side curtain airbags, integrated blind spot mirrors, and a rearview camera and parking sensors. Ford's MyKey system is also present on this Lincoln, allowing parents or concerned owners to set vehicle speed and stereo volume parameters to match a key used by other drivers. This limits valet parking attendants, teenagers, etc. in their use of the MKX.
Overview
The 2016 Lincoln MKX is a great drive, with a supremely quiet interior thanks to noice-cancelling and updated dampening insulation. Its ride is very comfortable and smooth, but the drive is still engaging and sporty, especially with the 2.7L engine upgrade and the AWD's suspension dampers. With good fuel economy, a smart interior, and a great new look, it's hard to look past the Lincoln MKX. It's a thoroughly enjoyable, comfortable midsize crossover.