The REAL 2016 MLB All-Star Team
Today, Major League Baseball will host the 87th annual exhibition All-Star game at Petco Park in San Diego, California. The game will put the American and National Leagues against each other in a battle for home-field advantage in the World Series. The first half of the 2016 season has been exciting and unexpected to say the least with shocking starts that have since leveled out while certain players and teams continue to perform at a below average rate.
Zack Greinke was 19-3 last season with a 1.66 ERA. He only gave up 41 earned runs for the entire 162 game schedule. In 2016, before the mid-way point, he has already given up 44. Dallas Keuchel is another story. He went 20-8 with a 2.48 ERA but this season 5-9 with a 5.13 ERA in just 17 starts. Talk about backwards, right? Besides Zack and Dallas, some of the league's best pitcher's have struggled this year. Chris Archer, David Price, Max Scherzer, Sonny Gray, and Michael Wacha have all found themselves in bad positions that they are simply not used to being in.
On the other hand, the hitting has been epic. Trevor Story plays for the Colorado Rockies and has hit 21 Home Runs, with less than half of them coming at home, meaning this guy is a legit power hitter. Mark Trumbo hit 22 Home Runs last season in 142 games. This year, he has 28 HR, is leading the league, and has done it in only 87 games.
Since the All-Star voting rewards popularity over production, we decided to put together an All-Star team of our own, based on the most deserving player from each league, at every position. There are a few Cubs on our squad, but we didn't feel it was necessary to select their entire roster.
American League
C: Salvador Perez, Kansas City Royals
Power-hitting catchers are becoming tough to find these days. The AL has a few but you really don't want to depend on their hitting over their fielding. So when you get a guy that can catch and hit, you have a valuable commodity that is worth investing into, like the Royals have with Salvador Perez. He is hitting homers, doubles, driving in runs, and even hitting for a high average.
1B: Eric Hosmer, Kansas City Royals
Eric Hosmer deserves to be the AL first baseman after the tear he has gone on in the first half of the season. Miguel Cabrera also had a great first half but Eric has a little bit higher batting average in fewer at bats. He has worked hard and is usually a great player that just does not get much respect.
2B: Jose Altuve, Houston Astros
Jose Altuve is the best hitting, fielding, and overall 2nd baseman in baseball this season. He has put up an amazingly balanced first half that the only thing missing is triples. He needs to hit more triples. That is the best we could do and in our experience, a player that only needs help hitting triples usually is one that doesn't need much help with anything at all.
SS: Xander Bogaerts, Boston Red Sox
No one was expecting Xander to explode onto the scene this season and lead the MLB with hitting but he is part of a dangerous 1-2 punch in Boston that also features another young star that might have finally reached the level of his potential.
3B: Manny Machado, Baltimore Orioles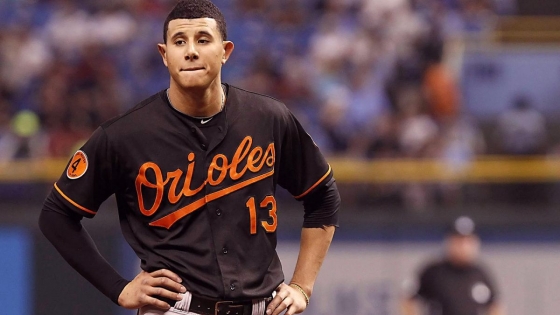 The 2016 season has become Manny Machado's best yet. He is setting himself up for a fantastic finish. His previous career highs in HR and RBI were 35 and 86 but he is on pace to reach 45 HR and 100 RBIs. Let's just hope he can stay healthy.
OF: Mike Trout, Los Angeles Angels
Much like Lebron James, Mike Trout has become not just the face of the Angels organization, but the face of the League. He has the tools to do just about anything you ask of him. He can hit for power, steal bases, make defensive plays, and help the Angels win. He is only 23 years old and he has already become a perennial all-star.
OF: Mark Trumbo, Baltimore Orioles
In the three seasons before being sent to Arizona, Mark Trumbo was hitting 29-32-34 Home Runs each season. He hit 14 in 2014 but then he hit 22 last season in Seattle but was having trouble with several cold spells throughout the season. But he has finally found a home in Baltimore and is back to hitting with the power he was signed for and is now leading the MLB in that beautiful statistic.
OF: Mookie Betts, Boston Red Sox
Three years and we are now getting to see why the Red Sox signed Mookie Betts as he has absolutely destroyed the ball over the first half of the season. As he continues to mature within the Red Sox organization, he can only go up.
DH: David Ortiz, Boston Red Sox
Most of the future Hall of Famers seem to leave on a high note. They get that one last season to ride off into the sunset and in baseball, the best of the best end up over-producing. David Ortiz is playing so amazing in 2016 that the Red Sox are starting to become the best team in baseball.
SP: Chris Sale, Chicago White Sox
Jake Arrieta and Clayton Kershaw are having phenomenal seasons but neither of them lead the league in Wins like Chris Sale, who has become the best player on the once league leading Chicago White Sox. His WHIP is below 1.00 and that has kept his ERA below 3.00 while also keeping opponents off the field.
CL: Zach Britton, Baltimore Orioles
Before the season began, the league had a ton of big time closers but only a few that were considered elite. Zach Britton was considered one of the best around after having back-to-back seasons of 35+ saves and an ERA below 2.00. But no one expected the level of dominance he has produced this season. No one is more deserving of being named an All-Star closer than Zach Britton.
National League
C: Wilson Ramos, Washington Nationals
There is a tight race for the NL's All-Star Catcher and it is between Wilson Ramos and J.T. Realmuto of the Miami Marlins. Both players can hit, run, and catch. But since Wilson has 3x as many Home Runs as J.T., this was an easier decision than we thought originally.
1B: Anthony Rizzo, Chicago Cubs
The Chicago Cubs are playing so great this year that they might end up turning the AL-NL All-Star game into the AL-Chicago Cubs game. Anthony Rizzo is just one of a handful of players that are more than likely going to be named a starter. The power-hitting 1B hits in the middle of one of the best young line-ups in baseball.
2B: Daniel Murphy, Washington Nationals
The last time Daniel Murphy hit anywhere close to his amazing batting average this season was back in 2011 when he hit 0.320. He has added the power to his game and already has matched his season high for Home Runs after just 77 games.
SS: Trevor Story, Colorado Rockies
Everyone expects the guy from Denver to hit a ton of Home Runs, but no one was expecting Trevor Story to do it. For starters, who the heck is this guy? Not only that, he is a true power hitter having hit most of his HRs on the road. His only problem is strikeouts. If he can control that number better, he is going to see success for many years to come.
3B: Nolan Arenado, Colorado Rockies
If you are a pitcher, you probably won't sign a long-term contract to pitch in Colorado. But if you are a smart hitting All-Star, it is a no-brainer. Nolan Arenado is one of the leagues best overall players and he gets the advantage of the mile high atmosphere making his numbers even better than they already would have been in normal weather.
OF: Starling Marte, Pittsburgh Pirates
It's not always about power as Starling Marte has proven. He is a base-stealing master in Pittsburgh that knows how to get on-base. His batting average gives him the lead among NL outfielders.
OF: Bryce Harper, Washington Nationals
A struggling Bryce Harper is ten times better than 80% of the league. That in itself should show you what it means to be Bryce Harper. He is still hitting HR's and has improved his batting average several points over the past few weeks.
OF: Adam Duvall, Cincinnati Reds
OK, the time to ask is now. Who are theses guys? Adam Duvall? What? He has one thing going for him that will allow him the ability to play everyday for the rest of the year, he plays for the Reds and they need all the help they can get this year.
DH: Kris Bryant, Chicago Cubs
The toughest decision we had to make was whether or not to have Nolan Arenado at 3B or Kris Bryant. So we decided to even things out and give the NL a Designated Hitter slot. Yes, we know, it is cheating, but Kris Bryant and Nolan Arenado should be starters, somewhere on the field. We had no choice but to create a slot just for him.
SP1a: Clayton Kershaw, L.A. Dodgers
Unfortunately for the Dodgers, Clayton Kershaw is on the DL. That will prevent him from participating in any All-Star game. However, as of July 1st, he has 145 strikeouts, 2nd in MLB, and only 9 walks, giving him a sick 0.73 WHIP to go along with an 11-2 record and a 1.79 ERA.
SP1b: Jake Arrieta, Chicago Cubs
Since Jake Arrieta is having another amazing season, we had to turn the Starting Pitcher slot into two parts. Jake has dominated baseball over the last two years and has a 12-2 record with a 2.10 ERA, as of July 1st. He has kept opposing hitters to an average of .176, 2nd best in baseball.
CL: Kenley Jansen, Los Angeles Dodgers
Even though he doesn't have the most Saves in the NL, he surely has the best stuff. He has a K-BB ratio that proves just how accurate he really can be. (He only has 5 BB compared to his 39 K)