2016 MLB Preview : National League
Last season, the National League had one of the best seasons in the history of baseball. They introduced a new wave of young talented superstars ready to change the face of baseball along with having some of the best teams in the entire league.
The best example of that was the NL Central. One could argue that 2015 was the best season for that division since it was founded in 1994. It just might have been one of the greatest single seasons by any division in baseball history as the top three records in baseball belonged to the Cardinals, Cubs, and Pirates.
The bad luck Brian award goes to the Pittsburgh Pirates who won 98 games, finished second overall in the MLB, and were forced to play a one game wild card game against the Chicago Cubs. They should either add one more team and make that a full five game series or forget about it altogether. After 9 innings, the playoffs were missing the second best team in baseball.
That leads us to 2016 and what seems to be a whole new look at baseball in the National League. There are plenty of rookies and future stars set to shine that is going to propel the NL into one of its' strongest seasons ever. Let's take a look at the entire league and see what each team will bring to 2016.
National League East
5. Atlanta Braves (66-96)
2015 Record: 67-95
MVP: Julio Tehran
X-Factor: Erick Aybar
Playoff Chances: < 3%
Best Offseason Additions: Erick Aybar, Tyler Flowers, Dansby Swanson, Ender Inciarte
Key Losses: Shelby Miller, Cameron Maybin, Andrelton Simmons
The Future: Dansby Swanson, SS and Sean Newcomb, LHP
2016 Preview: The World Series is nothing more than a pipe dream as the Atlanta Braves are prepping for the future. Good news for them is that they have a lot of talent in the farm system with the 3rd overall pick in the upcoming draft, also the 40th, they are building something for later rather than sooner. Don't be frustrated with them as runs are going to be hard to come by unless some of these guys start to surprise us.
4. Philadelphia Phillies (68-94)
2015 Record: 63-99
MVP: Aaron Nola
X-Factor: Cesar Hernandez
Playoff Chances: < 10%
Best Offseason Additions: Peter Bourjos, David Hernandez, Jeremy Hellickson, Charlie Morton, Vincent Velasquez
Key Losses: Domonic Brown, Ken Giles
The Future: J.P. Crawford, SS
2016 Preview: Can the Phillies be equally as bad as the Braves? Yes. This will be a season to forget very quickly.
3. Miami Marlins (82-80)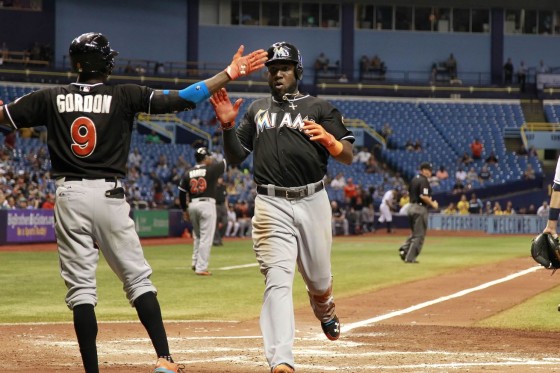 2015 Record: 71-91
MVP: Giancarlo Stanton
X-Factor: Jose Fernandez
Playoff Chances: < 60%
Best Offseason Additions: Wei-Yin Chen, Edwin Jackson
Key Losses: Henderson Alvarez
The Future: Tyler Kolek, RHP
2016 Preview: Last season should have been much better than 71-91. They managed to avoid finishing fourth only be 3 games and were far away from the playoffs. Giancarlo Stanton is easily the best player on their team and next to Bryce Harper, is one of the best in the NL and has a 13 year contract worth around $325 million so the Marlins agree. Adeiny Hechavarria and Jose Fernandez are the next two stars that will help turn this team into a 90 game winner, just not in 2016.
2. Washington Nationals (88-74)
2015 Record: 83-79
MVP: Bryce Harper
X-Factor: Stephen Strasburg
Playoff Chances: 90%
Best Offseason Additions: Daniel Murphy, Ben Revere
Key Losses: Ian Desmon, Denard Span, Drew Storen, Jordan Zimmerman, Doug Fister
The Future: Lucas Giolito, RHP
2016 Preview: What happened in 2015? Max Scherzer did his thing while Stephen Strasburg dealt with an array of injuries all season long. But it wasn't that, it was something else. Whatever happened, we might never know but the truth is that 2015 is old news and not a single Nationals player is going to talk about it. They head into this season with a chance to do what they did last year but a lot better.
1. New York Mets (91-71)
2015 Record: 90-72
MVP: Jacob deGrom
X-Factor: Yoenis Cespedes
Playoff Chances: 95%
Best Offseason Additions: Neil Walker, Asdrubal Cabrera, Zack Wheeler
Key Losses: Daniel Murphy
The Future: Steven Matz, LHP
2016 Preview: Matt Harvey missed 2014 but returned last season looking almost ready to compete for another Cy Young. He gave up 7 earned runs in three games in 2015 and still ended up with a 2.71 ERA. If you add him, Jacob deGrom and Noah Syndergaard, you have yourself one of the best pitching rotations in all of baseball. This Mets club, if healthy, could be the World Series champion in 2016.
National League Central
5. Cincinnati Reds (65-98)
2015 Record: 64-98
MVP: Joey Votto
X-Factor: Billy Hamilton
Playoff Chances: < 5%
Best Offseason Additions: Scott Schebler, Eric Jagielo, Jose Peraza
Key Losses: Johnny Cueto, Aroldis Chapman, Todd Frazier
The Future: Jesse Winker, OF
2016 Preview: The odds are not looking too good for 2016. The Reds are rebuilding and lost two of their best pitchers last season. Joey Votto is the best they have and Billy Hamilton has a chance to score runs but it just might not be good enough, at least not this season.
4. Milwaukee Brewers (69-94)
2015 Record: 68-94
MVP: Ryan Braun
X-Factor: Chris Carter
Playoff Chances: < 8%
Best Offseason Additions: Chris Carter, Jonathan Villar, Rymer Liriano, Aaron Hill
Key Losses: Jean Segura, Khris Davis, Franciso Rodriguez, Adam Lind
The Future: Orlando Arcia, SS
2016 Preview: The rebuilding Brewers are unlucky to be in the NL Central but they should still put up 70 wins which is great considering they have three teams in their division that could win 100 games this season, easily.
3. Pittsburgh Pirates (95-67)
2015 Record: 98-64
MVP: Andrew McCutchen
X-Factor: Gerrit Cole
Playoff Chances: 80%
Best Offseason Additions: Jon Niese, Ryan Vogelsong, Neftali Feliz,
Key Losses: Neil Walker, J.A. Happ
The Future: Austin Meadows, OF
2016 Preview: If the Pirates plan on competing in the NL Central, they need to put some wins on the board early on in the season. The first two months of the season has them playing the Cardinals twice and the Cubs once. The rest of it looks extremely user friendly and should make for an exciting start to the season. Gerrit Cole needs to remain dominate in the first half of the season while the rest of the rotation settles in for a long run.
2. St.Louis Cardinals (96-66)
2015 Record: 100-62
MVP:
X-Factor:
Playoff Chances: 85%
Best Offseason Additions: Mike Leake, Jedd Gyorko
Key Losses: Jason Heyward, John Lackey
The Future: Alex Reyes, RHP
2016 Preview: The Cardinals should be good in 2016 but they lost two strong players to the one team they couldn't afford to, the Cubs. The good news is that Adam Wainwright is back and should be 100% giving their rotation a beautiful look. Plus, they are the Cardinals and they always find ways to win 100 games.
1. Chicago Cubs (98-64)
2015 Record: 97-65
MVP:
X-Factor:
Playoff Chances: 90%
Best Offseason Additions: Jason Heyward, Ben Zobrist, John Lackey, Adam Warren
Key Losses: Starlin Castro
The Future: Gleyber Torres, SS
2016 Preview: The Cubs lost Starlin Castro but gained Jason Heyward and Ben Zobrist making them the most dangerous team of the 2016 season. They are going to score some runs, a lot of them, but can they maintain the momentum they built in the final three months of 2015? Kris Bryant, Addison Russell, Kyle Schwarber, and Anthony Rizzo are just four of the hitters that are going to make this team a tough out.
National League West
5. San Diego Padres (68-94)
2015 Record: 74-88
MVP: Matt Kemp
X-Factor: James Shields
Playoff Chances: < 5%
Best Offseason Additions: Jon Jay, Alexei Ramirez, Fernando Rodney
Key Losses: Yonder Alonso, Jedd Gyorko, Justin Upton, Craig Kimbrel, Joaquin Benoit
The Future: Manuel Margot, OF
2016 Preview: The Padres continue to be a dissapointment and 2016 shouldn't be anything but that. Last season they made a lot of moves basically forcing a playoff team the way the Yankees try, by adding the best players they can find. It didn't work out, as expected, and now they face another season of losing.
4. Colorado Rockies (72-90)
2015 Record: 68-94
MVP: Nolan Arenado
X-Factor: Carlos Gonzalez
Playoff Chances: < 30%
Best Offseason Additions: Jason McGee, Jason Motte
Key Losses: Justin Morneau, Corey Dickerson
The Future: Brendan Rodgers, SS
2016 Preview: At one point in 2015, Carlos Gonzalez was almost sent down to Triple A as he struggled for the beginning of the season and was hitting only .259 at the time of the All-Star break. He exploded in the second half hitting 27 homers and driving in 62 runs. But it just wasn't enough as the Colorado Rockies will forever be plagued by playing in the best hitters stadium in baseball. As good as they play, their opponents match their outputs and it is tough to be a pitcher in Denver. This season will give us a lot of runs but very little defense as their pitching staff is just not that great regardless of where they play.
3. Arizona Diamondbacks (87-75)
2015 Record: 79-83
MVP:
X-Factor:
Playoff Chances: 75%
Best Offseason Additions: Zack Greinke, Tyler Clippard, Jean Segura, Shelby Miller
Key Losses: Jeremy Hellickson, Chase Anderson, Ender Inciarte, Dansby Swanson
The Future: Braden Shipley, RHP and Archie Bradley, RHP
2016 Preview: The off-season additions of Zack Greinke and Shelby Miller helps to build a solid, if not great, pitching rotation for the Diamondbacks. It seems a bit of a gamble but sometimes, gambles can work. They have the offensive firepower to do big things too with Paul Goldschmidt and A.J. Pollock.
2. Los Angeles Dodgers (90-72)
2015 Record: 92-70
MVP: Clayton Kershaw
X-Factor: Joc Pederson
Playoff Chances: 85-89%
Best Offseason Additions: Scott Kazmir
Key Losses: Zack Greinke, Jimmy Rollins
The Future: Corey Seager, SS/3B
2016 Preview: We all got a chance to see Corey Seager in action last season when he finally got a chance to play. In just 27 games, his batting average was .337 with 4 HRs, 17 RBIs, 8 2B, 17 R, and a .425 OBP. Sure, he failed miserably in the playoffs but this is just a 21 year old kid. What did anyone expect to happen against the New York Mets bullpen? The Dodgers made a splash with having two of MLB's best pitchers in 2015 but they can't make that claim this year as Zack Greinke has left the building. There are plenty of reasons to love their chances in 2016 and it will come down to two things: pitching and Yasiel Puig. If their new look lineup can reach that elite level they did in 2015, they should be able to make a run but if they can also get Yasiel Puig back to the great talent he started off as, they should walk into the NLCS.
1. San Francisco Giants (95-67)
2015 Record: 84-78
MVP: Buster Posey
X-Factor: Madison Bumgarner
Playoff Chances: 90%
Best Offseason Additions: Johnny Cueto, Jeff Samardzija, Denard Span
Key Losses:
The Future: Christian Arroyo, SS
2016 Preview: The Giants won the 2010, 2012, and 2014 World Series meaning they usually win one every two years. 2016 would be the second year and they are loaded this year. The one thing they needed to fix from 2015 was their pitching rotation, which is exactly what they did by adding Johnny Cueto and Jeff Samardzija making Matt Cain now their 5th starter. As long as this team is healthy, they shouldn't have any problems winning 100 or more games this year.