2016 MLB Rookie All-Star Lineup
Of the four major American sports leagues (NBA, NFL, MLB, NHL), Major League Baseball is the only one where a rookie isn't always the easiest to spot. With the MLB Draft scheduled for this week, we are reminded about how the path varies greatly by player. When a player is drafted and signed by a MLB club, most of them go into the farm system, or minor league system, for the club that selected them. The best of the best usually find ways to make it to the majors fairly quickly but others struggle and battle it out for a few seasons before getting their shot.
So when a rookie is announced, they could be 18 years old or 34 years young, it all depends on what they have done the previous season and their career at the professional level. The hitters can't have more than 130 at bats in Major League Baseball while the pitchers can't exceed 50 innings pitched. They also must not have been active for more than 45 days the previous year. This also allows for players from Asia to come over and qualify as Rookies.
Now that you understand the definition of Rookie, let's take a look at what the 2016 MLB season has given us to work with and build a starting line-up of the best rookie-eligible future stars.
Positional Lineup
*No one qualified for the Catcher position, but Wilson Contreras will win the spot if the Cubs promote him to the big leagues this season.
1B: Dae-Ho Lee – Seattle Mariners
The South Korean slugger is 33, so he isn't your traditional rookie, but based on MLB rules, he does qualify. While his At-Bats have been limited so far this season, he has put up a good average and the power is starting to come as he becomes more familiar with the American game.
2B: Aledmys Diaz – St.Louis Cardinals
He is technically a Shortstop but since three of the top rookies this year play that position, and none play Second Base, we decided we would go with the rookie that has been tearing it up and just shift him over to second base. If you were a big league head coach and you had this particular problem, you would be shifting some of these guys around too. Diaz is a 25-year-old Cuban defector who is playing so well, he's forcing Jhonny Peralta to 3B on the Cardinals roster.
SS: Corey Seager – Los Angeles Dodgers
As if the Dodgers aren't already good, now they have a bunch of minor leaguers getting their shot to become everyday players. Corey Seager is possibly the second best SS of the future, Carlos Correa seems to be the best young SS, and he has gotten better each and every game this season. In recent days Seager has really heated up though, and is currently the leading candidate for Rookie of the Year.
3B: Brandon Drury – Arizona Diamondbacks
In 2015, he teased us in 56 at-bats in 20 games. He showed us what he could do on a very small scale and in 2016, he has been let loose and he isn't disappointing anyone. At 23 years old, he is going to be part of a very strong core the Diamondbacks have put together.
LF: Jeremy Hazelbaker – St.Louis Cardinals
Every year the St.Louis Cardinals find new ways to put new talented players that everyone else either gave up on or didn't scout properly. Jeremy Hazelbaker is a great example of how good the Cardinals coaching staff is at getting players ready for the pros. He was drafted by Boston, traded and dropped by the Dodgers, and finally signed as a free agent with the Cardinals where he has become an everyday starter.
CF: Trayce Thompson – L.A. Dodgers
Trayce Thompson has been so good this year, that the Dodgers recently designated Carl Crawford for assignment. Yasiel Puig and Joc Pederson were once seen as the future of the Dodgers outfield, but Thompson might be the best of the three. He's certainly been the best so far this season.
RF: Nomar Mazara – Texas Rangers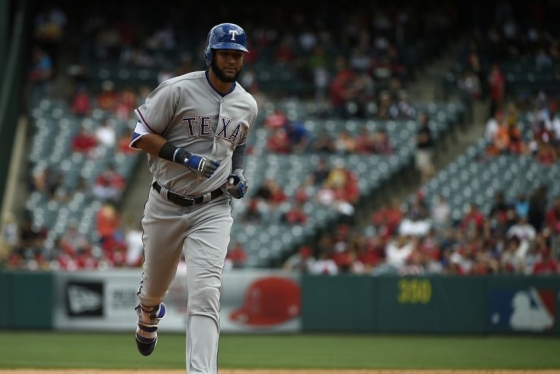 The youngest player in the MLB is also one of the most powerful. Nomar Mazara doesn't look like he is 21 years old because when he hits the ball, he crushes it. He is heading towards a 30 HR, 80 RBI, 80 R, .300 season which is good enough to be the AL Rookie of the Year for 2016.
DH: Trevor Story – Colorado Rockies
No one expected this kind of start to the 2016 season except for Trevor Story. He is lucky to be playing in Colorado with the type of power he has been showing off. Except for one problem, of his 13 Home Runs this year, only 4 of them happened at Coors Field making him even more amazing of an athlete and a truly amazing future star. While he doesn't play DH on his own team, we had to find room for him on our roster.
Pitching Rotation
SP #1: Steven Matz – New York Mets
Steven Matz showed up last season finishing with a 4-0 record and a 2.27 ERA. But he played just enough to not lose his rookie status and now he has become a full blown rookie in 2016. He is part of a sick pitching rotation that features Matt Harvey and Noah Syndergaard.
SP #2: Kenta Maeda – Los Angeles Dodgers
In his first four starts, the 28-year-old Japanese import only gave up 1 earned run and was looking like an amazing addition to the Dodgers already stacked rotation. However, then went through a tough stretch where he gave up four runs in four of five starts, and his ERA went from nearly 0.00 to 2.84. The good news is he has 56 strikeouts and looks to be learning how to control his pitches.
SP #3: Michael Fulmer – Detroit Tigers
Fulmer isn't as highly ranked of a Prospect as other Rookie Starters this season, but he has put up some of the best numbers to date. The Tiger had a rough start to his season, but has put it together recently. He has only given up 1 ER in his past four starts total and has a record of 6-1. Fulmer also strikes out batters at a rate of about 1 per inning, which is a good sign for future performance.
SP #4: Jon Gray – Colorado Rockies
The 3rd overall pick in 2013, Gray has all the talent in the world, but is strapped with a tough home field to pitch at. After a rough start to the season, he has improved in recent games and is putting up very impressive strikeout totals.
SP #5: Chris Devenski – Houston Astros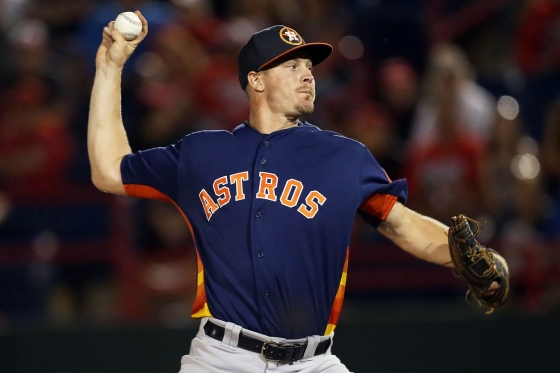 The Astros were the story of 2015 but have quickly fallen back to the bottom of the American League in 2016 because of pitching and untimely hitting. So instead of watching the season go down in flames, they have started making moves that have turned it around recently and Chris Devenski is a future star in the making down in Texas. He only has 4 starts to date, while splitting time in the bullpen, but for our roster we have him as our 5th Starter.
Bullpen
RP: Seung Hawn Oh – St. Louis Cardinals
This 33-year-old pitcher from South Korea has been dominant for the Cardinals this season. With a sub 2.0 ERA, less than 1 base-runner and more than 1 strikeout per inning, he is exactly that you want in the bullpen.
RP: Ryan Buchter – San Diego Padres
Can you imagine being this guy? He was drafted by Washington, traded to Chicago, traded to Atlanta, signed and released by the Dodgers, signed and released again by the Cubs before being signed this past December by the Padres. He has been excellent this season.
RP: Mychal Givens – Baltimore Orioles
We like relievers with low ERAs and high strikeout rates, which is exactly what Mychal Givens has accomplished so far this year.