2016 NFL Mock Draft
The 2016 NFL season is going to be the start of a new era in the sport following the retirements of some of the greatest players in NFL history at their respective positions. Peyton Manning, Charles Woodson, Calvin Johnson, and Logan Mankins are not going to be playing in the NFL next season giving many teams a chance to begin anew. All four of these guys should be in Canton one day making this year's retirement class one of the best ever. Heath Miller, Jared Allen, Jon Beason, and Justin Tuck are some of the other players hanging up their pads in 2016.
The youth movement in the NFL is now at full throttle with the previous few drafts bringing an influx of NFL-ready talent that will be around for a long time. The incoming rookies are making immediate impacts and are helping teams build for the future. On April 28th, the 1st round of the 2016 NFL draft will take place at the Auditorium Theatre in Chicago, Illinois followed by the 2nd and 3rd rounds on April 29th and the final four rounds (4th-7th), on Saturday.
Just like the other three billion mock drafts out there, we wanted to add our hat in the ring and present our own 2016 mock draft. Enjoy.
31. DEN: Connor Cook, QB, Michigan State
Peyton Manning retired and Brock Osweiler signed with the Houston Texans. So how do the defending Super Bowl champions fill a need at QB? They go out and get Mark Sanchez, what? They will almost certainly draft a QB and Connor Cook was once a top two option. He might not be perfect but with the defense they have, he doesn't have to be.
30. CAR: Jason Spriggs, OT, Indiana
Jason Spriggs gives the Panthers a future starter on their offensive line that doesn't need to play right away. Much like Trai Turner, his progress is as important as his playing time.
29. AZ: Robert Nkemdiche, DT, Ole Miss
At one point last season, Robert Nkemdiche was being projected as the top overall pick in the draft.The only chance he has at being taken in the first round would be in this spot. It wouldn't be the first time the Cardinals gambled on a high-risk, high-reward defensive lineman. The need is there, now if they can only turn his career around like they did with Tyran Mathieu, then this would be the biggest steal of the draft.
28. KC: Germain Ifedi, OT, Texas A&M
A lot of mock drafts have the Chiefs possibly taking Paxton Lynch in this spot because Alex Smith is now 32 years old and remains a mediocre NFL QB. But we wanted to go safe and have them take the best available based on need which would be Germain Ifedi from Aggieland.
27. GB: Andrew Billings, DT, Baylor
Andrew Billings still being available at the 27th pick is a bargain for a Green Bay Packer team that is in need of a defensive lineman following B.J. Raji's retirement.
26.SEA: Vernon Butler, DT, Louisiana Tech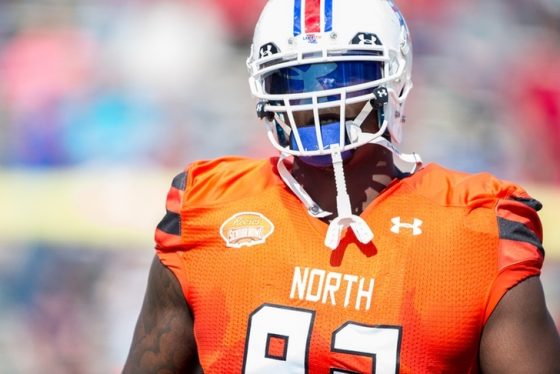 Vernon Butler is a big and strong DT and Pete Carroll has already said this draft is loaded with high quality DT's. So chances are they take him, if available. If not, they might settle on Mackensie Alexander, the CB from Clemson.
25. PITT: Eli Apple, CB, Ohio State
Another draft, another defensive player taken by the Steelers. Eli Apple could go to the Giants but since they decided to spend the offseason signing a ton of defensive players, they are going to take the OT leaving Eli Apple to fall down to the Steelers.
24. CIN: Will Fuller, WR, Notre Dame
Will the Bengals risk it and take Will Fuller instead of Vernon Butler, the DT out of Louisiana Tech? They really want Corey Coleman but unless they trade up, they won't get him at this spot.
23. MIN: Josh Doctson, WR, TCU
Once Corey Coleman and Laquon Treadwell come off the board, the next best WR is Josh Doctson. Although, one could argue that Doctson and Coleman are almost the same prospect.
22. HOU: Corey Coleman, WR, Baylor
Brock Osweiler signed with the Texans because he sees what we already knew, that they have a lot of young talent on both sides of the ball. DeAndre Hopkins is a huge target so adding the 5'10" speedster from Baylor, Corey Coleman, will help seperate the secondaries, causing the Texans more opportunities to pass the ball to open receivers.
21. WAS: Jarran Reed, DT, Alabama
The best available in this slot is Jarran Reed so the Redskins will take him, no doubt about it. However, if he isn't they might go with Ryan Kelly.
20. NYJ: Paxton Lynch, QB, Memphis
Can the Jets survive another season with a quarterback issue? Geno Smith isn't the answer. Paxton Lynch is a great fit and could be the best QB of the draft. His grades aren't as high as Goff or Wentz but he has something that neither of them have, size and speed. He is a giant at 6'7″ with legs that can outrun a lot of defenders. He is starting to move up draft boards and could end up going much earlier.
19. BUF: A'Shawn Robinson, DT, Alabama
The Bills need a bunch of help on both sides of the ball if they plan on going to the Super Bowl. The biggest need is at LB but since A'Shawn Robinson is such a big time DT, they will have no choice but to take him.
18. IND: Noah Spence, DE/OLB, EKU
If Noah Spence had no off the field issues, he would be a top ten prospect. The value for the Colts is worth it for a guy that could end up playing DE or OLB.
17. ATL: Reggie Ragland, LB, Alabama
The Falcons have holes all over the field but the biggest glaring need is at LB. Reggie Ragland is probably the best on the board at this point in the draft. Darron Lee is the other option but since he is taken, Ragland will have to do.
16. DET: Laquon Treadwell, WR, Ole Miss
With the unexpected retirement of Calvin Johnson, Laquon Treadwell becomes the next best option for a Lions team that will be in deep deep trouble on offense next year.
15. TENN: Taylor Decker, OT, Ohio State
Taylor Decker isn't technically a first rounder but the Titans traded down to get more draft picks and still need an offensive tackle. If they decide to pass on him, he will go in the next spot anyways.
14. OAK: William Jackson III, CB, Houston
Although the Raiders are starting to turn things around, they still need help on defense. We think William Jackson of Houston is the second best CB in the draft.
13. MIA: Darron Lee, OLB, Ohio State
The Miami Dolphins defense is going to look like a force to be reckoned with in 2016. They are well on their way to becoming the top contender in the AFC. Darron Lee is a perfect fit and he has a great teacher to learn from now that they have Kiko Alonso.
12. NO: Sheldon Rankins, DT, Louisville
The Saints defense needs help, a lot of help. Sheldon Rankins is one of the surest bets for them in the draft. He bulks up the line and gives them a legit pass rushing defender that could cause a lot of trouble for opposing quarterbacks.
11. CHI: Leonard Floyd, OLB, Georgia
The Bears are in a bad situation defensively and Leonard Floyd is someone that could be a day one starter. He will help them begin to build up a defense that has struggled over the past few years.
10. NYG: Jack Conklin, OT, Michigan State
Before the offseason, the Giants would be picking a defensive player here but after signing Keenan Robinson (LB), Oliver Vernon (DE), Damon Harrison (DT), and re-signing Jason Pierre Paul (DE), the Giants are going to grab an offensive tackle and Jack Conklin is the best available.
9. TB: Vernon Hargreaves III, CB, Florida
How lucky are the Bucs to have a shot at Vernon Hargreaves with the 9th pick? If DeForest Buckner is still available in this spot, they take him instead. But we doubt he is on the board at the 9th spot.
8. CLE: Ezekiel Elliott, RB, Ohio State
After all was said and done, the Browns will once again be drafting a running back. This time, however, it will be a no-brainer as Ezekiel Elliott is the best option for them and could end up being their future.
7. SF: Ronnie Stanley, OT, Notre Dame
The new look 49ers need a lot of help on offense and with the seventh pick, Ronnie Stanley, a career LT, could end up being their best choice to help protect whoever ends up being their quarterback. They could also trade down here and settle for Paxton Lynch later on in the draft.
6. BAL: DeForest Buckner, DE, Oregon
DeForest Buckner just might end up being the best player of this draft and yet no one is going to risk it. If he falls this far, the Ravens will have no choice but to take him and roll with the results.
5. JAX: Jalen Ramsey, CB, Florida State
It is possible the Jaguars go for DeForest Buckner in this slot instead but the best overall defensive player available at this point is Jalen Ramsey. After signing Prince Amukamara this past year, the addition of Ramsey turns their secondary into a very good group of core talent.
4. DAL: Joey Bosa, DE, Ohio State
Myles Jack, the LB from UCLA was the best choice here until the news came out that he has a bad knee that is a ticking "time bomb." That is unfortunate for him, whether it is true or not, and some teams will gamble on him just not the Dallas Cowboys.
3. SD: Laremy Tunsil, OT, Ole Miss
Phillip Rivers has been dying for some protection on his backside for many years so it would be very bad if the Chargers passed on Laremy Tunsil, the previous choice for number one overall pick in this draft. He is a guy that will be around for many pro-bowls and could extend Phillip Rivers a few more years.
2. PHI: Carson Wentz, QB, N.Dakota St.
The experts believe that if Goff is selected first, Wentz will be the Eagles man, and vice versa. So we are going to stay on that same thought process and mock Carson Wentz to the Eagles at the number two spot. He has
1. LA: Jared Goff, QB, Cal
The NFL draft is one of the most exciting times of the year for football fans. For example, just a month ago, it looked as though the Tennessee Titans were locked in for Laremy Tunsil as the number one overall selection until they traded with the Rams and turned Jared Goff from a mid to late first rounder to the number one overall. The Los Angeles Rams are looking to make a splash and turn their franchise around.