2016 NFL Playoff Preview
No one saw this coming. Not a single person in the World predicted how the NFL season would unfold in 2015. It began with Deflategate but ended with Cam Newton as the easy choice for MVP of the league after leading his Carolina Panthers to a 15-1 record.
No one saw the Redskins winning six of their final eight games and coming back from the dead to win the NFC East. In week 9, they were in 3rd place in the division with a 3-5 record but were carried by a tough defense and a gutsy playmaking QB named Kirk Cousins, who ended up breaking a 29 year old team record for passing yards in a season. No one expected the Minnesota Vikings to dominate the NFC North and beat the Green Bay Packers on the final game of the season to win the division with a 11-5 record.
There were plenty of storylines that simply confused NFL fans this season like when the Houston Texans figured out how to win thanks to a suffocating defense led by J.J. Watt. Or that the Arizona Cardinals would become the second best team in the NFL thanks to another comeback QB. Last time it was Kurt Warner, this time it was Carson Palmer.
The match-ups are now set, so let's take a look at the 2016 NFL playoffs and give you our predictions for who we think is going to win it all.
AFC
Seeds
Denver Broncos
New England Patriots
Cincinnati Bengals
Houston Texans
Kansas City Chiefs
Pittsburgh Steelers
Wild Card Round
Houston Texans (9-7) vs. Kansas City Chiefs (11-5)
When: January 9th, 3:35 p.m. CT
Prediction: The defensive matchup of the century is about to happen in Houston when the NFL's hottest team, the Chiefs, head down to Houston to face J.J. Watt and the top rated passing defense. This is going to be a fun one and will come down to turnovers. The first team to make a mistake might be the loser. But which team has the offensive power to overcome the defense?
Final Score: Houston Texans 20, Kansas City Chiefs 17
Cincinnati Bengals (12-4) vs. Pittsburgh Steelers (10-6)
When: January 9th, 7:15 p.m. CT
Prediction: The Pittsburgh Steelers lost six games this season. Four of the losses happened against teams in the playoffs this season. (Patriots, Bengals, Seahawks, Chiefs) However, they also beat three playoff teams including the Denver Broncos and the Arizona Cardinals. Luckily for the Steelers, they easily beat the Bengals in Cincinnati without Andy Dalton just a few weeks ago. They are playing great football for the first time this season and are still without their biggest offensive playmaker, Le'Veon Bell.
Final Score: Pittsburgh Steelers 35, Cincinnati Bengals 24
Divisional Round
Denver Broncos (12-4) vs. Pittsburgh Steelers (10-6)
Prediction: These two teams faced off just a few days before Christmas and it was one of the best games of the year. Trailing 27-13 at the half, Pittsburgh's defense came alive in the second half shutting the Broncos out and winning the game 34-27. However, it was in Pittsburgh and Peyton Manning wasn't even dressed so this time, the Broncos win outright.
Final Score: Denver Broncos 27, Pittsburgh Steelers 13
New England Patriots (12-4) vs. Houston Texans (9-7)
Prediction: Is Tom Brady just about finished? What would happen if he wins another Super Bowl? This isn't the best Patriots team we have seen but they are the best coached. After showing us how to break down the Texans defense just a few weeks ago, there isn't a chance the Patriots lose this one, not at home.
Final Score: New England Patriots 23, Houston Texans 7
Championship Round
New England Patriots (12-4) vs. Denver Broncos (12-4)
Prediction: These two teams gave us a great one which the Broncos won in Overtime under the leadership of Brock Osweiler.This is the game everyone wants to see. This could be the final battle between Tom Brady and Peyton Manning for a chance at another Super Bowl ring. The Broncos defense is the best it has ever been giving them a solid chance at winning even with Tom Brady on the other end of the field.
Final Score: Denver Broncos 26, New England Patriots 24
NFC
Seeds
Carolina Panthers
Arizona Cardinals
Minnesota Vikings
Washington Redskins
Green Bay Packers
Seattle Seahawks
Wild Card Round
Minnesota Vikings (11-5) vs. Seattle Seahawks (10-6)
When: January 10th, 12:05 p.m. CT
Prediction: Everyone is picking Seattle to win this one, except us. We see things a bit different. Four of the five Viking losses came to the hands of playoff teams this season including Seattle which easily beat them 38-7. It will take another perfect performance by Russell Wilson to win in Minnesota a second time. Adrian Peterson, however, just needs to dominate and the Vikings will be in the divisional round.
Final Score: Minnesota Vikings 24, Seattle Seahawks 21
Washington Redskins (9-7) vs. Green Bay Packers (10-6)
When: January 10th, 3:40 p.m. CT
Prediction: The Green Bay Packers had a weird season yet somehow still managed to win 10 games and make the playoffs. Aaron Rodgers has had to literally carry the entire team on his back following Eddie Lacy's terrible season. On the other side of the ball, the Redskins have a team that reminds us of the Giants in 2007 when no one saw them coming either.
Final Score: Washington Redskins 27, Green Bay Packers 18
Divisional Round
Carolina Panthers (15-1) vs. Washington Redskins (9-7)
Prediction: The Redskins have been a great second half story, but Carolina is still one of the best teams in the league and will prove it at home. It might even get ugly as the Panthers will want to lay the groundwork for a postseason that they are hoping will end with a ring.
Final Score: Carolina Panthers 30, Washington Redskins 7
Arizona Cardinals (13-3) vs. Minnesota Vikings (11-5)
Prediction: The time for Adrian Peterson is now but you can only face so many great defensive lines before faltering. The Arizona Cardinals are going to shut him down and end the surprising run this year for the Vikings. Carson Palmer's time is almost up but he is finally playing like the QB everyone expected he would be after college.
Final Score: Arizona Cardinals 45, Minnesota Vikings 20
Championship Round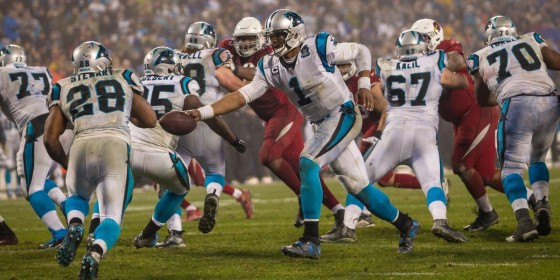 Arizona Cardinals (13-3) vs. Carolina Panthers (15-1)
Prediction: The Panthers are really good on defense and they are led by one of the best dual-threat QBs in the NFL, Cam Newton. But the Arizona Cardinals are better and will shock us all when they upset the Panthers in Carolina ruining their amazing season.
Final Score (OT): Arizona Cardinals 38, Carolina Panthers 35
Super Bowl 50
Arizona Cardinals (13-3) vs. Denver Broncos (12-4)
This is the match-up everyone wants to see, the NFL's top ranked Offense from Arizona against the league's best defense from Colorado. It is very similar to the Super Bowl two years ago when we had the same thing but the Broncos were the best offense and they got shut down, badly.
Peyton Manning reaching the big game is fitting for a man that owns almost all the records you can name for an NFL QB. How about a Super Bowl win in his last game before retiring?
Final Score: Denver Broncos 34, Arizona Cardinals 31