2016 NFL Season : Fearless Predictions
The 2016 NFL Season is swiftly approaching, and Tom Brady's Deflategate suspension is just one of the many stories you are sure to read about heading into the new year. The real games begin on Thursday, September 8th when the defending Super Bowl champion Denver Broncos host the Carolina Panthers, a rematch from last season's Super Bowl. That game will be a slugfest but there will be several other good games during the opening weekend of football. Some other storylines to watch during the opening weekend include:
Aaron Rodgers brings his high-scoring, loaded offense to Jacksonville to face the Jaguars and one of the best young QBs in the league, Blake Bortles
Cincinnati Bengals head to New York to face the J-E-T-S, JETS, JETS, JETS!
Last season, Miami had to travel 4,419 miles to London for an international match-up against the Jets. How does the NFL reward them in 2016? By sending them to Seattle to face the hard-hitting Seahawks, a trip that will rack up 3,370 miles. (That's the start of a season full of games across the entire US, but we will discuss that later on.)
Over in Texas, the New York Giants will get a chance to take control of the NFC East when they face off against the Dallas Cowboys.
Meanwhile, in the desert, Jimmy Garoppolo finally gets his chance to lead the Patriots when they play the Arizona Cardinals.
Finally, on Monday night, we are treated with a double-header with Pittsburgh heading to Washington and finally, the Los Angeles Rams head down the road to San Francisco for a late night West Coast battle.
Whew! That is just one weekend. We still have another 16 weeks of football, every weekend, until January 1st. It's a marathon, not a sprint. There are going to be a ton of games this season that will become some of the best games you've ever watched. So be ready.
Let's celebrate the madness of the latest NFL season by predicting everything we possibly can without any regard for the rules. This is going to be the first time we looked over the season, in this much detail, so our predictions are going to be deadly accurate. Or incredibly awful. Either way, let's get started…
Las Vegas Raiders or San Antonio Chargers?
The situation in Oakland can be fixed with a new offense, a few more wins, and a long term coaching situation. But in San Diego, the odds are not looking too good, regardless of whether or not this new stadium proposal looks amazing. It is a proposal that needs to be voted on before anything happens and if the people of San Diego don't vote for it, it is bye-bye beaches, hello plains.
First Rookie to Make Some Noise
Corey Coleman, WR, Cleveland Browns
Who is Travis Benjamin? After the first three weeks of the 2015 season, fantasy owners knew who he was after his amazing start to the season. He only had 10 catches in 3 games but he racked up 249 yards and 4 touchdowns in the process. His big play ability turned him into a deep threat. Corey Coleman is faster, stronger, and could be a better long-term WR than Benjamin. The Browns might struggle this year but with games against the Eagles, Ravens, Dolphins, and Redskins to begin the season, Corey Coleman could become a massive ROY contender.
Biggest Turnaround of the Year
Team: Dallas Cowboys
Projected '16 Record: 11-5
After beginning the season 2-0, the Dallas Cowboys ended up losing Tony Romo for the next eight weeks. He made a return to the lineup in Weeks 10 and 11 before a clavicle injury cost him the season. With Romo in the lineup, the Cowboys were 3-1 and their offense was as effective as ever. Without him, they were the league's worst offense and they finished ranked 31st in the NFL with a 4-12 record. The 2016 Cowboys shouldn't be anywhere near this bad.
Defensively, the Cowboys are going to struggle. However, luckily for them, Ezekiel Elliott was drafted to help bolster a mediocre running game that should be their golden goose. Their offensive line is one of the best ever constructed. If Tony Romo, Dez Bryant, and Jason Witten stay healthy, this is one of the most dangerous lineups in the NFC.
Upset of the Year
Week 10: San Francisco 49ers over Arizona Cardinals
The 49ers aren't going to be bad, they are going to be terrible in 2016. The Arizona Cardinals, on the other hand, are going to be one of the best, if not the best, team in the league this season. So when they collide during their Week 10 divisional matchup, at Arizona, the odds are not going to look good for the 49ers.
However, this is the perfect time for an upset.
Based on their schedules and our season schedule predictor machine, the Cardinals will be 7-1 while the 49ers will be 1-7 heading into their week 10 battle. Nothing says upset like a team that has the highest paid 2nd string QB in history getting the start against the NFL's best team, the Cardinals.
Be ready for this upset, you heard it here first.
Rookie of the Year
Jared Goff, QB, Los Angeles Rams
Everything points to Ezekiel Elliott winning the NFL's ROY award thanks to his situation in Dallas. However, the Rams aren't going to wait too long before unleashing Jared Goff and letting him run loose. If he gets the call early enough, he will run away with this award by Week 11.
Sleeper Pick: Devontae Booker, RB, Denver Broncos
MVP
Antonio Brown, WR, Pittsburgh Steelers
The Associated Press MVP has never been awarded to a Wide Receiver but if there was ever a chance to happen, it would be this season and it would be Antonio Brown.
Over the past three seasons, he has put up some of the most insane numbers over a three season period in NFL history. He suffered last season when Ben Roethlisberger missed several games and his numbers still reached crazy levels.
Previous Three Seasons: 46 Games Started, 541 Targets, 375 Receptions, 5,031 Yards, 31 Touchdowns, 104.8 Yds/G
If Big Ben remains healthy and plays 16 games, there is no doubt that Antonio Brown will break the NFL's single season receiving record, among many other records. It's a long shot but it would be well-deserved if he does wind up winning the AP MVP award following a season like he had in 2014.
Next in Line to Retire?
Last season showed us that NFL players are starting to prepare for their future instead of simply playing for today. Several players decided to retire a few years before they should have including some of the league's best players like Calvin Johnson, Marshawn Lynch, Jared Allen, Justin Tuck, Charles Tillman, and Greg Jennings. So expect the unexpected after the 2016 season and don't be shocked if these guys retire…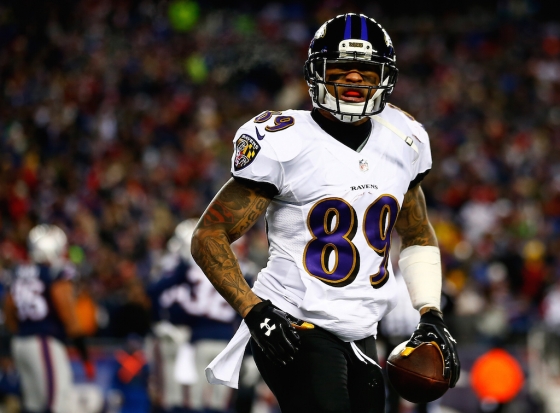 Steve Smith Sr., 37, WR, Baltimore Ravens
Matt Schaub, 35, QB, Atlanta Falcons
Terence Newman, 37, CB, Minnesota Vikings
Antonio Gates, 36, TE, San Diego Chargers
Andre Johnson, 35, WR, Tennessee Titans
Sebastian Janikowski, 38, K, Oakland Raiders