2017 Chrysler Pacifica : Road Trip
The Holidays mean taking road trips to see family and friends. We decided to test out the all-new 2017 Chrysler Pacifica minivan by loading up my family and hitting the road to grandma's for Thanksgiving. Yes, we're reviewing a minivan on a Men's Lifestyle site. Sure, road trips on TV always involve old Mustangs and restored MGs, but in real life, family road trips mean carrying kids and gear. A minivan becomes perfect for the task. Especially when that minivan has enough cool technology inside to keep everyone busy (lessening the "Are we there yets?") and good road presence.
Chrysler re-invented their minivan presence this year. They've dropped the venerable Town & Country and its Dodge twin in favor of totally redesigning a van from the ground up. They re-issued the nameplate from a short-lived crossover they built a few years ago and apparently decided to ask minivan owners from across the brand landscape what they loved most about their vans. Because everything you can imagine would be great to have in a big family hauler is in the 2017 Pacifica.
Our road trip involved hauling two little kids, a lot of stuff, and a full day of driving to get to our destination. By "full day" we mean "all friggin day on the road." Sunrise to sunset. With little kids. Ya, this could've become a nightmare and fast. It didn't.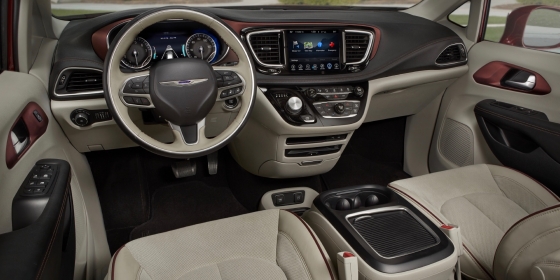 The 2017 Chrysler Pacifica has a lot of available goodies to keep those driving from hearing complaints from those just riding along. There's tons of storage space, for one thing, allowing for all of the road snacks and beverages you can buy to be put somewhere within reach. We found the large bins underneath the second row passenger's feet to be perfect for this. Those bins are where the seats fold down to hide away when the van is in "cargo mode," but are otherwise usable as storage and are a great place to keep things from cluttering up the floor. Outside of those bins, there are a total of 32.3 cubic feet available when the third row is in use and a massive 87.5 cubic feet when all of the rear seating is folded down. Flat, we point out, with a wide enough space between the wheel wells to load a full sheet of plywood. No joke.
Heard from the back seat during our drive: "Do you know how you make a board? You chop down a tree and cut off all of the prickly stuff and cut it into a square." When you're five years old, knowledge is important.
Having plenty of places to put things is one part of a successful road trip. The other is staying entertained while on the road. For that, we look to the infotainment and rear seat entertainment systems. On the console between driver and front passenger, the upgraded Uconnect infotainment screen is 8.4-inches of touchscreen excellence. This is easily the best infotainment on the market right now, with everything you could want. Including a great navigation system and the most useful thing ever in infotainment: speech to text, allowing you to say your text messages while driving. The advanced Uconnect infotainment system is optional on most trims and standard on the Touring-L Plus and Limited trims of the Pacifica.
In the back seats, the optional (and way worth it) entertainment system consists of two 10-inch tablet-like screens mounted just below the front seat headrests. These are touchscreen units that can play video from several sources including DVD, a plugged-in device, USB, or HDMI. What's more, they can play separately so the same movie can be played at different intervals or separate movies on either screen. Sound is piped through the audio system or into wireless headphones or headphones can be plugged into ports near the screens. That's just getting started, though. There are also interactive games.
Probably the coolest thing on the Uconnect Theater system are those tablet-style games. Players can play against one another across screens with games like tic-tac-toe and checkers. They can also play road games like I Spy with the tablets keeping score. That, folks, is how you entertain the troops while driving long distances. This system is standard on the Touring-L Plus trim and optional on the Limited.
Once you arrive, the 2017 Pacifica also has an optional vacuum system. It's mounted right in the middle of the van at the sliding door pillar and uses a filter commonly available at any supermarket. Debris are sucked through the filter and into a bin that's located at the rear next to the hatch and that can be easily removed and dumped out. That bin is also dishwasher safe, should you want to thoroughly clean it. The vacuum has fifteen feet of hose. So not only does it make cleaning the Pacifica easy, it can stretch to whatever is parked next to it as well.
On the road, the Pacifica is a great drive, considering its size. It's very maneuverable with a tight turning radius and a smart powertrain. Its V6 is well-proven throughout the Chrysler-Dodge lineup of vehicles, providing 287 horsepower and 262 pound-feet of torque. The van is front-wheel drive with a nine-speed automatic transmission. Excellent aerodynamics mean that the Pacifica is not only quiet on the road, but fuel-efficient. It's rated at 22 mpg combined, with 18 mpg in the city and 28 mpg on the highway. We averaged over 27 mpg on our highway-heavy road trip of 1,300 miles, most of which was at high altitude. For the seriously fuel conscious, a plug-in hybrid version of the Chrysler Pacifica is coming to showrooms shortly.
In all, the 2017 Chrysler Pacifica seats up to eight comfortably, has everything you'll need for a great road trip, and is smooth and easy to drive. An excellent road trip choice.