2017 NCAA Tournament Guessing
On Thursday, March 16th, the NCAA Men's Basketball tournament officially gets started and that is when the Madness begins. Until then, we have time to create the fill-out our brackets.
There is no scientific method, mathematical approach, or statistical analysis that can predict, with 100% accuracy, the entire NCAA Tournament bracket through the NCAA Championship game. Don't make it any more difficult than you already have by trying to break down scouting reports, schedules, and match-ups. The entire tournament is full of blowouts, last minute buckets, and shocking upsets that can ruin the best of brackets. So try to waste little time analyzing the picks and just go ahead and make them already.
You can spend the next few days trying to over-analyze every single game, only to wind up watching your entire bracket crash and burn within the first few hours of the first day. It happens every year.
In the first four games of the first Thursday of the tournament last season alone, there was two major upsets including 11th seed Wichita State over sixth seed Arizona and 12th seeded Yale shocking everyone and beating 5th seed Baylor. Those two games knocked out a majority of the perfect brackets from 2016 and is the main reason you should not hold too much value in analytical approaches.
So what is it that we do instead? Drink and Guess. Alcohol is the secret to our method. Take shots, drink beer, sip on whiskey, or whatever you tend to care for. But you should always go with your gut and the best way to pick with your gut is to get the real results by drinking alcohol and opening up your mind. Now that you know the secret, go ahead and try it for yourself.
For those of you playing at home, our selection of Spirits features some whiskey, tequila, Flaming Dr.Pepper's, and, of course, Miller Lite. Let's begin with a shot of whiskey and a Flaming Dr.Pepper. Try not to do them both at once though.
(Since 99% of the bracket games out there do not include the first four games, we are just going to assume that you understand that when we say opening day, we mean Thursday, March 16th.)
East Region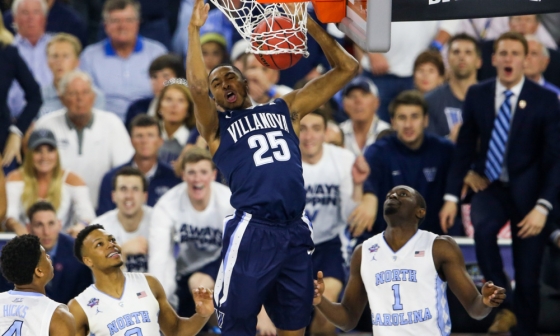 Round of 32
Winners: #1 Villanova, #8 Wisconsin, #12 UNC Wilmington, #4 Florida, #6 SMU, #14 New Mexico State, #10 Marquette, #2 Duke
Sweet 16
Winners: #1 Villanova, #4 Florida, #6 SMU, #10 Marquette
Elite 8
Winners: #1 Villanova, #6 SMU
East Champion (Final Four): #1 Villanova
The East has a ton of great teams that were, at one point in the season, capable of being a number one seed in this tournament. Villanova has one of the toughest possible roads to the Final Four, with Virginia, Baylor, and Duke standing in their way. However, thanks to our good buddy tequila, we seem to think that Villanova will have a much easier road because those teams will not make it past the first weekend.
UNC Wilmington should have beaten Duke last year and returns the same lineup from that same game this season. If there was anyone who could upset the red hot defense of Virginia, it is UNC Wilmington. But why stop there? New Mexico State is great at two things, blocking and offensive rebounding. If there is ever a better combination of team rankings that could spell out upset, it would be those two.
Now, take a break for a ice cold Miller Lite. Or two…
Then it is time to head out West, like the Cowboys and Aliens did, from that movie, uh, Cowboys & Aliens. (You know, the one that gave us that scene with Olivia Wilde completely naked.)
West Region
Round of 32
Winners: #1 Gonzaga, #9 Vanderbilt, #12 Princeton, #4 West Virginia, #6 Maryland, #3 Florida State, #10 VCU, #2 Arizona
Sweet 16
Winners: #1 Gonzaga, #4 West Virginia, #6 Maryland, #2 Arizona
Elite 8
Winners: #1 Gonzaga, #2 Arizona
West Champion (Final Four): #1 Gonzaga
Why does Gonzaga always get so much hate from college basketball fans? All they do is dominate within the conference and schedule they play each season. It is not their fault they do not play in the ACC or Big East. Did everyone forget they beat Florida, Arizona, Iowa State, and St.Mary's, three times? The freaking Bulldogs are a top seed and yet it feels as though they are coming in as a 10th seed. The fact that we pick them to win the West and head to the Final Four feels like an upset. This is one of those regions that will fail to provide too many shocking upsets. The only one, in fact, that we see happening is 12th seeded Princeton over 5th seed Notre Dame in a battle of the defenses.
We would have picked Notre Dame but simply could not because the rest of the media is going to take good care of the Fightin' Irish, they always do. Why is it that, in football, Notre Dame is always ranked in the preseason Top 10 even though they are not affiliated with a conference? For that matter, why are they in the ACC for basketball and baseball but not football?
Midwest Region
Round of 32
Winners: #1 Kansas, #8 Miami, #12 Nevada, #4 Purdue, #6 Creighton, #3 Oregon, #7 Michigan, #2 Louisville
Sweet 16
Winners: #1 Kansas, #4 Purdue, #3 Oregon, #2 Louisville
Elite 8
Winners: #4 Purdue, #2 Louisville
Midwest Champion (Final Four): #2 Louisville
Will the Midwest give us a shockingly good underdog? Will they have the next George Mason? The simple answer is no. This is actually the toughest region and will provide some of the best basketball in the tournament including watching the red hot Kansas Jayhawks getting beat in OT by the Boilermakers of Purdue.
This entire post is taking way too long to type. Someone keeps moving the keyboard back-and-forth. You try typing anything while having the keyboard shake more than the plains of Oklahoma. (It's all about the fracking fellas!)
But we digress…
The Midwest is strong and the Louisville Cardinals are the strongest team that emerges from this region. But you knew that already because we already posted that pick above us. (It is now time for Flaming Dr.Pepper's)
South Region
Round of 32
Winners: #1 UNC, #8 Arkansas, #12 Middle Tennessee State, #13 Winthrop, #6 Cincinnati, #3 UCLA, #10 Wichita State, #2 Kentucky
Sweet 16
Winners: #1 UNC, #12 Middle Tennessee State, #3 UCLA, #2 Kentucky
Elite 8
Winners: #1 UNC, #3 UCLA
South Champion (Final Four): #3 UCLA
Ok, maybe we should not have done four Flamin' Dr.Pepper's just now before attempting to pick the South region because we feel the need to get all political instead of writing about basketball. For example, why is there so many people in the South that love Donald Trump? They do know he was simply using them to win an election and he does not plan on calling them anytime soon. But that's enough about that, back to March Madness…
The South region scares us all with Middle Tennessee State making a run before falling to an over matched North Carolina Tar Heel club. Do not be afraid to see the Raiders take it down to the wire before running out of steam late in the game. The match-up of UNC and Middle Tennessee State should be one of the better games in the tournament.
Final Four
East Region Champion: #1 Villanova
West Region Champion: #1 Gonzaga
Midwest Region Champion: #2 Louisville
South Region Champion: #3 UCLA
The Final Four looks mighty nice, doesn't it? With the Wildcats returning to the Final Four for consecutive seasons, they face a Gonzaga team that deserves to finally get a shot at immortality. Finally getting this close to the title game, all bets are off. The Bulldogs will take full advantage of their awesome fans and uniforms and come out victorious, heading to the school's first ever National Title game appearance. UCLA, on the other hand, has such a strong scoring lineup that they will end up beating Louisville much easier than they should. These two games will lead to one epic National Championship between Gonzaga and UCLA.
National Champion: UCLA
By the time it is all said and done, there can only be one team declared the 2017 NCAA Basketball National Champion and things are looking mighty bright for the UCLA Bruins, who are led by true Freshman Lonzo "My Dad Thinks I Am Better Than Stephen Curry" Ball, who leads the nation in Assists per game with 7.7 to go with his 14.6 points and 6.1 rebounds per game. He could end up the top pick in the upcoming NBA draft and normally, whenever a team plays at such a high level this late in the season, they wind up going really far into the tournament. UCLA has the easiest road to get there.