2017 GMC Sierra 2500 HD : Review
The class of full-size, heavy-duty pickup trucks is super-competitive in America. It's a constant game of one-upmanship. "Mine can tow more than yours" is probably the mission statement for the engineering teams tasked with updating these trucks every few years.
Our time in the 2017 GMC Sierra 2500 HD, with its new-for-2017 6.6-liter Duramax V8 diesel engine, didn't see us hauling much of anything. It struck us as a bit like commuting in bulldozer. We had this awesome tool with all this capability, and yet, we had no opportunity to use it for its intended purpose. The GMC Sierra 2500 HD's 13,000-lb towing capacity (!) would go unused.
But what we learned is, if our lifestyles included occasions where it might be necessary to tow a few tons of toys, livestock, or whatever, the 2017 GMC Sierra 2500 HD would be a really nice truck in which to get it done. And we'd give bonus points to our Denali test truck for being relatively easy to live with as a family commuting appliance, despite its size.
Exterior
The 2017 GMC Sierra 2500 HD cuts an imposing profile. Small cars — and who are we kidding, all cars appear small when viewed next to this truck — seemed to cower in fear when we approached. Riding on a 153.7-inch wheelbase, our crew-cab, short-bed truck was 239.5 inches in length and was a tight squeeze on some backcountry two-lane roads at 80.5 inches wide.
The frontal view was dominated by the huge chrome grille. Two soft rectangle-shaped headlights bordered the grille, while below was the large "chin," a chunky bumper that formed a solid visual foundation. Foglights were set within the bumper of our test truck, as were a pair of beefy tow hooks. The hood had a pronounced power bulge with functional intake scoop at the front and heat vents on each side.
The side view showed just how high-riding our four-wheel drive truck was, with plenty of daylight between the pavement and the belly of the truck. Good thing it had full-length steps below the cab to ease entry and exit. Big, squared-off wheel openings made lots of room for the big 20-inch chrome wheels riding on Goodyear rubber. The truck had a pronounced — and tall — beltline, with bedsides too tall for a six-footer to reach into the bed while standing on the ground.
At the rear, the Sierra 2500 HD sported a relatively simple tailgate design with an attractive top lip designed to improve aerodynamic efficiency. A nice sculpted line in the lower half of the tailgate aligned perfectly with the lower edge of the taillights. The chunky rear bumper featured corner steps to ease entry and exit to the bed. It's not quite as easy as Ford's built-in tailgate step, which lowers itself closer to the ground, but it's also not as complicated. A large tailpipe finisher tipped off savvy truck aficionados that we were burning diesel.
Interior
GMC gets a lot of things right in its Denali trim specification. The chrome on the outside is nice, sure, but it's nothing compared to the inside. This truck had leather and features aplenty.
Our test truck had light tan leather seats and door inserts, with real wood trim on the doors and center console and metal accents on the dash and steering wheel. Both dash and steering wheel had leather covering them. The front seats were heated and ventilated. There was dual-zone automatic climate control and a great infotainment system featuring Android Auto and Apple CarPlay integration as well as factory navigation. Road tripping in this beast would be a pleasure, with its front seats getting a GMC-reported 42.8 inches of headroom, 45.3 inches of legroom, and 60.7 inches of hip room.
The large console storage cubby under the center armrest was large enough to store a backpack carrying an 11-inch Acer Chromebook inside, plus smartphones and charging cords. The column shifter made center console storage plentiful elsewhere, too, with a deep well ahead of the cupholders and easy access to dual USB data/charging and 12-volt power ports.
Rear passengers got a leather-lined bench seat of their own, which was pretty comfortable considering the fairly upright profile of its backrest. There's plenty of legroom and width here for three burly ranch hands. For us, it was plenty big enough to haul two kids in car seats and stow the weekly grocery run underneath them. The official specs from GMC said the truck had 40.5 inches of headroom, 40.9 inches of legroom, and 60.2 inches of hip room back there.
Driver-focused
When piloting something this large and in-charge, it's nice to have some driver assistance features. Parking spaces seem a lot smaller when your truck is more than 80 inches wide and when it's long enough that it pokes out of even generously sized spaces at the home improvement big-box store. Thankfully, the 2017 GMC Sierra 2500 HD Denali we tested had a full complement of driver assistance features, including parking distance monitor and cameras.
For those who use the truck to haul a lot, there's also a lot of driver-focused tech. A built-in trailer brake adjustment module resides in the upper-left corner of the dash, within easy reach of the driver. There's a factory-integrated exhaust brake, as well, in case you find yourself hauling a heavy load down a long decline. There's hill descent control for easy descent of hills in off-road situations, too. Lane departure warning helps keep this wide truck in the middle of the lane. You can turn on the exterior cargo lamp from the driver's seat if you need to check on things back there.
Driving the GMC Sierra 2500 HD Denali, then, is actually pretty easy. Steering was easy at parking-lot speeds but firmed up a little on the highway to give a good on-center feel. The six-speed Allison automatic transmission was quick to react to throttle inputs, for a diesel pickup truck, and featured manual gear-change capability if you wanted to hold a gear for any reason. Finally, the Duramax Diesel was smooth as butter on the highway. There was a little diesel clatter at idle and around town — just enough to remind you what's under the hood. In something this big and capable, that kind of diesel sound seemed almost necessary.
One bone of contention: For a $70,000 loaded pickup truck, it would be nice if we got proximity sensors on the door handles and push-button starting. We know General Motors is capable of doing this, because the last GMC Yukon we test drove had these features. They need to come to the heavy-duty pickups of the family, stat. Pulling out a key fob and pressing a button to unlock the doors is so 1998.
Performance
Someone asked us about the fuel economy of the new Duramax diesel engine in our test truck. We experienced a trip computer-reported 17 MPG over our test week, though the truck flirted with 18 MPG and got as high as 18.2 MPG on a longer highway jaunt at the end of the week before bumping back into the 17s thanks to city traffic.
We told our questioning friend of our experience, almost apologetically. This is not groundbreaking stuff, we reasoned. These trucks have been able to pull down fuel efficiency in the high teens for a few generations now, when equipped with diesel engines.
"Yeah, but it's probably got enough torque to pull a house off its foundation," he rebutted. Too true. The big Duramax is rated at an enormous 910 ft-lbs of torque at just 1,600 RPM and makes 445 SAE-certified horsepower at 2,800 RPM, according to GMC.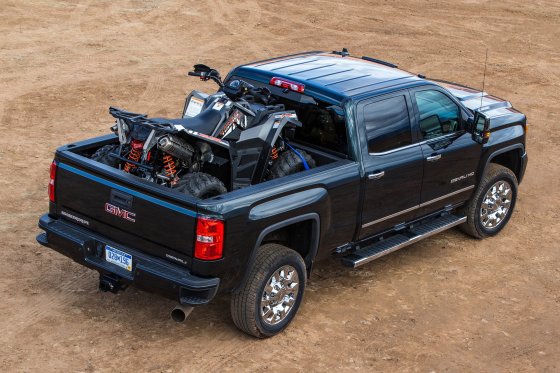 When you look back just a couple of generations at the power that was being made by these three-quarter-ton trucks, you see just how impressive these specs are. The first-generation Duramax made just 500 ft-lbs of torque and 235 horsepower. That was just 16 years ago. The mind reels at the pace of power gains in these trucks. It's enough to remind one of Moore's Law, which states computer processing power generally doubles every two years. Perhaps we need Diesel's Law to say diesel engine power and torque generally double every 15 years?
Overview
Truth is, we tested this truck outside of the element where it shines. This thing is meant to tow and haul, doing heavy work for which trucks are required. We used the big 2017 GMC Sierra 2500 HD more like a GMC Terrain crossover, going to the grocery store on the weekend after spending a week ferrying the kids to school before checking in at the office. And our view of the fuel economy, at first, was colored by this usage.
But when viewed through the prism of its incredible capabilities, the engine's relative efficiency is praiseworthy. If you tried to squeeze this much power out of one of those first-generation Duramax diesel engines in a 2001 Sierra HD, you'd probably be staring down single-digit fuel economy — and you still wouldn't be able to haul as much as our test truck, because the chassis simply wouldn't be up to it. The beefiness of the 2017 Sierra 2500 HD's chassis cannot be overstated. Towing 13,000 lbs or hauling a payload just shy of 3,000 lbs takes a stiff set of bones. The 6,500-lb Sierra 2500 HD is quite the beast of burden.
If we had burdensome loads to haul on a regular basis, there probably wouldn't be any nicer way to haul them than with the 2017 GMC Sierra 2500 HD Denali with its stout Duramax diesel powertrain.