2017 Jaguar XF : Review
There's something special about a Jaguar. Many of us car-loving males learned to pick out the leaping cat from an early age, a sign of an automobile both ferocious as its mascot and as luxuriant as its namesake's fur.
Like the act of wearing fur, however, some might say the days have passed when driving a Jaguar automobile was the peak of luxury. Based on our time in the 2017 Jaguar XF, we've got news for those naysayers: They're wrong. A Jaguar is still a very special automobile, and the XF is among the best values in the luxury sedan segment.
Indian ownership of the company — Tata Motors bought the brand in 2008 and also owns its sister British automaker, Land Rover — may have turned off some automotive Anglophiles. Silly nationalist tendencies may cause them to overlook some awesome new cars, never-mind the fact that India was until 1947 a territory of the British Crown.
There's a narrative in here somewhere about the decline of imperialist western nations and the rise of nations like India, but we'll bypass the heavy politics. What matters here is the injection of Indian rupees into Jaguar's bank account has, like the injection of Chinese renminbi into Swedish automaker Volvo, allowed the automaker to resume building world-class cars. Case-in-point: our 2017 Jaguar XF tester.
Design Notes
The 2017 Jaguar XF is a sexy automobile to behold, full stop.
While its design is more modernized and, at first blush, perhaps more anonymous than the Jags of yore, anyone who spends more than a couple of minutes examining the exterior of the XF will find intricacies to which other marques may aspire, but invariably fall short. The Peter Schreyer-penned design of the 2017 Kia Optima may make the Korean midsize sedan appear similar in size and eloquence to the Jaguar XF when glanced momentarily in traffic, but parked next to a Jaguar XF, the Kia suddenly looks like the $25,000 front-wheel drive family car it is.
There are numerous reasons for the Jag's premium opulence. Mostly, it's the overall cohesiveness and cleanliness of the design.
The front of the XF features menacing headlights and a gaping, honeycomb maw set off by sharp creases and muscular surfacing on the hood. All of the above combine in a way run-of-the-mill family sedans just can't muster. In profile, the Jag looks long, low, and lean in a way front-wheel drive mass-market sedans just can't. Clean lines dominate and lead the eye to the faux-fastback rear quarters, where wraparound taillights communicate the sensations of speed that await occupants.
The Mechanical Bits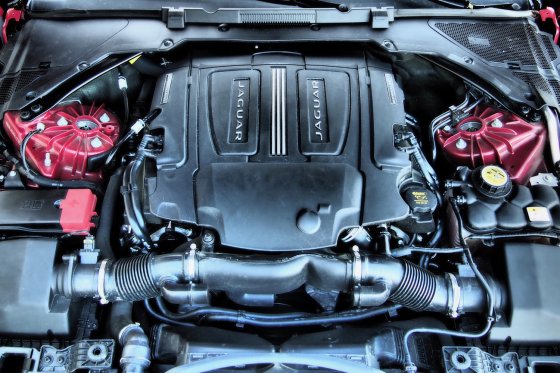 Speaking of which, the 2017 Jaguar XF we tested was equipped with the biggest gasoline engine, a 3.0-liter supercharged V6 rated at a stout 340 horsepower at 6,500 RPM and 332 lb-ft of torque at 3,500 to 5,000 RPM. This kitty purrs at idle with a slight rumble, the way all good old-school European cars used to. Tromp on the throttle, though, and it issues a guttural, satisfying roar that is missing from many of its competitors — some of whom are saddled with four-cylinder-only powertrain lineups.
Those numbers suggest peak torque might come on with some delay, especially for a supercharged engine. But our experience with the 2017 Jaguar XF 35t showed it to be especially strong when we gave the throttle a heavy foot during stoplight-to-stoplight or highway entrance ramp situations. That was particularly true when the selectable JaguarDrive Control was dialed up to its sportiest setting, "Dynamic."
Partial credit for this throaty nature at lower speeds: Jaguar's use of an eight-speed automatic transmission whose first few gears keep the engine's powerband easily within reach at lower speeds.
Our Jaguar XF 35t tester featured the R-Sport trim and all-wheel drive. With power making it to the pavement at all four wheels, this Jag always stuck to its line on the curvy Tennessee backroads where we tested it for a week. Its stiff aluminum chassis, perfect 50/50 weight distribution, and lightweight double-wishbone front and integral link rear suspension with adaptive electronically controlled dampers made it a sweet-handling sedan with limits higher than one should ever need on public roads.
But then, that's part of the charm of owning a high-performing European sedan, isn't it? You may never need this kind of handling prowess, but it's nice to know it's there.
The Drive
Firing up the 2017 Jaguar XF 35t, we were greeted by one of its neatest parlor tricks: The rotary-dial gear selector rises from its place in the center console, and the outboard vents in the dash rotate open. Passengers marveled at it every time. That supercharged V6 issued a hearty throat-clearing growl at startup, too.
Steering feel was easily better than similarly priced German entries in its segment, with more feedback and a more natural loading-up of effort. Not long after the Jaguar XF was in our hands, we got to drive a brand new BMW 530i. The Jag had the 5'er beat not just in steering feel, but also in auditory excitement from its engine room and in handling response.
The interior is the one area where Jaguar's XF may not seem as haute as its German rivals. Seats in our tester were red-and-black leather affairs that weren't as cushy as the 5 Series and looked a bit boy-racer for a car with the overall suavitude of the XF. These came as part of the R-Sport trim, which also included a few exterior elements that added to the XF's sporty design.
Space was not an issue for a family of four who liked to travel with the old Jaguar maxim of "grace, pace, and space." Also, the leather had a satisfyingly European scent. That sounds weird unless you, like we, have spent appreciable time in 1980s and '90s European cars with leather seats. The hides emit a sweet, pleasing smell with age. The Jaguar XF had this smell, or at least a hint of it, from day one. We suspect it will only improve with age.
Overview
With a base MSRP of about $65,000, the 2017 Jaguar XF R-Sport isn't for everyone's budget. But then again, as someone pointed out to us during our test week, an awful lot of guys don't seem to bat an eye at spending that much for a pickup truck just so they can convince everyone at the office that they're manlier or perhaps just better-compensated than their coworkers.
Trucks have their place, just like $25,000 family sedans. But for the money, if we were typical office-worker dudes who didn't have a lot of towing and hauling to do, we'd much rather roll into the office parking lot looking like company executives than looking like yuppie wannabe farmers.
Like we said at the beginning, Jags are special. People remember when they see one, which is something almost nobody says for the common family sedan or pickup truck. The 2017 Jaguar XF is going to be the subject of fond memories around these parts for a long time.