2017 Kia Niro Hybrid : Review
The 2017 Kia Niro is a totally new hybrid crossover, and the latest addition to the Korean manufacturer's growing lineup of Eco vehicles. Kia is quite proud of the Niro, and believes it offers a compelling competitor to Toyota's popular Prius lineup. The Niro fills a market need by offering hybrid-electric fuel economy in an elegantly designed crossover.
"We're excited about the Niro," said Orth Hedrick, vice president product planning KMA. "It's fantastic – exceptional fuel economy, great looks, the usefulness and security of a compact utility and it's fun to drive. The Niro really does set a new standard in the market."
We were recently invited to the eclectic Hotel Emma in San Antonio, Texas to be among the first to drive the Kia Niro. For a taste of our experience with the Niro in Alamo City, check out our quick video below, followed by our review :
Exterior
The Kia Niro was purposely designed not to look like other Hybrids on the market. The idea was to create a desirable crossover that offered the benefits of Hybrid technology, without a design that screamed, "Car of the Future!" Not coincidentally, the design is more understated, and closer to other compact crossovers on the market instead of hybrids. The wide and low proportions with a long wheelbase and short overhangs portray a strong athletic stance. The Niro is unmistakably a Kia, with many design elements being carried over from other vehicles in the lineup, including the signature tiger-nose grille.
The exterior is the source of mixed feelings for us. One one hand, we appreciate the decidedly "Un-Hybrid" nature of the design, and greatly prefer the exterior styling over that of the Prius. On the other-hand, we were a bit disappointed it didn't look more like the Niro concept we saw unveiled in Chicago back in 2014. It's difficult for any vehicle to live up to the concept though, so that is probably an unrealistic standard. It's a fine-looking vehicle, but it won't turn heads as easily as some others in the Kia lineup. We get the feeling that is on purpose.
Interior
The interior of the 2017 Kia Niro is a familiar place to be if you've driven any other recent Kia models, and a surprisingly pleasant place to be if you haven't. Once again, we get the feeling that the idea was to create a Hybrid that felt normal, and not to rely on gimmicks to make you feel like you're driving a flying car from the Jetsons. The cabin feels spacious and the seats are comfortable. Our favorite creature comforts are offered, including heated and cooled seats, heated steering wheel, and dual climate zones. Kia has cleverly stored the high-voltage battery underneath the rear seats which increases cabin and cargo space and allows a flat load floor. Noticeably missing in the Kia Niro was the panoramic sunroof that we enjoy so much on other Kia models, replaced instead with a much smaller option.
The dashboard layout and controls are very consistent with other current Kia models. The Niro features Kia's award-winning infotainment and telematics system, with the newest version UVO3. It comes standard with a 7″ capacitive touch screen, featuring Android Auto and Apple Car Play. Our test model also included navigation and a premium audio system from Harman Kardon, which was easier to enjoy due to the noticeably quiet ride.
Performance
Most Hybrid buyers are probably concerned most with EPA estimated gas mileage. We drove the high-end Touring model, which is projected to get about 43 mpg (combined city / highway) and we averaged about 40 on our test-drive. Of course we tend to push a bit harder than the average driver, and also idle much longer taking photos…. so your mileage may vary. If you're really looking to get the most distance out of your gas money, the base FE model is estimated to reach 50 MPG combined. That's pretty damn impressive for a Hybrid Crossover, and keep in mind that a Plug-in Hybrid and All-Electric version of the Niro are scheduled to join the lineup in the future.
Like most eco-vehicles, Kia provides relevant data to the driver who really wants to get the most from their Hybrid, with a few example screens in our photos above. Want to get nuts with your hypermiling? It's apparently possible to get 76.6 mpg from the Niro, which was recently accomplished on a coast-to-coast trip from Los Angeles to New York. That feat broke the Guinness World Record for lowest fuel consumption driving across the USA in a hybrid car.
That's great if you like driving with the air-conditioning and the radio off, but you're probably wondering how it drives when you're less concerned with the gas-mileage. Lucky for you, we pushed the 1.6­ liter GDI four­-cylinder engine and its second­-generation six­-speed dual-­clutch transmission to the limit during our test-drive. While you clearly can't compare it to more powerful crossovers, the Niro was surprisingly fun to drive, especially when we shifted it into Sport mode.
We're not engineers, but we could tell that a concerted effort went into making sure this Hybrid didn't drive like your typical hybrid, so we'll quote from the Press Release to explain how :
The Niro's simplified parallel hybrid system creates seamless transitions of power delivered to the front wheels, resulting in a very un­-hybrid­ like driving experience. The hybrid system is neither intrusive nor obvious. The Niro accelerates quickly off the line and continues its smooth power delivery, inspiring driver confidence in everyday driving maneuvers such as merging onto the highway. Special attention was also paid to brake feel. Applying lessons learned through development of two generations of Optima Hybrids as well as the fully electric Soul EV, Kia engineers designed the Niro's regenerative system to seamlessly blend in hydraulic friction braking. Consequently, deceleration feels more consistent and linear than in other hybrids.
Overview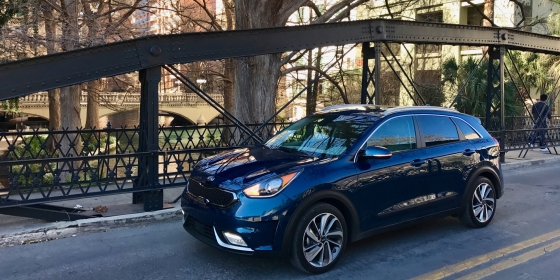 You may have noticed a theme emerging throughout this review. From its design to its performance, the Kia Niro is a very purposely constructed "Un-Hybrid" Hybrid. The first Hybrid we ever drove was a Toyota Prius, and the first Electric car we ever drove was a BMW i3. On both occasions, we remember thinking, "this is pretty cool, but if this technology is ever going to catch-on widely, it's going to need to be more like a regular car." We believe the 2017 Kia Niro has met the challenge of that musing. It looks and drives like a regular compact-crossover, and it just happens to be a Hybrid capable of getting 50 mpg.
You probably enjoyed laughing at Melissa McCarthy in Kia's award-winning Super Bowl commercial for the Niro, but now we'd like to invite you to re-watch it with everything you've learned about the Niro in mind. It is indeed the "Smarter Way" to be an eco-warrior.