2017 Mercedes-Benz C300 Coupe : Review
Mercedes-Benz redesigned the C-Class sedan for 2015 and this year, they've given the same treatment to the coupe. Among the C-Class' coupe models, the 2017 Mercedes-Benz C300 is the more attainable and is available with rear-wheel or all-wheel drive.
With all of the style, luxury, and craftsmanship expected of a Mercedes model, the C300 Coupe's $43,000 and change starting price (with delivery) makes it an unusually easy to get into Mercedes-Benz.
This low price of entry comes with some downsides, but not nearly as many as we'd thought. With strong styling cues to promise performance and an interior that speaks luxury fluently, we're impressed with the C300.
Exterior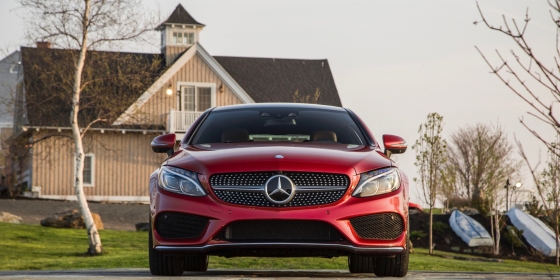 The C-Class Coupe is very different from its sedan brethren in terms of style. For the C300 Coupe, a more striking grille with AMG GT styling cues that include large air inlets and wrapped headlights begins these differences. The large Merc-Benz three-pointed star dominates the grille, letting everyone know what this car is.
From the side, the C300 Coupe's profile is defined by fast-paced lines. The roofline is definitely coupe and is underlined by a slightly curving beltline that itself is accented by deep-set character lines beneath. The center pillars are blacked out to keep the look of the greenhouse open, accentuating the rear pillar's curve and the fast pace of the car's overall flow.
The 2017 Mercedes-Benz C300 Coupe is a real looker.
Interior
Inside, the 2017 C300 Coupe is beautifully wrought with a glamorous appeal. A panoramic sunroof is standard equipment, adding openness to the interior, but cramping headroom a bit for taller drivers. Several other things are also included, such as leather upholstery and a decent infotainment option. Glaringly absent is a rearview parking camera, adaptive cruise control, and navigation.
Several upgrade packages are available to add in those missing items, but these can get pricey quick. Our test vehicle had a couple of options packages plus the 4Matic all-wheel drive and pushed past the $50,000 mark. The trick will be to pick and choose what you need and option accordingly.
On the up side, though, the interior of the 2017 Mercedes-Benz C300 Coupe is beautifully designed with a definite Mercedes bent to its feel. The driver's seat is very well bolstered with a lot of adjustment options to allow most anyone to find a comfortable spot. The big and tall will feel a little cramped, especially in the shoulders and headroom, due to the roofline and panoramic sunroof, but at 6'3", I had little trouble getting into and out of the C300.
The passenger's seat is similar to the driver, but with a little less adjustment and a lot more legroom. Behind that, the rear seating is largely for kids and groceries with not much legroom or headroom for anyone over five feet in height.
Performance
The engine powering the 2017 C300 Coupe is a 2.0-liter turbocharged four-cylinder that outputs 241 horsepower and 273 foot pounds of torque. A seven-speed automatic transmission is the only option and the car is rear-wheel drive by default. The 4Matic all-wheel drive system can be added and is how we drove the car.
The 2017 Mercedes-Benz C300 Coupe isn't going to bust any land speed records, but it's more than respectable in its performance. Most drivers should be able to do 0-60 mph runs in about 6.5 seconds and fuel economy is rated at 26 mpg combined in RWD and 25 mpg combined in AWD. We saw around 22 mpg all told in our 400 miles of driving in the coupe. Considering altitude and wind and a lot of "punch it!" was part of our cycle, we think that's a pretty good return.
The Mercedes-Benz C300 Coupe has a very well-balanced chassis and suspension system that allows for smart maneuvering in most situations. It loves the corners and breezes the curves and is adaptive enough to do so comfortably on the highway or with spirit on the back roads. For those expecting real cush to their luxury ride, though, this is not the Mercedes for you.
Very performance-minded buyers who have deeper wallets may consider jumping to one of the AMG models in the C-Class lineup, such as the C43 with its turbocharged V6 (362 hp) or the C63 with its massive four-liter V8 that turbocharges to 469 horses or 503 hp if the S model is opted for. Expect to pay dearly for that kind of power, but if you can swing it, it's definitely worth having.
Overview
The 2017 Mercedes-Benz C300 Coupe is beauty on wheels from the exterior and solid entry-level performance on the inside. It delivers neither cush nor crass, but is fun to drive and offers fast-paced Mercedes design for the masses.