2017 MLB Mid-Season Awards
A great season in Major League Baseball is not made in the first 85 games. Sure, there are teams like the Houston Astros this year, who have been able to pull themselves so far ahead that even when they go into a slump, it goes unnoticed. The Chicago Cubs were sitting in the same position last year but they had company, the Washington Nationals.
This year, however, the Washington Nationals have seemed to distance themselves from the Cubs and their entire division despite bullpen issues. Yet they now have two NL West teams that have jumped them in the standings. The Los Angeles Dodgers and Arizona Diamondbacks are simply dominating the National League and it is not really close. The real race will be in August and September when these teams start to tighten the screws and end up playing each other multiple times. But we have a long way to go before we reach the playoffs, for now, we are just going to focus on what we have seen in the first half of major league baseball season.
In the American League, the youth movement that has taken the National League by storm has begun. The three best teams in the AL are the Houston Astros, Boston Red Sox and New York Yankees and each of them is led by a tough group of youngsters that have us all sitting back in amazement. Aaron Judge, the New York Yankees outfield stud, has erupted past all expectations in 2017 and continues to hit the ball with a power not seen around this league in many years.
Meanwhile, in the National League, Clayton Kershaw and Kenley Jansen continue to dominate while they watch new faces step into the batter's box each game, mostly from the Arizona Diamondbacks. The D'Backs have put together an incredible start to the season behind the power and hitting of MVP candidate's Paul Goldschmidt and Jake Lamb, these Diamondbacks are sure fun to watch.
The 2017 MLB season has turned into something worth watching and if it continues down the same path it is running down right now, there is little chances we will not be just as excited about the World Series as we are about the All-Star game, and the mid-way point award winners like the ones we have here today. Here are our picks for the 2017 MLB season's first half awards.
American League

Rawlings Gold Glove
1B: Joe Mauer, Minnesota Twins
2B: Danny Espinosa, Los Angeles Angels
SS: Alcides Escobar, Kansas City Royals
3B: Manny Machado, Baltimore Orioles
OF: Mookie Betts, Boston Red Sox
OF: Jarrod Dyson, Seattle Mariners
OF: Kevin Kiermaier, Tampa Bay Rays
C: Salvador Perez, Kansas City Royals
P: Dallas Keuchel, Houston Astros
Silver Slugger
1B: Justin Smoak, Toronto Blue Jays
2B: Robinson Cano, Seattle Mariners
SS: Carlos Correa, Houston Astros
3B: Mike Moustakas, Kansas City Royals
OF: Aaron Judge, New York Yankees
OF: George Springer, Houston Astros
OF: Mike Trout, Los Angeles Angels
C: Salvador Perez, Kansas City Royals
DH: Corey Dickerson, Tampa Bay Rays
Comeback Player of the Year: Mike Moustakas, 3B (Royals)
Before his injury in 2016, Mike Moustakas was heading into the season as the team's power hitting superstar but got derailed and only ended up playing in 27 games. So he became a forgotten man in a weak Kansas City Royals lineup coming into 2017. He has bounced back and is playing as if he was never out last season, leading his team in multiple hitting categories leading to his eventual winning of the Comeback Player of the Year award.
Hank Aaron Award: Aaron Judge, OF (Yankees)
The Hank Aaron Award was originally given out in 1999 using a complex points system but has changed to a fan vote and is given to the best slugger in each of the leagues. Based on what he has done so far, Aaron Judge walks away with this award.
Reliever of the Year: Craig Kimbrel, CP (Red Sox)
Craig Kimbrel has never had a season like 2017. Last year, he was hittable and ended up with a terrible 3.40 ERA in 53 innings pitched. This year, he is barely over a 1.00 ERA and is cutting hitters down like playing a video game on easy. There is not another closer in the American League that is even close to Kimbrel this year, and we fully expect things to stay this way come October.
Rookie of the Year: Aaron Judge, OF (Yankees)
As we mentioned earlier, Aaron Judge is hitting the ball at a ridiculous level and is leading the American League in multiple categories. No one expected this level of production from Aaron Judge this year, not even the most enthusiastic of Yankee fans out there. His power is real and his hitting is something we have not seen in a long time so fans should enjoy it while it lasts.
Manager of the Year: A.J. Hinch (Astros)
The Houston Astros have lost their entire starting pitching rotation to various injuries throughout the year and somehow continue to win games. If anyone deserves the honor of being called Manager of the Year, it has to be the man that is leading Major League baseball in wins, easily.
Cy Young: Dallas Keuchel, LHP (Astros)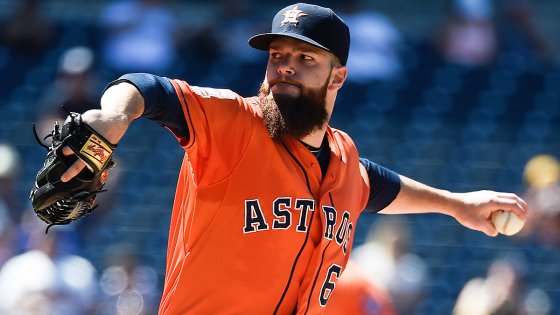 Before Dallas Keuchel got sent to the DL this year, he was rolling. He came back and played a few games before going back to the DL. Prior to his second DL stint, he was pitching like his 2015 Cy Young self was, helping to lead the Astros and the young pitching staff to becoming one of the toughest in baseball today.
Most Valuable Player: Aaron Judge, OF (Yankees)
Not since 2001, when Ichiro Suzuki did it, has an American League player won both the Rookie of the Year and MVP awards. But there is not much competition for Aaron Judge right now as he is pulling himself away from the pact, hitting far beyond anything anyone can stop.
National League

Rawlings Gold Glove
1B: Joey Votto, Cincinnati Reds
2B: D.J. LeMahieu, Colorado Rockies
SS: Addison Russell, Chicago Cubs
3B: Nolan Arenado, Colorado Rockies
OF: Hernan Perez, Milwaukee Brewers
OF: Jason Heyward, Chicago Cubs
OF: Anthony Rendon, Washington Nationals
C: Tucker Barnhardt, Cincinnati Reds
P: Ivan Nova, Pittsburgh Pirates
Silver Slugger
1B: Joey Votto, Cincinnati Reds
2B: Daniel Murphy, Washington Nationals
SS: Zack Cozart, Cincinnati Reds
3B: Jake Lamb, Arizona Diamondbacks
OF: Cody Bellinger, Los Angeles Dodgers
OF: Bryce Harper, Washington Nationals
OF: Marcell Ozuna, Miami Marlins
C: Buster Posey, San Francisco Giants
P: Adam Wainwright, St.Louis Cardinals
Comeback Player of the Year: Bryce Harper, OF (Nats)
How can the 2015 NL MVP and 4-time NL All-Star be considered a comeback player in 2017? Because he was terrible in 2016, hitting only 0.243 with a surprisingly low 24 home runs. If he can continue hitting the ball with power while demonstrating his ability to hit above 0.310, then he deserves a shot at this award. Based on the numbers alone, comparing this first half to all of last season's, he deserves it easily.
Hank Aaron Award: Paul Goldschmidt, 1B (D'Backs)
Overall, there aren't very many hitters in the National League that can do what Paul Goldschmidt does daily. He hits for power, steals bases, produces runs, doubles, and just about anything else needed of him offensively. He has become a fan favorite too leading to his shot at winning the fan vote for the Hank Aaron Award.
Reliever of the Year: Greg Holland, CP (Rockies)
The Kansas City Royals already knew what Greg Holland could do back in 2013 and 2014 when he was a two time All-Star with them. So the Colorado Rockies weren't too shocked to see him produce at the same level. It is shocking to see a closer so dominate in Denver but then again, Greg Holland is a special talent.
Rookie of the Year: Cody Bellinger, OF (Dodgers)
Since joining the league two months ago, no one has been a hotter hitter than Cody Bellinger. He has been crushing the ball at an insane rate and in his first 50 games, he already has 24 home runs. Keep in mind that his first game was on April 25th. If he continues on this pace he could end up in talks to win the MVP award too.
Manager of the Year: Dave Roberts (Dodgers)
Dave Roberts has the Dodgers at the top of the National League standings, and while they certainly have a great lineup, they haven't always played like it. He's getting the most out of his team, and right now deserves the Manager of the Year Award.
Cy Young: Clayton Kershaw, LHP (Dodgers)
Until he retires, or gets injured, Clayton Kershaw is going to win this award and it is not even close. There is not a single pitcher in the game today that has better stuff than Kershaw. It is scary how good the guy is and what he can do with a baseball, every year, consistently.
Most Valuable Player: Paul Goldschmidt, 1B (D'Backs)
As of now, the MVP of the NL belongs to Paul Golodschmidt, the hot hitting first baseman for the Arizona Diamondbacks. He does everything for his team, and has them competing at the top of the league standings. However that can change just as quickly being there are maybe three or four other guys that could win this award with a few more great games.