2017 MLB Preview : National League
Arguably, the two best teams in all of baseball last season hailed from the National League. The Chicago Cubs finished with a league high 103 wins, destroying the NL Central division by clearing the second place St.Louis Cardinals by 17.5 games, while the Washington Nationals ended up with a 95-67 record and an easy division title, winning theirs by 8 games. The two teams collided in the NLCS for an historic series that will be talked about for years to come.
Only problem is, that last part never happened. You see, the Nationals started the 2016 season with one hell of a pitching rotation and a stacked lineup that many said could put the Nationals into the World Series. But even after quietly posting an amazing season, none of that matters if you cannot perform in the playoffs. Because of the Chicago Cubs dominance, no one noticed what the Nationals were doing, in second place, in the NL all season. They struggled in June and fell to third with a 43-32 record but even that was still two games better than the New York Mets. The Nationals were up 2-1 games in the NLDS and ripped Clayton Kershaw for 5 runs in Game 4 but still failed to close and ended up falling apart and watching their season take a turn for the worse.
Besides the two Kings of the NL, there were some other amazing stories of players coming from virtually nowhere into the National spotlight. Trevor Story, in Colorado, exploded for 7 Home Runs in the Rockies first six games last year and has now become a household name and starting Shortstop. Another player no one knew about was Adam Duvall, who surprised many folks when he tore up the Reds lineup, blasting 33 Home Runs last season and making the All-Star team.
Even the younger, future stars of the NL started to emerge as great players. Corey Seager, Yasmany Tomas, Trea Turner, Alex Bregman, Cesar Hernandez, Kenta Maeda, and tons of other young and fresh faces proved their value much sooner than expected.
Overall, the NL had one of their better overall seasons last year, culminating in the Chicago Cubs winning the World Series and lifting the curse that has plagued them since 1908. What can they do for an encore? Let's jump right into our predictions for the upcoming 2017 season.
NL East
1. Washington Nationals (94-68)
Head Coach: Dusty Baker
2016 Record: 95-67
2017 Team MVP: Bryce Harper, OF
2017 Cy Young Candidate: Max Scherzer
Projected Rotation:
Max Scherzer
Stephen Strasburg
Tanner Roark
Gio Gonzalez
Joe Ross
Projected Starting Lineup:
Adam Eaton, OF
Trea Turner, SS
Daniel Murphy, 2B
Bryce Harper, OF
Anthony Rendon, 3B
Jayson Werth, OF
Ryan Zimmerman, 1B
Matt Wieters, C
2. New York Mets (89-73)
Head Coach: Terry Collins
2016 Record: 87-75
2017 Team MVP: Yoenis Cespedes, OF
2017 Cy Young Candidate: Noah Syndergaard
Projected Rotation:
Noah Syndergaard
Jacob deGrom
Steven Matz
Matt Harvey
Robert Gsellman
Projected Starting Lineup:
Jose Reyes, 3B
Curtis Granderson, OF
Yoenis Cespedes, OF
Jay Bruce, OF
Neil Walker, 2B
Asdrubal Cabrera, SS
Lucas Duda, 1B
Travis dArnaud, C
3. Miami Marlins (76-86)
Head Coach: Don Mattingly
2016 Record: 79-82
2017 Team MVP: Giancarlo Stanton, OF
2017 Cy Young Candidate: Edinson Volquez
Projected Rotation:
Wei-Yin Chen
Edinson Volquez
Tom Koehler
Dan Straily
Adam Conley
Projected Starting Lineup:
Dee Gordon, 2B
Martin Prado, 3B
Christian Yelich, OF
Giancarlo Stanton, OF
Marcell Ozuna, OF
Justin Bour, 1B
J.T. Realmuto, C
Adeiny Hechavarria, SS
4. Atlanta Braves (75-87)
Head Coach: Brian Snitker
2016 Record: 68-93
2017 Team MVP: Freddie Freeman, 1B
2017 Cy Young Candidate: Julio Teheran
Projected Rotation:
Julio Teheran
Bartolo Colon
Jaime Garcia
Mike Foltynewicz
R.A. Dickey
Projected Starting Lineup:
Ender Inciarte, OF
Adonis Garcia, 3B
Freddie Freeman, 1B
Matt Kemp, OF
Brandon Phillips, 2B
Nick Markakis, OF
Dansby Swanson, SS
Tyler Flowers, C
5. Philadelphia Phillies (71-91)
Head Coach: Pete Mackanin
2016 Record: 71-91
2017 Team MVP: Odubel Herrera, OF
2017 Cy Young Candidate: Aaron Nola
Projected Rotation:
Aaron Nola
Jerad Eickhoff
Jeremy Hellickson
Vincent Velasquez
Clay Buchholz
Projected Starting Lineup:
Cesar Hernandez, 2B
Howie Kendrick, OF
Odubel, Herrera, OF
Maikel Franco, 3B
Tommy Joseph, 1B
Michael Saunders, OF
Freddy Galvis, SS
Cameron Rupp, C
NL Central
1. Chicago Cubs (101-60)
Head Coach: Joe Maddon
2016 Record: 103-58
2017 Team MVP: Kris Bryant, 3B
2017 Cy Young Candidate: Jake Arrieta
Projected Rotation:
Jon Lester
Jake Arrieta
Kyle Hendricks
John Lackey
Mike Montgomery
Projected Starting Lineup:
Kyle Schwarber, OF
Kris Bryant, 3B
Anthony Rizzo, 1B
Ben Zobrist, 2B
Addison Russell, SS
Willson Contreras, C
Jason Heyward, OF
Javier Baez, 2B
2. St.Louis Cardinals (85-77)
Head Coach: Mike Matheny
2016 Record: 86-76
2017 Team MVP: Stephen Piscotty, OF
2017 Cy Young Candidate: Carlos Martinez
Projected Rotation:
Carlos Martinez
Mike Leake
Adam Wainwright
Michael Wacha
Lance Lynn
Projected Starting Lineup:
Dexter Fowler, OF
Aledmys Diaz, SS
Matt Carpenter, 1B
Stephen Piscotty, OF
Yadier Molina, C
Jhonny Peralta, 3B
Randal Grichuk, OF
Kolten Wong, 2B
3. Pittsburgh Pirates (81-81)
Head Coach: Clint Hurdle
2016 Record: 78-83
2017 Team MVP: Andrew McCutchen, OF
2017 Cy Young Candidate: Gerrit Cole
Projected Rotation:
Gerrit Cole
Jameson Taillon
Ivan Nova
Juan Nicasio
Drew Hutchison
Projected Starting Lineup:
Josh Harrison, 2B
Josh Bell, 1B
Andrew McCutchen, OF
Starling Marte, OF
Gregory Polanco, OF
Jung-ho Kang, 3B
Francisco Cervelli, C
Jordy Mercer, SS
4. Milwaukee Brewers (73-89)
Head Coach: Craig Counsell
2016 Record: 73-89
2017 Team MVP: Ryan Braun, OF
2017 Cy Young Candidate: Junior Guerra
Projected Rotation:
Matt Garza
Junior Guerra
Zach Davies
Chase Anderson
Wily Peralta
Projected Starting Lineup:
Jonathan Villar, 2B
Keon Broxton, OF
Ryan Braun, OF
Eric Thames, 1B
Domingo Santana, OF
Travis Shaw, 3B
Orlando Arcia, SS
Jett Bandy, C
5. Cincinnati Reds (65-97)
Head Coach: Bryan Price
2016 Record: 68-94
2017 Team MVP: Joey Votto, 1B
2017 Cy Young Candidate: Anthony DeSclafani
Projected Rotation:
Anthony DeSclafani
Brandon Finnegan
Robert Stephenson
Tim Adleman
Scott Feldman
Projected Starting Lineup:
Billy Hamilton, OF
Zack Cozart, SS
Joey Votto, 1B
Adam Duvall, OF
Scott Schebler, OF
Eugenio Suarez, 3B
Devin Mesoraco, C
Jose Peraza, 2B
NL West
1. Los Angeles Dodgers (92-70)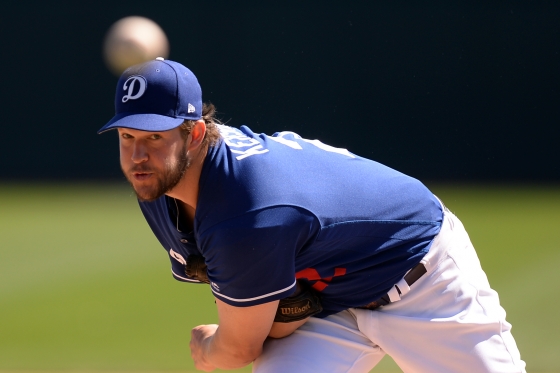 Head Coach: Dave Roberts
2016 Record: 91-71
2017 Team MVP: Corey Seager, SS
2017 Cy Young Candidate: Clayton Kershaw
Projected Rotation:
Clayton Kershaw
Kenta Maeda
Rich Hill
Julio Urias
Scott Kazmir
Projected Starting Lineup:
Logan Forsythe, 2B
Corey Seager, SS
Justin Turner, 3B
Adrian Gonzalez, 1B
Yasmani Grandal, C
Yasiel Puig, OF
Joc Pederson, OF
Andrew Toles, OF
2. San Francisco Giants (90-72)
Head Coach: Bruce Bochy
2016 Record: 87-75
2017 Team MVP: Buster Posey, C
2017 Cy Young Candidate: Madison Bumgarner
Projected Rotation:
Madison Bumgarner
Johnny Cueto
Jeff Samardzija
Matt Moore
Matt Cain
Projected Starting Lineup:
Denard Span, OF
Brandon Belt, 1B
Buster Posey, C
Hunter Pence, OF
Brandon Crawford, SS
Eduardo Nunez, 3B
Joe Panik, 2B
Jarrett Parker, OF
3. Colorado Rockies (83-79)
Head Coach: Bud Black
2016 Record: 75-87
2017 Team MVP: Nolan Arenado, 3B
2017 Cy Young Candidate: Tyler Chatwood
Projected Rotation:
Jon Gray
Chad Bettis
Tyler Chatwood
Tyler Anderson
Jeff Hoffman
Projected Starting Lineup:
Charlie Blackmon, OF
DJ LeMahieu, 2B
Nolan Arenado, 3B
Carlos Gonzalez, 1B
Ian Desmond, OF
Trevor Story, SS
David Dahl, OF
Tony Wolters, C
4. Arizona Diamondbacks (75-87)
Head Coach: Torey Lovullo
2016 Record: 69-93
2017 Team MVP: Paul Goldschmidt, 1B
2017 Cy Young Candidate: Zack Greinke
Projected Rotation:
Zack Greinke
Robbie Ray
Taijuan Walker
Archie Bradley
Shelby Miller
Projected Starting Lineup:
Ketel Marte, SS
A.J. Pollock, OF
Paul Goldschmidt, 1B
David Peralta, OF
Yasmany Tomas, OF
Jake Lamb, 3B
Chris Iannetta, C
Chris Owings, 2B
5. San Diego Padres (63-99)
Head Coach: Andy Green
2016 Record: 68-94
2017 Team MVP: Wil Myers, 1B
2017 Cy Young Candidate: Trevo Cahill
Projected Rotation:
Jhoulys Chacin
Clayton Richard
Trevor Cahill
Christian Friedrich
Jered Weaver
Projected Starting Lineup:
Travis Jankowski, OF
Manuel Margot, OF
Wil Myers, 1B
Yangervis Solarte, 3B
Hunter Renfroe, OF
Ryan Schimpf, 2B
Austin Hedges, C
Luis Sardinas, SS