2017 Ram 1500 Night : Review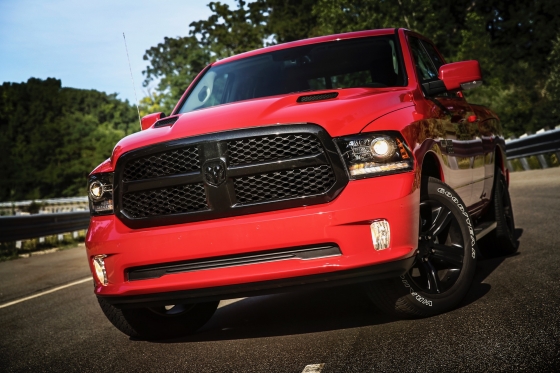 Our week in a 2017 Ram 1500 Night had us loving the HEMI V8 almost as much as we loved the surprisingly nimble handling of the still very capable, very full-size truck. Not to be confused with Ford's "Nite" package from the 1990s, the Ram 1500 Night Package takes the attitude of the already attitude-heavy Ram 1500 up a few notches with blacked-out trim and badging, dual exhaust, and 20-inch black aluminum wheels for an MSRP of just $395. Our truck also had the available Sport Performance Hood, which added $775 and gave it an extra dose of mean looks. To be blunt, it had the looks and the go-fast goods to back them up. The Ram 1500 Night is a street-oriented muscle truck.
Exterior
Our Ram 1500 Night Package test truck was a Star Wars Stormtrooper of sorts, with its Bright White Clear Coat exterior paint playing perfectly against the glossy and flat-black trim pieces and wheels. Truck guys who took a close look at it seemed to appreciate the way it toed the line between aggressive design cues and understatement — no flashy paint, no blingy rims, no nonsense.
Ram's truck design remains one of the most attractive in the full-size segment despite being among the oldest. Its grille and headlights almost leer at the traffic ahead. If you dress the Ram 1500 up in chrome and two-tone paint this almost-angry design tones down a bit, but the blacked-out grille of our Ram 1500 Night made the truck look meaner than ever.
Our tester was a crew cab, two-wheel drive model, but Ram says the Night Package is available in regular-cab and quad-cab models as well. Ours came outfitted with Ram Box storage in the bedsides. In practice, it narrows the bed the same as an old "stepside" would, as the Ram Box actually sits over the wheel wells. It makes the bed rails a lot thicker than they would be otherwise. From ground-level it's not so noticeable — mostly because the bedsides sit so high on all full-size trucks nowadays.
The best thing about Ram Box: It's cavernous. We hauled a week's worth of groceries in there. Also notable: There are drain plugs in the bottom of the Ram Box storage areas in case you want to put some drinks on ice for tailgating or maybe create a live well to haul home your catch after a day of fishing.
The tailgate had huge "RAM" lettering stamped on it, painted flat black — the one design element that won an equal amount of praise and jeers from those who gave the truck a good look. The tailgate had a neat little swoop at the top, kind of an integrated spoiler. Interestingly, the tailgate was not equipped with an assist spring for a soft-open experience. Let go of this tailgate, and it'll fall open with a thud.
Interior
Inside, the Ram 1500 Night was comfortable and roomy. Black cloth seats were supportive, with heating elements in the front seats for those cold mornings. The back bench seat was plenty roomy for kids in car seats, or you could fold the seat cushion up out of the way and extend a panel to make for a level load floor.
The steering wheel was leather-wrapped and sporty, with every infotainment and cruise control option falling at our fingertips. The rotary shift knob on the dash made more room for storage in the wide center console. The shifter was easy to use, even if some of our passengers said they didn't think they would like it.
Line-of-sight visibility was excellent from the high perch of the driver's seat. Blind spot monitors helped make sure we didn't merge onto any unsuspecting traffic, though the big external mirrors did a great job providing a view of what was behind us once properly adjusted.
Ram's Uconnect infotainment screen was the crown jewel of the dashboard. Measuring a healthy 8.4 inches diagonal, the screen and its associated array of buttons was as easy to use as any Uconnect system we've experienced. It pumped audio into an Alpine nine-speaker array with subwoofer — a worthy option, we'd say. The one shortcoming, as with most Uconnect systems we've tested lately: There was no Android Auto or Apple CarPlay integration.
The gauge cluster proved easy to read and contained a TFT screen in its center portion, where we could get a full breakdown of vehicle stats such as fuel mileage (we averaged 18.4 MPG over 403 miles, by the way), tire pressures, transmission temperature, and more.
Performance
The Ram 1500 is just about the best driver of the half-ton class of pickups, thanks in no small part to its multilink coil-spring suspension at the rear axle. Some truck purists derided Ram's decision to go to coil springs when the switch was made a few years ago, but the payoff is sweet handling.
In curves and bumpy pavement, the Ram 1500 Night experienced little to no axle hop that sometimes plagues leaf-sprung trucks. Rolling on the power seemed a lot more seamless than in other trucks, probably because the coil-spring suspension does a better job of handling weight transfer. We took the truck up a notoriously curvy, hill-rich route and actually enjoyed chucking the big Ram around the bends.
Ram outfitted our test truck with a short 3.92 rear axle ratio, which made it eager on the throttle and was perfectly suited to the kind of curves and hills we experienced in rural East Tennessee. The eight-speed automatic transmission also gets a nod for its ability to keep the optional 5.7-liter HEMI V8 on the boil. Combined, the optional rear axle ratio and the eight-speed transmission are well worth it if you've got the HEMI and you want the full muscle-truck experience. It's also probably worth considering the monster 32-gallon fuel tank, though, since our brand of backroad hoonery with the HEMI and the short gearing will suck down fuel pretty quickly.
Having said that, the HEMI is equipped with Ram's MDS cylinder shutdown system, which will operate the engine on four cylinders under light loads. On straighter highways with fewer hills, it was not uncommon to see the Ram 1500 Night's instantaneous fuel economy monitor showing numbers in the mid-20s up to about 30 miles per gallon. If you can keep your foot out of the gas, you might — might — earn yourself a highway fuel economy score just a little better than 20 miles per gallon. The EPA highway rating for our particular Ram 1500 driveline configuration was 22 miles per gallon.
Just a couple of weeks removed from our test of the Ram 1500 Night Package, we had a chance to drive the all-new Nissan Titan with the newly massaged 5.7-liter gasoline V8. In every way, the Ram was more satisfying to drive than the Titan. Though the two trucks were not far apart in size, the Ram drove much smaller than the Titan, which by comparison felt like driving the ill-fated and similarly named transatlantic cruise liner of the early 20th century.
Value
If you believe the sticker prices, full-size trucks are mostly the vehicle of choice for a couple of kinds of people:
Those who can afford to luxuriate on a relatively expensive, gas-thirsty mode of daily transport, or
Those who have a legitimate business need for a truck that can haul and tow heavy loads.
Our 2017 Ram 1500 Night was based on a Ram 1500 Sport Crew Cab 4×2 that carried a base price of $40,395. Then Ram added a slew of options — which, to be honest, were reasonably priced:
Night Edition Package 26Q – $395
Convenience Group featuring automatic high beam headlight control, keyless entry and ignition, and rain-sensitive windshield wipers – $545
Nine-speaker Alpine premium audio system with subwoofer – $345
Tri-fold tonneau cover – $545
Eight-speed automatic 8HP70 transmission – $500
3.92 rear axle ratio – $95
Anti-spin rear differential – $435
5.7-liter HEMI V8 – $1,250
Sport performance hood – $775
32-gallon fuel tank – $355
Uconnect 8.4-inch touchscreen infotainment system with navigation and SirusXM satellite radio – $700
ParkSense rear park assist system – $445
Ram Box cargo management system featuring four adjustable tie-down hooks in the bed and a bed cargo divider/extender – $1,295
Trailer brake controller – $295
Locking lug nuts – $60
Spray-in bedliner – $495
Combined with a hefty destination charge of $1,320, our 2017 Ram 1500 Night carried an MSRP of $50,245.
Now, we all know trucks are among the most heavily discounted new vehicles on the market. For example, a nearby Ram dealer had four Ram 1500 Sport models in its inventory with MSRPs between $52,000 and $55,000, but all of them were marked down to between $40,000 and $42,000. You're unlikely to do any better cross-shopping the Ram's competitors.
The thing we also kept in mind during our drive was how this amount of money would buy us one of the "big three" American muscle cars — Mustang, Challenger, or Camaro — with a similarly throaty V8 and similar fuel economy but a slightly better driving experience in the twisties. However, none of those would haul home a ton of mulch or tow our boats to the lake. All driving enthusiasts have their priorities.
Overview
No matter the price, the Ram 1500 Night Package packs a lot of useful features into a tough-looking, tough-performing truck. We enjoyed its willing engine and sporty handling, loved its rumbly HEMI V8 exhaust note, and were sad to see it go back to the Ram press fleet at the conclusion of our test week.
If we were in the market for a pickup truck that provided a great balance of driving fun with hauling capability, the Ram 1500 Night would be at the top of our shopping list.