2017 Subaru Impreza : Review
For 2017, Subaru has totally revamped the Impreza, the company's entry-level car. Normally, the Impreza would just be another bullet point in our long list of new vehicles coming for the next model year, but the Impreza is important to Subaru because its underpinnings are what most other Subaru vehicles are based upon. Plus, well, the launch event was held in La Jolla, California. Who turns down a trip to the beach in December? Not us.
The 2017 Subaru Impreza is not so entry-level anymore. At least once you get past the surprisingly low price tag, that is. The Impreza sells for under $20,000, with the base model at just about $19,000 with delivery and the top-end model at about $24,000. Yet the 2017 Impreza is much more upscale than those price points might suggest.
Subaru did more than an interior makeover on the Impreza, though. The 2017 model has been completely revamped from prow to stern and even sees a few changes to sweeten the already-excellent 2.0-liter boxer engine that powers it. We didn't get a lot of time behind the wheel of the 2017 Subaru Impreza, but we did get enough to be impressed with it. In between kayaking, visiting a Dr. Seuss art gallery, and eating sushi and tacos, we got some around town, freeway, and twisty road time in the car. We even drove it on dirt for a bit.
Exterior
The 2017 Impreza has a new exterior that plays forward with the outgoing generation's swoopy style. The new Impreza is shorter and wider than the previous, which gives it a more aggressive stance and returns some very road-grabbing handling. The swoops on the front fenders and the strong lines across the body all look sportier than what was there before.
The sedan model looks really good this way, but the hatchback is much more appealing with this new look thanks to those sportier lines. We're big fans of an aggressive wagon style and this one really looks good.
Interior
We mentioned some interior changes and are very happy with them. Materials quality is much better with soft-touch and more upscale textures found throughout the cabin. The dashboard has been lifted a bit and pushed back, giving more legroom. The car is now four inches longer and that translates directly into more rear seat room. Full-grown adults can now sit back there. Even six-footers. With room to spare.
Cargo is about the same as the outgoing Impreza, which is very good. The 2017 has enough space to house enough corn to keep a theater in operation on a busy night. That's what Dominick Infante of Subaru told us, anyway, as he showed off the blocks of corn molded to match the cargo space of the sedan and hatchback.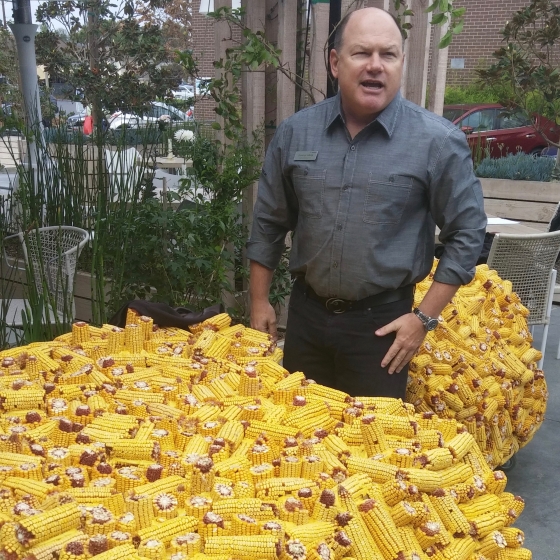 The corn points to something else as well. The 2017 model year will be the first Impreza to be made in the United States and will inaugurate the newly-upgraded facilities in corn-growing Indiana. That plant is not only zero-landfill, as are all Subaru plants, but has also been designated a backyard wildlife habitat by the National Wildlife Foundation – the only automotive production plant to receive that accolade.
Performance
Underneath the 2017 Impreza is a new Subaru Global Platform that will soon proliferate to most other Subaru models. This platform is, as we've said, longer, lower, and more aggressive. It's also stiffer and more robust, with a lighter weight build and smarter use of space. It's been engineered to not only carry the Impreza and related models forward, but it's also made to accommodate future additions such as an upcoming hybrid model (we're guessing another Crosstrek Hybrid) and potentially more plug-in or hybrid options beyond that.
The 2.0-liter four-cylinder opposed piston engine (aka BOXER) under the Impreza's hood has been revised to improve economy and power delivery. Direct fuel injection and better timing enhancements have resulted in 32 mpg combined on most 2017 Impreza models. Output for the engine is 152 horsepower and 148 pound-feet of torque with the sweet spot in the power band being around 5,000 RPM. A newly-programmed continuously variable transmission (CVT) connects to all four wheels via Subaru's all-wheel drive system. We noted that the transmission is a lot more sporty in its delivery, taking less time to ramp up the rpm to gain speed when the throttle is pressed.
On the road, the 2017 Subaru Impreza, during our short time with it, was not very fast off the line, but really did well at speed, especially on the highway. It corners wonderfully and has aggressive braking as well, making it much more fun to drive. So if off-line performance isn't extremely important to you, this car has hit a sweet spot.
Off the pavement, in the dirt and gravel, the 2017 Impreza does as every Subaru should. It acts like the loose footing is no big deal and flies through without fuss.
Safety
Subaru is now pushing safety, having been understated in their high safety achievements of the past. The Impreza, their entry-level compact, is now eligible and has received the Insurance Institute for Highway Safety's Top Safety Pick Plus rating, almost unheard of in the compact segments. The Impreza has a full array of safety options, including Subaru's EyeSight system for adaptive cruise control and crash mitigation.
We tested the EyeSight system against an inflatable Subaru Outback and the car stopped on a dime, leaving about two feet of space between its bumper and the balloon. That's from about 45 mph with the gas pedal still shoved to the floor, mind you. Impressive.
Overview
In all, our weekend in La Jolla, California with the 2017 Subaru Impreza was tons of fun. We spent time on a beach, ate some fish, watched the sunrise, drove a great car, and saw cool new things. It was an amazing trip and a great introduction to Subaru's newest generation of the Impreza.