2018 Buick Regal Sportback : Review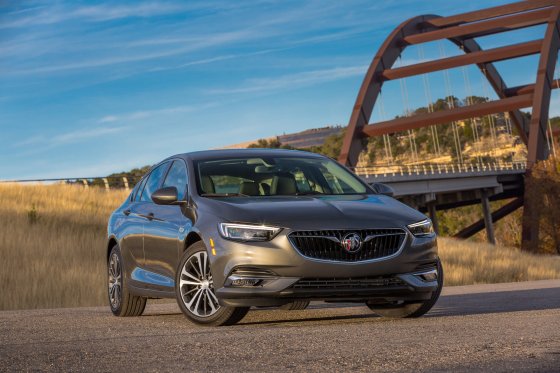 By now you're likely familiar with the new face of Buick, thanks to the "That's a Buick?" ad campaign that has been running extensively since 2014. However you may not have known that Buick has been named Kelley Blue Book's Best Value Luxury Brand four years in a row. Buick's comeback story has largely been about the success of their crossovers (Enclave, Encore, Envision) which are their top-selling models by far in the United States. With three new 2018 Buick Regal offerings, they hope to extend that success to their car line-up in the future. First to hit the market in 2018 is the Regal Sportback.
"The new Regal Sportback was developed with today's active, independent, premium car customer in mind," said Duncan Aldred, vice president, Global Buick and GMC. "They have an SUV in the garage and are looking to complement it with a sport sedan, but have an appreciation for the usefulness of a versatile cargo space when an occasional need arises."
Buick has embraced the recent trend of offering a sport sedan with a hatchback, and invited us out to Austin, Texas to be among the first to drive the new model. Above are a few photos from our day behind the wheel, but we will make extensive use of Press-Kit photos in our review to follow.
Exterior
The most noticeable exterior characteristic of the new Buick Regal Sportback is the sleek coupe-like roofline. The new design also offers an improved lower stance when compared to the outgoing model, and the wheels have been pushed out farther to the corners. The result is a Regal that is more sporty than the outgoing model, but one that is still relatively conservative compared to some competitors. The sharp-looking front styling includes the latest Buick grille design, LED signature lighting, and available advanced LED headlamps with auto-leveling technology. Wheel options vary with trim but the 18″ machine-faced aluminum wheels with painted pockets are pictured here.
Gone is the old sedan style trunk, in favor of the massive hatchback, cleverly branded a Sportback. It enables a smaller rear deck-lid and has massive payoffs in regards to interior cargo space. While the word "Sportback" is in the official name, it's oddly absent from the vehicle badging, as is any designation for AWD.
Interior
The 2018 Buick Regal Sportback's cabin takes a driver focused approach, with the center stack skewed towards the driver for a cockpit like feel. The available 8-way power driver seat can also be leather appointed with contrasting stitching. The cabin is spacious and comfortable, and there is plenty of storage available for both driver and passenger. While premium materials are used throughout the cabin, we were left a bit underwhelmed by the interior in the Buick Regal when compared to some of its luxury competitors. We found the interior pleasant, but nothing grabbed our attention to really excite us.
A 7-inch infotainment system with Apple CarPlay and Android Auto compatibility is standard, but our tester included the 8-inch screen with embedded navigation. Standard features also include push-button start and entry, hill start assist, 10 air bags, universal home remote, and heated side mirrors.
The biggest improvement to the interior of the new Regal comes from the Sportback design. Cargo space in the rear is an impressive 31.5 cubic feet, more than twice as much as the outgoing 2017 Regal. However the real magic happens when you lower all three rear seats, and cargo space reaches 60.7 cubic feet behind the first row.
Performance
The Regal Sportback features a 2.0-liter turbocharged four-cylinder engine which produces 250 horsepower and 260 lb-ft of torque. The engine comes standard with advanced start/stop technology to help preserve fuel economy, which is rated at 24 combined MPG on the AWD model. Front-wheel drive models feature a 9-speed automatic transmission while an 8-speed automatic is used with the optional intelligent AWD with an active twin-clutch differential. Compared to a normal AWD system, the impressive twin-clutch system can provide torque to either rear wheel, giving drivers more confidence and helping them feel more connected to the road in all driving conditions.
We drove both models and found them to be responsive, capable, and even a bit fun to drive. While the power produced from the 2.0-liter turbo was plenty adequate for most buyers, performance oriented drivers will probably want to look to the Regal GS to satisfy their need for excitement.
Buick prides itself on providing a quiet ride with their Signature Buick QuietTuning. With the new Regal they take it to the next level with some special tires from Continental. ContiSilent™ tires are equipped with an inner tire noise absorber, a polyurethane foam, attached to the inner surface of the tread area with an adhesive. The result is a remarkably quiet ride which is enhanced even further with standard active noise cancellation on all AWD models.
Overview
We had a great time getting acquainted with the new Buick Regal Sportback in Austin, Texas, and our visit was highlighted by a hike to the amazing dripping springs at the Hamilton Pool Preserve. The natural pool was created when the dome of an underground river collapsed due to massive erosion thousands of years ago.
The Hamilton Pool was opened to public recreational use around the same time that Buick was making its first automobiles. The oldest existing automobile brand in America began manufacturing the original Regal in 1973. Forty-Five years later, the 2018 Buick Regal Sportback is hoping to find new customers with a design suited for modern lifestyles. Pricing for the new model begins at $24,990,which is $2,000 below the outgoing model, and leads us to believe that Buick is aiming for the increasingly crowded middle ground between mass-market and luxury cars. They're offering trims that can compete in both markets simultaneously, with a fully loaded Regal Sportback costing nearly $40,000.
Overall we found the Buick Regal Sportback to be pleasant, confident, and comfortable. While certainly a nice ride, it seemed to be lacking that little extra something which would get us excited about the vehicle. Perhaps that's why Buick is offering two other versions of the Regal; the Regal TourX (wagon) and the Regal GS (performance). Both were on display (below) in Austin at the Sportback launch, and they certainly piqued our interest. We're excited to be heading to Arizona this week for some quality time with the more adventurous TourX and will bring you much more about that vehicle in a future review.
Our drive partner for this Buick adventure was Sofyan Bey of Redline Reviews, and we enjoyed helping him film the waterfront introduction to his full video review that you can watch below :