2018 Chevrolet Traverse : Review
The all-new 2018 Chevrolet Traverse is looking a lot more like its truck-based SUV cousins in the Chevy lineup nowadays, but make no mistake: It still offers an interior that is just about the most practically sized in its segment, with almost none of the compromises you'll find in a comparably sized SUV that happens to be built on a truck frame.
We spent a week with the new Traverse and found it offered a good balance between the rugged good looks of the larger SUVs in Chevy's lineup and the efficiency and practicality of more car-like crossovers. It's the new-age station wagon. We say that not to criticize the Traverse, but to praise it. Thirty years ago, a family man who had kids to haul as well as a trailer to tow might have bought a beefy station wagon with a towing package because it would do both jobs — family bus and weekend workhorse — better than pickup trucks or SUVs of the day.
For those of us who consider ourselves pragmatists, the modern-day midsize, three-row crossover SUV may serve the same purpose. The only difference is the Traverse is trying to look more like a traditional SUV in this latest generation, while those wagons of old just looked like stretched-out cars — and many of them were just stretched-out cars, albeit perhaps with some heavy-duty suspension underneath to account for the extra weight they were intended to haul.
Design Notes
The 2018 Chevrolet Traverse moved down one size-class in EPA measurements, going from a "full-size" to a "midsize" crossover. That's not to say the vehicle is smaller, per se. Chevrolet says it gained two inches in wheelbase, from 118.9 inches on the previous generation to 120.9 for 2018. It also gained a little over half an inch in overall length, and almost an inch in height.
We say all that to say this: In terms of passenger accommodations, where you'll spend most of your time and where the Traverse made a lot of fans in previous generations, this Bowtie-wearing crossover is still as cavernous and practical as ever.
Front seat occupants lost three-tenths of an inch of legroom, going from 41.3 inches to 41. But second-row occupants gained 2.2 inches of legroom (from 36.8 to 39 inches), and third-row occupants gained that three-tenths of an inch Chevy took from the front seats, going from 33.2 to 33.5 inches. Those second-row seats can slide forward to make slightly more third-row room if needed.
So why did Traverse move down from an EPA "full-size" to an EPA "midsize" crossover, then? Well, despite its cargo space coming in near the top of the midsize segment, it's definitely got less room for hauling non-human cargo than the previous-generation Traverse. There's 23 cubic feet of cargo space behind the third row (down from 24.4 cubic feet in the previous generation), 58.1 cubic feet behind the second row (down from 70.3), and 98.2 cubic feet of cargo space if both second and third rows are folded (down from 116.3).
Despite that shrinkage in cargo volume, the Traverse actually gained passenger volume, according to EPA measurements. The 2018 model has 157.3 cubic feet of passenger room, while the previous-generation Traverse had 150.8 cubic feet. Chevrolet made people-space its priority. We think that's a wise decision.
The interior is designed attractively, with a futuristic dashboard. Our 3LT-trim tester had leather seats that were both pretty to look at and comfortable to sit on. Leather and stitching also lined that dashboard and plenty of the frequently touched areas on the door skins.
Front-and-center was the eight-inch Chevy MyLink infotainment touchscreen. Controls were simple to manipulate while driving. The driver's dead pedal was plenty large enough for an American size 12. Ergonomically, it was hard to find fault with the design of the 2018 Traverse.
On the outside, the Traverse is trying to look a lot more like the bigger — and thirstier — Tahoe and Suburban. That's either good or bad, depending on your outlook. While the new exterior got a few unsolicited positive compliments from friends and family members who saw the Traverse during our week-long test, it also seemed less distinctive than the previous Traverse design.
Chevy has been good at designing its vehicles to have a common family resemblance in the last decade or so, and that's what they have done with the new exterior design of the Traverse. There are some angles where it reminded us of the last Tahoe we drove. However, there were other angles where it reminded us of some of its competition — for instance, its wraparound headlights and taillights combined with its forward-canted C pillar made it look a little bit like a late-model Ford Explorer when we first glanced it in traffic.
Taken as a whole, the design is both more cohesive with Chevrolet's SUV design trends of the last few years and, as a byproduct, slightly more anonymous than the previous Traverse.
Drive Notes
The Chevy Traverse is large, and to a point, it drives large — but not as large as the Tahoe it apes. With a turning circle of 39 feet, parking maneuvers may require a little more thought than a common midsize sedan would require. Thankfully, there are parking sensors and an excellent parking camera with rear trajectory.
At speed, the 2018 Chevrolet Traverse is quiet. Combined with the comfortable driver's seat, we could see how this big SUV would make a fine companion for piling on hundreds of miles for a family road trip. But we also appreciated the hushed interior in everyday driving, where the quiet environs of the Traverse offered welcome respite from hectic days.
One thing we would have liked: More steering feel. Numb steering is par for the course in this segment, but it makes the Traverse and most of its competitors a bit of a chore to drive on twisty roads. It handles well, but it's hard to feel anything in the steering when hustling down a country two-lane. If Chevy could add positive road feedback in the steering, the Traverse might stand head and shoulders above the competition.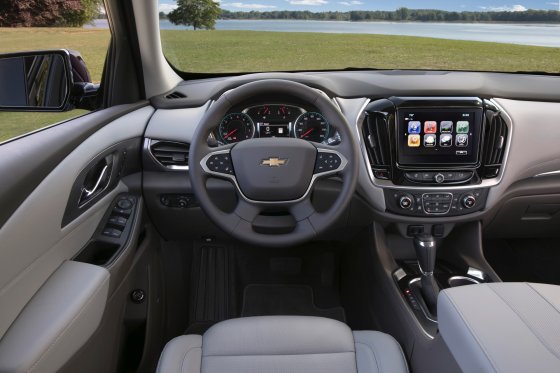 We say that because, other than the steering, we generally found the new Traverse to have one of the best chassis tunings in the segment. Chevy did a good job stiffening up the structure, which made the Traverse feel planted in curves and no doubt added to the quietude of the cabin. The doors shut with reassuring solidity. But it combined that solid, planted feeling with a soft ride. This is notable because many vehicles merely stiffen up their suspension settings in an effort to feel more sporty in the curves — and they beat you up a little bit on bumpy roads, as a result. No such complaint with the 2018 Traverse, which handled bumpy roads with ease and smoothness befitting a luxury brand.
The Traverse lost some weight for 2018 — 351 lbs in front-wheel drive trim, like our tester. That combined with the strong 3.6-liter V6 and nine-speed automatic transmission under the hood made our Traverse sprightly around town, for such a big vehicle.
The V6, for the record, has been massaged to make 310 horsepower at 6,800 RPM and 266 lb-ft of torque at just 2,800 RPM. That's a low torque peak for a naturally aspirated engine, and it works well in the Traverse, getting the Traverse into the meat of its available power without much of a wait. Prod the accelerator, and the Traverse is willing to giddyup.
Chevrolet offers a 2.0-liter four-cylinder engine on the base model of the Traverse, but we think it's mostly an effort to get the starting price below $30,000. That makes for a nice advertisement number, but the engine doesn't necessarily result in better fuel economy. The smaller engine is only available with front-wheel drive, and it actually gets one less MPG on the highway (26) than our tester (27), according to EPA test results.
In real life use, the V6 proved quite fuel-efficient. We were seeing 24 MPG in mixed driving until the end of the week, when we allowed the Traverse to idle for our photo shoot. That dropped our end-of-week average to 21 MPG. We drove the Traverse 157 miles.
Living with the Traverse was easy in our rural test area. We loved the space for kids in the back, plenty of cargo space (particularly with the third-row seats stowed away) and lots of storage for our things. For instance, there's a cubby under the cargo load floor in the way-back that was big enough to stash a laptop bag, a purse, and several other items. And if we had needed to tow, the Traverse would have been up to the job. The 5,000-lb. towing capacity would be plenty to get a personal watercraft to the lake or a couple of ATVs to the trail.
Also, mark us down as fans of Chevy's integration of Android Auto in the Traverse. In our week of testing, we had no difficulty syncing our phones to the system and utilizing our favorite apps for playing music, navigating unfamiliar roads, or staying in touch with friends and family.
Value Notes
Our 2018 Chevrolet Traverse tester was the 3LT trim package, which is pretty much loaded. There were leather seats. It had the biggest touchscreen infotainment system in the lineup. There was a 10-speaker Bose audio system. It had a full complement of safety features, including blind spot alert. It had heated seats. The list of options was immense. It was hard for us to believe there are Traverses with more options than this — but they do exist, in Premier and High Country trim.
All those options meant our Traverse was not the $30,000 special you might see advertised by your local Chevy dealer. But it was a compelling value at an MSRP of $42,095. It aligns perfectly with most of its competitors, in that regard. Option up a Nissan Pathfinder, Honda Pilot, Ford Explorer, or even the notably smaller Hyundai Santa Fe with the same options as our Traverse tester, and they'll all eclipse $40,000.
The Traverse makes better use of its footprint than those competitors, offering more comfort for passengers and good cargo space when needed. And considering that Chevrolet discounts are somewhat easier to come by than import-model discounts, it may be one of the best values in the segment. And value, we think, is always an important consideration for a practical dad-wagon.