2018 Lexus LS 500 : Review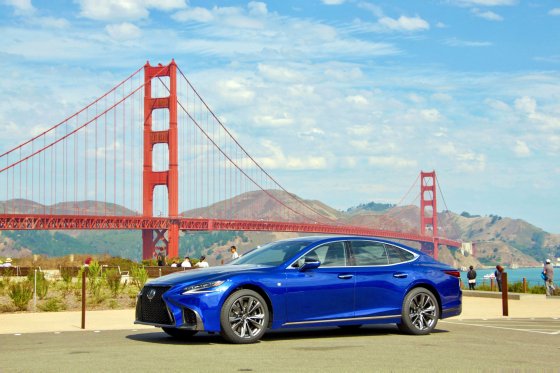 The Lexus LS has been the flagship sedan for the brand since it launched 28 years ago, but the fourth generation model has amazingly spanned 12 of those years. The long-awaited fifth generation is finally here, and it is indeed all-new. The 2018 Lexus LS is built upon the new Global Architecture for Luxury Vehicles (TNGA GA-L) that is also utilized for the fabulous Lexus LC.
"The LS is the flagship of the Lexus brand," said Chief Designer Koichi Suga. "More than any other model, it embodies the history and image of Lexus and serves as a symbol for everything the brand stands for."
It won't be available for purchase in the United States until February, but we recently were invited to drive the new LS 500 in San Francisco and are excited to share it with you.
Our morning test-drive (LS 500 F-Sport) is pictured above in our photos taken in front of the Golden Gate Bridge, however we jumped behind the wheel of all three varieties (500 & 500h) on our trip and will make extensive use of Press-Kit photos in our review to follow.
Exterior
We understand that the Lexus signature spindle grille is polarizing, but we fall firmly on the side of liking it even more the larger it gets. So we were pleased to see that Lexus wasn't shy when it came time to design the front-end of their top-of-the-line model. In fact, on the new LS, the grille is the same size on the base model as it is on the F-Sport, with only the mesh style changing. If there is one thing that everyone can agree on when it comes to the sculpted front-end styling on the LS (and many other Lexus models), it is certainly dynamic and unique. It sets the tone for the entire vehicle, and makes clear that this isn't your Grandmother's Lexus.
The new platform allowed for completely new dimensions on the new LS, which is substantially lower, longer, and wider. The vehicle is a modest 0.6 inches lower, but the lower hood (1.2) and trunk (1.6) really contribute to the new stance. The coupe-like silhouette is certainly head-turning, and it comes thanks to tapered pillars and a fastback roof design.
While there are definite exterior differences that come with the F-Sport package, we found them to be more subtle than other models in the lineup. The spindle grille received tremendous attention to detail on the new LS, and the F-Sport model is even more intricate. The design language on both the front and rear lighting of the LS is composed of stylized L-shapes, that you can see repeated throughout the unique LED lighting. Overall we found the 2018 model to be easily the best-looking LS design in the brand's history.
Interior
While the exterior is sure to turn heads, the interior is where drivers really experience their vehicles, and it is where the Lexus LS shines brightest. It is remarkably beautiful and welcoming. The concept of Japanese hospitality, Omotenashi, is a human-focused approach to taking care of the driver and passengers that inspires Lexus designers.
"I hope that when you open the door you'll experience an immediate, intuitive sense that you're looking at an interior that is unlike any luxury car before," said Chief Designer Suga.
We were immediately struck by the strong horizontal lines on the dashboard which visually widens the entire cabin. While that signature feature is consistent, many other aspects of the interior are highly customizable. The 2018 LS 500 offers a choice of eleven interior color schemes (two specifically for F-Sport) and nine choices for interior trim. Overall we love that concept, it reminded us of designing a kitchen where there are unlimited options for cabinets, counter tops, back-splashes, and appliances. It truly allows the customer to create their own special sanctuary, featuring traditional Japanese aesthetics. Some of the materials available include Naguri-style aluminum, Shimamoku style wood patterns (Organic, Herringbone, Matte),  Kiriko glassware, and Origami-style hand-folded pleats on the door trim.
Generally we're fond of the way these customized elements look in the interior, with the choices obviously being subjective and appealing to different buyers. However the design is far from minimalist, and there were two areas where we thought it went a bit too far. The first is the hard panel floating around the door handles on the doors, which just didn't feel as premium as the materials and surrounding craftsmanship would suggest. We were also confused by the line-art design element located directly above the glovebox, which looks like an after-thought that should have probably been left as negative space.
As you would expect from the flagship model, the LS is loaded with technology. How does a 12.3-inch wide navigation display, and an optional 24-inch color heads up display sound? The highlight for us was the available Mark Levinson QLI Reference Surround Sound System which utilizes 23 speakers in 16 locations throughout the car. It's so good, that we would go sit in the car just to enjoy it, even if we didn't have anywhere to go.
The LS features the next-generation of Remote Touch Interface (RTI), which is a touchpad designed to mimic smart phone operation and supports handwriting input. This system has been frustrating for us in the past, and still doesn't work as well as we would like. However we suspect our concerns would be alleviated with more time to get accustomed to how it operates. Lexus Enform continues to be included, and is complimentary for the first ten years. Apple Car Play and Android Auto are unfortunately still not available on any Toyota or Lexus product.
Performance
You may have heard the big story when Lexus unveiled the new LS earlier this year, they got rid of the V8. Wait, what? A flagship luxury sedan without a V8 engine, what were they thinking? They were thinking that the driver could get more performance from a twin-turbocharged 3.5-liter V6 engine, and get better gas mileage too. It's a trend we've seen in the industry from other manufacturers, and high-end buyers are about to learn that more cylinders doesn't necessarily mean more power anymore. In fact the 2018 LS 500 packs 416 horsepower and 442 lb-ft torque versus the 2017 LS 460 V8's 386 hp and 367 lb-ft of torque. If you absolutely must have a V8 engine, then you'll need to look elsewhere, but smart buyers will appreciate the efficient engineering decision. It's paired with the impressive 10-speed torque converter automatic transmission utilized on the LC 500.
Conventional wisdom would tell us that anyone looking north of $75k for a luxury sedan purchase probably isn't worried too much about gas money. However we know better, as many consumers are worried about fossil-fuel usage, and the environment. Those buyers will appreciate that gas mileage for the 416hp LS 500 is rated at 19/29/23 for RWD and 18/27/21 for AWD. However there is also a new Hybrid (LS 500h) available, which is rated at 25/33/28 for RWD and 23/31/26 for AWD. Horsepower falls to 354, however we found the 500h to be plenty powerful and would likely not disappoint eco-conscious buyers as it performs better than a typical hybrid.
Vehicle dynamics in the new Lexus LS are also improved, largely due to the new wide and low GA-L platform that is the stiffest in Lexus history. There is an entire suite of technologies (and abbreviations) working together to improve the handling and performance : Vehicle Dynamics Integrated Management (VDIM), Traction Control (TRAC), Vehicle Stability Control (VSC), Electric Power Steering (EPS), Variable Gear Ratio Steering (VGRS), Dynamic Rear Steering (DRS), and Adaptive Variable Suspension (AVS).
Lastly, there are even more abbreviations that make up the extensive advanced safety features that Lexus offers in their standard Lexus Safety System+ and optional Lexus Safety System + A. It's way too much detail for this review, but they spent a ton of time talking about it, so we're going to list those systems too in case you want to look any of them up : Pre-Collision System (PCS), All-Speed Dynamic Radar Cruise Control, Lane Trace Assist (LTA), Front Cross Traffic Alert (FCTA), Road Sign Assist (RSA), Intelligent High Beam with Adaptive Front Lighting (AFS), Land Departure Alert (LDA) with Steering Assist), Parking Support Brake (PKSB), and Panoramic View Monitor.
Overview
The 2018 Lexus LS 500 is expected to start at $75,000 and goes on sale in the United States in February 2018. It is longer, lower, wider, yet lighter than the outgoing model. It has fewer cylinders under the hood, yet produces more horsepower and torque. Combined together, this makes the new LS more fun to drive, yet more economical & ecological to operate. At the same time, it's also better looking, both inside and out, and has more technology than ever before. By all objective and subjective measures, it is clearly the best Lexus LS ever made. So it comes as no surprise that the 2018 Lexus LS 500 recently bested the competition at the Washington Automotive Press Association Rally to take home the Luxury Vehicle Award. We definitely agree that Lexus has a winner on their hands, in more ways than one.
We had a great time getting acquainted with the new LS in San Francisco, and loved our surprise visit to Skywalker Ranch. Unfortunately they're pretty tight with photos there, but we managed to sneak a few images off the property that you can see above. We also enjoyed our time driving with Sofyan Bey from Redline Reviews, and you can watch his extensive video review embedded below :