2018 NASCAR Paint Schemes, Ranked
70 years ago, in 1949, the NASCAR Strictly Stock Series debuted, featuring eight races and a total of 33 drivers throughout the season, which ran from June through mid-October. Some of the world-famous tracks from today also debuted during that season. Charlotte, Daytona Beach, Martinsville, and North Wilkesboro were four of the tracks that are still around today. North Wilkesboro ended its NASCAR run in the late 90's.
The vehicles in 1949 were not anywhere close to the modified racing machines that they have now become. Back then, if you drove a 49′ Lincoln, that is literally the vehicle you brought to the track. In fact, the term stock car refers to a vehicle that has not been modified from its original factory condition or configurations. Of course, that would change over time. Drivers would actually drive the race cars to the track since they were legit stock cars.
Over time, stock cars would become more regulated and customized while also adding a ton of safety features like the HANS device, fire suits, and safer safety belts. As far as the safety side of the vehicle, those additions were huge upgrades for NASCAR. But the one of the most noticeable improvements to stock cars through the years is the paint schemes.
Sponsored paint schemes in NASCAR have become such a big part that a driver might have several different paint schemes on their vehicles throughout the season, usually for the bigger races like the Daytona 500 and special events like holidays or anniversaries.
As the 2018 NASCAR season approaches us, we decided to rank every single paint scheme that has been released to the public. If there are any we missed, they were special schemes that were added later on. Enjoy.
69) #2 Brad Keselowski, Wurth
Make: Ford
Model: Fusion
Team: Penske
68) #1 Jamie McMurray, DC Solar
Make: Chevrolet
Model: Camaro
Team: Chip Ganassi Racing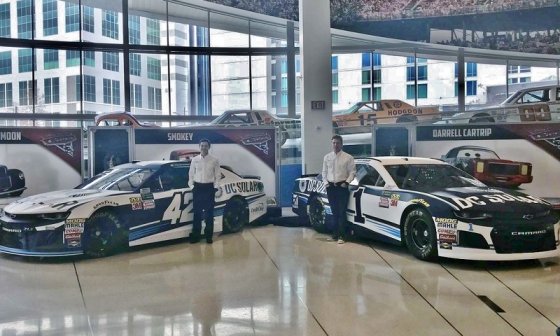 67) #92 David Gilliland, CarQuest
Make: Ford
Model: Fusion
Team: Ricky Benton Racing
66) #3 Austin Dillon, American Ethanol
Make: Chevrolet
Model: Camaro
Team: Richard Childress Racing
65) #43 Darrell Waltrip Jr, Click N Close
Make: Chevrolet
Model: Camaro
Team: Richard Petty Motorsports
64) #12 Ryan Blaney, DEX Imaging
Make: Ford
Model: Fusion
Team: Penske
63) #32 Matt DiBenedetto, Keen Parts
Make:  Ford
Model: Fusion
Team: Go FAS Racing
62) #42 Kyle Larson, Credit One
Make:  Chevrolet
Model: Camaro
Team: Chip Ganassi Racing
61) #88 Alex Bowman, Nationwide
Make: Chevrolet
Model: Camaro
Team: Hendrick Motorsports
60) #6 Trevor Bayne, Performance Plus
Make: Ford
Model: Fusion
Team: Roush Fenway Racing
59) #9 Chase Elliott, Sun Energy 1
Make: Chevrolet
Model: Camaro
Team: Hendrick Motorsports
58) #95 Kasey Kahne, ProCore
Make: Chevrolet
Model: Camaro
Team: Leavine Family Racing
57) #9 Chase Elliott, NAPA
Make: Chevrolet
Model: Camaro
Team: Hendrick Motorsports
56) #41 Kurt Busch, HAAS
Make: Ford
Model: Fusion
Team: Stewart-Haas Racing
55) #21 Paul Menard, Ford Motorcraft
Make: Ford
Model: Fusion
Team: Wood Brothers Racing
54) #17 Ricky Stenhouse Jr, Fastenal
Make: Ford
Model: Fusion
Team: Roush Fenway Racing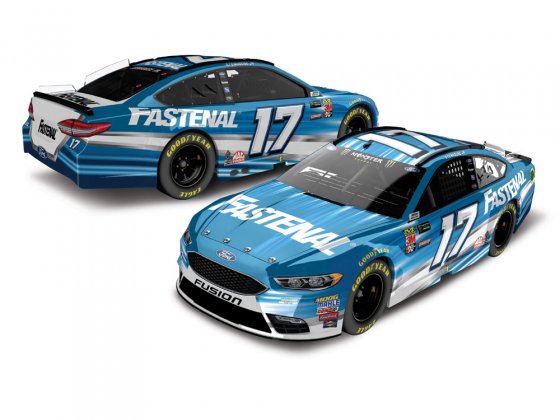 53) #78 Martin Truex Jr, 5-Hour Energy
Make: Toyota
Model: Camry
Team: Furniture Row Racing
52) #17 Ricky Stenhouse Jr, 5/3 Bank
Make: Ford
Model: Fusion
Team: Roush Fenway Racing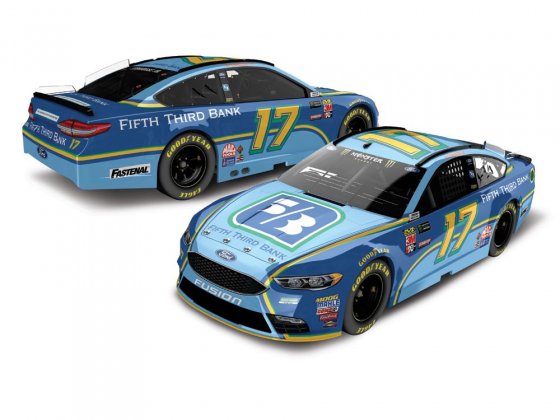 51) #78 Truex Jr, Auto Owners Insurance
Make: Toyota
Model: Camry
Team: Furniture Row Racing
50) #2 Brad Keselowski, Discount Tire
Make: Ford
Model: Fusion
Team: Penske
49) #13 Ty Dillon, Twisted Tea
Make: Chevrolet
Model: Camaro
Team: Germain Racing
48) #47 A.J. Allmendinger, Kroger
Make: Chevrolet
Model: Camaro
Team: JTG Daugherty Racing
47) #31 Ryan Newman, Grainger
Make: Chevrolet
Model: Camaro
Team: Richard Childress Racing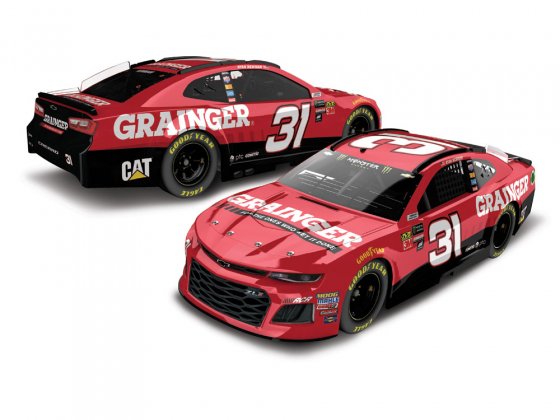 46) #19 Daniel Suarez, Peak
Make: Toyota
Model: Camry
Team: Joe Gibbs Racing
45) #12 Ryan Blaney, PPG
Make: Ford
Model: Fusion
Team: Penske
44) #42 Kyle Larson, DC Solar
Make: Chevrolet
Model: Camaro
Team: Chip Ganassi Racing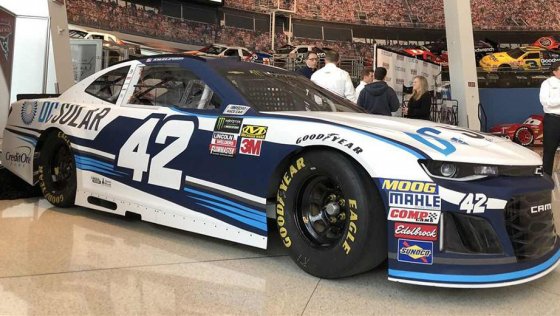 43) #22 Joey Logano, Autotrader
Make: Ford
Model: Fusion
Team: Penske
42) #43 Darrell Waltrip Jr, US Air Force
Make: Chevrolet
Model: Camaro
Team: Richard Petty Motorsports
41) #38 David Ragan, Shriner's Hospital
Make: Ford
Model: Fusion
Team: Front Row Motorsports
40) #0 Jeffrey Earnhardt, VRX Simulators
Make: Chevrolet
Model: Camaro
Team: StarCom Racing
39) #88 Alex Bowman, Axalta
Make: Chevrolet
Model: Camaro
Team: Hendrick Motorsports
38) #34 Michael McDowell, Loves
Make: Ford
Model: Fusion
Team: Front Row Motorsports
37) #13 Ty Dillon, Geico Military
Make: Chevrolet
Model: Camaro
Team: Germain Racing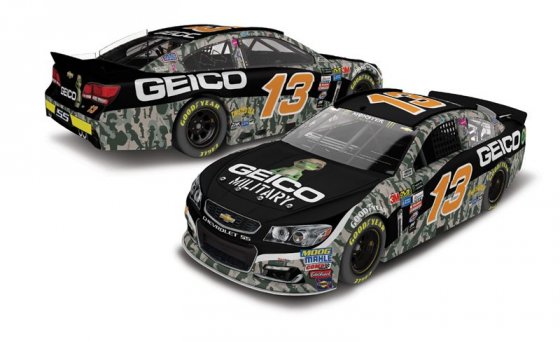 36) #6 Trevor Bayne, Advocare
Make: Ford
Model: Fusion
Team: Roush Fenway Racing
35) #19 Daniel Suarez, Arris
Make: Toyota
Model: Camry
Team: Joe Gibbs Racing
34) #62 Brendan Gaughan, Beard Oil
Make: Chevrolet
Model: Camaro
Team: Beard Motorsports
33) #13 Ty Dillon, Geico
Make: Chevrolet
Model: Camaro
Team: Germain Racing
32) #4 Kevin Harvick, Jimmy John's
Make: Ford
Model: Fusion
Team: Stewart-Haas Racing
31) #9 Chase Elliott, Kelley Blue Book
Make: Chevrolet
Model: Camaro
Team: Hendrick Motorsports
30) #21 Paul Menard, Richmond
Make: Ford
Model: Fusion
Team: Wood Brothers Racing
29) #24 William Byron, Axalta
Make: Chevrolet
Model: Camaro
Team: Hendrick Motorsports
28) #22 Joey Logano, AAA Insurance
Make: Ford
Model: Fusion
Team: Penske
27) #41 Kurt Busch, Monster Energy
Make: Ford
Model: Fusion
Team: Stewart-Haas Racing
26) #11 Denny Hamlin, FedEx
Make: Toyota
Model: Camry
Team: Joe Gibbs Racing
25) #18 Kyle Busch, M&M's
Make: Toyota
Model: Camry
Team: Joe Gibbs Racing
24) #31 Ryan Newman, CAT
Make: Chevrolet
Model: Camaro
Team: Richard Childress Racing
23) #4 Kevin Harvick, Busch Light
Make: Ford
Model: Fusion
Team: Stewart-Haas Racing
22) #19 Daniel Suarez, Stanley
Make: Toyota
Model: Camry
Team: Joe Gibbs Racing
21) #1 Jamie McMurray, Cessna
Make: Chevrolet
Model: Camaro
Team: Chip Ganassi Racing
20) #31 Ryan Newman, Liberty National
Make: Chevrolet
Model: Camaro
Team: Richard Childress Racing
19) #34 Michael McDowell, K-Love
Make: Ford
Model: Fusion
Team: Front Row Motorsports
18) #20 Erik Jones, DeWalt
Make: Toyota
Model: Camry
Team: Joe Gibbs Racing
17) #31 Ryan Newman, Bass Pro Shops
Make: Chevrolet
Model: Camaro
Team: Richard Childress Racing
16) #1 Jamie McMurray, GearWrench
Make: Chevrolet
Model: Camaro
Team: Chip Ganassi Racing
15) #10 Aric Almirola, SmithField
Make: Ford
Model: Fusion
Team: Stewart-Haas Racing
14) #2 Keselowski, Alliance Truck Parts
Make: Ford
Model: Fusion
Team: Penkse
13) #4 Kevin Harvick, Mobil 1
Make: Ford
Model: Fusion
Team: Stewart-Haas Racing
12) #24 William Byron, Liberty University
Make: Chevrolet
Model: Camaro
Team: Hendrick Motorsports
11) #3 Austin Dillon, Dow
Make: Chevrolet
Model: Camaro
Team: Richard Childress Racing
10) #4 Kevin Harvick, Busch Beer
Make: Ford
Model: Fusion
Team: Stewart-Haas Racing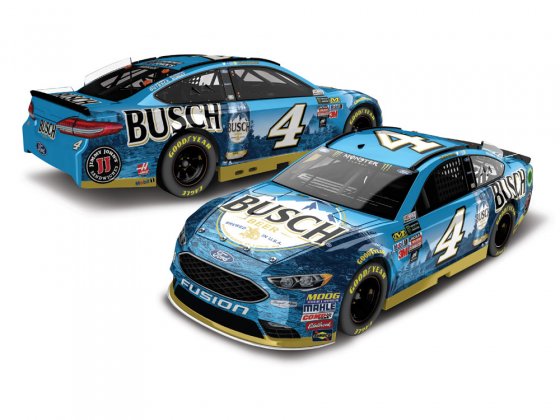 9) #2 Brad Keselowski, Miller Lite
Make: Ford
Model: Fusion
Team: Penske
8) #3 Austin Dillon, AAA
Make: Chevrolet
Model: Camaro
Team: Richard Childress Racing
7) #43 Darrell Waltrip Jr, STP
Make: Chevrolet
Model: Camaro
Team: Richard Petty Motorsports
6) #12 Ryan Blaney, Duracell
Make: Ford
Model: Fusion
Team: Penske
5) #7 Danica Patrick, GoDaddy
Make: Chevrolet
Model: Camaro
Team: Premium Motorsports
4) #48 Jimmie Johnson, LowesforPros
Make: Chevrolet
Model: Camaro
Team: Hendrick Motorsports
3) #2 Brad Keselowski, Autotrader
Make: Ford
Model: Fusion
Team: Penske
2) #22 Joey Logano, Pennzoil
Make: Ford
Model: Fusion
Team: Penske
1) #9 Chase Elliott, Hooters
Make: Chevrolet
Model: Camaro
Team: Hendrick Motorsports