2018 NBA Trade Deadline Predictions
For the past ten years, each NBA season begins and ends the same way. When the year begins, there are always a few teams from each conference that are going to win 50-55 games and barely break a sweat until the playoffs, when those same elite teams find themselves playing for a NBA title resulting in a predictable match-up where only the final result is shocking. (For example, the Golden State Warriors played the Cleveland Cavaliers in three straight NBA Finals.)
LeBron James has been to the NBA Finals seven straight seasons (Miami Heat, 4 times and Cleveland Cavaliers, 3 times), which is an NBA record. Sadly, however, he only has won three of them because of a lack of support around him. Say what you want about King James, he is one of the best all-around athletes the NBA has ever seen and he truly makes everyone around him better. When he went back to Cleveland, and teamed up with Kyrie Irving, it looked as if we were going to have a dangerous duo for years to come. But the something happened this past summer.
Kyrie Irving shocked everyone and announced he wanted to be traded because he no longer wanted to play for a team that wasn't working hard to make him better everyday. In other words, he wasn't happy being second fiddle to LeBron James and wanted to prove himself elsewhere. So he was traded and the NBA season changed, overnight.
That quickly, the season predictions we were already writing down had to be erased because now the Boston Celtics looked like the new favorites to dethrone the Cavaliers.
But that was during the summer. The biggest trades last season (DeMarcus Cousins to the Pelicans, Serge Ibaka to Raptors, Lou Williams to Rockets, Bojan Bogdanovic to Wizards, P.J. Tucker to Raptors) happened just before the NBA's trade deadline which was in late February, after the All-Star break. This season it has been moved up two weeks to February 8th, two weeks before the All-Star break, making each team's trading moves even more important as we approach the deadline.
Let's take a look at the trades we might see before February 8th and the NBA teams making the moves and we wanted to start with a couple of trades that have the lowest percentage of happening in the next few weeks.
Anthony Davis, PF to Boston Celtics
Odds: 0.01% Chance
Trade Details

Sending: Anthony Davis, Rajon Rondo
For: Al Horford, 2018 Lakers 1st Round Pick (Only if the pick falls between 2-5; if the pick is 1st or 6-30 then it is retained by LA and it will become a 2019 1st Round pick instead), 2019 Memphis 1st Round Pick (Protected 1-8 in 2019 and 1-6 in 2020, Unprotected in 2021)
The odds are so small that this one might only get mentioned once, in this article, and no where else. But we just wanted to include Anthony Davis as a longshot to be traded by the Pelicans after all of the rumors swirling around the web that suggest he might be gone by the trade deadline. It is so funny we wanted to show you what it could possibly take to get him. Don't forget that the Celtics only have one contract that they can use to get this trade even close to working.
Luol Deng, F to Oklahoma City Thunder
Odds: 1%
Trade Details

Sending: Luol Deng
For: Paul George
There is no shock that the Lakers are desperately trying to unload Luol Deng's massive contract before the deadline to clear up cap space for a possible free agent signing next summer of LeBron James but no teams in the NBA care to help the Lakers out and take him on without them including multiple 1st round picks. But if there was any team that would be able to make this move, it would be OKC. But getting Luol Deng in return for Paul George is nothing short of an insane drunken nightmare, not a real deal.
Marc Gasol, C to Toronto Raptors
Odds: 20%
Trade Details

Sending: Marc Gasol
For: Jonas Valanciunas, Lucas Nogueira
The Memphis Grizzlies run is over. Zach Randolph is gone. Tony Allen is in New Orleans. Mike Conley has a nagging Achilles injury. Marc Gasol deserves this trade and a chance to play for a contender instead of sinking with the ship as the Grizzlies begin to rebuild.
Derrick Favors, PF to Orlando Magic
Odds: 25%
Trade Details

Sending: Derrick Favors, Alec Burks, 2018 1st Round Pick
For: Evan Fournier, Mario Hezonja
Another team looking towards the future is the Orlando Magic. So they should begin unloading talented stars with thick contracts as they prepare for the next thing.
Hassan Whiteside, C to Cleveland Cavs
Odds: 35%
Trade Details

Sending: Hassan Whiteside
For: Kevin Love
Maybe we have this trade a bit high but we would love to see the Cavs unload Kevin Love and acquire a stud defender under the basket in Hassan Whiteside. He can double the output they got with Tristan Thompson and still get the wiggle room to add other players.
Kevin Love, C to Los Angeles Lakers
Odds: 38%
Trade Details

Sending: Kevin Love, Channing Frye
For: Brook Lopez, Jordan Clarkson
If the Hassan Whiteside trade does not work, then send Kevin Love to the Lakers and grab a couple of role players instead. It would help both teams but it would easily give the Cavs a struggling star at the Center position while adding depth all around.
Julius Randle, F/C to Portland Trailblazers
Odds: 40%
Trade Details

Sending: Julius Randle, Jordan Clarkson
For: Evan Turner, Noah Vonleh, 2nd Round Pick
Portland is not going to trade McCollum or Damian Lillard so the next best thing has to be Evan Turner and Noah Vonleh. But the only way this trade works would be if the Lakers are desperate enough to unload Randle, which they are, and acquire a little less than they are giving, in future talent.
George Hill, PG to  Cleveland Cavs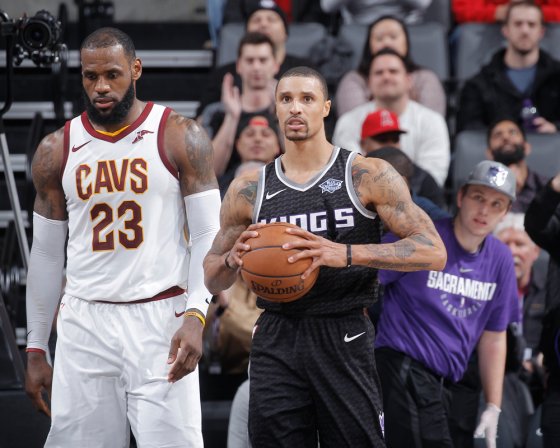 Odds: 55%
Trade Details

Sending: George Hill, Kosta Koufos
For: Brooklyn Nets Unprotected 2018 1st Round Pick, Tristan Thompson, and Iman Shumpert
Since Isaiah Thomas returned to the court following his injury after being traded from Boston to Cleveland, the Cavs have gotten worse on offense and struggle to get consistent wins on a nightly basis. George Hill is in a bad situation in Sacramento right now and would be a perfect fit with Thomas at the guard spot.
Nikola Mirotic, PF to Philadelphia 76ers
Odds: 65%
Trade Details

Sending: Nikola Mirotic
For: 2018 1st Round Pick, Amir Johnson, Trevor Booker
Since Nikola Mirotic is going to be on the move soon, the one team that could benefit the most from his talents would be the up and coming Philadelphia 76ers. They are young and in need of a stud coming off the bench and running the second team, very similar to the Golden State Warriors rotations.
DeAndre Jordan, C to Cleveland Cavs
Odds: 75%
Trade Details

Sending: DeAndre Jordan, Lou Williams
For: Brooklyn Nets Unprotected 2018 1st Round Pick, Tristan Thompson, and JR Smith
By now, it is obvious that the Cleveland Cavs need to get rid of some extra weight and clean things up if they want to win another NBA title. Of all the trades we just mentioned, this one has the highest possibility of happening by February 8th. The terms of the deal might change but Jordan to Cleveland is closer than we think.