Fearless Sports Championship Predictions for 2018
Every year, we are always greeted with some of the greatest moments in sports history. Most of the times it happens in the most shocking of situations like when an 11th seeded Xavier Men's Basketball team reaches the Elite Eight after knocking off a 6th, 3rd, and 2nd seed. How about the Super Bowl and its insane finish? That game was full of moments that no one expected. When the Atlanta Falcons were up 28-3 with 3:00 minutes left in the 3rd quarter, the football world was stunned that the New England Patriots just could not match up to such an inexperienced Super Bowl team.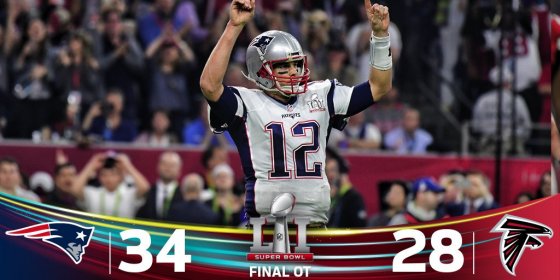 And then…the comeback. The Patriots came back, winning the game in Overtime, leaving the Falcons, and their fans, scratching their heads about how anyone can give up a 25 point lead with only 18 minutes left in the Super Bowl?
Even Major League Baseball got in on the fun this past year when the Houston Astros completely dominated the league before earning a spot in their second ever World Series against the Los Angeles Dodgers. The two teams were the best teams in each of their respective leagues and they gave us a seven game series that will easily go down as one of the greatest World Series ever, especially when the Astros won their first title in franchise history.
Looking back at the greatest moments in sports is fun but that is over and done. It is time to start preparing for 2018 and what is next in sports, and it will not take very long before we are treated with a classic when the College Football Playoff National Championship game takes place on January 8th. Then, a few weeks later, is the Australian Open, the first of four Grand Slam events in tennis.
So, in a year that is going to give us the FIFA World Cup and the Winter Olympics, let's take a few minutes to look at our crystal ball and make our predictions for all of the major sporting events of 2018. Enjoy.
Editor's Note : This was written a week ago, apparently we're 0-1….
January 8th: NCAA National Championship
Sport: American Football
League: NCAA
Venue: Mercedes-Benz Stadium (Atlanta, GA)
Projected Champion: Clemson
Runner-Up: Oklahoma
The time for Alabama to win is over. Clemson shocked us all last year when they defeated the mighty Crimson Tide to win the National Championship and they got even better on defense this year. They come into the playoffs underrated and will sneak up on both Alabama and Oklahoma to win their second straight title.
January 22nd: Australian Open
Sport: Tennis
League: ATP
Venue: Melbourne Park (Melbourne, Australia)
Projected Champions

Men's: Novak Djokovic
Women's: Simona Halep
February 4th: Super Bowl LII
Sport: American Football
League: NFL
Venue: U.S. Bank Stadium (Minneapolis, MN)
Projected Champion: New Orleans Saints
AFC Champion: Pittsburgh Steelers
After the horrible reversed call in the Pittsburgh-New England game cost the Steelers a much needed moral victory. It also sets up a AFC title game between the Patriots and Steelers that could end up being as epic as anything we have seen this year. One of those teams will earn the right to play in the Super Bowl but will have to face another incredible offense, both passing and rushing, and the NFL's top overall offense, the New Orleans Saints. By then, it will be a bit much to handle and they will end up not being able to stop them giving the Saints their second Super Bowl in the Sean Payton-Drew brees era.
February 18th: Daytona 500
Sport: Auto Racing
League: NASCAR
Venue: Daytona International Speedway (Daytona, FL)
Projected Champion: Chase Elliott
There isn't a better driver in NASCAR without a single career victory than Chase Elliott. He failed to win a single race last season yet still finished 5th overall and was in the running for the season cup. What better way to kick start his upcoming season than with a Daytona 500 win?
March 30th: Women's Final Four
Sport: Women's College Basketball
League: NCAA
Venue: Nationwide Arena (Columbus, OH)
Final Four Teams: UConn, South Carolina, Texas, Louisville
March 31st: Men's Final Four
Sport: Men's College Basketball
League: NCAA
Venue: Alamodome (San Antonio, TX)
Final Four Teams: Xavier, Michigan State, Kentucky, Wichita State
April 1st: Women's NCAA Championship
Sport: Women's College Basketball
League: NCAA
Venue: Nationwide Arena (Columbus, OH)
Projected Champion: Texas
Runner-Up: Louisville
As good as UConn has been and will continue to be, they will run into a Texas team hungry to avenge their regular season defeat from the Huskies earlier in 2018.
April 2nd: Men's NCAA Championship
Sport: Men's College Basketball
League: NCAA
Venue: Alamodome (San Antonio, TX)
Projected Champion: Michigan State
Runner-Up: Wichita State
The Shockers of Wichita State have been in this position before and have the roster to do it again in 2018. They have already begun to show-off what they can do but they have a long way to go if they want to upset the red hot Michigan State Spartans. As fun and exciting of a game this will be, the Spartans will run away with it with just a few minutes left to go.
April 8th: The Masters
Sport: Golf
League: PGA
Venue: Augusta National Golf Club
Projected Champion: Dustin Johnson
Expect to see Dustin Johnson finally bring home his first ever green jacket in 2018 after a dominating final two rounds at Augusta.
April 11th: Stanley Cup Champions
Sport: Ice Hockey
League: NHL
Venue: TBD
Projected Champion: Tampa Bay Lightning (4-1)
Runner-Up: Vegas Golden Knights
The expansion Vegas Golden Knights have already begun to take over the Western Conference and are leading the way in the Pacific Division. If they can make it to the Finals, and we think they can, then it will not take long for the Tampa Bay Lightning to take care of business.
May 31st: NBA Finals
Sport: Basketball
League: NBA
Venue: TBD
Projected Champion: Boston Celtics (4-3)
Runner-Up: Golden State Warriors
It is so hard to route against the Warriors especially with the talent they have compared to the rest of the league, but it takes more than an offense to win the NBA Finals. There needs to be defense and clutch players like Kyrie Irving, who turned the Celtics into a true contender and potential NBA Champion this season after being traded to Boston.
June 4th: French Open
Sport: Tennis
League: ATP
Venue: Stade Roland Garros (Paris, France)
Men's Champion:  Rafael Nadal
Women's Champion: Angelique Kerber
Rafael Nadal will return and do what he does best, win. On the women's side, Kerber is going to earn her keep and win the tournament easily.
June 16th: College World Series
Sport: Men's College Baseball
League: NCAA
Venue: TD Ameritrade Park (Omaha, NE)
Projected Champion: Oregon State
Runner-Up: TCU
After what they did last season, Oregon State is just to good to not make it to the finals. They return basically their entire team and will get a chance to face TCU, another team looking to return to Omaha this upcoming summer.
June 17th: The U.S. Open
-u999
Sport: Golf
League: PGA
Venue: Southampton Hills Golf Club (Long Island, NY)
Projected Champion: Jason Day
July 9th: Wimbledon
Sport: Tennis
League: ATP
Venue: All England Lawn Tennis and Croquet Club (England, United Kingdom)
Men's Champion: Andy Murray
Women's Champion: Petra Kvitova
Being back at home is always fun for Andy Murray and winning a Wimbledon title is even more exciting. Petra Kvitova upsets Kerber to earn herself a huge win in England.
July 15th: FIFA World Cup Final
Sport: Soccer
League: FIFA
Venue: Luzhniki Stadium (Moscow, Russia)
Projected Champion: Brazil
Runner-Up: Germany
It is finally time for Brazil to claim a FIFA World Cup title since 2002 when they defeated Germany 2-0. This time, it is going to be much of the same as the two teams are going to collide in the Final to give us one amazing soccer match before Brazil wins it in Penalty Kicks.
July 22nd: Open Championship
Sport: Golf
League: PGA
Venue: Carnoustie Golf Links (Angus, Scotland)
Projected Champion: Jordan Spieth
The Open Championship is always one of the toughest courses to play and this one should no be much easier. Jordan Spieth is the best in the business in so many areas that if anyone can overcome the rough conditions in Scotland, it is him.
August 12th: PGA Championship
Sport: Golf
League: PGA
Venue: Bellerive Country Club
Projected Champion: Dustin Johnson
After already having won The Masters, Dustin Johnson will be climbing the ladder all season long until he reaches the PGA Championship where he will run the gambit.
September 3rd: U.S. Open
Sport: Tennis
League: ATP
Venue: USTA Billie Jean King National Tennis Center (New York City, NY)
Men's Champion: Novak Djokovic
Women's Champion: Maria Sharapova
Both Djokovic and Sharapova experienced some bad injuries in the past and the U.S. Open next year is their chance to redeem themselves.
October 23rd: MLB World Series
Sport: Baseball
League: MLB
Venue: Minute Maid Park
Projected Champion: Houston Astros (4-2)
Runner-Up: Washington Nationals
What did you expect? The Houston Astros traded for Justin Verlander and turned a good team into a great one that won their first ever World Series. They did not lose anyone so far this offseason and have already made two signings to beef up their bullpen. It is hard to imagine this Astros team could fall after getting stronger this winter.
November 18th: Ford EcoBoost 400
Sport: Auto Racing
League: NASCAR
Venue: Homestead-Miami Speedway
Projected Champion: Chase Elliott
We project him to win the Daytona 500 to start the season, leaving him with a big lead all year long, coasting into the championship race to claim his first season cup of his very short career.