2019 Acura RDX : Review
All-new for 2019, Acura's small crossover was completely revamped. With across-the-board improvements for the RDX, including a very well-done new A-Spec package, the 2019 model is far more compelling and on point. Gone is the previous-generation's lackluster V6 and mushy drive quality and in is a strong engine, powerful capability, and excellent road handling.
Thanks to a variety of opportunities, we've had a wide range of experiences with the new 2019 Acura RDX in its A-Spec packaging. We've driven it as a normal daily driver, of course, but also off the pavement in serious off-road it was never meant for, let alone tested with; plus out in the snow and ice during a winter driving event. In every way, the RDX has impressed us with its honest capability and strong presence. Acura is onto something with the new 2019 RDX and we likey.
Style
The appeal of the 2019 Acura RDX A-Spec is interesting. The styling cues used for this new Acura are nothing new to the crossover-SUV arena, but they're so well placed and nicely balanced that it's difficult to name anything better. The RDX gets its basic good looks from a combination of sport car styling, big-and-tall SUV applique, and well-brushed edges.
The hood on the RDX has a long appearance, like a saloon, but not a long physical presence. It appears long on the 2019 RDX because the very raked windscreen behind creates that saloon quality without requiring the physical hood (and thus engine compartment) actually be long.
That saloon appearance starts the overall fast-paced sports car look of the RDX, bolstered by a pinching greenhouse, sloping roofline, and rounded rear with a sport fin atop. Pushing the rear wheel closer to the edge of the RDX while the front wheel rides behind more overhang helps enhance that lean-back, pace-forward look.
This is juxtaposed by the tall clearance, large wheels, and relatively fat body of the 2019 RDX; without creating a clash. That aspect alone is a tribute to the amount of styling work that was done by Acura's design team for the RDX. The two opposites are combined carefully with a well-done set of details to brush out their differences, through pillar deletes, strong body lines, and tilting references in the brush strokes.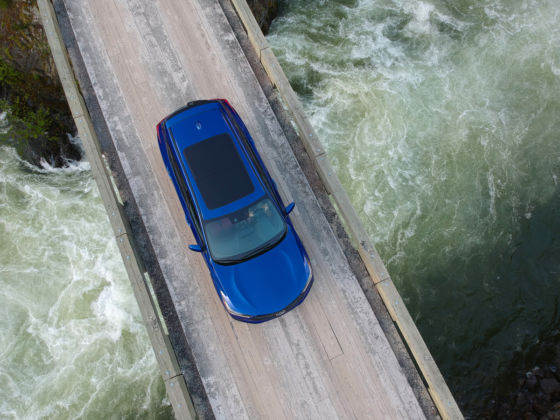 The 2019 Acura RDX, especially in its A-Spec package with most of the chrome and badges blacked out for more emphasis on sportiness, is one of the best-looking crossover-SUVs on the market.
Utility
Seating comfort in the 2019 RDX is good with a nice feel to it. The driver and front passenger are treated to comfort and good sport bolstering, especially in the A-Spec variant. Controls for the driver are well-placed and the advantage of the new push-button gear selection is found with the open space beneath it for a purse or bag. Storage throughout the front of the RDX is very good, in fact, with plenty of niches for small items and gadgets.
The back seats in the RDX are also well done, with the outboard positions being comfortable and adult-friendly. The center position is more for occasional use or kids, but is usable in either case. It's base is nice and flat, making it more comfortable than it could be.
Behind the rear seats is a good amount of storage and cargo, given the 2019 Acura RDX's overall size. A total of 31.1 cubic feet of space is back there, enough for a quick box club grocery run or a couple of golf bags. The floor is low, making it easy to load things, but the Acura's roof design means that the corners bend inwards at the top of the cargo area's opening, making getting bulky items into it a bit more challenging. The rear seats are split-fold as standard, adding more cargo versatility as needed. We note that the added bolstering in the A-Spec means that the rear seats don't fold completely flat, but close enough for most uses.
We're also fans of the new Acura infotainment system, with its crisp screen and fast responses. The touchpad-like interface is a little annoying for some, but intuitive for others. It's far better than similar getups we've used in other luxury brands, though, and we think most will find it simpler to understand and use by comparison. There is a scrolling meter to one side, well delineated from the main pad, and a physical back and home button as well. We also like the Acura RDX's natural-language voice recognition system, which makes things like setting navigation points on the fly a much easier process. Full support for Apple CarPlay and Android Auto are also standard in the RDX.
Capability and Performance
As mentioned earlier, we drove the 2019 Acura RDX A-Spec as both a daily driver and in some very non-daily conditions. As a daily drive, the RDX in its A-Spec package is a fun and engaging drive with a lot of appeal. Getting kids into and out of the back seat, parking around town, and hitting the highway or freeway for longer distances are all doable in this package.
The drive mode settings make getting a custom feel for the car easy. For example, we set our RDX A-Spec for Comfort mode in the drive mode and Sport mode in steering to get a good feel on the highway with road absorption and gliding comfort a priority without causing the driver to lose touch with the pavement and the vehicle itself. Similarly, a tighter suspension (Sport drive mode) and looser steering (Comfort) were great for off-road driving and Sport+ with Sport steering was a good way to have fun in the snow or with spirited driving.
The 2019 Acura RDX is powered by a very well-matched 272-horsepower 2.0-liter turbocharged four-cylinder engine that produces 280 pound-feet of torque to a ten-speed automatic. Front-wheel drive is standard, even in the A-Spec, but we highly recommend getting Acura's Super Handling All-Wheel Drive (SH-AWD) instead, which boosts not only all-weather capability, but also sport handling. Few on the market can claim the kind of excellent power vectoring that the SH-AWD offers in a sports crossover like the RDX, both axle-to-axle and side-to-side.
Getting Out There
During our winter drive experience in Colorado we noted how astute the AWD system is at distributing power as needed, on the fly. Especially if the correct drive mode is selected for the need at hand. Off the road, during a drive experience also hosted in Colorado, we felt how excellent that system is at feeling grip and knowing where to apply power.
To be frank, the 2019 Acura RDX A-Spec surprised us with how much it can accomplish when put into situations normally out of bounds for the RDX's design. Few buying one would expect the 2019 RDX to be a capable off-pavement goer, but it is. Others would probably think throwing snow and slush around in the winter would be a bad idea in the RDX. It isn't.
The 2019 RDX A-Spec took everything we threw at it and answered with stronger capability than expected and did not falter in doing so. We can't make that claim for many of the other vehicles we've driven.
Overview
The 2019 Acura RDX A-Spec is a very well-done small luxury crossover. It offers a lot of versatility and usability alongside some good road metrics and appeal. The RDX comes in four basic models, with the A-Spec landing just underneath the top-most Advance trim for content inclusion. The A-Spec variant adds larger tires and wheels, giving the crossover a more sport-tuned curb appeal and a stronger presence in the corner when driven.
The 2019 Acura RDX starts at $37,300 (plus delivery) with our A-Spec test model ringing in at $45,900, as driven.